Learn How To Apply for
Florida Property Tax Exemption
Fast and Easy
While Florida doesn't charge income taxes, the average property tax rate is around 0.98%, which is expensive. If you struggle to pay your property taxes, you should check if you qualify for a property tax exemption. DoNotPay's feature will help you determine if you're eligible to lower your property taxes in Florida and provide instructions on how to do it.
The Ins and Outs of Property Taxes
Paying property taxes is an obligation that every homeowner should fulfill. The local jurisdiction uses tax money to invest in crucial services beneficial to every citizen. While taxation rules and regulations are different in each state and county, your annual property tax in most states depends on:
The state's property tax rate 

Your property's assessed value

Property tax exemptions you qualify for 
Tax rates frequently play a crucial role in deciding where to purchase a property. The following list shows states with the lowest property tax rates:
Louisiana

—0.18%

Hawaii

—0.26%

Alabama

—0.33%

Delaware—0.43%

District of Columbia—0.46%

West Virginia—0.49%

South Carolina

—0.50%

Arkansas—0.52%

Mississippi—0.52%

New Mexico—0.55%
Every county has an assessor employed to take care of property tax assessment. He or she will visit your property to estimate its market value and calculate the assessed value based on the state's rules. The final step is to multiply the tax rate with the assessed value to establish your annual bill.
The property's market value depends on location, neighborhood, curb appeal, the value of the homes in the area, and similar factors. The value can change over time, which means that each property needs to be reassessed every once in a while.
Ways To Lower Your Property Taxes
Regardless of the state where you own a property, you should be able to lower your property taxes. Some of the common strategies that most people use are:
Avoiding home improvements before the assessment

—each home renovation could increase your home's assessed value and taxes

Participating while the assessor estimates the value of your home

—

gives you an opportunity to ensure that the assessor sees both advantages and disadvantages of the property

Looking for inaccuracies on the property tax bill

—should you notice a mistake, you should contact the assessor to schedule a reassessment 

Applying for a property tax exemption

—if you're eligible for one or multiple exemptions, your property taxes will be lower

Appealing tax bills

—if the tax jurisdiction rejects your exemption request, consider appealing your bill
Key Aspects of
Property Tax Exemptions in Florida
Since property tax rates in Florida counties are high, many residents need help paying their taxes. Florida offers multiple full or partial property tax exemptions to eligible residents:
Exemptions
Description

Florida residents can get an exemption of up to $50,000 on a primary residence

Widow(er)s

Widow(er)s who haven't remarried can get a $500 property tax reduction

All residents who are totally and permanently disabled are exempt from property taxes 

Blind People

People who are legally blind get a property tax reduction of $500

Florida senior citizen property tax exemption

applies to residents that are at least 65 and whose income doesn't exceed $20,000. Eligible seniors can get a property tax exemption of up to $50,000 

Disabled Veterans (10% disability)

Honorably discharged veterans who are 10% disabled due to a service-related injury get a $5,000 property tax exemption

Completely Disabled Veterans

Property taxes don't apply to veterans who:

Were honorably discharged

Are totally permanently disabled because of a service-related injury

Are confined to a wheelchair

Veterans Older Than 65

The

U.S. Department of Veteran's Affairs

grants property tax exemptions to partially or totally permanently disabled veterans who are older than 65. The percentage of the exemption depends on the percentage of disability, number of years in service, and many other factors

Surviving Military Spouses

Surviving spouses of veterans or first responders who lost their lives in military service get a total exemption.
The process of applying for a property tax exemption in Florida is different for each exemption and county, which can be challenging. Many people aren't sure which forms they need to complete or where to submit them.
Find Out if You Qualify for a
Florida Property Tax Exemptions
With DoNotPay
If you find property tax exemptions confusing, you're not alone. DoNotPay has come up with an efficient solution that can:
Help you determine if you qualify for a property tax exemption in any state

Provide instructions on lowering your property taxes

Generate a guide to

appealing property taxes
To lower your property taxes hassle-free, log in to DoNotPay and do the following:
Look for the

Property Tax

feature

Provide necessary personal and property info

Follow the instructions explained in your personal guide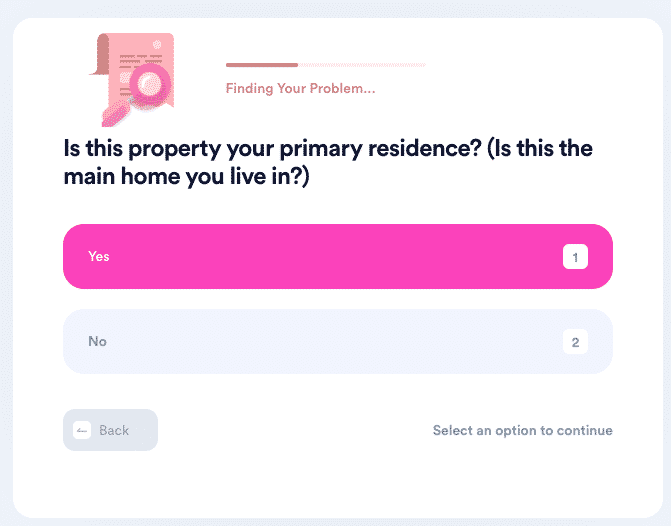 DoNotPay's tax feature can help you reduce your property tax bill in any state, including:
Take Care of Your Property Tax Appeal Hassle-Free Thanks to DoNotPay
Should you need help filing a property tax appeal or finding comparables to support it, DoNotPay's guide will offer a simple and efficient solution. The guide will explain how to negotiate with the assessor, which evidence you need for the appeal, and how to complete the required forms. 
More of What We Can Do for You 
Our multifaceted app can call and record the conversation with the customer service of the company that just won't let you go! If you are having trouble canceling an unwanted service via the traditional channels, use DoNotPay to get it over and done with!
We can help you stop the persistent robocalls and robo texts from the nagging company and request a refund for unused services in a matter of minutes.
We'll also lend a helping hand in stopping spam mail—whether it's electronic or paper. Our Spam Collector product unsubscribes you from unwanted emails and cleans up your physical mailbox too!
DoNotPay Can Do Your Paperwork for You! 
Feeling like you're in bureaucratic hell? Our app will draft the paperwork you need and get you out of any hurdle before you know it! 
We can compose most of the documents that you require for any administrative purpose in your jurisdiction, most notably: