The Scoop on
Florida Property Tax Exemption for Disabled Veterans
Each state in the U.S. offers tax relief to certain groups that need them. You can find out if you are eligible for Florida property tax exemptions for disabled veterans if you decide to use DoNotPay!
What Is Property Tax and Why Do You Have To Pay It?
Property taxes are the cost you need to pay to the state each year for owning any type of property. Property tax regulations are not the same in all states—some have low property tax. The most important factors that determine taxes are:
Property size

Land size

Location

Neighborhood
Where does the money you pay in property taxes go? The assets citizens set aside for property taxes fund various areas in the community, such as hospitals, libraries, law enforcement, road constructions, etc.
How Do You Calculate Property Tax?
The job of calculating property taxes is left to the property tax assessor. You don't have to calculate it on your own. The assessor needs to inspect the house and consider all the underlying factors to make a final property tax assessment. The assessor usually comes to your house, but they may also use remote software to perform this job. 
What Can You Do To Lower Your Property Taxes?
If paying property taxes each year causes you financial hurdles, you might want to reduce these expenses. There are a few ways to achieve this. You can try to:
Avoid renovating your home before the assessment

Check your tax bill for any inaccuracies

Follow the property tax assessor while they are making the assessment to make sure they are doing their job properly

Find out if you are eligible for property tax exemptions

File a

property tax appeal
DoNotPay is going to help you file an appeal and check the property tax exemption availability!
What Are
Florida Property Tax Exemptions for Veterans
?
In Florida, veterans can get help paying property taxes if they meet certain requirements. Check out the table below for more details:
Who Qualifies for a Tax Exemption?

The Veterans Are:

Tax Exemption Reduction Amount

Veterans who are 10% disabled

Honorably discharged

Florida residents

Disabled to a degree of 10% or more due to an injury while serving

$5,000

Veterans who are completely disabled

Discharged from service with honors

Living with a service-related total and permanent disability

Confined to wheelchairs

Florida residents

Total exemption

Veterans over the age of 65

Partially or totally permanently disabled

Florida residents

The United States Department of Veteran's Affairs decide on the discount percentage based on the percentage of the veteran's permanent service-connected disability
The veteran's surviving spouse may have the right to carry over the exemption under certain circumstances. This applies to all the mentioned cases.
Other Property Tax Exemptions in Florida
Property tax exemptions are often offered to veterans, but that is not the only group that gets to pay a reduced price. These exemptions also apply to senior citizens and disabled people who were not service members. These groups are eligible for a property tax exemption in Florida:
Widow Exemptions

—A $500 property tax reduction is available to widows and widowers who have not remarried

Senior Citizen Exemptions

—As much as $50,000 for people who are 65 years old or older and live in Florida with an income below $20,000

Total and Permanent Disability Exemptions

—Homeowners who are totally disabled may be exempt from all property taxes

Blind Person Exemptions

—A $500 tax reduction for persons who are legally blind

Homestead Exemptions

—Available on primary residences in Florida and can reach up to $50,000
DoNotPay Can Tell You if You Are Eligible for a
Florida Veterans Property Tax Exemption
Perhaps finding out if you meet the tax property exemptions eligibility criteria seems too complicated? Don't worry—DoNotPay is here to help you with the process! You only need to follow three simple steps:
Access DoNotPay from a

web browser

Find and open the

Property Tax

feature

Answer some questions regarding the property you own and yourself
We will make a guide to property tax reductions for you. You can also count on DoNotPay to aid you with gathering the forms you need and submitting your applications.
Your virtual assistant also knows how you can collect evidence to lower your property taxes.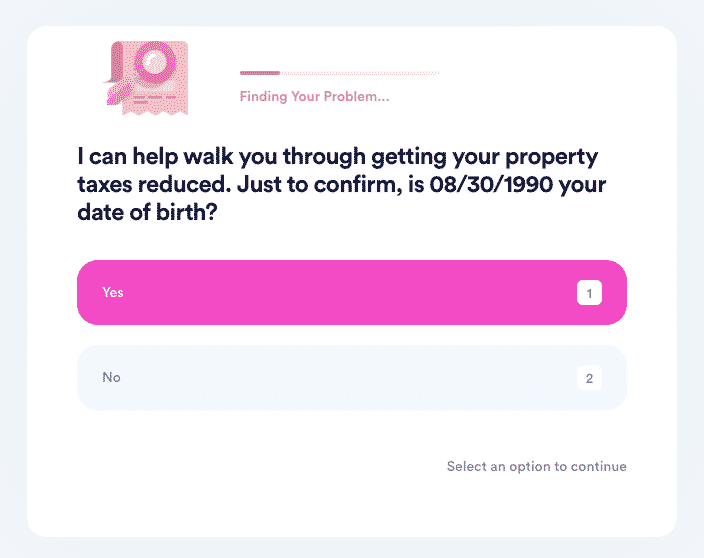 File Property Tax Appeals in Florida With DoNotPay's Help
One of the options for lowering your property taxes is filing an appeal. You can do this only in certain circumstances. The reason for filing an appeal could be that your property taxes skyrocketed compared to the ones from last year, for example. You may also find out that the property tax assessment included property that you no longer own.
DoNotPay is here to help you with submitting an appeal! You can expect great results if you follow our instructions for negotiations with the assessor.
DoNotPay Is the Champion of Customer Advocacy
If you've never experienced an issue with a purchased item, you should consider yourself extremely lucky. When shopping goes wrong, you usually have to brace yourself for unpleasant and annoying exchanges with customer support centers. 
DoNotPay is here to make exercising your consumer rights easy. Long holds when calling customer service reps and incessant marketing spam emails can stay in the past. We will help you avoid irritating text messages from online retailers by teaching you how to bypass phone verification when signing up. 
Ask for refunds, claim warranties, fix credit card issues, or sue retailers in small claims court—these are just some of the services our platform provides. 
With DoNotPay, you can start free trials for new services risk-free. If you want to get out existing subscriptions, canceling them has never been easier!
Wait, There's More!
Our full portfolio includes features as diverse as contacting inmates and requesting college application fee waivers for students from low-income families. 
If you have a problem with bureaucracy, the chances are DoNotPay knows how to fix it with your minimal involvement. 
Leave the grunt work and unnecessary expenses behind. We will help you pass various government tests with flying colors, find unclaimed money in all states, or get out of parking tickets before you know it!