The Intricacies of the Florida Property Tax Assessment
Dealing with property taxes can be tremendously demanding, even if you live in a state with relatively low property taxes, such as Florida. With a 0.83% average effective property tax rate, the Sunshine State falls below the national average—1.07%.
To know how to lower your property tax bill, first, you have to understand how property taxes work.
This article provides an insight into the Florida property tax assessment process and the easiest way to appeal it.
Property Tax Assessment in Florida—How Does It Work?
Every county in Florida has a property appraiser appointed to estimate each property. The appraiser determines the value of your property, which can be:
Appraised—the market value of the property

Assessed—the dollar assigned sum that your tax collector officials need
Your county's property appraiser estimates your property's value based on the following factors:
Location

Age of the property

Neighboring properties' market values

Size of the property

Land-to-property ratio

Permanent structures on the property—pools, sheds, solar panels, and other installations

Number of rooms and floors

Overall condition
How To Reduce Your Florida Property Tax Assessment Value
Paying property taxes is crucial, as they are used to fund public services.
While you cannot avoid paying these taxes, you can try to lower your property tax bill, and we can show you how! Check out some of the following bill-reducing strategies:
Refrain from renovations and home improvement projects

Accompany your appointed property appraiser during the valuation

Apply for any

Florida property tax exemption

you're eligible for

Check your property tax bill for errors and irregularities

Appeal your Florida property tax assessment
Refraining From Renovations and Home Improvements
Renovations, home improvements, or additions to your property increase its value, which makes your property tax bill higher. You don't have to write off home improvements altogether—carry them out after the property tax assessment takes place.
Accompanying the Property Appraiser
If you are present during the assessment process, your property appraiser will be less likely to make mistakes and overlook damages on your property. Another useful tip is to allow them to see the inside of your home. While this is not usual practice, enabling the appraiser to check out the interior of your house might benefit you—make sure to point out any flaws and issues.
Applying for Property Tax Exemptions
Every state offers an official method for lowering property taxes to eligible citizens in the form of property tax exemptions and relief programs. You can apply for multiple property tax exemptions in Florida, and DoNotPay can help you determine your eligibility.
Checking the Property Tax Bill
Inspect your bill thoroughly! There might be mistakes such as the wrong number of rooms or irregularities in terms of the market value of neighboring homes. Either way, if you notice an error in your property tax assessment notice or tax bill, consider filing an appeal.
Filing a Property Tax Appeal
If you are unsatisfied with your property tax assessment for any reason or you find a mistake in your tax bill, you should file a property tax appeal. Not sure how to do it? Sign up for DoNotPay, and we will help you appeal any previous property tax assessments.
What Property Tax Exemptions Can You Apply for in Florida?
Property tax exemptions are the perfect solution for anyone who needs help with paying property taxes. The table below contains a brief overview of the property tax exemptions you can apply for in Florida:
Property Tax Exemption

Description

Homestead

Residents who use their property as a primary place of residence can get an exemption of up to $50,000

Total and permanent disability

All Florida residents with a total and permanent disability are exempt from paying property taxes

Blind people

Florida residents who are legally blind can obtain a $500 reduction on their property taxes

Widow(er)s

Widows and widowers in Florida who haven't remarried can get a $500 property tax reduction

Senior citizens

Florida senior residents who are 65 years old or older and have an annual income below $20,000 can get a

seniors property tax exemption

of up to $50,000

Disabled veterans

Florida veterans are exempt from paying property taxes if they:

Are totally and permanently disabled due to the service-related injury

Were honorably discharged from the service

Other

exemptions for veterans

Veterans older than 65, widows of veterans and first responders, and veterans with disabilities of less than 100% can apply for a reduction of property taxes. How much of a reduction these categories can get depends on their eligibility and other factors
DoNotPay Can Help You Lower Your Florida Property Tax Bill in a Flash!
Managing property taxes is quite complicated and time-consuming. DoNotPay created a product that minimizes the effort you have to put into such a demanding task.
To get your customized manual, you should:
Locate the

Property Tax

feature

Answer several questions regarding your property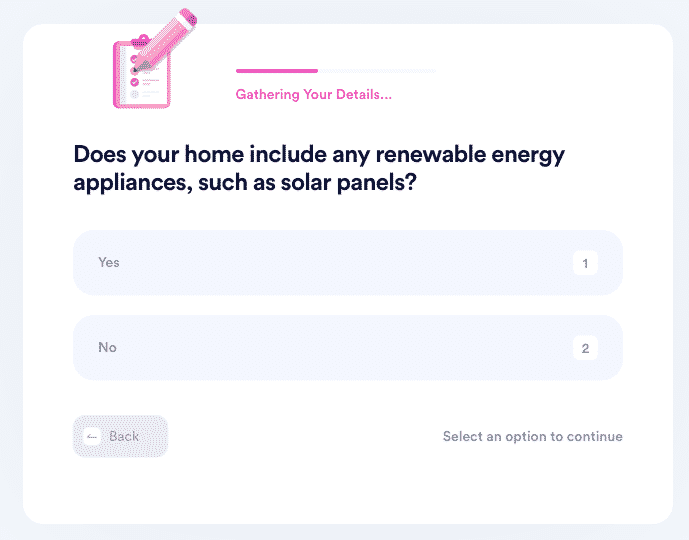 How does the product work? Once you complete a short questionnaire, you get a personalized guide that contains the following:
Evidence you need for appealing previous assessments

Information regarding the property tax exemptions you qualify for

Instructions on negotiating with your property appraiser
Your Online Safety Is Our Priority
The benefits of the internet are numerous, but so are the opportunities for scams of all kinds. DoNotPay can help you fight scammers left and right with easy-to-use features, highly customizable to match your needs. 
Our app can provide invaluable resources for fighting:
If you're an avid online shopper, we have your back. In case something goes wrong, we will help you contact customer service without holding, request a refund, or even sue the company in small claims court.
Diversity Is Our Middle Name
DoNotPay doesn't stop at online safety. Do you need to set up an appointment at the local DMV, but keep procrastinating because you know how awful the lines are? Are you a prospective college student trying to save on application fees? Have you lost track of all unnecessary subscriptions and memberships that keep draining your bank account?
If the answer is yes, DoNotPay is the right platform for you. Whether you're preparing for government-issued tests or looking for ways to lower your bills, our app will be of assistance.