Create the Florida LLC Operating Agreement in a Few Minutes!
An LLC operating agreement is a legally binding contract used to outline the financial and functional decisions of a business, such as regulations and provisions. Creating any legal document, including the Florida LLC operating agreement, can be tricky and complicated. swoops in to save the day with a neat feature that helps you create legal documents in minutes!
What Is an Operating Agreement?
To successfully create the Florida LLC operating agreement, you will first have to understand what the document is and how it works. An operating agreement is a crucial legal document used by any Limited Liability Company (LLC) to define the duties and responsibilities, as well as govern the internal business operations.
Filing your operating agreement with the state isn't mandatory, but for some states creating an operating agreement for your record is required.
How To Create Your LLC Operating Agreement in Florida
You can create your Florida LLC operating agreement by yourself. There are templates you can follow, or let us provide you with all the necessary info so that you don't make any errors or forget to mention something important.
Here is a list of everything you should include in your operating agreement:
Item
What To Include

Percentage of Ownership

Specify the percentage of ownership in your operating agreement according to the percentage and amount of funds the member invested. 

Even if you use a different method for determining the percentage of ownership, you should make it is presented in a clear way in the agreement

How You'll Distribute Profits

Elaborate on the distribution of profits as well. The percent of profits is closely tied to ownership percentage, but not always. If you choose to make a different arrangement, make clear what the arrangement is so that there wouldn't be any misunderstandings

Your LLC's Management Structure

There are two ways to set up your LLC:

Member-managed

Manager-managed

If you set it up as member-managed, all the decision making and running of the business depends on the owners.

In the manager-managed scenario, you will point out the manager who will run the business

Members' Roles And Responsibilities

You have to specify the responsibilities and obligations of each LLC member and manager. It's important that all parties involved know what to do and the authority they should respect and consult if need be

How You'll Make Decisions

Decide whether you want decisions to be made by a unanimous vote of members, or you would like to point out one person (manager, for example) to take on that role. Think of what would work best for your business and apply it

What Happens If A Member Wants Out

Address what happens to the ownership interests if a member chooses to leave the business. Stating this helps you avoid confusion if a situation like that arises. Include a section describing what will happen if members file for bankruptcy or get a divorce, as well

What Happens If You Want To Close Your Business

You won't have the closing of your business in mind when you are only starting it, but it is important to think of everything. It's recommendable to state how the LLC should be dissolved and how the assets will be divided in the end
You should keep your LLC agreement up to date and make sure to include any changes if they occur. If you make sure that your agreement reflects your current affairs, you will be ready to handle any questions about how your business should be run.
DoNotPay Helps You Create the Florida LLC Operating Agreement Without a Hitch!
We are aware that creating contracts and legal documents can be an overwhelming and confusing task. That is why we came up with a feature that will let you draft your documents easily and efficiently! Our app will assist you in drawing up various documents—the LLC operating agreement isn't the only one!
Follow the instructions once you visit DoNotPay from your :
Type in the name of the document you want in the search box (e.g., Operating Agreement)

Provide further information we ask for (your name, address, and other relevant info)
Upon completing the steps mentioned above, DoNotPay will create your LLC operating agreement. All that's left is to obtain signatures from both parties involved, and you are all set.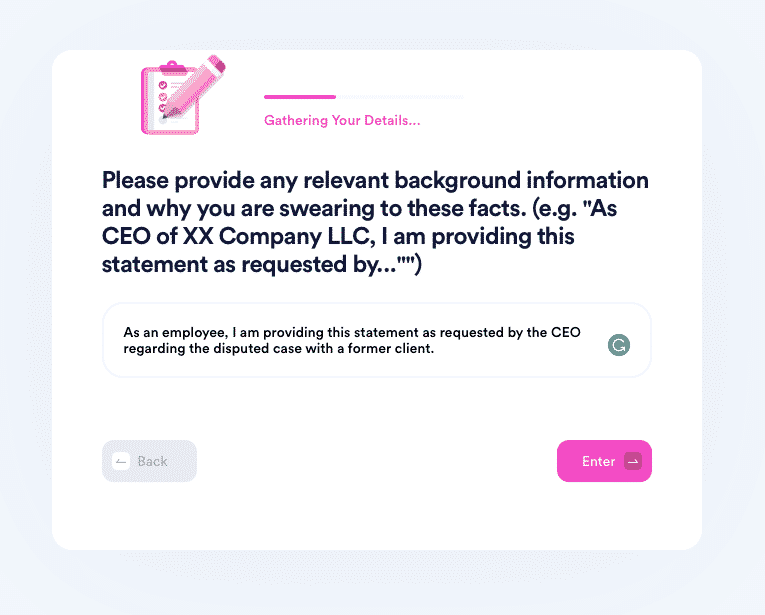 There is no shortage of contracts you can make using our app. Aside from assisting you in creating your LLC operating agreement, we can also walk you through the process of making:
General Business Contract

LLC Operating Rules Document

Intent to Purchase Real Estate

Estoppel Certificate

Quitclaim Deed

General Affidavit

Promissory Note
Get Back at Greedy Corporations With DoNotPay
How many times have you tried reaching out to an airline regarding your canceled flight? Did you ever spend hours trying to contact customer service reps only to be refused your refund request?
Big companies tend to make certain processes complicated for their customer in hopes they would give up on pursuing their goals.
This is why your warranty claims often get denied the first time or why canceling a gym membership can be an administrative hell.
Our AI-powered app is here to help you sort these problems out. 
Whether you're trying to file an insurance claim, schedule your driving test, start a free trial without disclosing your payment info or a phone number, or get access to public records, we've got you covered. 
DoNotPay Is the Virtual Assistant You Need
DoNotPay is the first robot lawyer in the world created to simplify complex tasks. We can help you with anything from appealing your parking citations to filing lawsuits in small claims court.
In case you need to save up some money, our app will show you how to get an extension on your bill payments, sign up for paid clinical trials, or avoid paying your college application fees.
DoNotPay can also report robocallers, text spammers, and email phishing attempts, and real-life stalkers with a few clicks.