Create Your Florida Lease Agreement in the Blink of an Eye

If you decide to rent your property in Florida, you must do more than hand out the apartment keys to your new tenant. Composing a legal document stipulating the terms and conditions, such as a lease agreement, is crucial to avoid misunderstandings.
The problem arises once you realize you don't know how to write a contract or what to include in it. The internet is full of questionable templates that don't contain all the sections they should, and services are pricey. Luckily, we got your back. If you are struggling with creating your Florida lease agreement, this guide will help you find the solution in record time!
What Is a Florida Lease Agreement?
Florida lease contract is a state-specific lease agreement between a landlord (property owner) and tenants.
This agreement shouldn't be confused with a rental agreement, as these two documents aren't the same. Rental contracts are usually short-term and more flexible, while lease agreements are long-term and have pre-determined start and end dates.
Why Do You Need a Lease Agreement in Florida?

The main purpose of the Florida lease agreement is to protect the rights of the landlord and tenants.
It specifies the regulations that benefit the landlord's material and financial safety and protects the tenant from unwanted visits or entries to the property. The rules also prevent the tenant from leaving the property without paying what they owe or the landlord from throwing the tenant out for no reason.
Besides protecting both parties, the Florida lease contract helps them solve potential problems and avoid arguments. If the agreement is properly composed and provides clear regulations, there should be no misunderstandings.
What Does Florida Residential Lease Agreement Need To Include?

To make sure your Florida lease agreement is valid, you must provide all the relevant information. Here's the list of the sections you should include in this type of contract:
Names of the landlord and tenants

ID info about the landlord and tenants

Address of the property

Number of property occupants

Rent details

Amount

Payment method

Payment deadline

Potential grace periods

Pet policy

Repair and maintenance responsibilities

Illegal activity restrictions
Required Disclosures
According to Florida Statutes, besides regular clauses, your Florida lease agreement must contain required disclosures. Below is the table explaining each of them:
Disclosure
Details
Identification and contact details

The landlord needs to confirm that they are authorized to receive demands and legal papers regarding the property in question. They need to inform the tenant if they authorized someone else to receive such notices

Fire protection

If your contract refers to the apartment in a building that has more than three floors, you must include the fire protection info in your clause list

Lead-based paint disclosure

Your lease agreement must contain information about the potential lead-related health hazards, as the paint on some older houses contains this substance

Radon disclosure

The presence of radon, a harmful gas, in the building is another health risk. One of the clauses must provide information on this disadvantage

Security deposit disclosure

This part of the contract explains the deposit regulations, including the amount, refunds, deductions, etc.

Landlord's access

The clause related to the landlord's access states that the property owner needs to announce their visit in advance. They need to inform the tenant about the arrival at least 12 hours before the visit.

The landlord can visit the property between 7:30 a.m. and 8 p.m. Such regulations are necessary to protect the privacy of the tenant
Create Any Lease Agreement in a Snap Using DoNotPay
Composing a valid contract with little or no legal knowledge is likely to fail. An unclear agreement with wrong or incomplete information can confuse both parties and cause unnecessary problems.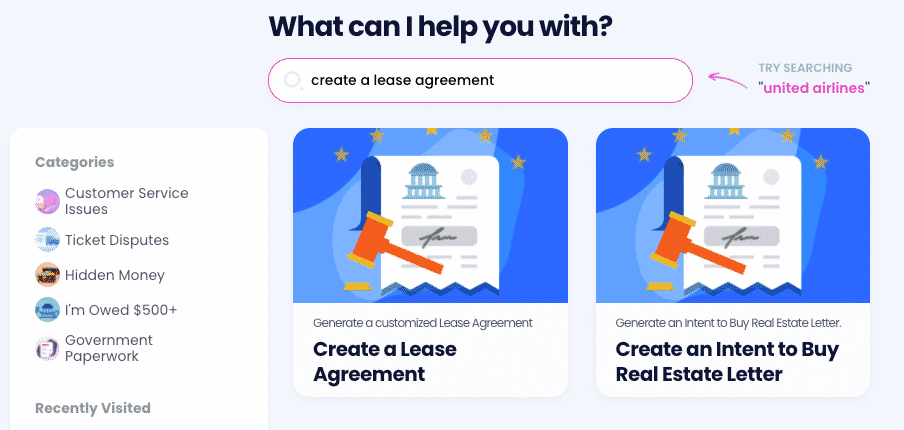 Don't waste your hard-earned money by paying lawyers to draft your contract—let DoNotPay take care of it. Our service includes a legal document generator you can use to create your lease agreement in a snap!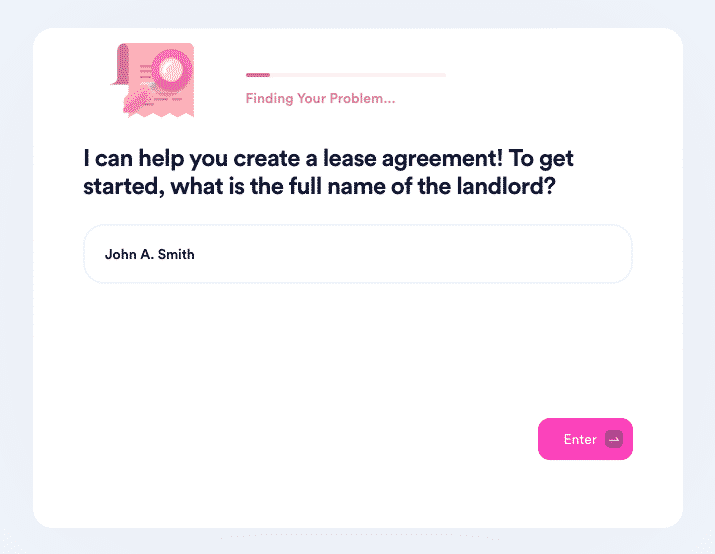 Here is how it works:
Log in to DoNotPay using your preferred

Track down the document type you need by using the search box

Enter a few required details
We will use the information you provide to compose a personalized agreement with appropriate terms and clauses. The contract becomes valid as soon as you and the other party have it notarized or sign it. The biggest advantage of this feature is that you can use it an unlimited number of times.
DoNotPay has a vast learning base with guides to:
Can DoNotPay Generate Other Legal Documents?
Lease agreements aren't all we can offer. contains numerous legal document templates you can personalize and adjust to your needs. Here's a full list of all the contracts we can make for you:
Business agreements

General Business Contract

Real estate agreements

Quitclaim Deed

Estoppel Certificate

Intent to Purchase Real Estate

Other agreements

Promissory Note

General Affidavit
Need Help Fighting Bureaucracy? Use DoNotPay!
As the world's first robot lawyer, DoNotPay can help you resolve a plethora of tedious administrative issues. Our app will assist you in getting justice in small claims court, getting refunds from merchants, reporting annoying spam emails and text messages, reporting copyright infringement, bypassing phone number verification, and so much more!
You can also rely on DoNotPay's help when it comes to subscriptions. If you want to sign up for a free trial, cancel a service you no longer use, and skip the phone queue when doing so, our app will provide its assistance.
Our App Saves You Time and Money
Are you unable to pay your bills? Use the world's first robot lawyer app to cover them! Do you want to appeal your traffic or parking tickets? DoNotPay will help you appeal them in the blink of an eye.
Our app can do so much more than that, though—with DoNotPay by your side, you can sign up for clinical trials, ace government tests, claim any type of warranty, schedule an appointment with the DMV, and handle any other bureaucratic task.