Essential Details of a Florida Health Care Proxy
While the thought of becoming incapacitated from an illness or injury may seem scary, it can happen to anyone. Most people have strong feelings regarding the treatment they would accept or decline in such situations.
Creating a Florida health care proxy can help you define future health care wishes. This guide will explain all you should know about creating and executing this document. You will also learn how to create a medical power of attorney, living will, and any other advance directive in Florida using DoNotPay.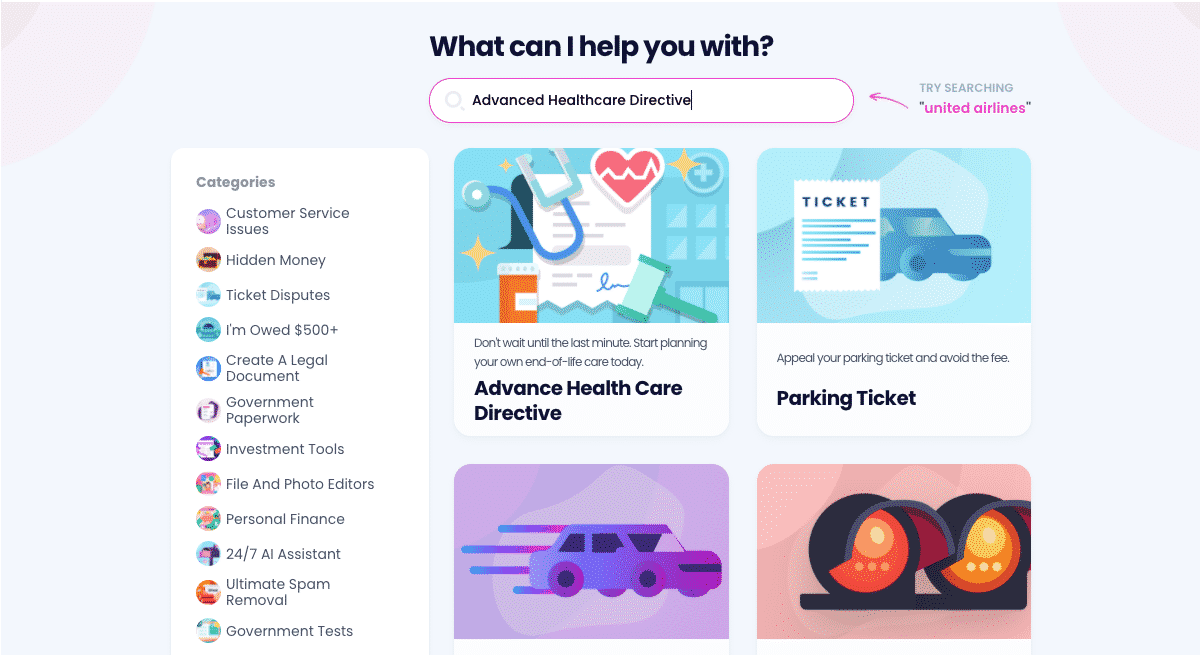 Florida Health Care Proxy Explained
In Florida, a health care proxy is called a designation of health care surrogate. The document can also be referred to as a medical power of attorney. It allows you to appoint someone you trust to make health-care decisions in your stead. The person you appoint is called a health care agent, proxy, or surrogate.
According to the Florida statutes that govern the creation of health care directives, you can state whether you want the surrogate to assume authority immediately or when you become incapacitated. The determination of incapacity is made by a health professional.
Apart from a health care proxy, you can create complementary documents, such as:
Under the health care proxy Florida law, a medical power of attorney must be:
Made in writing
Signed in the presence of two witnesses
At least one of the witnesses should not be your spouse, blood relative, or a designated proxy.
How To Designate a Health Care Surrogate
You cannot have more than one health care proxy, but you can designate an alternate agent who can assume the role if the primary one is unavailable. You should also choose a different surrogate for mental health decisions. Once the document is ready, you must provide a copy to your health care agent.
You can also revoke the designation of health care surrogate at any time (as long as you're of sound mind) by:
Setting a revocation date when creating the document
Destroying the document
Expressing the intent to cancel the document to your agent orally
Signing a different health care surrogate designation
If the document is in your medical records, it is important to inform your doctor when you revoke it.
What Powers Does a Health Care Surrogate in Florida Have?
Here are the decisions your agent can and cannot make on your behalf (unless you explicitly state otherwise in the document):
What the Surrogate Can Do
What the Surrogate Cannot Do

Make medical decisions according to your best interest
Provide written consent to medical professionals whenever required
Receive your health information and access health records
File Medicare and Medicaid applications on your behalf
Permit the release of your health information to certain individuals

Authorize an abortion, sterilization, psychosurgery, electroshock therapy, experimental treatments that have not been authorized by a federally approved institutional review board
Provide consent for admission to a mental health facility
Decide on withholding life-sustaining treatment if you are pregnant
Get the Best Health Care Proxy Document in Minutes Using DoNotPay
While you can use an estate planning attorney to draft a living will or medical proxy, their services will cost you a fortune. Online advance directive forms are usually too generic and have to be heavily altered. Luckily, DoNotPay offers a straightforward and cost-effective solution. Provide us with details about your medical care wishes, and we will generate the necessary document for you in minutes. To use DoNotPay, follow these steps:
Visit DoNotPay from any web browser
Select the Advance Health Care Directive tool
Name your surrogate and witnesses
Complete the brief questionnaire
We also enable you to schedule a meeting with an online notary and get your document notarized remotely.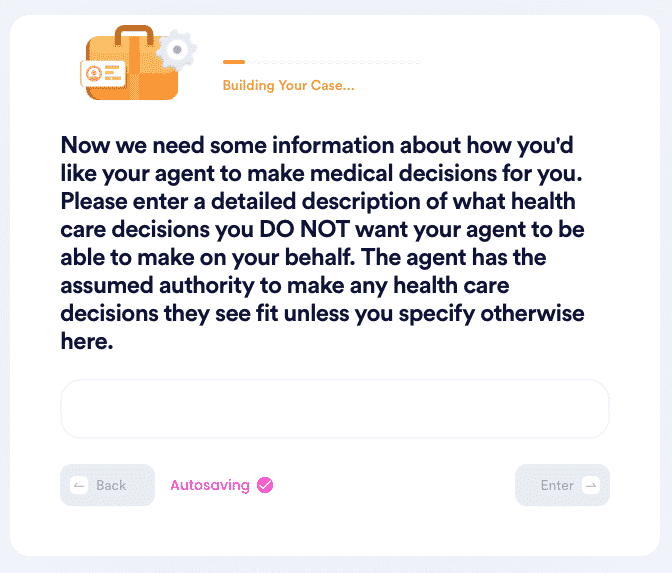 DoNotPay's Assistance at Your Fingertips
DoNotPay is all about easy solutions. Turn to our app when you need to get rid of unwanted services, block spam emails and text spam, and overturn unpaid parking tickets. We can also assist you in registering on platforms without disclosing your number and signing up for free trials using our virtual credit card.
With our app, you'll forget about old-fashioned ways of completing certain tasks. Let us help you send faxes online, mail letters, reach customer service, and get in touch with an incarcerated loved one.
DoNotPay Has More To Offer
Our app boasts a wide range of products—from filing a warranty claim, requesting a refund, and booking a DMV appointment to getting a document notarized, filing financial aid appeal letters, and fighting discrimination at work.
For DoNotPay users, no problem is too difficult to solve. Here are only some of the tasks our app can help you complete: