Understanding the Florida Health Care Power of Attorney Statute
Writing down your wishes about future medical treatments can be helpful if you become incapacitated and unable to speak for yourself. That is why most states have specific laws allowing you to define those wishes in a document called an advance health care directive. This guide covers the basic details of the Florida health care power of attorney statute and shows you the easiest way to create any advance directive—by subscribing to DoNotPay.
What Is the Florida Advance Directive Statute?
An advance directive is a written document or oral statement in which you give instructions about your health care preferences if you become incapacitated. Florida advance directive statutes govern the creation of this document in the state. Florida also accepts advance directives created in other states, as long as they were created according to the laws of those states.
What Is the Florida Health Care Power of Attorney Statute?
The Florida health care power of attorney statute—which is a part of the Florida advance directive statute—allows you to appoint someone as your health care agent. The agent (sometimes called a surrogate, proxy, or attorney-in-fact) will make health care decisions on your behalf in case you become incapacitated or terminally ill. You can also authorize the agent to exercise their rights immediately—e.g., not wait until you're incapacitated.
Florida Health Care Power of Attorney Explained
A health care power of attorney is a legal document in which you name your health care agent and define their rights and responsibilities. The document should include:
The agent's personal details
The health care powers you transfer to the agent, including potential limitations to their powers
Alternate agent's personal details
Special instructions
Names and signatures of witnesses
A Florida health care power of attorney is also referred to as a:
Florida designation of health care surrogate
You can also combine a health care proxy with another type of Florida advance directive—Florida living will. Unlike the health care power of attorney that can be used in all areas of medical care, a living will is limited to emergency and end-of-life care choices. The cost of a living will varies depending on how you choose to create the document.
How To Execute a Florida Health Care Power of Attorney
To be considered legally valid in Florida, a health care power of attorney must be executed as follows:
Signing Requirements
Choice of an Agent

The designation must be in writing and dated
You must sign the document in the presence of two witnesses who are not:

Your health care agent
Your spouse or blood relative
A minor
Your health care or insurance provider

You can choose anyone who is at least 18 years old and capable of honoring your wishes, such as:

Spouse
Parent
Relative
Adult child or grandchild
Close friend
Get Your Personalized Advance Directive in Minutes With DoNotPay
Are you ready to create your medical power of attorney or a living will? You can hire a lawyer to complete the task but know that their services are expensive. Online templates are free, but they are also unreliable and may not comply with state laws.
You can have the best of both worlds—DoNotPay can help you create a personalized and lawful advance directive in less than five minutes and at an affordable price!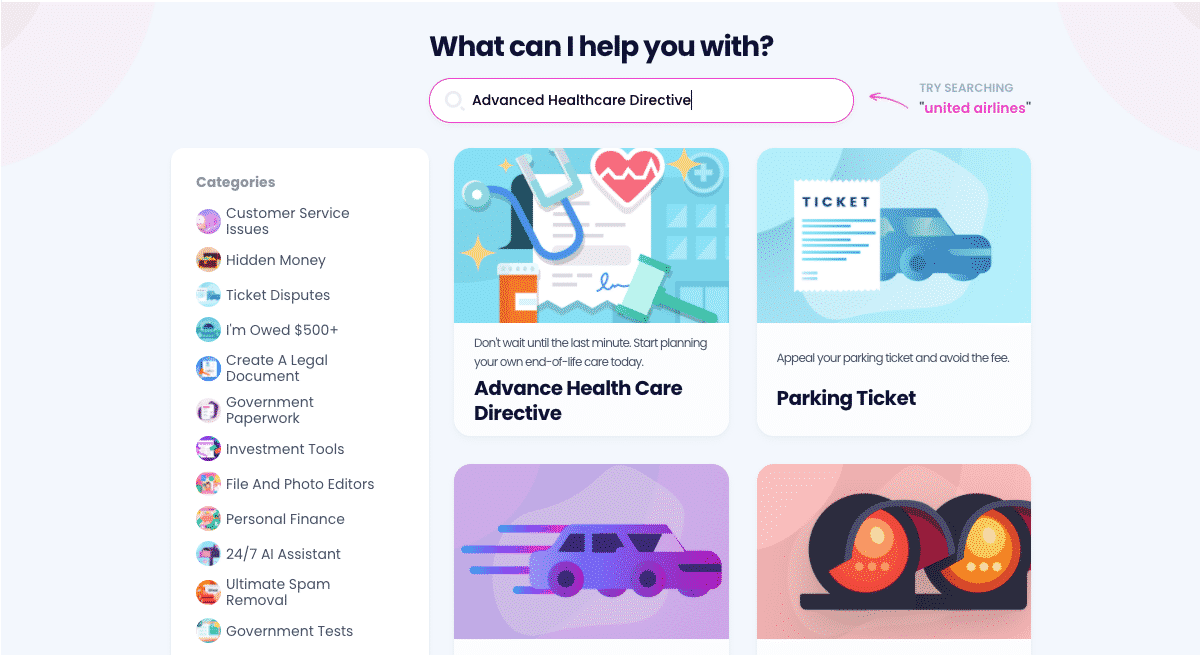 All you have to do is:
Search for Advance Health Care Directive
Answer our chatbot's questions regarding your health care wishes and the chosen agent
Type in your witnesses' names
If you want to get your document notarized, you don't have to spend hours waiting in front of a notary's office. We will help you set up an appointment with an online notary and complete the process from the comfort of your home!
You can also learn more about advance directives—such as the difference between a health care proxy and standard power of attorney and the specifics of an advance directive form—by checking out our knowledge base!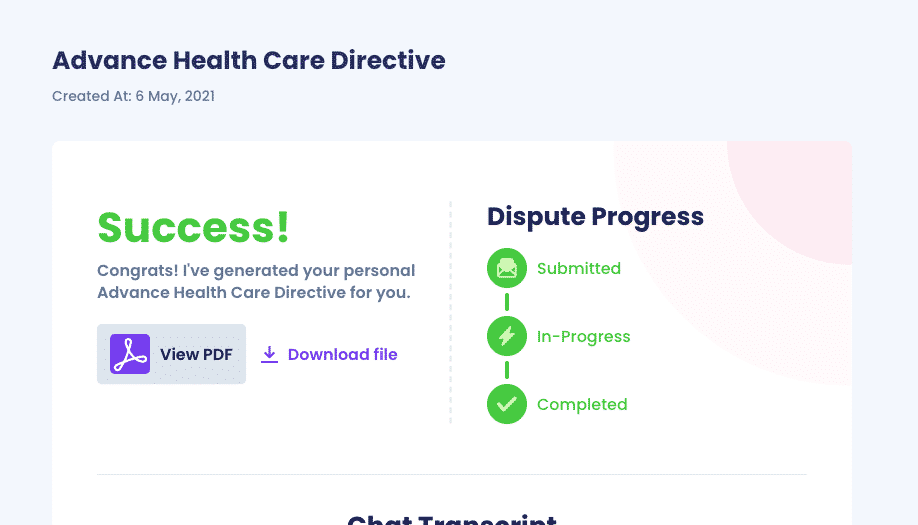 DoNotPay Is Your Ultimate Money-Saver
Don't spend your hard-earned money on subscriptions you don't use—cancel them with our app in a few simple steps! The best part is—that's not all we can do to help you save some coins. DoNotPay can also reduce other expenses by helping you:
Kiss Spammers and Harassers Goodbye for Good With DoNotPay
Our app offers handy features that can assist you with blocking irritating robocalls and getting rid of pesky spam texts and emails. It also gives you peace of mind by helping you fight workplace discrimination, stalking and harassment, annoying neighbors, and defamation.
With DoNotPay, you will always be able to maximally protect your safety by searching updated sex offender databases and avoiding unpleasant situations. Suppose you have already been a victim of harassment or any other crime. In that case, we can help you get compensation with no difficulties!