The Best
Florida DMV Practice Test
You Can Find
Becoming a driver in any state—including Florida—is simple. All you need to do is pass a couple of tests. The first one on your itinerary is the written knowledge test, followed by the road skills test.
If you wish to do well on the exam, you'll need to practice. DoNotPay has a solution that will bring you closer to your goal!
Info You Need To Know About the
Florida Permit Test
The written permit test in Florida consists of 50 multiple-choice questions. You have to get 40 of them right to pass, which is 80%. If you are younger than 18, you can take the written knowledge test online from your PC.
Everyone else has to go to the nearest Florida Department of Highway Safety and Motor Vehicles (FLHSMV) location. These are the areas you can expect your knowledge to be tested on:
Seat belt laws

Licensing

Vehicle restrictions

Speed limits

Making turns

Insurance requirements

Using headlights

Turn signaling

Maintaining attention

Yielding the right of way

Lane control

Parking

Controlling the vehicle
Florida Driver's License Practice Test
and Other Study Methods
You can prepare for your Florida permit test in a few ways, but all of them involve studying. 
One of the safest study methods for knowledge test preparation involves learning from a study guide. This state-specific book includes all the information a future driver needs to know. You can go through it a few times and take notes of the parts you have trouble remembering.
Another popular way of preparing for a driver's test involves tutors—people who can teach you what you should know to pass the test. You should know that they have high rates.
The best preparation methods are practice tests. When you test your knowledge with practice tests, you will experience what it is like to take the real test. You can see the types of questions and even measure your time while doing a test to see if you manage to finish it on time. 
You need to choose the right practice test carefully, and if you want only the best, you should opt for DoNotPay!
Why You Should Use a
Florida State Practice Test
To Prepare
You should prepare for the driving test in Florida if you want to pass the first time you take it. No one wishes to prolong the period of getting a license without a proper reason. Do not take the test lightly, and you should do well. 
This is where practice tests come in handy—taking them ensures you get ready properly. When you see you've learned enough, you can schedule a test appointment and ace the real deal.
DoNotPay's
Florida Permit Practice Test
Will Bring You the Best Results
You can find numerous permit practice tests for the state of Florida online, but you can be certain none of them can help you prepare for the real one as thoroughly as DoNotPay can! We update our question database frequently, so you can rest assured everything is in accordance with the rules and regulations.
If you wish to use our practice test, heed these instructions:
Access DoNotPay from a

web browser

Type in the test name

Select the test you want to get ready for

Indicate whether you want to take a 10-, 20-, or 30-question test

Start the test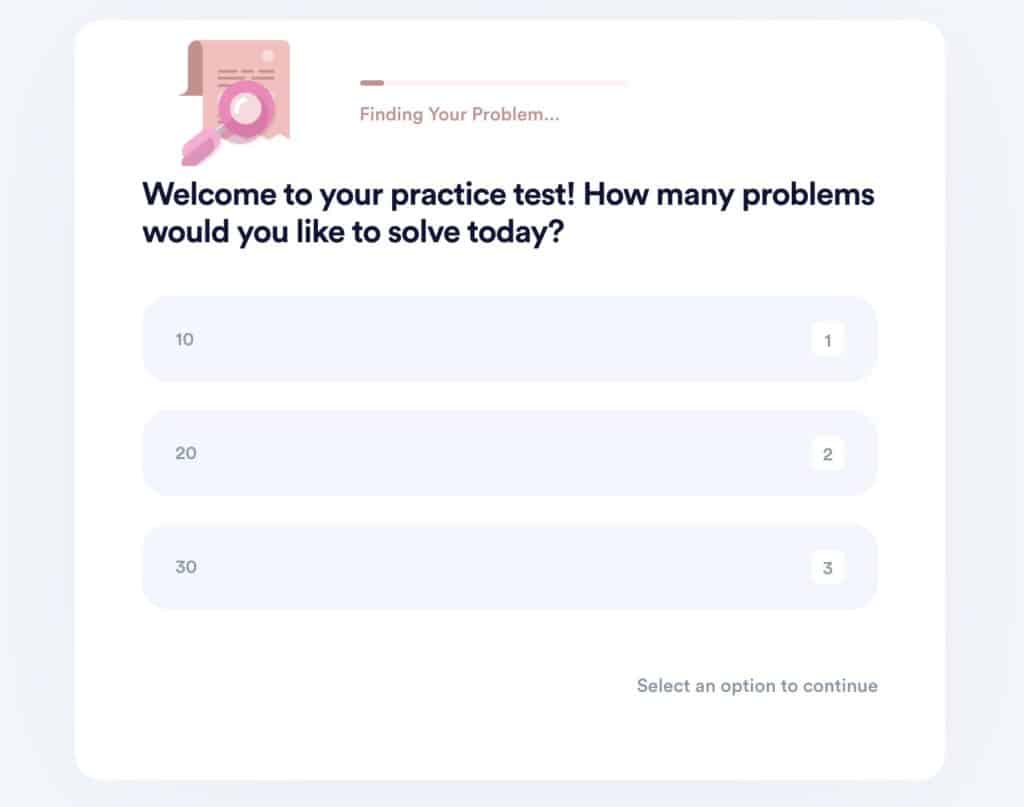 In case you are an experienced driver looking to widen your job opportunity pool, you can use our practice test to get a commercial driver's license (CDL)! That's not all—you can even take our HazMat practice test and find an even better-paid job with the knowledge of hazardous materials.
We can also help you schedule a DMV driving test appointment.
FL Practice Permit Test
Is Not the Only One in DoNotPay's Offer
You can count on DoNotPay if you want to practice for other tests issued by the government. Obtaining a license has never been easier than with the ability to check your knowledge on our app. Take a look at this table to see if DoNotPay can help you achieve your goal:
DoNotPay can also tell you how to check your ASVAB test scores.
How Can You Schedule the Florida Driving Test?
You can make an appointment for your Florida driving test online by visiting the FLHSMV Online Appointment Service and Information System (OASIS). This is what you should do:
Go to

OASIS

Choose the city you want to take the test in

See the contact information for the specific city

Follow the instructions provided and schedule an appointment
When you schedule an appointment, you will be a step closer to obtaining your driver's license and driving down the Florida roads!
Don't Let Companies Take Your Hard-Earned Money!
People love to subscribe to all sorts of services—especially if there are free trials involved. The problem is that most of them forget that they signed up for anything in the first place. Companies are aware of this, which is why they auto-renew memberships as soon as the free trials expire.
Don't let them get away with it—use DoNotPay to sign up for free trials and cancel subscriptions right before they renew. If you want to save even more money, use our platform to learn how to handle high bills, parking tickets, college application fees, canceled or delayed flights, or faulty services you should get refunded for.
Use DoNotPay To Stop Illegal Activities and Earn off Scammers!
Our AI-powered platform can assist you in dealing with all sorts of scammers. If you got any of the following, the world's first robot lawyer will help you seek justice:
Do you want to protect yourself and your loved ones from stalking and harassment as well? Use DoNotPay to learn how! If the situation with a stalker escalates, our app is going to help you take them to small claims court by preparing all the paperwork and your court statement.
Don't stop there—check out how you can bypass phone number verification, claim any type of warranty, or pass any government test with flying colors!