The Ins and Outs of Florida Divorce Forms
Do you want to file for divorce in Florida, but you aren't familiar with Florida divorce forms and laws? They can be overwhelming at first, which is why DoNotPay has prepared an article that will make your life easier!
We'll tell you all about Florida divorce forms! Our app will help you get a low-cost divorce by creating a divorce settlement agreement for you.
Residency Requirements for Filing Divorce in Florida
Before filing for divorce, you must familiarize yourself with the most important requirements set by Florida state laws. To get divorced in Florida, you or your spouse must prove you've been a resident of the state for at least six months. You will need to have a:
Valid Florida ID card
Florida's voter's registration card
Florida's driver license
An affidavit or a testimony from a third party
If you don't have proof of residency, the court won't have jurisdiction over your case. Your options are to:
File the petition in the state where you meet the residency requirements
Ask your partner to file for divorce in case they can prove they're a resident of Florida
Simplified Divorce in Florida
The state of Florida is a no-fault state, meaning that you don't have to prove any misconduct from your spouse to get divorced. In Florida, you can file for a simplified divorce—also called uncontested or friendly divorce. This type of divorce requires you to fill out fewer forms and is less complex and less expensive.
To file for a simplified divorce in Florida, you'll have to meet the following requirements:
You don't have any dependent children with your spouse
You and your spouse agree on the division of assets and liabilities
No alimony must be involved
You and your spouse aren't expecting a baby
Both of you agree that the marriage is irretrievably broken
A simplified divorce allows you to end your marriage in 30 days, from filing the papers to finalization.
Not sure how to get a cheap and fast divorce in different Florida counties? Check out how the divorce process is handled in these counties:
How To File Florida Uncontested Divorce Forms
If you qualify for an uncontested divorce, here are the steps you need to take to file the forms:
Find the forms—You will need to find a Petition for Dissolution of Marriage either on the state government website or at your local courthouse. Then you will have to get a settlement agreement either by:

Trying to draw one up yourself
Spending big bucks on a lawyer to draft the agreement for you
Finding one online and risk getting an incomplete document
Using DoNotPay and getting a tailor-made settlement agreement for a small fee

File the papers—Once you find the papers, you will need to file them with the court by providing a copy to the circuit court clerk in the state where you last lived together with your spouse. Keep in mind that you will have to pay the filing fees
Serve the papers to your spouse—Once you've filed the divorce papers, you will need to deliver (serve) them to your spouse. The state laws of Florida require you to complete this step through the sheriff's office or by using a private process server. In case your spouse is cooperative, this step can be bypassed by having them sign and file an Acceptance and Waiver of Service of Process by Sheriff
Can You Divorce Online in Florida?
Requirements for an online divorce in Florida are the same as for a simplified divorce, except that if you have any children, you have to take a mandatory four-hour parent course. This course will inform the parents about their responsibilities to their children during the divorce.
To file for a divorce online, you can seek help from one of the numerous third-party sites that deal with online divorces. Before choosing a website, make sure to do thorough research on them because you don't want to waste your money and get the wrong form.
Get Tailor-Made Divorce Settlement Agreement With DoNotPay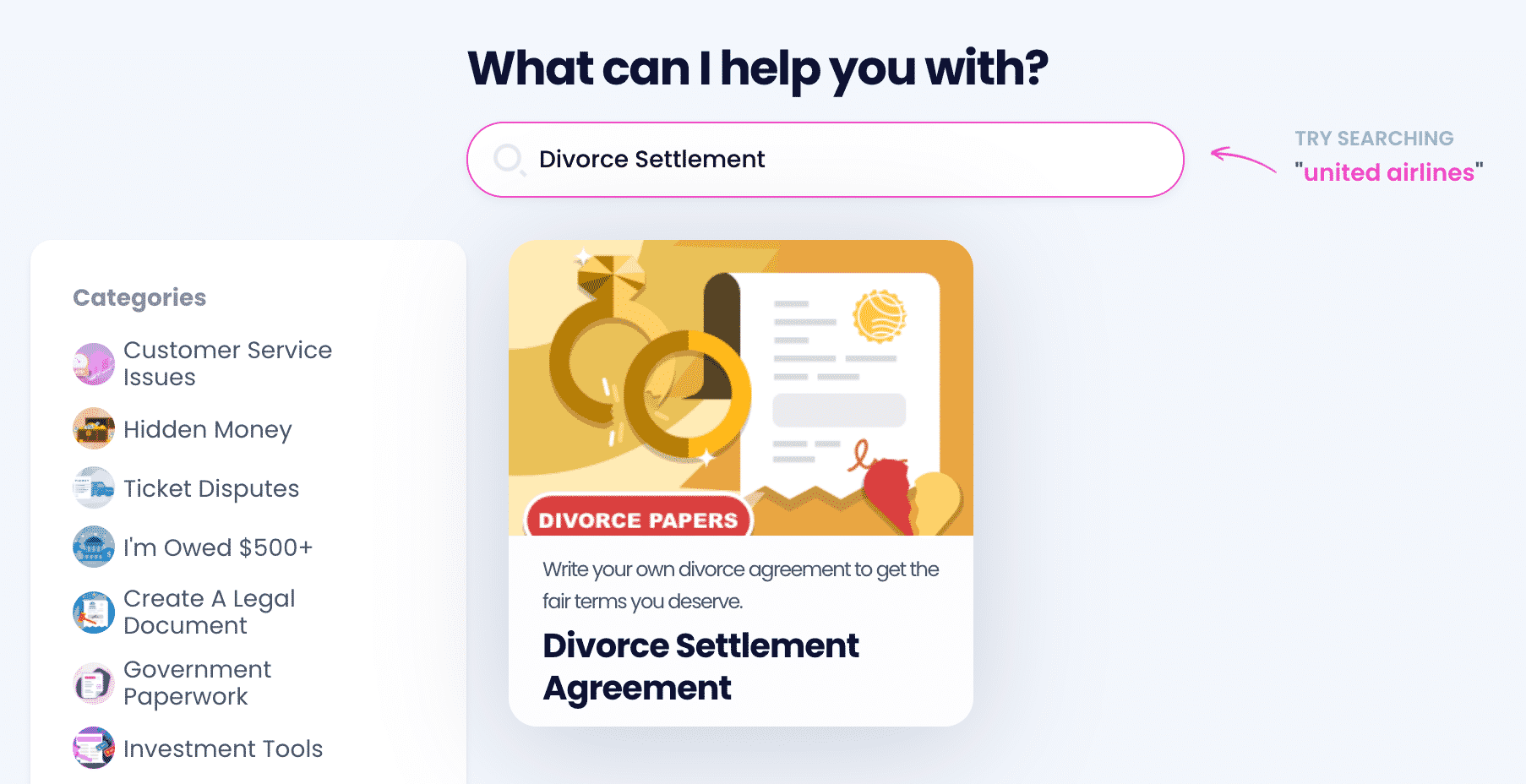 Want to get a divorce settlement agreement in Florida without having to pay sky-high lawyer fees or dealing with online agencies? DoNotPay has a solution! With our Divorce Settlement Agreement product, you can get your quickie divorce in Florida. Here's what you need to do:
Open DoNotPay from your preferred browser
Select the Divorce Settlement Agreement product
Give us details about your:

Financial assets
Income
Spouse
Children (if any)

Choose if you want to get your document notarized online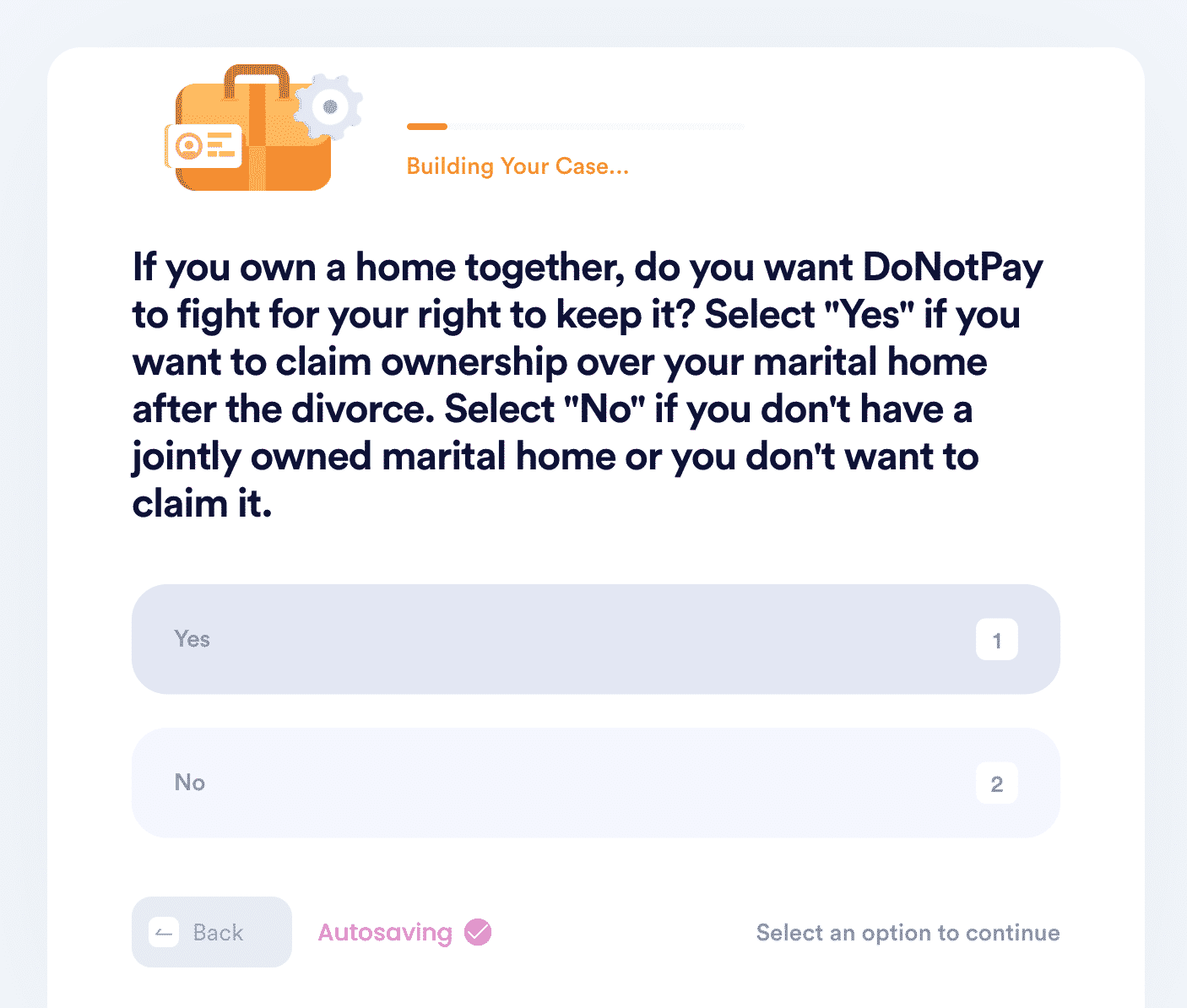 We will generate a legally formatted divorce settlement agreement for you, which you can have notarized from the comfort of your home.
Need more divorce-related assistance? DoNotPay can provide answers to your burning questions, such as:
Manage Your Tasks Easily With Our Help
DoNotPay is the perfect solution whenever you need to resolve legal or bureaucratic matters. Here's a fraction of what our AI-driven app can help you out with:
No Matter What You Need, DoNotPay Is by Your Side
Do you have a bunch of subscriptions that you waste money on but don't even use? We can help you cancel them effortlessly! After that, our app can initiate a refund request and make sure you get your money back.
Facing financial difficulties? DoNotPay can help you lower your bills, get free raffle tickets, get gift card cash back, find your missing assets, and so much more!
For a low monthly fee, you'll get access to our impressive range of products, so sign up now!