A Guide to the Florida Defamation Statute
Defamation is considered an invasion of interest in reputation. But how do you define defamation and how can you distinguish it from fair criticism under Florida law? If defamation of character happened in the workplace, how many years do you have to file a lawsuit?
In this article, we will provide you with answers to these questions and many others regarding the Florida defamation statute.
What Qualifies as Defamation of Character in Florida?
Under Florida law, defamation of character is an act where someone publishes a false statement that caused damage to a person's reputation or resulted in a business's financial loss. It is a civil tort that comes in two forms: slander and libel.
Slander is a form of defamation that happens when someone talks to another and spreads false information that results in damages. Meanwhile, libel is a form of defamation where someone publishes a written article or electronic communication to harm another's reputation. Defamatory social media posts and false business reviews fall under the libel category.
In a defamation lawsuit, your claim must show the following proof:
That someone made a false statement
That the statement was published in written form or verbally
That the statement was without privilege
That the statement caused injury
Standard Deadline for Filing a Defamation Lawsuit in Florida
If you are planning to file a defamation case in Florida civil court, you must be aware of the statutes of limitations. Under the Florida Statutes Section 95.11, you have two years to file a defamation lawsuit. The actual time starts to run on the date on which the defamatory statement was first published. Nonetheless, Florida law also provides exemptions on a few scenarios that may delay the deadline:
If the defendant is out of the state during the two-year period which begins from the date on which the defamatory statement was first published
If the defendant hides within the state or uses a false name to avoid service of the lawsuit
If the plaintiff is a minor or under the eyes of the law is considered incompetent at the time the defamatory statement was made
Other Aspects of Defamation of Character in Florida Law
In contrast to other states, there are aspects in Florida defamation lawsuits that you need to take into consideration. These include distinctions between public figures and private figures, differences between actual malice and negligence, criminal libel, and defamation per se.
Aspect
Description
Public vs. private figures
A clear distinction between public and private figures is important in a Florida defamation law.

This is because a public figure, such as Federal officers, has less protection than a private figure where the latter has a lesser expectation of privacy.

A private figure needs only to prove that the defamation was out of negligence while a public figure needs to show that the defamatory statement is made out of actual malice.

Actual malice vs. negligence
Actual malice means that the defendant knew that the statements were false and recklessly disregarded their falsity, while negligence means that the defendant did not exercise reasonable caution before publishing a statement.
Criminal libel
Under Chapter 836 of the Florida statutes, false statements that harm a financial institution's reputation or accuse a woman of sexual misconduct may be considered criminal libel.
Defamation per se
Some statements of fact are so obviously defamatory that no proof is needed for its damages. Examples of this statement include accusing the plaintiff of committing a crime or having an abhorrent disease.
Writing a Defamation Cease and Desist Letter
Cease and desist letters or demand letters are used to notify an individual or entity to stop a specific action and avoid repeating the said action in the future. These actions may include copyright infringement, harassment, defamation, property encroachment, and others. If you believe that sending a cease and desist letter is in your best interests after reviewing several options, there are many templates that you can download and fill up online. However, when drafting the content of the letter, there are a few points that you need to take into consideration:
The tone of the cease and desist letter must not be too aggressive or threatening but should be clear enough in what the letter intends to achieve.
Avoid making empty threats such as using language related to suing after a certain period as you will be forced to follow through on the execution of the threat.
Include a clear reason why the cease and desist letter was sent and support it with case laws.
DoNotPay Can Draw Up A Defamation Cease and Desist Letter for You in Minutes!
Although online templates can provide ease in drawing up cease and desist letters, it always helps to have a legal expert review them to ensure their effectiveness. However, hiring a lawyer to draft or review a cease and desist letter comes with exorbitant costs. That is where DoNotPay can help. Our AI lawyer can help you draw up a cease and desist letter in only a few minutes. All you have to do is:
1. Search for the Defamation Demand Letters service on DoNotPay.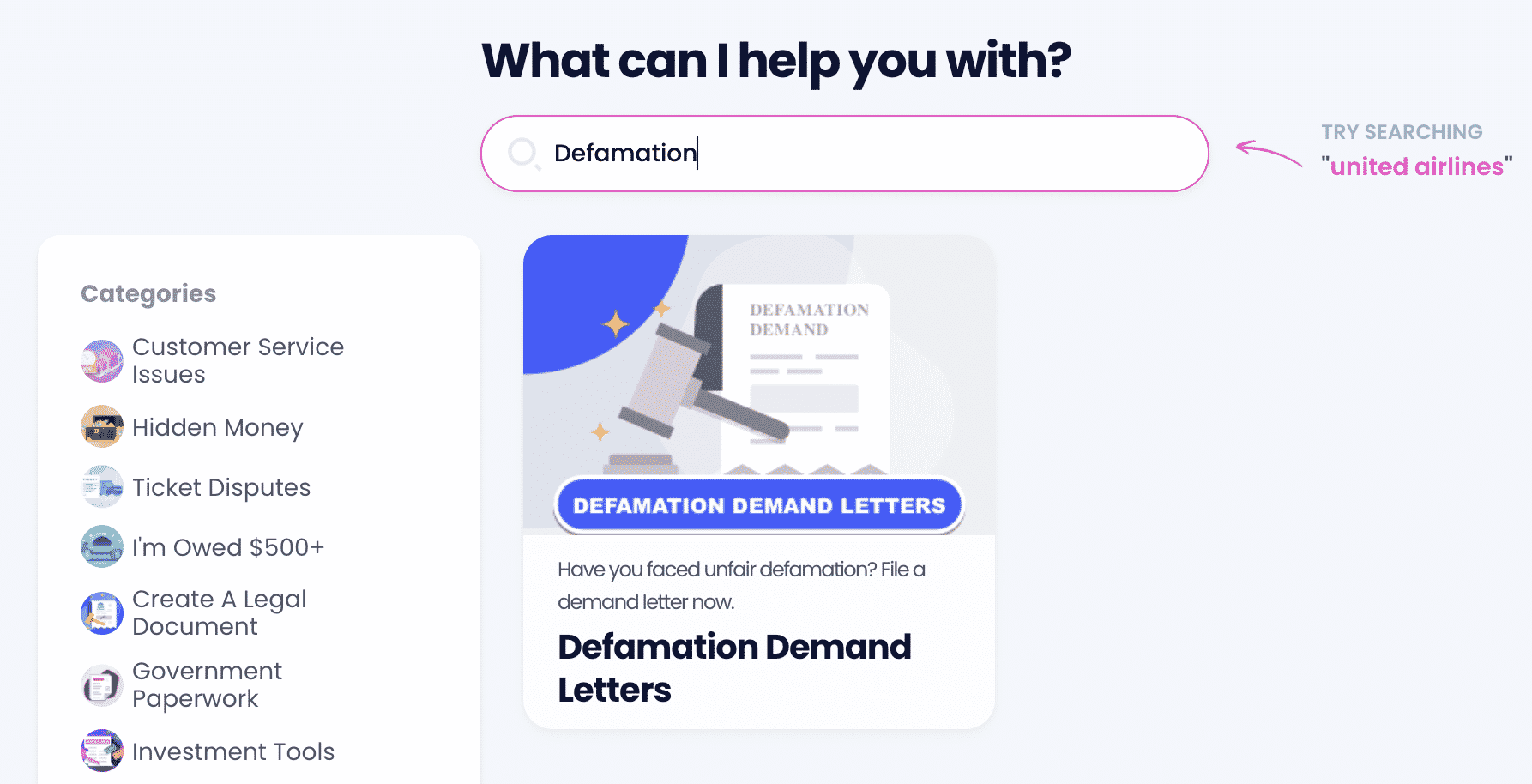 2. Tell us about your situation, including whether the statements were libel or slander, listing the statements that were made, explaining why they are false or misleading, and what consequences you have suffered as a result.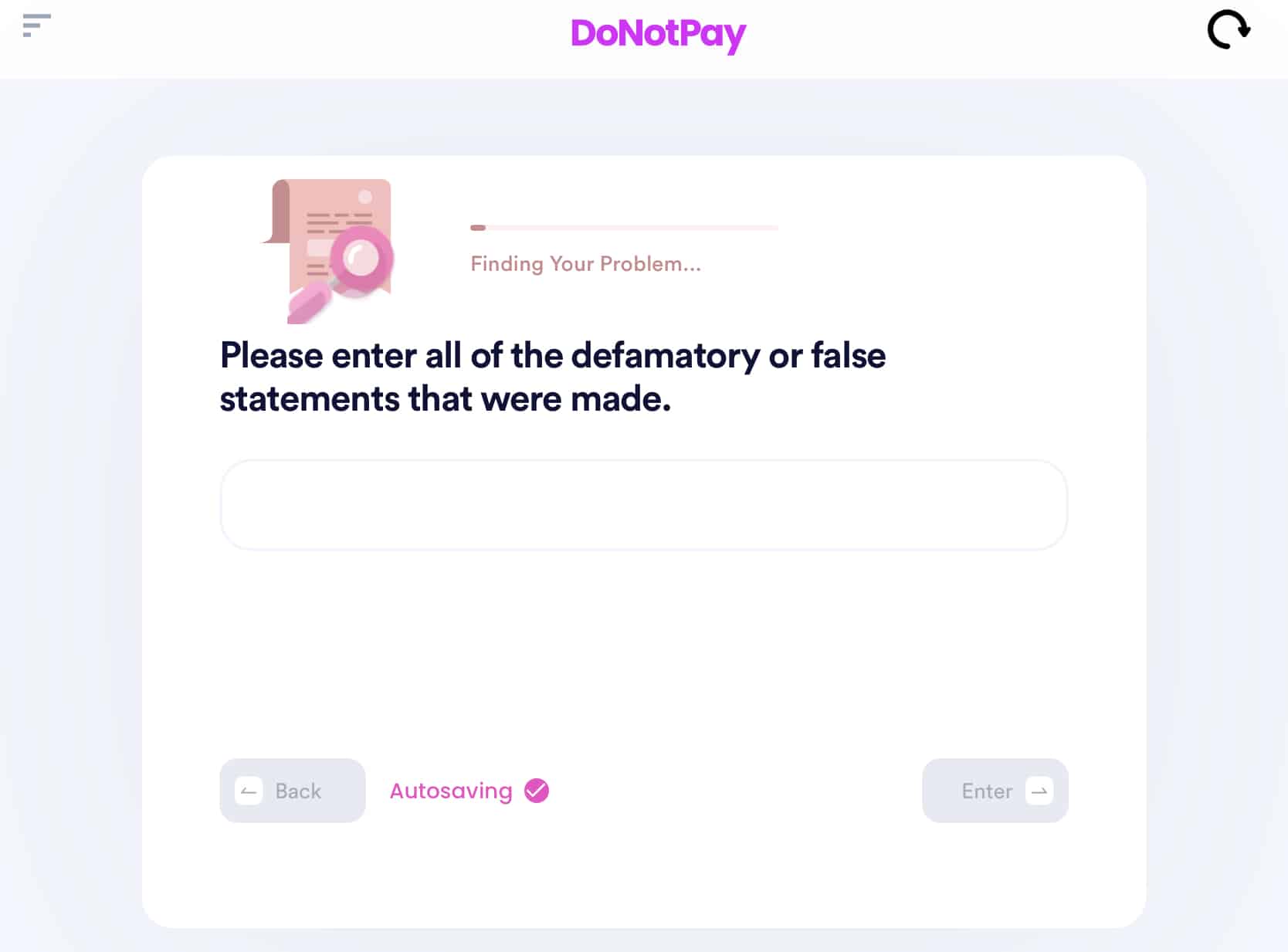 3. Based on your location, DoNotPay will generate a formal demand letter on your behalf with the most relevant state legislation regarding defamation.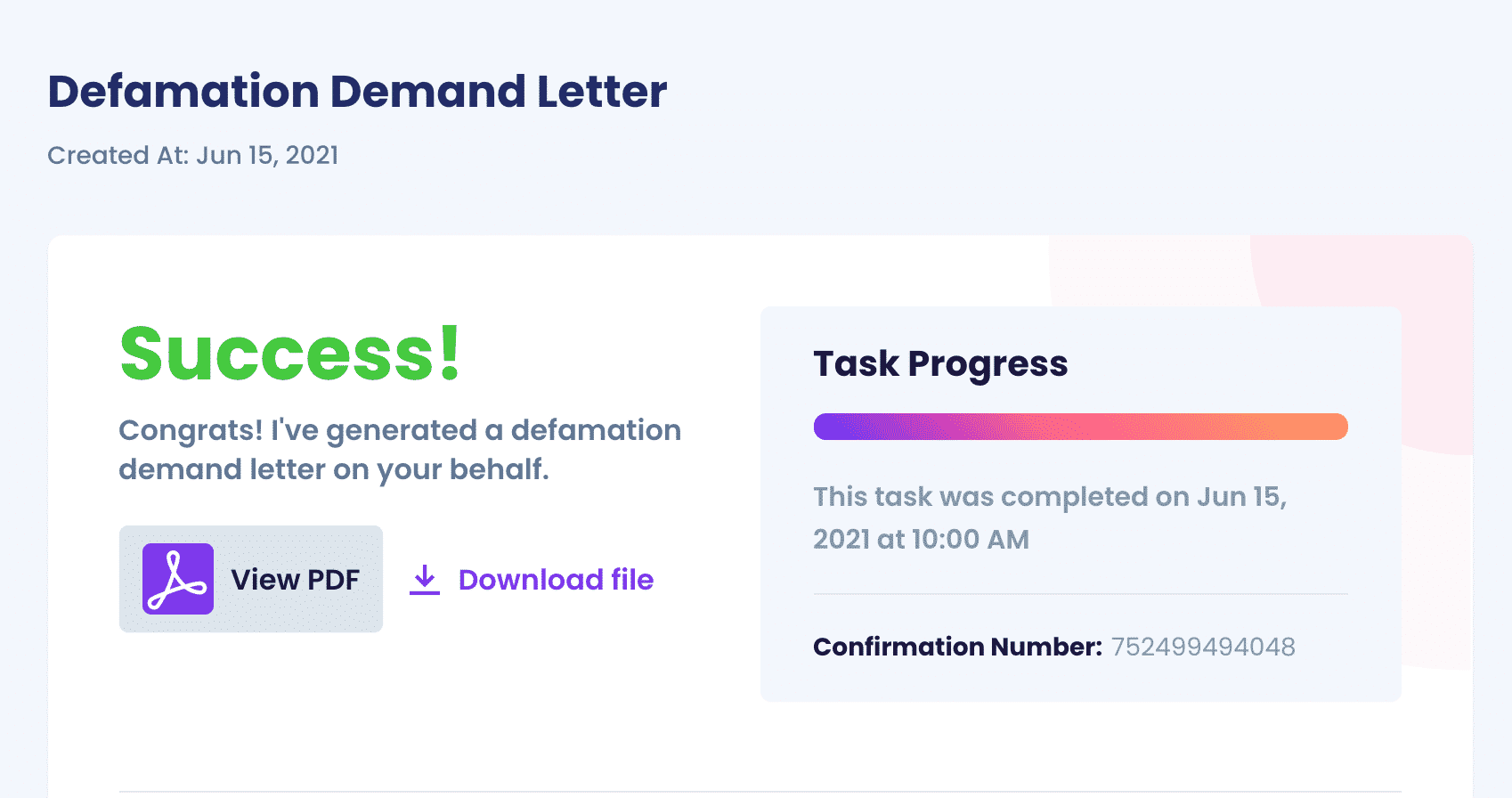 That's it! All we need is a little information and your letter is good to go.
What Else Can DoNotPay Do?
DoNotPay's AI-powered robot lawyer can help you with daily tasks! Cancel subscriptions, look for tax exemptions, and appeal parking tickets with just a few clicks! Here's what else you can do: