Start a Flash News Streaming Free Trial Risk-Free With a Virtual Credit Card

If you are a fan of online streaming services, you can search Foxtel's Flash, a streaming service that focuses solely on the news. Flash is an online service that keeps you on top of your favorite subject by bringing you content from various sources worldwide.
It enables you to watch news live or catch up with TV shows of your interest. Due to its search complexity and too much content, Flash may prove challenging to use for new users or those who have difficulties operating its search engine.
However, DoNotPay makes work easier for you by helping you categorize and personalize information based on your fundamental interest. It will also help you in signing up for the Flash free trial.
Does Flash Provide a Free Trial?
Yes, Flash provides a free trial subscription. The Flash has no limitation for the 14-days trial, which implies that for 2 weeks, you can enjoy streaming flash content based on your demands. You can only watch on 1 device at times and in HD quality, so long as your device is compatible with your device.
Flash conveys its users with content from more than 20 sources globally. The platform's main aim is to serve your interest by enabling you to access different resources with distinct views on the same topic. Flash gives you access to news sources like:
BBC World News
FOX News
CNN International
Al Jazeera
Bloomberg TV
Flash offers a clean and user-friendly interface. You can browse by classification like politics, technologies, and other watch live content and form a personalized Flash list to watch later. You also have the opportunity of developing a Flashpoint hub for your exciting story to make up all contents from the services associated with that particular story for easy access.
Are There Conditions for the Flash Free Trial?
There are no limitations to the Flash free trial. It thus implies that you have 2 weeks to enjoy everything that Flash has to offer with no underlying conditions.
If the Flash services don't serve your interest, then you have the option of canceling your subscription before the end of 2 weeks. You can set a reminder for the 13th day of your free trial to avoid unnecessary charges on your credit card.
To cancel your free trial subscription:
Go to My Account
Click Cancel subscription and give your main reason
How Can I Get a Flash Free Trial?
Getting a Flash free trial is an easy and fast process. For those with BINGE and Kayo Sports, the process is much easier for you since the process is more or less the same. If you are a current subscriber to any of the two services, then you can begin by clicking on the sign-up button from the top right of your device. Then use either your BINGE or Kayo login for Flash.
If you are a new user, get your Flash free trial:
Visit the Flash website and click New to Flash Stream for free.
Flash only has one subscription plan; hence, click the continue button. But if you have a promo code or a voucher, click on the Got a voucher option and follow the on-screen prompt to redeem it.
Fill in your details to generate a Stream motion account. This account will also give you access to BINGE and Kayo Sports.
You will then receive a verification code on the contacts you provided. Insert it where indicated on the Flash web page to continue.
After verification, your Flash account is now active and ready for use. Take some time to edit or change your profile and start enjoying your free trial.
The Flash account enables you to watch news TV shows on your device, so long as you are logged in. Flash is readily compatible with iOS and Android devices. It is also compatible with Apple TV and Chromecast.
Does Flash Free Trial Automatically Renew Into a Paid Subscription?
Thus, you have the option of canceling your free subscription before the end of the trial period, and the Foxtel Company will delete your account after you complete your free trial but should you forget to do so, the billing period will start automatically depending on the packs of your choice. The monthly charges will be debited to your nominated card at your consent, which means billing is done based on what you have decided to do with your Flash Account.
Avoid Automatic Renewal With DoNotPay Virtual Credit Card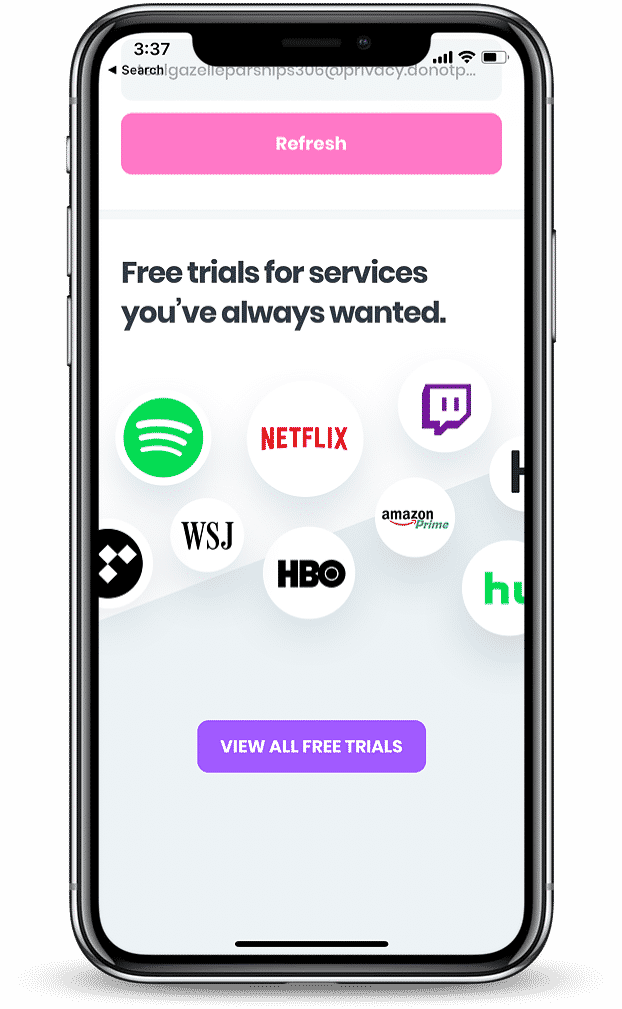 Even though the Flash Account gives you an option to cancel your free subscription, you can forget to do so most of the time, leading to unplanned billing. You may choose to set a reminder on the last day of the free trial, but forgetting is still inevitable.
You can Use DoNotPay's virtual credit card to avoid billing once the free trial expires.
What Is a Virtual Credit Card?
A Virtual Credit Card is sort of a fake credit card filled with simulated information to resemble an actual credit card but it cannot transact since it does not contain real bank information. Its main aim is to enable users to sign-up for free trial services without trading your credit card information.
DoNotPay provides you with a free virtual credit card. You only log in and apply for the card the following process:
Visit the DoNotPay website, search for a free trial card and fill in the name of the organization you want to enjoy its free trial
Our product will automatically generate a virtual credit card for you to use. The card that will appear on your screen is your virtual credit card.
Sign-up for your membership premium with the card.
DoNotPay virtual credit cards are only used once to inhibit the automatic billing of your credit card.
How Much Does Flash's Subscription Cost After the Free Trial
Flash has one available plan for its users, known as All Access. The plan costs $8 monthly and features High-Definition streaming quality, accompanied by live and on-demand coverage.
Besides, users might incur data consumption expenses alongside monthly fees. Streaming flash burns ranges from 0.3 GB to 0.5 GB hourly in SD and from 1.5GBto 3.25 GB hourly in HD.
What Are the Popular Alternatives to Flash?
Here are various streaming alternatives other than Flash:
Streaming App
Price
Inclusions
DAZN
$2.99 monthly fee

No Lock-in Contracts
Watch on multiple devices with the DAZ App
Exclusive boxing

Amazon
30 days free trial $6.99 monthly fee

No Lock-in Contract
Tiles available in 4K
Uses 3 screens at the same time

BritBox
7 days free trial $89. 99 yearly fee

Non-Lock-in Contract
Stream on up to 5 devices
Watch hundreds of shows and movies ad-free

Hayu
$6.99 monthly fee

No Lock-in Contract
Hayu app: download shows
6500+ episodes of reality TV
What Else Can DoNotPay Do?

DoNotPay can help you:
Sign up with us to enjoy these and other product offerings on DoNotPay.