Get Your Project Off the Ground With a
Fiscal Sponsorship Agreement
The most difficult part of getting a project started is securing the funding you need.
A fiscal sponsorship agreement provides a watertight way to get your project funded while maintaining the freedom you need.
DoNotPay knows how difficult writing a contract can be, so we are here to help with advice, contract templates, and customizable legal documents.
DoNotPay can help you get your fiscal sponsorship agreement set up in no time!
What Is a Fiscal Sponsorship Agreement?
A fiscal sponsorship agreement is a contract between a project originator and a non-profit organization (NPO), known as the sponsor. It allows the project originator to use the NPO's tax-free status and company registration to receive funding.
For the NPO, it is an opportunity to work with an individual or group that delivers something that is aligned with what the NPO wants to achieve.
As an example, you have set up a project to rejuvenate urban spaces by painting and refurbishing them using flash mobs. You have secured a promise of funding, but you have no status as a legal entity, so you can't take up the funding offer.
You, therefore, approach an NPO that is mandated to develop urban recreation facilities in your area. Using a fiscal sponsorship agreement, the NPO agrees to receive the funding you have secured, manage it, and channel it to you. In return, it may receive a percentage of the money you have raised.
You can run your project, and the NPO can deliver on its mandate, so both parties benefit.
Are There Different Kinds of Fiscal Sponsorship?
There are two types of fiscal sponsorship you can enter into:
Comprehensive fiscal sponsorship

Pre-approved grant relationship fiscal sponsorship
Comprehensive Fiscal Sponsorship
Under this model, the sponsor takes over your project and runs it as a program within its operations.
While you are recognized as the project originator, you effectively become a project manager within the sponsor's organization. The sponsor takes over all the financial and administrative tasks, as well as any reporting responsibilities to funders.
This model is ideal for you if you are not comfortable with all the financial, reporting, and auditing requirements of running a project as a legal entity.
Pre-Approved Grant Relationship Fiscal Sponsorship
This model is slightly looser and allows your project to retain independence from the sponsor. Under a pre-approved grant relationship fiscal sponsorship, you apply to the sponsor for funding, and the sponsor raises donations to pass on to you.
You are responsible for any financial reporting to the sponsor, and the sponsor must check that the money they have given you is being used for the purpose it was intended.
Your project remains a standalone entity, and you negotiate the level of your ownership of the IP and content. If you fundraise for the project, you do so as an agent of the sponsor.
Once you have decided which model works best for you and the sponsor, you can set the agreement up.
How Do You Set a Fiscal Sponsorship Agreement Up?
Here are the elements you need to include in a fiscal sponsorship agreement:
Agreement Element

Explanation

Names and details of the parties

The names, addresses, and contact details of the sponsor and your organization must be included

Date and term of the agreement

You must note the commencement date of the agreement as well as its expected length. This should be identical to the dates set out in your project plan

Project details

This section should list:

The name of your project

Its overall aim or goal

The project plan

Your project plan should include:

Project phases

Tasks within each phase

Completion dates or durations for each task and phase

Milestones

Reporting points

Project deliverables

In this section, you should set measurable targets you aim to achieve. These could include:

Number of beneficiaries reached

Measurable improvements generated

Number of events you run

Remuneration and payment terms

After negotiating these points with the sponsor, you should note the total amount of sponsorship, the project budget broken down by project element, and the payment terms. Many sponsors will ask for the total amount to be split into payment tranches that are dependent on the project milestones being reached

Breaches and termination

Breaches that are common in fiscal sponsorship agreements include:

Non-delivery

Failure to submit reports

Intentional or unintentional misuse of funds

Over- or under-spending of funds

Sometimes you will see after you have commenced a project that your goals or values and those of the sponsor are not aligned. You should include a clause that allows for mutually agreed termination of the agreement if this is the case

Governing law

You should clarify which state's legislation governs the agreement
Once you have set up the agreement, you and the sponsor can sign it and have it notarized to complete the process.
Can DoNotPay Help Me Set Up Legal Documents?
You can draft your fiscal sponsorship agreement using the guidelines above, concentrating on reaching a mutually beneficial consensus with your sponsor. You may also find that larger NPO's already have prepared templates for sponsorships of this type.
DoNotPay has an extensive range of other legal documents you can tailor to your requirements. Getting your customized legal document with DoNotPay is duck soup—follow these steps:
Go to DoNotPay in your web browser and

Use the search tool to find the document you need

Type in the details you want included

Wait while we generate your document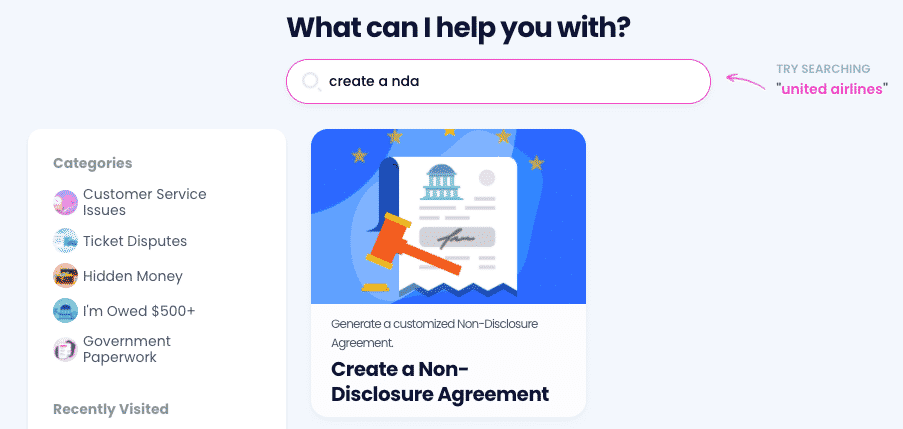 What Kind of Legal Documents Can DoNotPay Offer?
's range of legal documents is growing daily, and here are some examples of what we have:
Business documents

General business contract

Property documents

Estoppel certificate

Quitclaim deed

Intent to purchase real estate

Personal documents

General affidavit

Promissory note
Money Troubles Got You Down? Use DoNotPay To Get What You're Owed!
If you need help paying bills, you could benefit from our hacks for saving and earning money.
Our app can help you get free trials with no hidden charges, thanks to DoNotPay's virtual credit card. If you want to get rid of a service, we can assist you in canceling it or requesting a refund. We'll get everything done so that you don't have to deal with customer service. In case a company is playing dirty, our award-winning app can help you take it to small claims court.
A slow bureaucratic process shouldn't stop you from getting your money back. This is where DoNotPay comes in! We provide the fastest way of:
Rely on DoNotPay To Manage Different Tasks and Issues
DoNotPay is a multifaceted app making your life easier in numerous ways. Here's how you can benefit from your DoNotPay account: