Find Out if You Need To Get a Finland Tourist Visa Before Traveling
The happiest country in the world, the Land of Thousand Lakes, the home of Santa Claus—you name it—Finland has some of the world's loveliest tourist attractions. A trip to this destination may bring you much joy but also many problems if you don't inform yourself about the current entry requirements for the country.
Failing to obtain the necessary entry authorization may leave you at the airport instead of the booked hotel. For this reason, we prepared a guide that will answer all potential queries about entering this country, such as:
Do you have to apply for a Finland tourist visa?
What should you do if you want to stay for longer than permitted?
What are the criteria you must meet to pass the borders painlessly?
Whom can you contact for any questions about visas, permits, and your stay in Finland?
How can using DoNotPay assist you in making the most of any tourist visa application?
Applying for a Tourist Visa for Finland—Is It Required?
Finland forms part of the Schengen area. It's a zone that allows travelers from many countries, including the USA, to visit any destination on the territory without a visa and stay for up to three months. In other words, you can enter the country only with your passport if you aren't planning to explore Finland for longer than 90 days. Here are the passports/travel documents accepted by the Finnish immigration authorities:
Regular passport
Diplomatic passport
Emergency passport
Service passport
Official passport
Seaman's book—if you are on duty
What Do You Need To Enter Finland as a U.S. Tourist?
Being able to enter Finland without a tourist visa doesn't mean you can just show your passport at the border and pass. Here are some other requirements you must meet to go through the customs without complications:
Remaining passport validity of at least 180 days beyond your planned stay in Finland
Two blank passport visa pages
Insurance document covering the entire length of your trip
Proof of financial means showing that you can cover your stay expenses (at least 30 euros per day) and all other related costs
Proof of a booked flight
Absence of active entry bans to the Schengen area
The immigration authorities keep the right to deny you entry to Finland if they suspect you:
Constitute a danger to the public health, order, or security
Affect Finland's relations with other countries negatively
Plan to earn money by dishonest means while staying in the country as a tourist
COVID-19 Entry Restrictions and Regulations in Finland
In light of the increased risk of COVID-19, the Finnish authorities propose some rules regarding entering the country during the pandemic. You must:
Provide either:

Negative PCR test
Full vaccination certificate
Proof of recent recovery from COVID-19

Practice voluntary distancing from other people and wear a face mask
Undergo additional health screening upon arrival in Finland, if necessary
There are no ongoing curfews, quarantine, or any restrictions on intercity or interstate travel.
What Should You Do if You Want To Extend Your Stay?
If you have a family member in Finland, decide to study there, or just want to stay for longer than three months, you must apply for a residency permit. It's necessary to do it before visiting Finland as, according to the Schengen rules, you can't get this type of authorization upon arrival.
How To Get in Touch With an Appropriate Finnish Embassy or Consulate?
The following table shows some available Finnish authorities you can contact if you need any help with your residency visa or other queries:
| Authority | Location | Phone Number |
| --- | --- | --- |
| Embassy of Finland | Washington | (202) 298-5800 |
| Consulate General in Los Angeles | California | (310) 203-9903 |
| Consulate General in New York City | New York | (212) 750.4400 |
| Consulate in Albuquerque | New Mexico | (505) 898-2079 |
| Consulate in Chicago | Illinois | (708) 442-0635 |
| Consulate in Atlanta | Georgia | (404) 815-3682 |
| Consulate in Houston | Texas | (713) 552-1722 |
| Consulate in Miami | Florida | (305) 444-0004 |
| Consulate in Boston | Massachusetts | (617) 654-1800 |
| Consulate in Phoenix | Arizona | (480) 998-7121 |
You can find the full list of available consulates on the Embassy Finder.
DoNotPay Solves Your Visa-Related Dilemmas Without a Hitch
Submitting a tourist visa application may not seem like a big deal but includes many tedious tasks, such as:
Finding out what paperwork is necessary for the application
Calling or emailing the embassy or consulate to arrange a meeting
Driving or traveling to the appropriate facility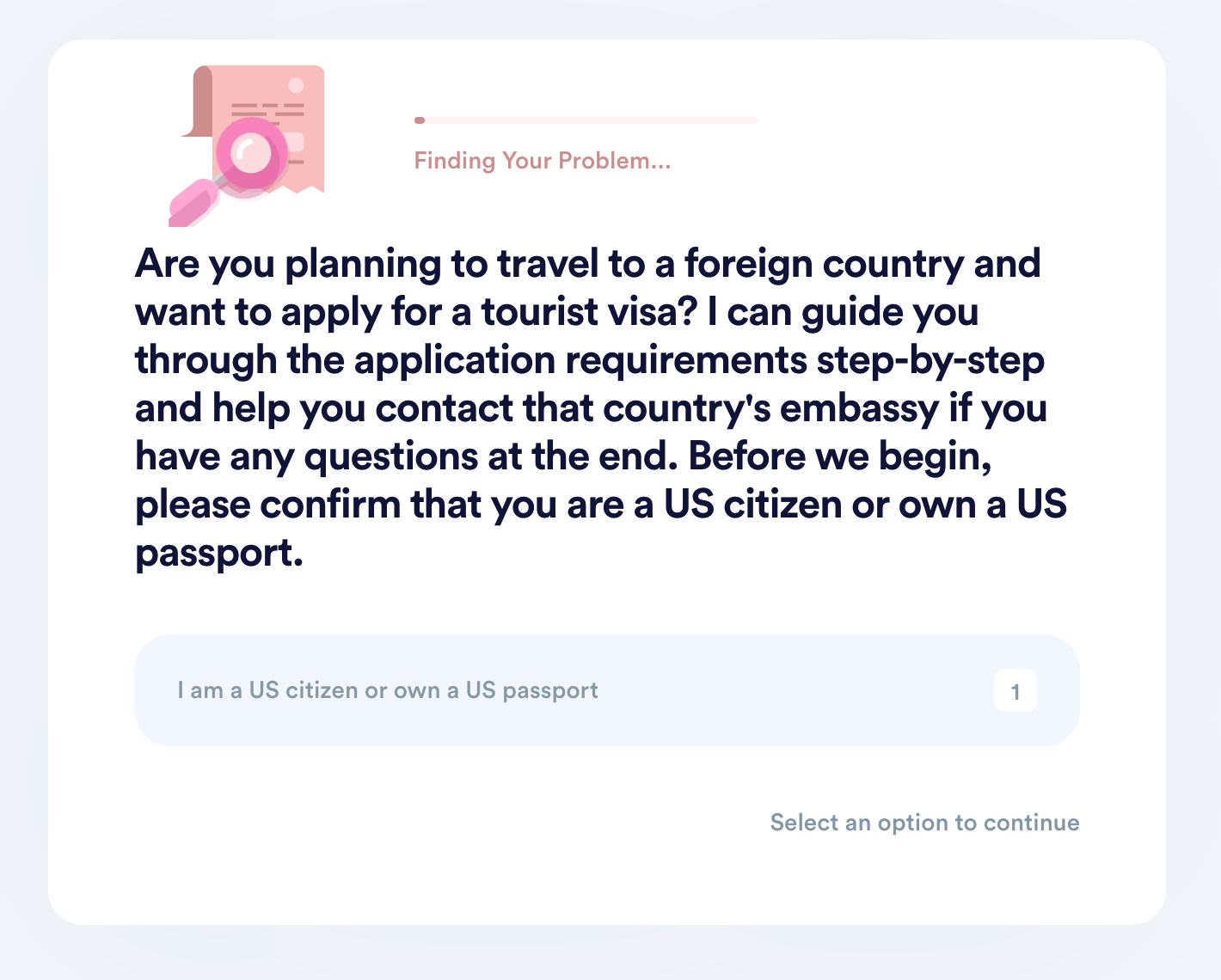 The good news is that with DoNotPay, you can skip them and file an application from the comfort of your home! Once we check if you need a tourist visa for a specific country, we can contact the embassy in your name and ask if it accepts email visa requests. This way, you don't need to go to the other part of the town to submit a couple of documents!
That's not all! We will give you a ready-made list of all the documents you need and an appropriate application form to complete. Long story short—all you need to do is follow our instructions:
Select Tourist Visa Guide
Verify your U.S. citizenship or passport ownership
Choose the country you want to visit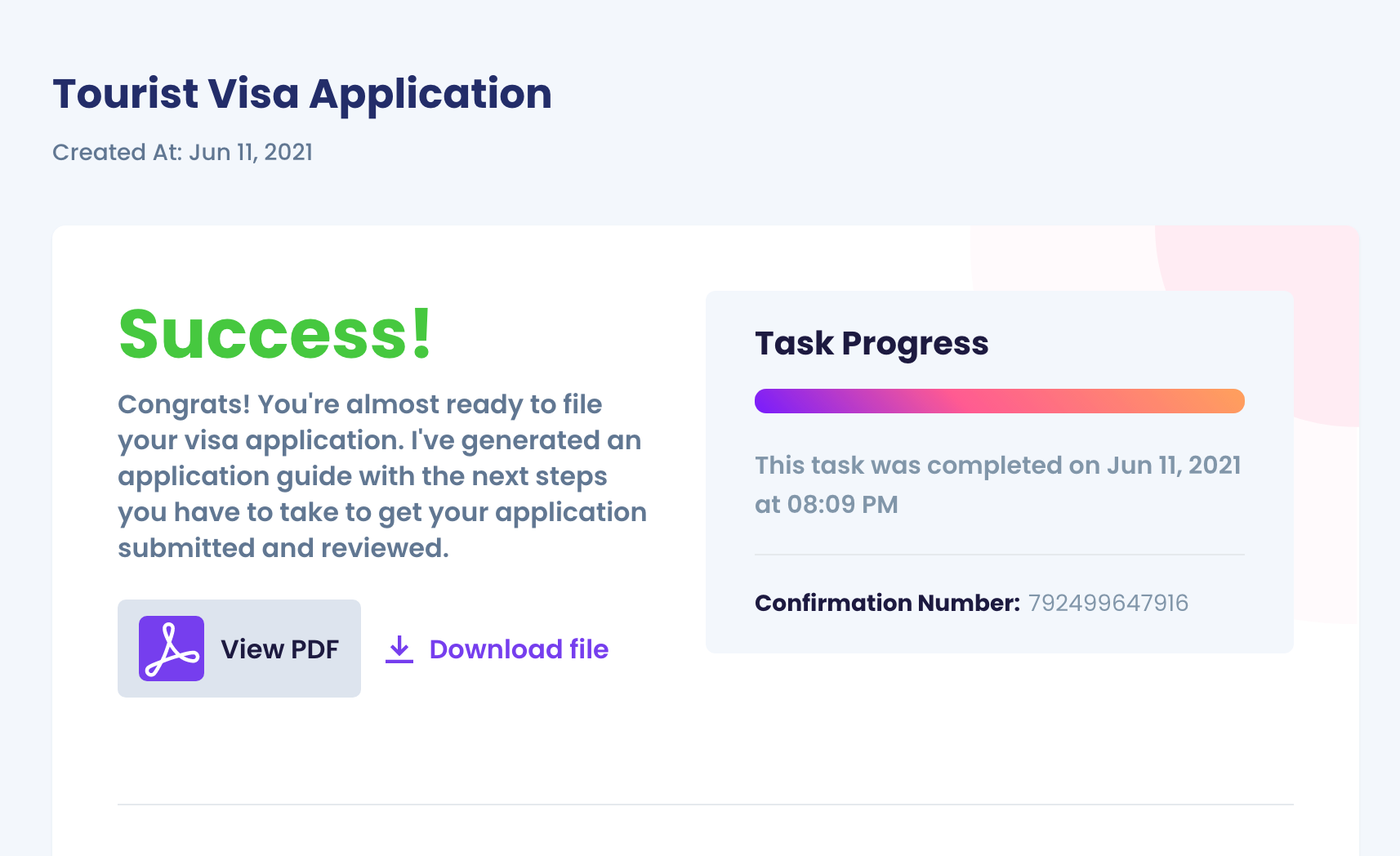 We will make a breeze out of any tourist visa request—check out other guides we prepared for you:
Choose From a Variety of DoNotPay's Amazing Tools
Did you manage to solve the issue with our app? If the answer is yes, you may also be interested in checking out other interesting features we offer. DoNotPay can help you:
| Get Rid of Spammers By | Deal With Uncooperative Merchants By | Get Help With Your Studies By |
| --- | --- | --- |
| | | |
Let DoNotPay Prepare Important Documents for You
Are you having a hard time drawing up a contract due to insufficient legal expertise? Say goodbye to failed drafts—DoNotPay can generate divorce settlement agreements, powers of attorney, child travel consent forms, and many other legal documents in under five minutes!
We will also help you create anonymous HR complaints and demand letters for your neighbors if you are experiencing any issues with them.