Increase Your Sales With a Finder's Fee Agreement
It's not what you know, but who. This adage is as true today as it has always been. Companies are as reliant as ever on tips from contacts, leading to sales that would otherwise have been out of reach.
The big change in the marketplace is the formalization of finder's fees. What used to be a friendly exchange of information over a coffee has turned into an industry where finders expect—and receive—substantial sums for the leads they can pass on.
Any business transaction should be accompanied by documentation that regulates it. This ensures that all the parties involved walk away happy with the outcome. A finder's fee is no different and should be agreed upon in writing before any information changes hands.
is your number one resource for the business documents you need, including a finder's fee agreement. We can help you learn how to write a contract, provide you with ready-made legal documents, or give you contract templates to make sure your legal bases are covered.
What Is a Finder's Fee?
A finder's fee is an agreed sum or percentage that is given to someone for providing information that leads to a business deal.
A finder's fee could be payable in the following situations:
A contact sets up a meeting for you with one of their contacts that is in the market for your product; the meeting results in a sale

You urgently need to buy laptops for your business; a contact arranges a great deal for you with a supplier

You need a band for a company function; a contact sources, organizes, and books exactly what you are looking for
A finder's fee can be a fixed amount, a percentage of the deal amount, or something as inconsequential as an informal gift.
Should I Bother To Pay Finder's Fees?
A personal referral is worth its weight in gold. If you follow it up by doing a good job, it can mean sales revenue or getting something you need without having to do any legwork.
More importantly, someone who offers you a lead or acts as your intermediary to strike a business deal could be encouraged to do it again and become a valuable asset to your business without the encumbrances of being employed by you. Such an asset deserves remuneration.
The more your relationship with an intermediary grows, the more important it is for you to formalize the relationship with a finder's fee agreement.
What Should I Put in a Finder's Fee Agreement?
A finder's fee agreement should be kept clear and concise, but it needs to include a few essentials to make sure both you and the finder are aware of what to expect.
You should include the following points in your agreement:
Agreement duration

Payment amount and terms

Reimbursement of expenses

Marketing guidelines

Confidentiality

Finder's employment status

Termination mechanics
Agreement Duration
You should set a clear limit on the length of the agreement, and it is prudent to keep it as short as possible in the early stages of the relationship with a new finder.
Payment Amounts and Terms
You should set out how much you are willing to pay for leads and whether it is a percentage of the eventual deal or a fixed amount. You can also include payment terms to make sure you're not paying out finder's fees before the deal has been concluded and to make it clear that the fee is only payable on the first transaction, not on repeat business.
Reimbursement of Expenses
If a finder spends money out of their pocket on travel, advertising, or client entertainment, you may wish to set out the reimbursement you are prepared to offer. This should include the same mechanics as you would use with your employees (submission of invoices, receipts, and similar).
Marketing Guidelines
You don't want a finder generating leads for you while corrupting or misrepresenting your brand, so you should provide marketing guidelines that set out what the finder is allowed to do and say about you. It should be made clear that these guidelines are mandatory and non-negotiable.
Confidentiality
Your finders should be bound by a confidentiality clause that ensures they don't reveal sensitive information about your business to their leads—or, worse still, to your competitors.
Finder's Employment Status
The finder should be classified as an independent contractor to your company and should be bound by all the legal ramifications this entails.
Termination Mechanics
You should list all the possible reasons for terminating the contract, as well as options for appeals or arbitration. Typical reasons are:
The finder starts working for one of your competitors simultaneously with you

The leads passed on are of consistently low quality

The finder misrepresents your brand

Expenses are claimed fraudulently
A finder's fee adds extra costs to a transaction, but over the lifetime of a client relationship, the once-off fee you pay could be recouped many times over.
How Can DoNotPay Help Me With Legal Documents?
DoNotPay makes it easy for you to draw up legal documents without the expense of lawyers or the worry of doing it yourself.
If you are looking for a legal assistant that is fast and customized, DoNotPay is the place to go. Getting your document is easy—all you need to do is follow these steps:
Navigate to DoNotPay in your

Type in the document you are looking for

Give us the details we need for the document

Wait while we generate it for you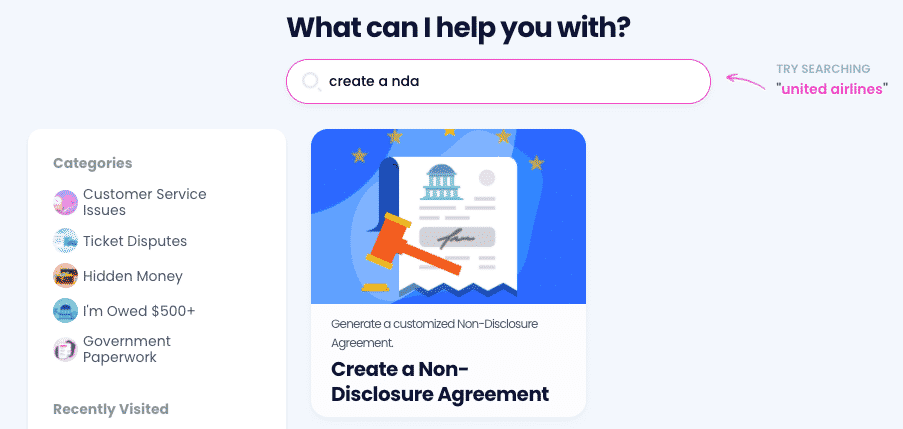 Remember that the document is only binding once signed by all the parties to the agreement. You should also get it notarized to ensure complete security.
What Kind of Legal Documents Can DoNotPay Provide?
We are constantly adding new documents and templates, but here are a few examples of what DoNotPay could do for you:
Business
Personal
Real Estate

Child Care Authorization Form

Affidavit

Intent To Purchase Real Estate

Quitclaim Deed

Estoppel Certificate
Falling for Scams Is Less Likely With DoNotPay
Thanks to AI technology, DoNotPay is a great resource for protecting your privacy and finances from potential scammers. Our bots can help you report robocalls, keep your inbox clean from spam email and shady text messages, or even deal with stalking and harassment, if it comes to that.
In case the issues escalate, skip the expensive lawyers and sue the offenders in small claims court with ease.
Another great way to increase your online security is to use our virtual credit cards and sign up for any free trial without risking unwanted charges. You can even avoid sharing your contact info with our Burner Phone feature.
The Solution to Your Driving Woes
DoNotPay provides invaluable help to future and current drivers. By helping you ace that driver's license test, scheduling a DMV appointment the easy way, or contesting parking tickets, our app saves you money and time.
If you need to file a car warranty or an insurance claim, we will help you deal with the necessary paperwork within minutes. Trying to get out of a car wash membership? DoNotPay can cancel it in an instant.
Our platform works above ground as well. You can use DoNotPay to secure refunds from airline companies or compensation for delayed and canceled flights.