Create a Financial Power of Attorney Easily With DoNotPay's Help
Figuring out the rules on creating a legal document is a time-consuming task. The good news is that you don't need to go through the process on your own—use DoNotPay to create a financial power of attorney in no time! Our app will make sure your power of attorney (POA) is airtight.
What Is a Financial Power of Attorney?
A financial power of attorney (FPOA) is a legal document that allows an attorney-in-fact (the agent) to handle the principal's financial matters when the latter one is unable to do so on their own. The attorney-in-fact has the right to manage the principal's property, conduct financial transactions, and make other financial decisions stated in the agreement.
Types of Financial Powers of Attorney
You have to decide what kind of financial POA you want before creating the document. Take a look at the table below for more information:
| | |
| --- | --- |
| Financial POA Type | Brief Explanation |
| With immediate effect | This FPOA takes immediate effect after signing. The principal can hire an agency to handle their financial matters, and they don't need to be absent or disabled |
| Sprung | At least one doctor needs to confirm that the principal is incapable of making financial decisions. The POA takes effect after the principal becomes disabled |
Financial Power of Attorney—Responsibilities of the Agent
The principal decides how much power the agent will have with the financial power of attorney. They can be in charge of all financial matters or only handle a single transaction. Take a look at the list of tasks the agent is usually asked to perform:
Paying bills
Taking care of claims and litigations
Transferring and selling assets
Accessing financial accounts
Paying medical expenses
Taking care of real property transactions
Paying taxes
Accessing the principal's safe deposit box
Investing on the principal's behalf
Collecting retirement benefits
Managing stock and bond transactions
Covering the principal's insurance
Operating a small business
Hiring someone to represent the principal
Making gifts to individuals or charities
Since the agent handles serious matters, it is crucial to choose someone trustworthy. When it comes to legal requirements, the agent has to be at least 18 years old and of sound mind. People usually choose their spouses, adult children, or close friends to act as their POA agents.
Power of Attorney Rules in Different States
The rules regarding financial powers of attorney are different across the country. Depending on the state, FPOAs can be:
Automatically durable—in effect even after the principal can no longer make financial decisions
Durable as defined—only if the principal made it clear that they wanted the financial POA to be durable before or during the creation of the document
In some states, the FPOA has to be placed on file in the local land records office while the attorney-in-fact negotiates real estate assets.
When Does a Financial POA End?
A financial POA letter is terminated immediately after the principal's death. The attorney-in-fact can't make any decisions in the principal's stead after they are dead—not even pay off their debts or make funeral arrangements.
The financial POA can end if:
The principal revokes the POA—they need to be mentally competent at the time
The ex-spouse was named as the agent—after the divorce is finalized, they can no longer take part in making the principal's financial decisions
The court decides that the principal was under the influence, a victim of fraud, or mentally incompetent when signing the document
DoNotPay Can Help You Generate a Financial Power of Attorney in No Time
You don't have to spend a small fortune on a lawyer to make a financial power of attorney—you can turn to DoNotPay for help instead. Your virtual assistant will ensure that your legal document contains all the necessary information. To get an FPOA document fast and stress-free, heed these instructions:
Sign up for DoNotPay in any web browser
Type in Power of Attorney in the search bar
Tell us what powers you wish to add to your POA
DoNotPay will include two notices that you and your agent should take a look at before signing the document.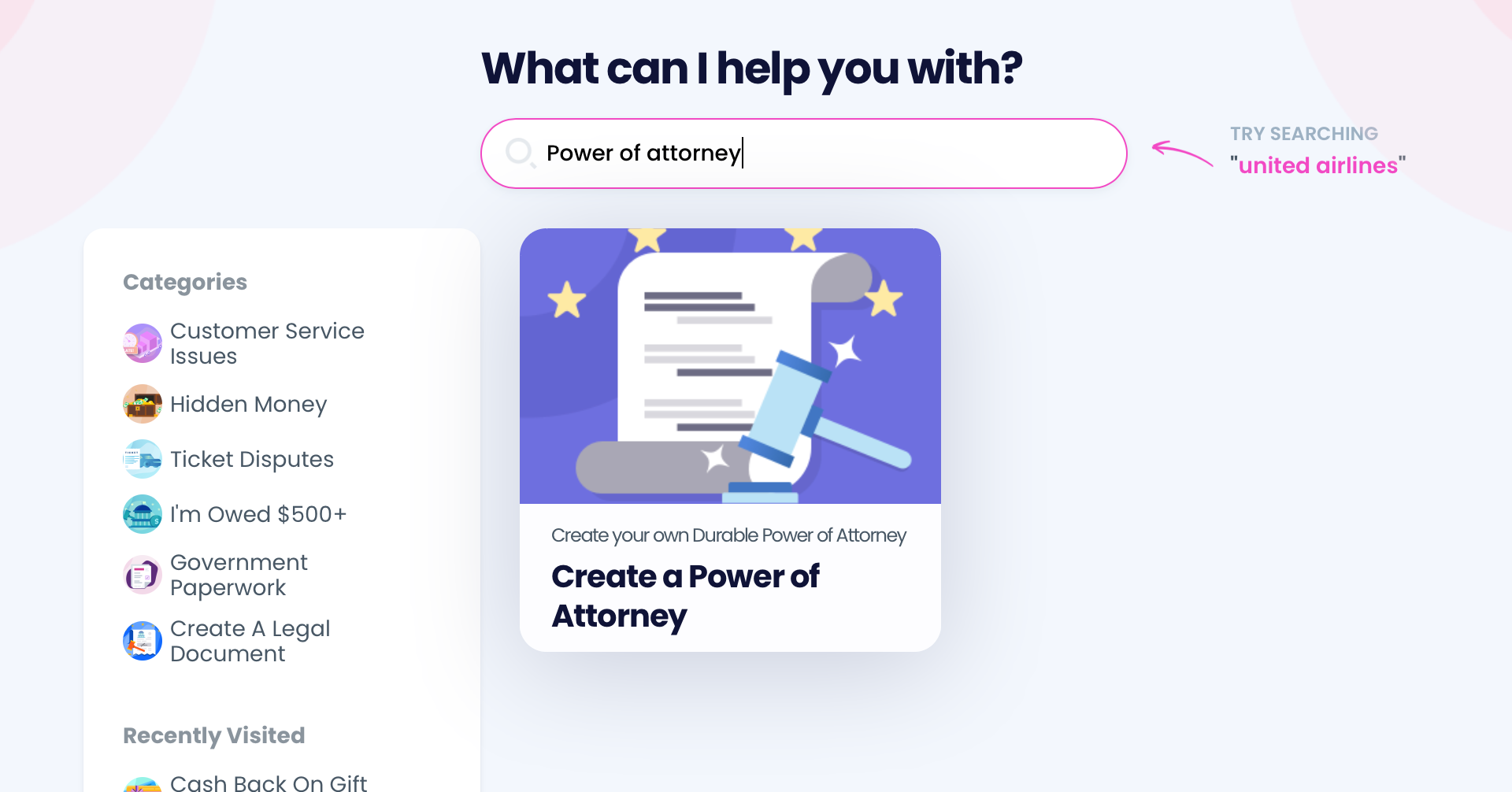 Our app can help you create other types of power of attorney, including:
Wondering if you need to get your power of attorney notarized? States have different rules regarding this topic, but it is always a good idea to add a notary's signature because of the added legal weight. The entire process is straightforward, and you can inform us whether you want to get your POA notarized during the completion of our short questionnaire.
We will find an online notary to notarize your document in no time. This way, you won't need to waste your time and energy on visiting a notary's office in person. Save yourself the trouble of getting stuck in traffic jams, and keep the gas money in your pocket.
Shop Online on Your Terms
Have you ever had to deal with complaints about lost, late, or damaged parcels? Is reaching customer service over the phone always a pain? Don't you wish there was an easier way to request refunds and chargebacks for bad purchases?
Shopping can easily turn into a nightmare, but DoNotPay will take away some of that stress. We can help you with all of these issues and more!
If you need to file warranty claims for any kind of product, our AI bots will make the process painless. Those who like to try out new services will fall in love with our virtual credit cards and foolproof methods of signing up for free trials without risking charges.
When you get sick of your subscriptions, cancel them with DoNotPay. Also, don't throw away your used gift cards with a few bucks left—we can help you get your cash back.
DoNotPay Protects Your Interests
There are already so many ways you can use DoNotPay to improve your daily life, but we keep developing more and more features that will make our subscribers even happier.
On our platform, you can find useful resources to: