Learn How To Get More Financial Aid Help Easily
Studying at the college of your dreams is an exciting chapter of your life, but it comes with numerous obligations. Planning how you'll pay for your education is one of them.
As the tuition cost for attending any college in the U.S. is astronomical, you will likely need to apply for financial aid. Sounds complicated and scary? Do not worry because we will explain the procedure!
Sign up for DoNotPay, and we can also assist you with filing an appeal if you need more funds or your application is rejected.
Financial Aid Help Number—Who Should You Call?
The Federal Student Aid Information Center is at your service if you need:
You can get in touch with them by calling 800-433-3243. There is also a number for deaf or hard of hearing people—800-730-8913.
If you wish to check the status of your FAFSA or ask for a copy of your Student Aid Report (SAR), you may dial 319-337-5665.
The Essential Info That Will Help You Get Financial Aid
When applying for financial aid, it is important that you get informed about the following:
What types of financial aid are offered
Types of Financial Aid You Can Apply For
Financial aid comes in different forms, from various sources, and is available for both graduate and undergraduate students. Take a look at the table below to get more information:
Type of Financial Aid
Sources
Requires Repayment
Grants

Federal government
State government
Your college or career school
A private or nonprofit organization

No
Scholarships

Schools
Religious groups
Employers
Individuals
Nonprofits
Professional and social organizations
Private companies

No
Loans

The federal government
Private sources
Other organizations

Yes
Work-study programs
Schools participating in the Federal Work-Study Program
No
What Are the Eligibility Criteria That You Need To Meet To Get Financial Aid?
The exact qualifications for financial aid will depend on the type of financial aid you are receiving and its source. The most common requirements include:
Demonstrating significant financial need
Being a U.S. citizen or an eligible noncitizen
Being a resident of the state the school is located in (for state sources)
Being a part of or accepted for enrollment as a student
Maintaining good academic progress in school
What Are the Important Deadlines Connected to Financial Aid?
You need to complete the FAFSA form and respect the deadlines for all types of financial aid. You may get the aid from resources that are:
Federal—The form must be submitted by 11:59 p.m. Central time (CT) on June 30, 2021, for the 2020–2021 academic year. The deadline for the 2021–22 academic year is the same time and date in 2022
State—Every state has its deadlines for submitting the form
College—Each school requires you to submit the form at a specific time
You must apply for financial aid every year, and there is a limited period for how long you can get the aid.
How Much Money Can You Get as Financial Aid?
The exact amount of money that you will be able to get depends on various factors, such as:
Your financial situation
The type of aid you are applying for
The source of financial aid
You could get the amount that will cover all of your expenses, but it is also possible that the sum offered is not sufficient.
Help With Financial Aid if You Get Denied or Need More Money
You applied for financial aid at the desired school but ended up getting an unsatisfactory offer? No need to despair—it is possible to get more money by filing an appeal to the school you are attending.
If your application for financial aid gets rejected, you can also send an appeal letter and try to persuade the school to change its decision. Not sure how to compose a financial aid appeal letter? Turn to DoNotPay for help!
DoNotPay Creates a Financial Aid Appeal Letter for You in a Jiffy
If you don't want to waste your time writing a financial aid appeal letter, you can delegate the task to DoNotPay. Our app will make sure to include all the relevant info. You only need to follow these straightforward instructions:
Search for the Appeal for More Financial Aid product
Include the amount other schools offered you if you are applying to more than one college
Provide relevant details about your family's current financial status
We will generate your financial aid appeal letter and mail it to the school's financial aid office in your stead!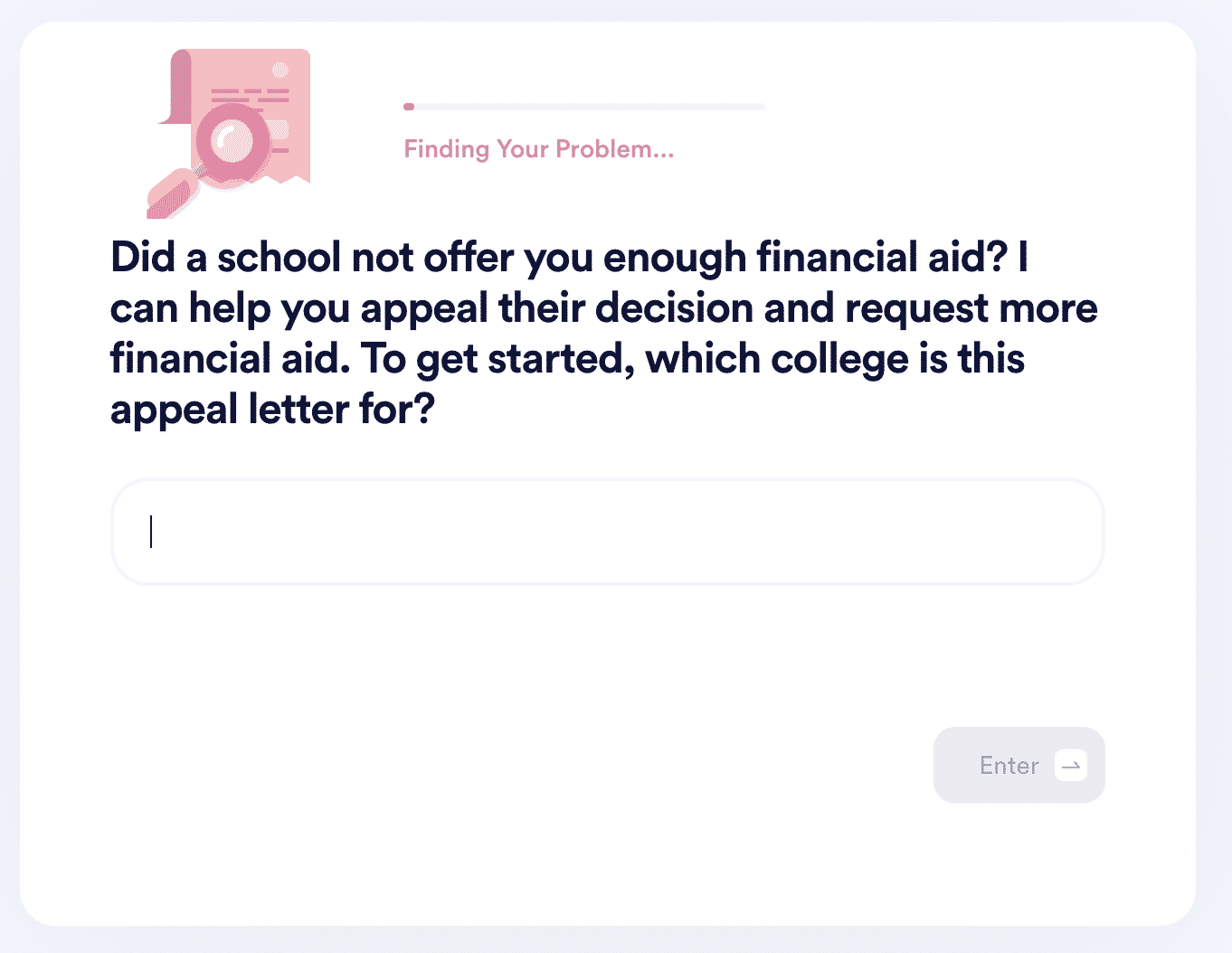 What Schools Have the Best Financial Aid Offer? Find Out With DoNotPay!
Some schools offer more financial aid to students. If you want to see your choices, check out the table below for more info on the most popular options:
Let DoNotPay Be Your Virtual Assistant!
Why bother with deciphering legal terminology or figuring out how to write a legal document when you can let us do it for you? You don't have to waste your time any longer. Once you sign up for DoNotPay, we'll do much more than draft your legal documents or help get them notarized!
DoNotPay will show you how to perform a number of tasks with ease, including suing any company in small claims court, filing insurance claims, claiming warranties, creating passport photos, and sending your neighbor a complaint letter!
Should you need assistance with requesting a refund for a delayed flight or fighting workplace discrimination, our virtual assistant shows you how it's done.
There's More We Can Do!
Tired of dealing with mundane tasks and spending hours running dull errands? We offer the perfect solution!
DoNotPay can assist you in completing tedious tasks with ease! The best part is that you will spend significantly less time on them, and you can get them done from the comfort of your home!
Paying bills, getting a free trial, canceling subscriptions, getting revenge on robocalls, requesting refunds, or making a DMV appointment is only a few clicks away!