A Guide to Acquiring a Final Judgment Divorce Form in California
Preparing for divorce is a time-consuming process. Collecting information, learning about laws and rules, gathering the paperwork, and filing the petition have one goal—getting a divorce decree.
Are you getting a divorce in California? Do you want to know how to finalize the process? DoNotPay has the answers! In this article, we'll provide all the info you need for obtaining a Final Judgment divorce form in California!
The Importance of a Final Judgment Divorce Form in California
A Final Judgment divorce form (divorce decree) is a document that proves you and your spouse are legally divorced. Under California family law, only the court can issue this document at the end of the final hearing. The judge issues a divorce decree once they have all the information about your case.
In contested cases, the judge has to establish the terms of the divorce and include them in a divorce decree. If you have an uncontested divorce, the judge will examine the divorce settlement agreement you drew up and include its terms in a Final Judgment form.
To confirm and finalize the process, the family court judge and clerk must sign the Final Judgment.
What Does a Final Judgment Divorce Form Include?
Not every divorce is the same, and neither is every Final Judgment form. Details of your divorce decree depend on the specifics of your case. A standard divorce decree covers the following terms:
| Final Judgment Terms | Explanation |
| --- | --- |
| Spousal support | If one of the spouses has to pay alimony, the document has to specify the amount, payment method and schedule, and start and end dates |
| Division of property | Whether you and your spouse have reached an out-of-court settlement or the judge has determined how your assets (income, pension, and real and personal property) are going to be divided, the divorce decree must outline all the terms |
| Allocation of debts | If you cannot negotiate and agree on the division of joint debts, the court allows you to pay off your debts before filing the petition. Regardless of whether you agree on the division or choose to pay them off, the Final Judgment form must include the specifics |
| Child custody and visitation schedule | Your divorce decree should also cover children-related matters (if you and your spouse have children). If you don't have a settlement agreement, the judge will determine who gets custody and arrange a parenting plan |
| Child support | If you have children, the divorce decree will also include details regarding child support |
| Other case-specific terms | Your Final Judgment form will also include any other matters specific to your case |
What Other California Divorce Papers Do You Need?
As the name suggests, a Final Judgment is the divorce paper that finalizes the process and dissolves your marriage. There is a myriad of other documents you need to fill out and file to get divorced. In the table below, you can find the necessary California divorce forms you need to start and complete the uncontested divorce process:
Divorce Papers
Obligatory
Additional Divorce Papers if You Have Minor Children
Additional Divorce Papers if You Have Joint Property or Debts
To Start the Process

Petition
Summons
Proof of Service of Summons

Declaration Under Uniform Child Custody Jurisdiction and Enforcement Act (UCCJEA)
Child Custody and Visitation (Parenting Time) Application Attachment

To Complete the Process

Appearance, Stipulations, and Waivers
Declaration for Default or Uncontested Dissolution
Notice of Entry of Judgment
Final Judgment

Income and Expense Declaration
Spousal, Partner, or Family Support Order Attachment
Child Support Information and Order Attachment
Notice of Rights and Responsibilities
Child Support Registry Form
Earnings Assignment Order for Spousal Support
Income Withholding for Support

Property Declaration
Pension Benefits
Retirement Plan Joinder
Why Should You Opt for an Uncontested Divorce?
Going through a divorce can be expensive and overwhelming, not to mention stressful. It can only get worse if you and your spouse cannot negotiate important issues. An uncontested divorce is a quicker and cheaper option. To file for this friendly divorce, you and your spouse have to agree on the following matters:
To settle these matters without going to court, you need to draw up a divorce settlement agreement. The easiest way to do that is to sign up for DoNotPay and have the world's first robot lawyer customize the document for you.
Having a divorce settlement agreement can help you obtain the Final Judgment form with much less hassle!
How To Get the Final Judgment Divorce Form in California
To get the Final Judgment divorce form, you'll have to complete this step-by-step process:
Fill out and sign the forms for an uncontested divorce
Make at least two copies of each document
File the documents
Serve divorce papers to your spouse
Draw up a divorce settlement agreement
Attend the hearing
During the hearing, the judge will examine your petition and settlement agreement. After making the decision, the judge will formalize your divorce by issuing the Final Judgment divorce form.
Getting an Uncontested Divorce Is a Breeze With DoNotPay
One of the benefits of having an uncontested divorce is that you don't need a lawyer to guide you through the process. You can even acquire a divorce settlement agreement without an attorney—all you need is to access DoNotPay and follow these steps:
Choose the Divorce Settlement Agreement tool
Provide information about your spouse, children, and property
Notify us if you need a notary public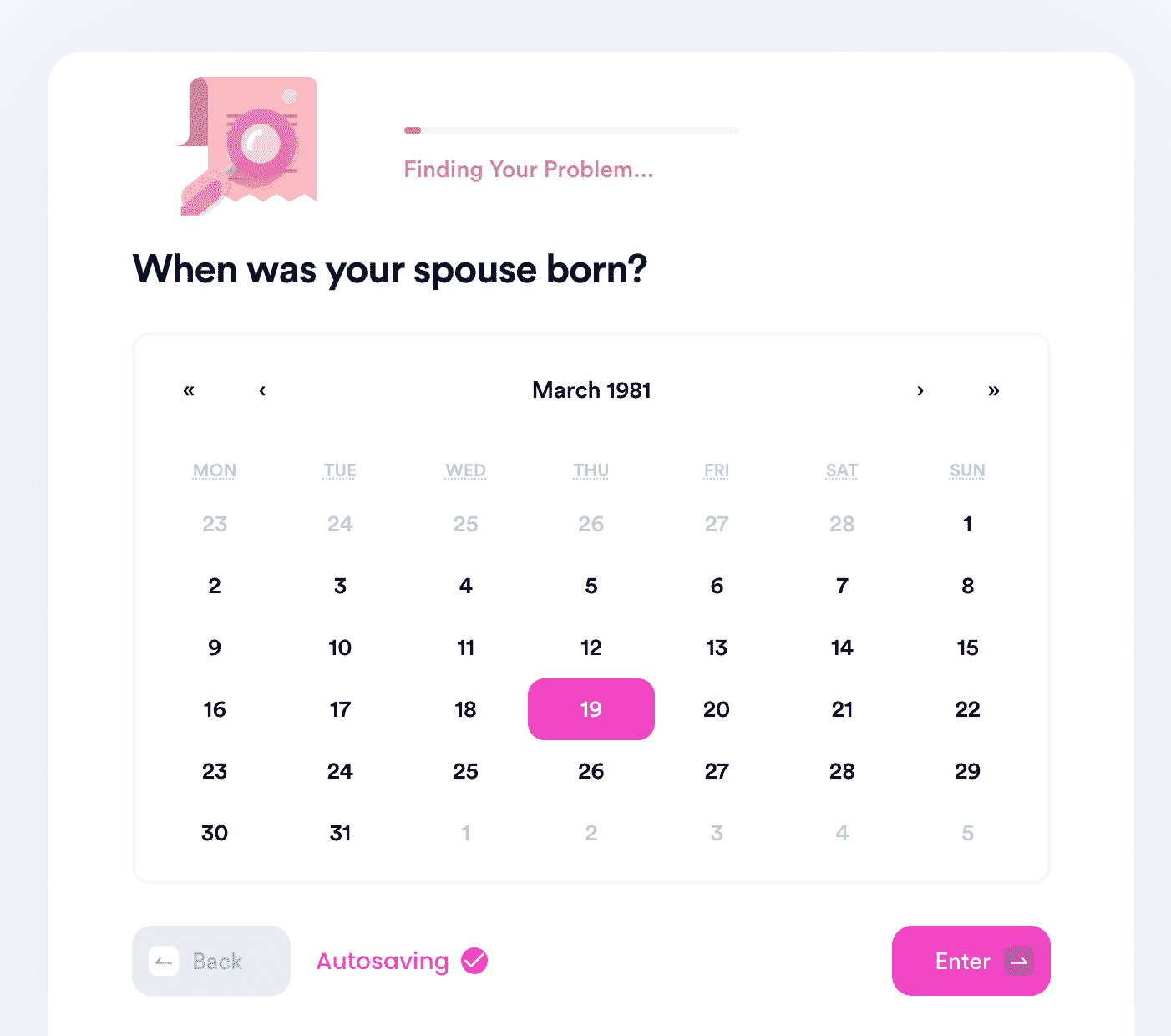 Upon receiving your information, we'll customize a top-rate settlement agreement and send it to you immediately!
Are you interested in learning more about divorce? Check the following table if you have divorce-related questions—general or state-specific:
| General | |
| --- | --- |
| California-Specific | |
What Other Issues Can Our App Solve?
DoNotPay can support you through various burdensome procedures and turn them into a breeze! Here's a table showing a tiny part of our extensive offer:
| DoNotPay Can | Services |
| --- | --- |
| Create various documents | |
| Protect your safety and privacy | |
| Get your money back | |
DoNotPay Is Your Ticket to Simpler Life
Don't bother going through complicated tasks alone—we are here to take care of them! Seek our help if you want to get in touch with customer service instantly, fax anyone online, or get your documents notarized. Besides providing these amazing services, DoNotPay can make preparations for your travel adventures by assisting you in getting passport photos at home and obtaining tourist visas.