How to Get a Final Cut Pro Free Trial With a Virtual Credit Card

Final Cut Pro is an advanced video editing software suite offered by and for Apple devices. This application provides high-performance digital editing and native support for most video formats. The tools are considered intuitive and non-linear with a focus on storytelling features in video editing.
For Apple users looking for a good video editing solution, a Final Cut Pro free trial is an ideal way to explore which set of Apple video tools are best for you. DoNotPay can help you secure your Final Cut Pro free trial and avoid follow-up subscription costs.
Does Final Cut Pro Offer a Free Trial?
Yes, Final Cut Pro offers an unusually long 90-day free trial to all new users. Considering the large cost of buying a Final Cut Pro license, this is an impressive saving for anyone with a short project or the need to decide which video editing software to invest in. For Apple users, a 90-day free trial is a great deal to help you get started with Final Cut Pro - or decide without cost if it's not right for you.
How Can I Get a Final Cut Pro Free Trial?
How can you get yourself started on the Final Cut Pro free trial? It's as simple as downloading the software with a free trial license from the landing page designed for the purpose.
Getting the Final Cut Pro Free Trial
Navigate to the Final Cut Pro Free Trial page
Check Your Minimum System Requirements
Select "Download now" - click the blue button
Complete the Download
Enjoy 90 days trial access to Final Cut Pro
Minimum System Requirements
Software
System Requirements
Final Cut Pro

Mac OS 11.5.1 or later
4GB - 8GB RAM (8 for 4K editing)
Metal-Capable graphics card
1GB of VRAM (for 4K editing)
3.8GB available disk space
Internet access

Final Cut Pro with Motion

4.7GB available disk space

Final Cut Pro with Compressor

1.2GB available disk space
Does the Final Cut Pro Free Trial Automatically Renew Into a Paid Subscription?
No, it doesn't. Final Cut Pro, like many development-type programs, is license-based. This means the software itself knows whether you have a license and does not require a renewing subscription to work or not work.
Instead, a newly downloaded copy of Final Cut Pro is aware of a free trial license for 90 days. When that 90 day is up, the program will ask you to enter your license - or download the full version after buying a license. While you will lose access to your Final Cut Pro features, your projects will remain intact and you will not be charged automatically after the free trial. You have the option to buy a license or to not buy the license.
Avoid Automatic Renewal With DoNotPay Virtual Credit Card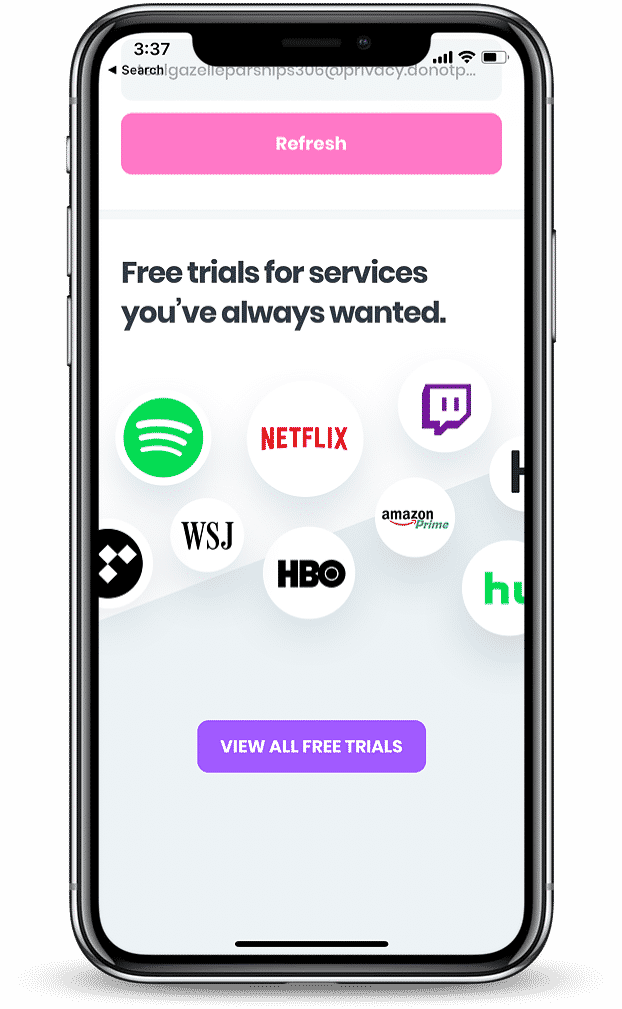 Final Cut Pro has a friendly and approachable free trial - one that is actually free with no threat to charge if you don't cancel in time. Here at DoNotPay, we believe this is how free trials are supposed to work. But if you're about to start a free trial with a service that (suspiciously) asks for your credit card before the free access, DoNotPay has your no-charge solution.
Virtual credit cards are the ideal way to enjoy free trials for actually free. Here's how it works:
DoNotPay will generate a random string of numbers
Those numbers represent a non-active virtual credit card
You sign up for a free trial and enter the virtual numbers instead of your payment card
When the free trial is over, the virtual card will not authorize payment
You will not be charged and no subscription will be started
Enjoy your entirely free trial in peace - without worrying about follow-up costs - with as many free virtual credit card numbers as free trials you'd like to explore.
How Much Does Final Cut Pro Cost After the Trial?
When your 90-day Final Cut Pro free trial runs out, what next? The good news is that you won't be automatically charged with a subscription on the last day. However, you will still need to buy a license (fortunately, a one-time purchase) from Apple to continue using Final Cut Pro.
Licenses for Final Cut Pro cost $300 on the Apple app store. The complementary apps of Motion and Compressor each cost $50 to add to your suite.
Why Use DoNotPay
DoNotPay is fast.
DoNotPay is easy.
DoNotPay is successful.
What Else Can DoNotPay Do?
DoNotPay was designed on the idea of making life easier, saving you money, and cutting the red tape where it shouldn't be. How else can we make it easy for you to save money or find the money? What other costs, inconveniences, and tedious tasks can we take care of for you? Here are just a few other products and tools to choose from out of our vast selection of available online services.