Avoid the Fillable Month-to-Month Rental Agreement—Draft It Yourself
Creating a rental agreement is the first step you should take when letting another person occupy your property or renting a property from someone. Not only is it the best way to shield your rights and interests, but it also defines tenancy rules. Among various rental contracts, the month-to-month ones are the most common options landlords and tenants go for.
Using a fillable month-to-month agreement is one way to avoid hiring lawyers to write your contract, but we have a better solution for you. In this article, you will discover other, more affordable options and get familiar with the entire procedure of creating a valid agreement. We will also give you super handy tips for drafting other legal documents in a matter of minutes!
What Is a Month-to-Month Rental Agreement?
A month-to-month rental agreement is a contract between a property owner and a person who leases their residence on a monthly basis. As their name says, these agreements usually last for 30 days, unlike lease agreements, which are long-term and have a fixed duration. They get renewed automatically at the end of the term until the landlord or tenant provides specific notice of nonrenewal and ends the tenancy. In some cases, if you agree with the property owner, you can start a month-to-month tenancy once your fixed-term contract ends.
Fillable month-to-month rental agreements are contract templates that can usually be found online. These are the forms that contain some recommended sections with blank spaces you should complete based on the specifics of your case.
When Should You Opt for a Monthly Rental Agreement?
Month-to-month rental contracts are perfect for the tenants who:
Don't want to engage in long-term lease agreements

Want to find temporary accommodation while they are looking for a home to buy

Constantly move from one location to another due to work obligations and need a more flexible rental solution

Want to get familiar with a neighborhood and ensure it's the right place for them before engaging in a long-term lease
Benefits and Drawbacks of Fillable Month-to-Month Rental Agreements
While completing a fillable monthly rental agreement can be a perfect option for some people, others may want to skip it. The table that follows shows the most prominent advantages and disadvantages of fillable agreements:
Pros
Cons

Editable agreements are easy to get—various online platforms offer different types of templates the parties can download and modify according to their needs. All they should do is google

month-to-month rental agreement template

or any similar keywords

They are a quick solution—the signers don't need to compose the entire body of the agreement. It's enough to fill out the blank spaces with the correct information

The signer doesn't have to get familiar with the law—all the legal terms the contract should include are already in the document, which means that the parties don't have to be legal experts to fill out the template

Online fillable agreements can be incorrect or incomplete

Fillable monthly rental contracts can be outdated—for example, when state laws change

Sections within these contracts are too general—they may not apply to specific cases or terms that the parties have agreed upon. Using them can make your document vague or invalid

Modifications are limited to blank spaces only
What Other Methods Except Fillable Monthly Rental Contracts Can You Use?
Besides chasing fillable monthly rental contracts. you can use one of the following methods to draw them up:
Hiring a professional

—They have sufficient knowledge of the governing laws and can make a valid contract easily. The main downside is that their services usually cost an arm and a leg

Drafting the document yourself

—This method requires a lot of attention and patience since it's not simple to create a legal document from scratch. You must make sure your contract covers all necessary clauses, such as:

Information about the landlord and tenant

Start date of the rental period

Property details—location, description of the premises, and other elements

Rent information and security deposit details

Responsibilities of both signing parties—utilities, repairs, maintenance, and property modifications

Penalties for late or missing rent and other rule violations

Eviction procedure

Applicable laws
If none of these options seems convenient, and check the solution we prepared for you!
Ditch the Fillable Monthly Rental Agreements—Use DoNotPay
Do you want to avoid spending time on failed drafts or fillable agreement templates? If the answer is yes, DoNotPay is the way to go!
Our app uses AI-powered technology to draft fully personalized legal documents within minutes. Each contract we make meets the requirements imposed by applicable state regulations, which means you need zero knowledge of the law!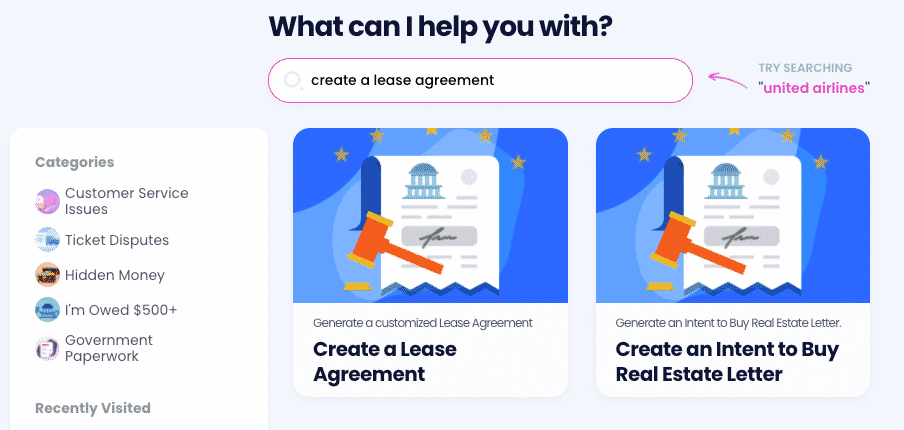 Here are the steps you should follow to use our Standardized Legal Documents feature:
Look for the document you want to have drafted

Complete our chatbot's questionnaire to add relevant info to your contract
Once you access the ready-made document, you can download it and sign it or have it notarized if necessary.
Subscribe to DoNotPay and create the best:
Child Care Authorization Form

General Affidavit

Promissory Note

General Business Contract

Quitclaim Deed

Residential Lease Agreement

Intent To Purchase Real Estate
Let DoNoPay Help You With Your Paperwork
Why waste time on bureaucracy if you can rely on DoNotPay to handle pesky tasks for you? Cancel all your subscriptions at once, find unclaimed funds in a matter of minutes, appeal parking tickets hassle-free, and discover the best way to get your documents notarized remotely. 
In case you need help paying bills or you want to earn some money by participating in paid clinical trials, DoNotPay is here to help you out! 
Fighting workplace discrimination is of utmost importance, but the entire procedure seems rather complicated. The same goes for the crime victims compensation application in most states. DoNotPay is here to change that. We will help you file a report, request compensation, and create numerous other documents, including demand letters for neighbor complaints.
Keep Your Online Safety in Check!
While internet safety should be one of your top priorities, staying anonymous while surfing the web is almost impossible. If you want to avoid giving out your number when registering for services, you should try out our Burner Phone product. 
DoNotPay can also protect your credit card info, name, and email address, all through our handy virtual credit card. Sign up for free trials without worrying about unexpected charges.
With our app, you will learn how to deal with stalkers and harassers and how to access public records the easy way. 
DoNotPay offers many other useful products that can help you prepare for government tests, have your college fees waived, and manage any annoying issue in minutes.