Filing for Divorce in NY? DoNotPay Has All the Info You Need
A divorce can be time-consuming and emotionally draining and can cost you a small fortune, especially if it's contested. If you're thinking about filing for divorce in NY, DoNotPay will provide you with all the necessary information about the process. We'll also tell you how you can get divorced without involving lawyers and attending court hearings.
If you subscribe to DoNotPay, we'll assist you in creating a divorce settlement agreement in a snap.
Filing for Divorce in New York—Grounds and Requirements
Before you file for divorce in NY, you'll need to know the details of the residency requirements and grounds for divorce. You can find all the information in the table below:
Residency Requirements
Grounds for Divorce
The residency requirements that you need to meet are as follows:

You or your spouse must have lived in New York State for at least two years
Either you or your spouse needs to have lived in NY for at least one year if:

You got married in NY
The grounds for divorce occurred in NY
You lived in NY as a married couple

Both you and your spouse need to be NY residents on the day when you start the divorce process

New York recognizes seven grounds for divorce:

Irretrievable breakdown of the marriage (for at least six months)
Abandonment
Cruel treatment
Imprisonment
Adultery
Divorce after legal separation agreement
Divorce after a judgment of separation
How To Start a Divorce in NY
If you opt for an uncontested divorce procedure in NY, you'll need to sort out all the issues and agree on important matters with your spouse. These terms include:
Child custody and visitation schedule
Once you settle all these aspects, you're ready to file for divorce. Here's what the process will consist of:
Collecting all the necessary uncontested divorce papers
Paying the fees and filing the divorce papers
Waiting for the defendant's response
Scheduling a court hearing
Waiting for the judge to sign the Judgment of Divorce
Hiring a Mediator
Hiring a mediator is optional, and you'll only need it if you and your spouse can't agree on crucial matters. Divorce mediation in NY can help you set all your differences aside and negotiate the terms that work for both of you. During this process, a neutral third party will facilitate communication between you and your partner so you can reach a compromise.
Collecting the Divorce Forms
To file for marriage dissolution in NY, you need to prepare the following divorce papers:
Summons With Notice or Summons and Complaint
Notice of Automatic Orders
Notice Concerning Continuation of Health Care Coverage
Settlement Agreement (you can create one with DoNotPay)
Depending on your county clerk's office, you might be asked to fill out some additional forms.
Paying the Incurring Fees and Filing the Divorce Papers
Once you collect, fill out, sign, and get the correct papers notarized, it's time to make copies and file them with the county clerk's office. If your court allows it, you can file your forms online using the New York State Unified Court System (NYSCEF).
An uncontested divorce in NY should cost you approximately $355 when you pay all the court and filing fees. If you can't afford to pay the fees, you can request a fee waiver.
Serving Your Spouse
You'll need to serve the papers to your spouse to inform them you filed for divorce. If you don't deliver your documents the right way, the judge can make you start the case from the beginning.
There are three options for serving the papers:
Personal delivery
Substituted delivery
Conspicuous delivery
After you serve the papers, you'll need to provide proof of service for the court. In other words, your spouse will need to file the Affidavit of Service.
Waiting for the Defendant's Response
After your spouse is served, they should respond by signing the Affidavit of Defendant and filing it with the court. An Affidavit of Defendant is a form that your spouse will use to let you know that they agree with everything you asked for in the divorce and they won't argue your Summons with Notice or Summons and Complaint.
Scheduling a Court Hearing
Once the defendant signs the Affidavit of Defendant, you should complete the remaining uncontested divorce papers, including the Note of Issue. You can file these papers with the county clerk's office or the Supreme Court clerk's office.
Waiting for the Judge's Decision
Once the judge approves your divorce, they will sign the Judgment of Divorce. This document can be mailed to you if your county allows it. You'll need to file the Judgment with the county clerk's office.
This particular document will have to be served to your spouse, and they'll have to complete another Affidavit of Service.
Draft Your Divorce Settlement Agreement With DoNotPay in Minutes
When you want a friendly divorce, the best way is to make an agreement with your spouse before you even file the petition. DoNotPay is here to help you get an out-of-court settlement with our Divorce Settlement Agreement product. Our platform is super affordable and easy to use, and it will save you a lot of time and money.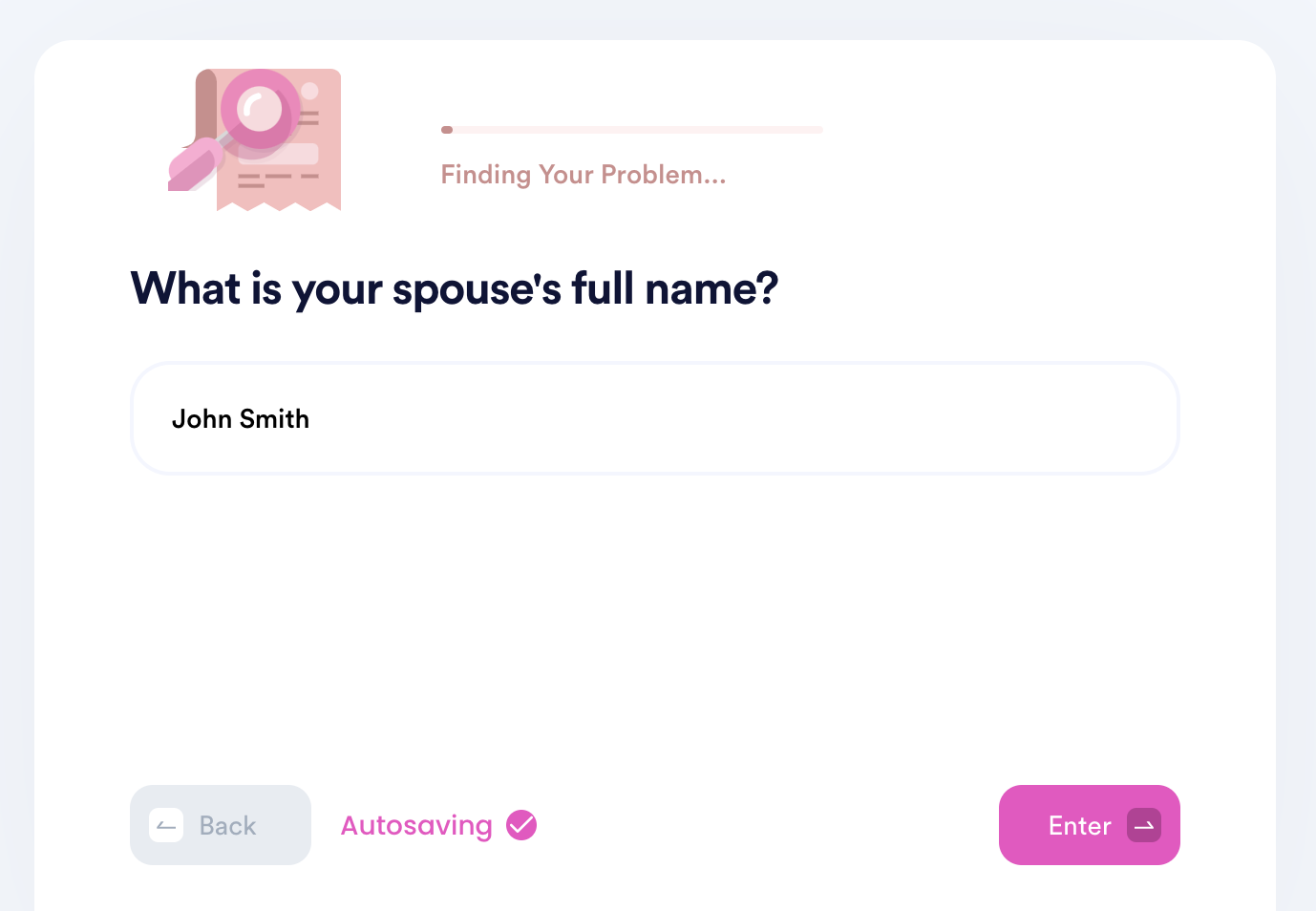 All you need to do is access DoNotPay and follow these steps:
Select the Divorce Settlement Agreement tool
Provide details about you, your spouse, your marriage, and the way you want to divide your assets
Inform us if you need a meeting with an online notary
DoNotPay will create a professional and legally formatted divorce settlement agreement that you and your spouse need to sign and get notarized. We can help with notarization as well—our app can book an appointment with a NY notary, who'll notarize your document over a live video call.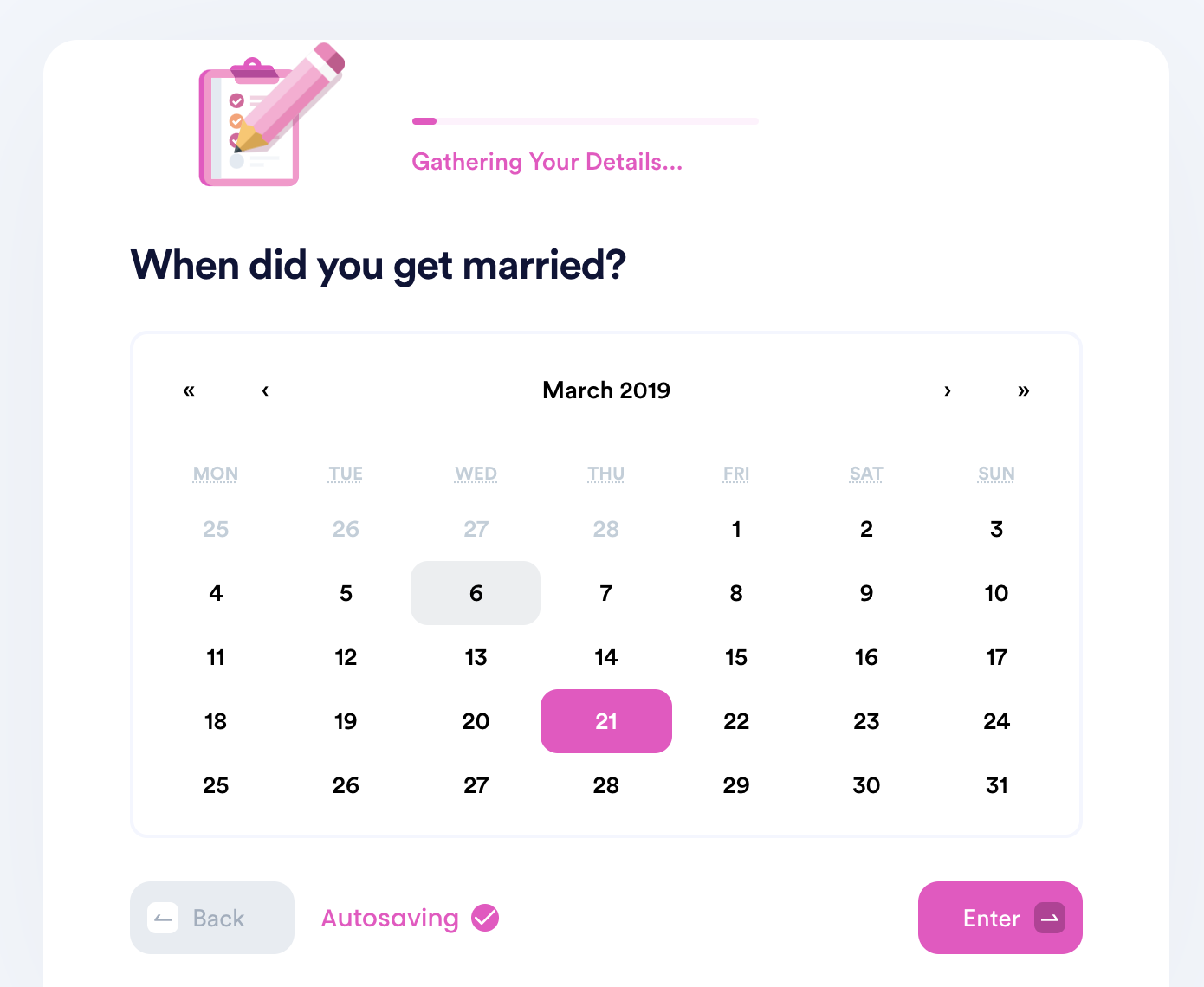 DoNotPay has plenty of other helpful guides you might want to consult if you haven't found the answers you were looking for. We will provide details about all divorce-related questions, including:
Tackling Administrative Issues Has Never Been Easier
DoNotPay was created to help you deal with burdensome everyday tasks you would rather skip. The features we offer will make sure you can:
Dealing With Legal or Security Issues? DoNotPay Will Make Them Go Away
Has a company refused to issue a refund you are entitled to? Sue it in small claims court and get your money back with the help of the world's first robot lawyer! You can also turn to us if you want to protect your work from copyright violation, prevent stalking or harassment, or get virtual credit cards to avoid disclosing your credit card info.
Besides assisting you in seeking justice and security, DoNotPay can help you arrange DMV appointments, contest parking tickets, prepare divorce settlement agreements, and compose various legal documents.