Filing for Divorce in Harris County Is a Piece of Cake With DoNotPay
Divorce can be a daunting prospect, with the worry of high costs and lengthy court battles front and center.
Play your cards right, though, and filing for divorce in Harris County can be quick, cheap, and relatively hassle-free.
DoNotPay is here to help with all the ins and outs of filing for divorce in Harris County!
Harris County Divorce Laws Explained
To be eligible to file for divorce in Harris County, you or your spouse need to fulfill the following residency requirements:
Residing in Texas for at least six months
Living in Harris County for the past three months
Texas is a no-fault divorce state, so you do not need a reason to file for divorce. It's enough for you to claim irreconcilable differences between the two of you.
Texas recognizes two types of divorce, namely:
Contested—in which you and your spouse fight out a settlement in court
Uncontested—where you agree on the settlement in advance of court proceedings
The form your divorce takes depends on how well you and your spouse collaborate to make the divorce quick, painless, and inexpensive.
How To File for Divorce in Harris County
Starting your divorce proceedings in Harris County consists of three steps, as follows:
Filing divorce papers
Drawing up a settlement agreement
Filing Divorce Papers
Your first step is to get the correct Harris County divorce papers from the clerk of the Harris County district court. The divorce papers you need include:
A summons for your spouse
Financial affidavits detailing your joint and individual assets, income, debts, and expenses, as well as details of any minor children
A decree of divorce
When you fill out and file the forms, you will have to pay the filing fee of approximately $300.
Serving the Papers
Once you have completed all the forms and filed them with the district court, you need to have copies of them delivered to your spouse.
You need to use a deputy sheriff or process server to do this, and your spouse has to sign a notice of servitude to confirm that the documents have been received.
If your divorce is friendly, your spouse may be happy to sign a waiver, meaning that you do not have to serve the uncontested divorce papers.
Drawing Up a Settlement Agreement
The divorce settlement agreement is essential in determining whether or not your divorce is classified as uncontested.
If you and your spouse file a settlement agreement before your case comes before a judge, you can avoid:
In such cases, a judge will check that your settlement agreement is fair and valid and that the welfare of any children is guaranteed. Your divorce will be settled out of court with minimal fuss and finalized after a mandatory waiting period of 60 days.
How Can You Keep Your Divorce Quick and Cheap?
The key to a fast and inexpensive divorce in Harris County is to minimize:
Time spent in court
Time Spent in Court
While an uncontested divorce can be finalized within 60 days of filing, contested divorces can take up to two years to be completed.
Court schedules, the availability of judges, and the time required to collect evidence all contribute to a potentially lengthy process.
Involvement of Lawyers
Lawyers in Harris County charge up to $400 per hour, and the average cost of a divorce is around $4,000 per spouse for an uncontested divorce. Contested divorces involving children can cost up to $23,500.
The way to keep your divorce quick and cheap is to agree on a settlement and aim for an uncontested divorce.
How Can You Draw Up a Settlement Agreement?
A settlement agreement is a legal document that regulates how the following will be handled after your divorce:
To draw up your settlement agreement, you can choose between the following resources:
Settlement Agreement Sources
Explanation
Lawyer
A lawyer can negotiate and draw up your settlement agreement, but the costs can quickly escalate. If you and your spouse agree on the crucial terms of your settlement, you may be able to avoid the expense of attorneys.

To help you resolve minor differences, you can also use a mediation service, in which a trained mediator facilitates your face-to-face negotiations with your spouse at a fraction of the cost of a lawyer

Online service
Several websites offer templates for you to download and fill out. A word of caution, though—the templates on offer may be cheap but are often too generic to cover your exact needs
Want a tailor-made, watertight settlement agreement without the cost of a lawyer? Look no further than DoNotPay!
DoNotPay Has the Solution in Harris County!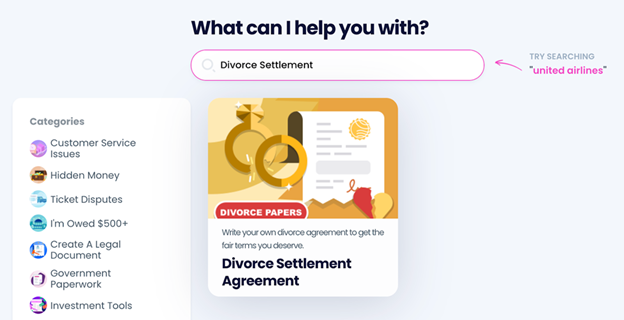 At DoNotPay, we want to take away as much of the hassle and expense of divorce as we can!
Our Divorce Settlement Agreement product is designed to do exactly that. You can create a bespoke settlement agreement in a few clicks, with no lawyers' fees to pay!
Here's how to use our feature to your advantage:
Click on our Divorce Settlement Agreement product
Follow the prompts and fill out the terms you and your spouse have agreed on
Once we have all the details, we will generate your document in no time. You and your spouse should sign it in the presence of a notary.
Don't know where to find a notary in your area? No need to worry—you can use our online notarization service to get your agreement signed and sealed!
More Texas Help From DoNotPay!
DoNotPay is a mine of information on divorce in other Texas counties—here are a few examples:
If you are in the military stationed in the Lone Star State, we can also help with info on Texas military divorces!
Our App Solves Your Legal Issues!
Do you really have to set aside astronomical amounts to pay lawyers for drafting legal documents or taking a person or business to small claims court?
The answer is no—all the cash remains in your pocket, thanks to DoNotPay! From now on, you can perform many legal tasks from home with the help of our app. It enables you to create flawless powers of attorney, divorce settlement agreements, and child travel consent forms in a snap.
That's not all—once we generate these documents for you, we also help you have them notarized via a video meeting. No need to waste your time and fuel visiting notary offices.
Check Out Other Perks DoNotPay Offers!
DoNotPay provides a wide selection of services, from creating virtual credit cards and burner phone numbers to getting refunds from companies and canceling subscriptions. Have you received an unfair parking ticket? Appeal it with our app before you know it! Are email spam and robocalls making your life a living hell? No scammer stands a chance against our efficient AI-powered tools and features!
We also work in your favor when it comes to safety. Our app offers perfect ways to prevent copyright infringement, stalking and harassment, work discrimination, sex offenses, and disputes with annoying neighbors.