Filing EEOC Complaint - Hostile Work Environment
Although a one-time incident of a co-worker or manager being rude to you may signal the start of a hostile work environment, it may not hold enough weight if you go to EEOC directly. The first thing you must do is report to HR. But what if HR doesn't address your complaint of a hostile work environment? Only then is it time to escalate your complaint to the EEOC.
In this article, we will provide you with a general guideline on filing an EEOC complaint about a hostile work environment and the important statutory deadlines you need to be aware of. We will help you determine what can be legally considered a hostile work environment (maybe it's just a toxic workplace), and introduce to you an easier way of filing a complaint with .
What is the Equal Employment Opportunity Commission?
The U.S Equal Employment Opportunity Commission (EEOC) is the federal agency that enforces anti-discrimination laws among government offices and corporate workplaces. They are tasked with investigating discrimination and harassment complaints escalated to them by employees and HR departments. EEOC can also hold hearings, issue regulations on law interpretation, litigate cases, and much more. A list of the laws that the EEOC implements include:
Title VII of the Civil Rights Act of 1964

The Pregnancy Discrimination Act

The Equal Pay Act

The Americans with Disabilities Act (ADA)

The Age Discrimination in Employment Act (ADEA)

The Genetic Information Nondiscrimination Act (GINA)
What Constitutes a Hostile Work Environment?
A 'hostile work environment' is a legally defined and is considered workplace discrimination. For a complaint to be considered about a hostile work environment, the complainant must prove that there was discrimination involved and that the misconduct is severe or pervasive. However, the determination of what constitutes a hostile workplace is subjective. Here are some factors that serve as guideline on what constitutes a hostile work environment:
Factor
Example

Discrimination in a protected class

An employee is being harassed or abused because of his/her age, gender, national origin, or disability.

Abusive or hostile

An average, reasonable person will consider the misconduct abusive or hostile.

Pervasiveness

The misconduct is continuous and repetitive on a long-term basis.

Employer liability

The employer refused to investigate or address the misconduct even though

HR reports

have been submitted.

Adverse effects

The misconduct has had adverse effects on the employee's mental or physical well-being and their productivity at work.
It's important to take note that a workplace harassment case will not be determined by only one of these factors. The evaluation will be made based on all of these circumstances.
To make sure that your complaint legally points to a hostile work environment, it helps to ask yourself these questions:
Does the victim belong to a protected class?

Was the victim harassed because they were members of a protected class?

Was our

boss

aware of the misconduct and chose not to address it?

Did the misconduct happen once or was it long-standing?
If you believe the situation promotes a hostile work environment, you should file a report with EEOC.
How to File Complaint of Hostile Work Environment With the EEOC
Employees may submit their complaints online through the EEOC Public Portal, by calling 1-800-669-4000, by mail, or in person at the EEOC office. If your company is a private business, it must have a minimum number of 15 employees working at least 20 weeks per year. Generally, EEOC complaints must be submitted within 180 days of the incident. If your state has anti-discrimination laws, the deadline is extended to 300 days. When filing your complaint about hostile work environment at EEOC, make sure to take note of the following:
Begin with a phone call. Although you can file the complaint online, via mail, or in person, a phone call is a good way to ask for basic information such as important documentation you must prepare.

File your complaint in person. Most EEOC offices have walk-in appointments while others require an appointment (this is why we recommend calling first). Bring important documents with you such as performance reviews or witness testimonies.

File by mail. When you write a

complaint letter

, make sure to include important details such as:

Your personal details and contact information

Your employer's details and company's contact information

Number of employees

Description of the incident including dates and places

Legal grounds for filing

Sworn statement and signature
After you have submitted your complaint, the EEOC will assess the jurisdiction and charge. Within 10 days, the EEOC will send a copy of the charges to your employer and assign an investigator. Handling of the charges and hearings starts thereafter.
How to File an Anonymous HR Complaint With DoNotPay
Whether submitting a report about your manager or co-worker, anonymous filing is safer and easier. It saves you from awkward stares and conversations and protects you from possibilities of retaliation. This is where can help!
With the Anonymous HR Complaints product, you can file reports without having to reveal your identity. All you have to do is:
1. Log in to and open the Anonymous HR Complaints product.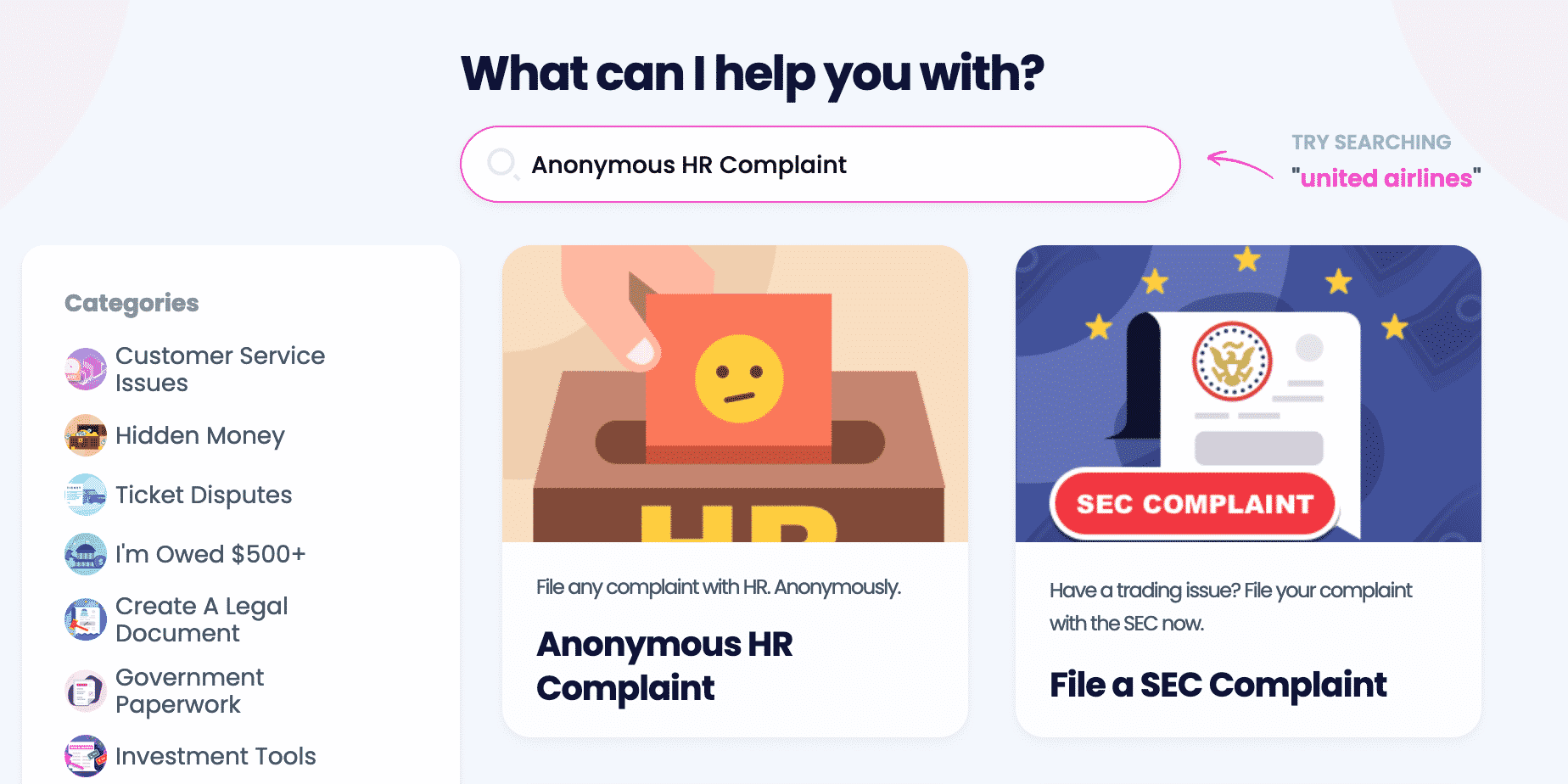 2. Enter your employer's name and HR department's mailing address.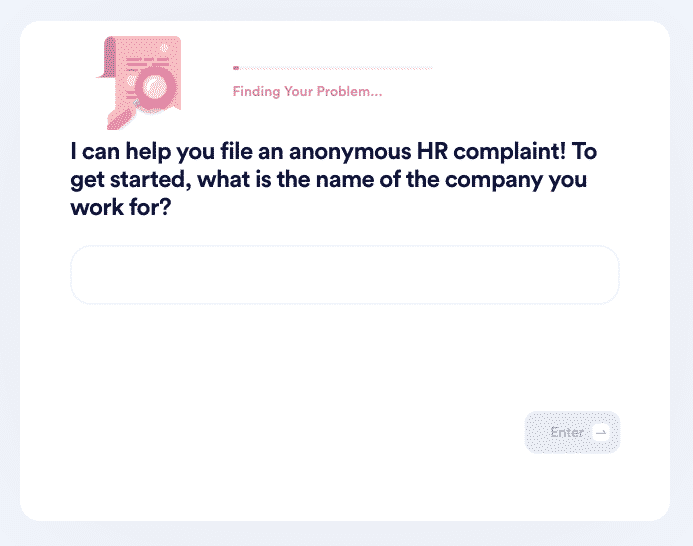 3. Describe the issues you're experiencing and how you want them to be addressed.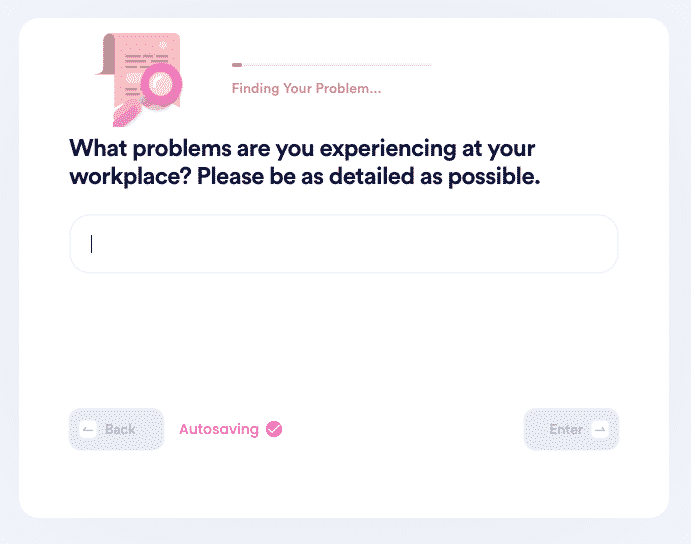 That's it! DoNotPay will automatically mail the report anonymously. Get your complaints delivered without exposing your personal information!
DoNotPay Is At Your Side!
Get your customer service issues, legal problems, and financial troubles handled by DoNotPay! Our AI robot lawyer is always available to you, no matter the time of the day! Check out some of our other services: