Get a FileMaker Pro Free Trial Without Sharing Your Credit Card Info

When you go to the FileMaker pro free trial page, you have to give up a lot of information just to find out whether you need to provide a credit card number before you can start your FileMaker Pro free trial. It seems likely that you might have to give payment information, too.
We've got your answer: No, you don't have to give Claris (the company that owns FileMaker Pro) your credit card number before you can start your FileMaker Pro free trial. You can wait until you're ready to make your purchase, and you don't have to worry about forgetting to cancel before the paid subscription kicks in and having your credit card charged.
But what about other free trial services, when you have to give your credit card number upfront? If you're shopping for online services, that's a common requirement, but DoNotPay has the solution: One-time use virtual credit cards. 
How Do I Get a FileMaker Pro Free Trial? 
Before we go into too much detail about our virtual credit card app, we might as well give you what you're looking for: Information about getting a FileMaker Pro free trial. You'll get full access to this cloud-based productivity software for 45 days. Check out the table below.
How to Get a FileMaker Pro Free Trial From Claris

Go to Claris.com.
In the top navigation bar, click "try".
Fill out the form on the right side of the page, and click "Get free trial".

Alternatively, you can interact with the chatbot on the right side of the screen to get the link to the download, but you'll still be required to provide an email address.
We don't recommend using a fake email address, as you'll need to refer to it if you plan on purchasing the cloud-based software.

On the next page, follow the instructions for selecting and downloading FileMaker Pro.
Start creating!
At the end of your FileMaker Pro free trial period, if you haven't chosen to pay the annual subscription price, your free trial account will simply lock you out of the software.
P.S. Don't Worry About Sharing Your Email Address
Spam happens. If you're concerned about Claris flooding your inbox with junk, and want to know how you can prevent it when you sign up for FileMaker Pro, you might be interested in this DoNotPay article about fighting spam.
DoNotPay's Virtual Credit Card Stops Automatic Subscription Renewals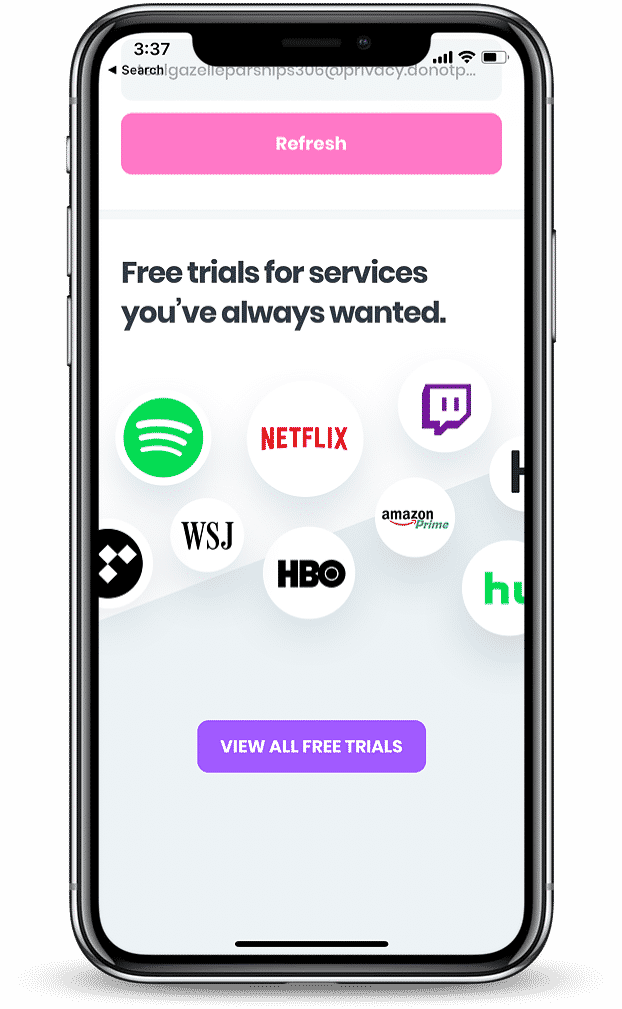 You're safe from automatic credit card charges after your initial free trial period, but what about after your annual subscription expires? You probably keep records that include subscription renewals, but if you don't, you could be in for a surprise on your credit card bill in a year. Here's how you can use a DoNotPay virtual credit card to "firewall" your payments from your regular business or personal credit card.
Sign up for a DoNotPay virtual credit card—it only takes a couple of minutes!
We'll generate a random credit number for you.
When you're asked to provide a payment method, enter the DoNotPay virtual card number.
The company will store the number until the free trial is due to convert to a regular payment and then charge it.
There will be no money on the credit card (other than what you'd authorize) and therefore, you won't pay for anything after the free trial expires!
You can use our virtual credit card anytime you want to protect your finances from unwanted additional charges or fraud. It's secure and absolutely 100% legal, and in fact many banks offer this service—but it's far easier to get a virtual credit card from DoNotPay!
We Can Cancel Any Subscription For You, Too!
Do you have accounts with other services that you never got around to canceling? Maybe your Spotify Premium account, or that gym membership you never use? DoNotPay can cancel any subscription in just a few easy steps.
And if you feel you deserve a refund for any product, for any reason, DoNotPay can take care of that, too. 
We Have Thousands of Ways to Save You Money

And, just as important, your time. DoNot Pay started out as a tool for fighting parking tickets, and since then we've expanded our services to help consumers and citizens advocate for themselves when dealing with businesses and bureaucracy! When you have DoNotPay as your virtual personal assistant (or "pocket lawyer", as some have called us), you'll be able to clear out your to-do list in record time.
Things like these:
If you use our virtual credit card, you can shop around for software, get free or low-cost trials, and boost your team's productivity without the risk of unwanted charges. Get started on your search with a FileMaker Pro free trial today!