File Complaint Against Employer - Hostile Work Environment
Do you think you can recognize a hostile environment when you see one? It's important to know that the phrase 'hostile work environment' is actually a legal term. According to the Equal Employment Opportunity Commission (EEOC), a hostile work environment is similar to harassment which is an "unwelcome conduct that is based on race, color, religion, sex (including pregnancy), national origin, age (40 or older), disability or genetic information." Harassment is illegal when it creates a hostile or abusive environment. In this article, we'll help you understand what a hostile work environment is and how to file a complaint against your employer if you're working in one. We'll also provide you with an alternative to file complaints anonymously with !
What Behaviors are Considered Criteria for a Hostile Work Environment?
Is it a hostile work environment or a job you just hate? Clearly defining the boundary between the two can be challenging. Most employees believe that a bad manager, unsanitary work environment, vulgar co-worker, lack of teamwork, lack of employee benefits can all spark a hostile work environment.
For a workplace to be considered 'hostile', it must meet specific legal criteria. A hostile work environment is one where there is workplace discrimination that violates EEOC mandates created by the Civil Rights Act of 1964. Below is a table of situations that are legally considered to cause a hostile work environment:
Legal Criteria
Sample Behavior

Sexual harassment

Someone who tells inappropriate jokes or sends pictures of nudity via email or messages.

Discrimination

Someone who verbally chastises you or treats you differently for your age, gender, race, disability, and more.

Prevalent behavior (frequency)

The offensive behaviors last over time and are not limited to one-off

incidents

.

Disruptiveness (severity)

The offensive behavior interferes with his/her work or career development.

Employer liability

It is possible that the

boss

knew about the offensive behavior and refused to take action to address it.
How to Document and Prove a Hostile Working Environment
The first step to resolving a hostile work environment is to prove it. Detailed documentation will serve as proof of the existence of a hostile work environment. When writing notes on your documentation, take note of the following important details:
Make your employer aware – Document dates, times, and places of meetings or discussions when you

reported

the offensive behavior to your company's HR department. This will later prove that the problem was ongoing and the employer will have no choice but to take action.

Take note of witnesses – Your case becomes stronger when there are third-party testimonies to prove it. When an incident happens, be aware of co-workers who may have witnessed the incident(s). Document their names and positions in the company and ask them if they would be willing to provide a written statement.

Keep proof of negative impacts – Your performance reviews will be important in proving that offensive behaviors have been affecting your performance at work. If you sought mental health care during the time, prepare medical records.
How to File a Hostile Work Environment Complaint
Employees are protected by federal law and they have the right to file several types of complaints against their employer. You may file your complaints with state agencies and federal agencies especially for matters regarding federal wage and hour laws, the equal employment law, or the federal Occupational Safety and Health Act. When filing your complaints, here is a general guideline on what to do:
Determine legal grounds – This will help you determine which federal agency is appropriate for filing your complaint.

Be mindful of deadlines – Some laws require employees to file their complaints within 180 days.

Report to an employer – You may be required to first report the offensive behavior to your employer. You can do this by filing an

HR complaint

or reporting to the employer directly.

Send a written letter to the appropriate agency – Some agencies will have standardized

forms

for you to fill out. In the absence of one, a signed letter will do. In some states, federal laws do not apply to employers with less than 15 employees.
It's important to note that filing a complaint against your employer may not be that easy. There may be the risk of retaliation and the possibility of an awkward situation at work. This is where DoNotPay can help!
How to File an Anonymous HR Complaint With DoNotPay
With our new Anonymous HR Complaints product, we will help you report an employer or file a complaint with HR without having to reveal your identity. Filing is easy with only four steps:
1. Open the Anonymous HR Complaint product on .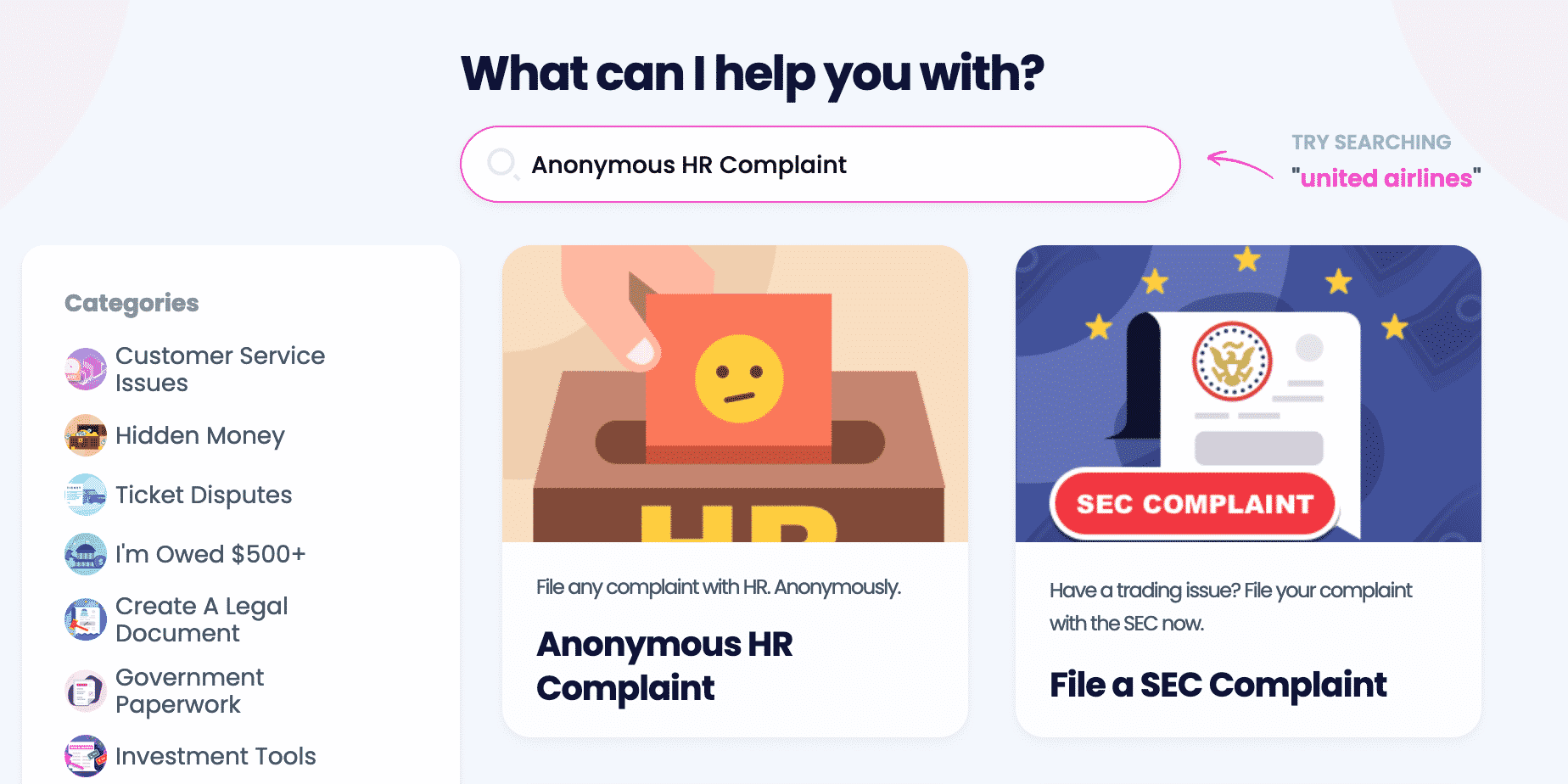 2. Enter your employer's name and the HR department's mailing address.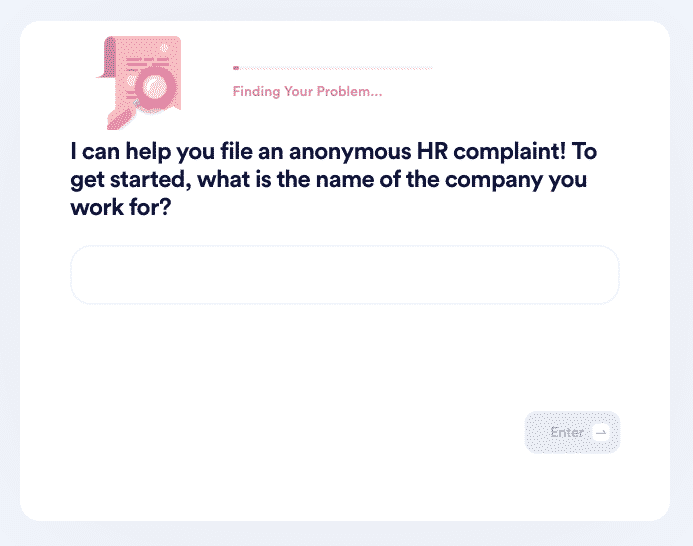 3. Describe the issues you're experiencing and how you want them to be addressed.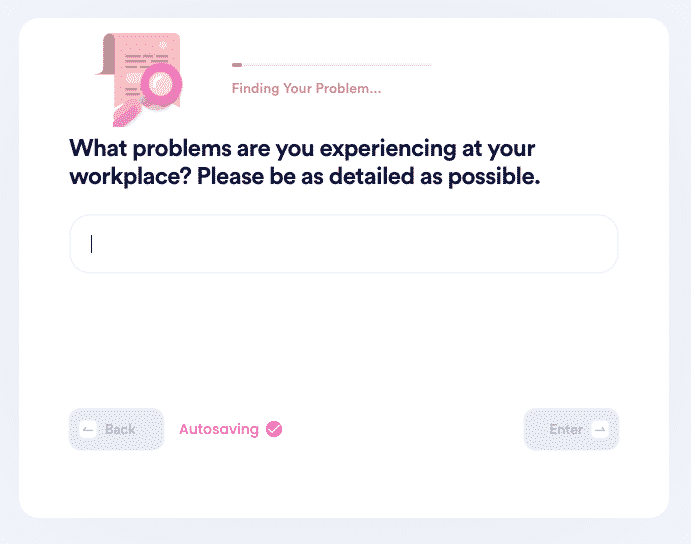 DoNotPay will automatically mail the report anonymously! How convenient was that?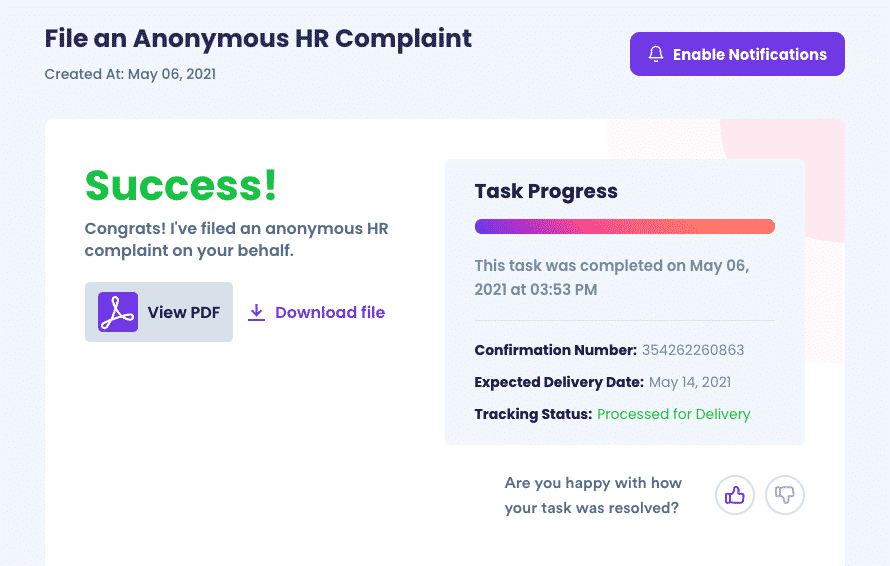 Get the Most Out of DoNotPay!
Not only can DoNotPay handle your workplace complaints, but it can also help you with a myriad other legal issues such as: