All You Need To Know About the Fiji Tourist Visa
Gorgeous beaches, stunning coral reefs, and Fijians' hospitality are some of the reasons why Fiji is a dreamy place to visit. Your vacation in Fiji might not be so dreamy if you don't do your research about tourist visas before you depart.
This in-depth guide will help you determine whether U.S. citizens need a Fiji tourist visa and what else is required to enter the country!
Fiji Tourist Visa Requirements
U.S. citizens don't need a tourist visa to visit Fiji and can stay for a maximum of four months in the country within one year. All travelers arriving in Fiji have to provide:
A U.S. passport valid for at least six months after their departure from Fiji
Proof that they have sufficient funds to afford their stay
An onward or two-way ticket
You can stay for an additional two months if you submit an extension application to the immigration services. The extension application may require you to submit:
Your Arrival Card number
Proof of sufficient funds for your extended stay
Your passport
The date you entered Fiji
Reasons for extension
The final day of the allowed four months
Your return ticket
Personal details like:

Date of birth
Profession
Nationality

The extension fee of around $40–$45
Does Fiji Impose COVID-19 Restrictions?
New cases are on the rise in Fiji, after which the Fijian government decided to impose the following restrictions:
All incoming travelers older than two must present:

A negative COVID-19 test (PCR or antigen). You must not get tested earlier than three days before your trip
Proof of recovery from COVID-19 dated 90 days before your arrival to Fiji

Some zones have an established curfew:

Suva, Nausori, Lami—from 6 p.m. to 4 a.m
Other areas of Viti Levu—from 8 p.m. to 4 a.m
Outside Viti Levu—from 11 p.m. to 4 a.m
You will also need to test negative for COVID-19 once you decide to go home. The Fijian government provides testing and special flights for U.S. citizens.
As the situation with the pandemic is changing daily, you should contact the Embassy of Fiji to inquire about up-to-date information regarding restrictions.
How To Contact the Embassy of Fiji
Suppose you have any questions about the current requirements or restrictions in Fiji. In that case, you can contact the Embassy or your nearest Consulate of Fiji using the information from the table below:
Diplomatic Mission
Phone Number
Email
Address
Embassy of Fiji
202-466-8320
info@fijiembassydc.com
2000 M Street, NW, Suite 710

Washington, D.C. 20036

Consulate of Fiji in Los Angeles

310-531-8784
202-466-8320

fijila@vinsoncompany.com
sg@vinsoncompany.com

2301 Rosecrans Avenue, Suite 3185

El Segundo, CA 90245

Consulate of Fiji in San Francisco

650-550-5944
650-333-7752

jsingh4567@aol.com
50 West Harris Avenue

South San Francisco, CA 94080

Consulate of Fiji in Portland
N/A
N/A
Fijian Consulate in Portland, OR, the United States KATU Television Center P O Box 2 Portland Oregon 97207 - 0002
What You Should Know When Visiting Fiji
You should consider the following before you go to Fiji:
Women usually cover their shoulders and wear knee-length skirts
Fijians are proud of their country—try not to insult it or mention any social problems
People talk in a gentle and calm manner in Fiji. It's uncommon for Fijians to raise their voice or have emotional outbursts
Fijians respect others' personal space and don't display physical affection a lot
Most stores don't work on Sundays because a lot of people attend church
Alcohol is banned in some villages, so you should never force a Fijian to drink
Get Up-to-Date Information About Tourist Visas for Any Country in a Matter of Moments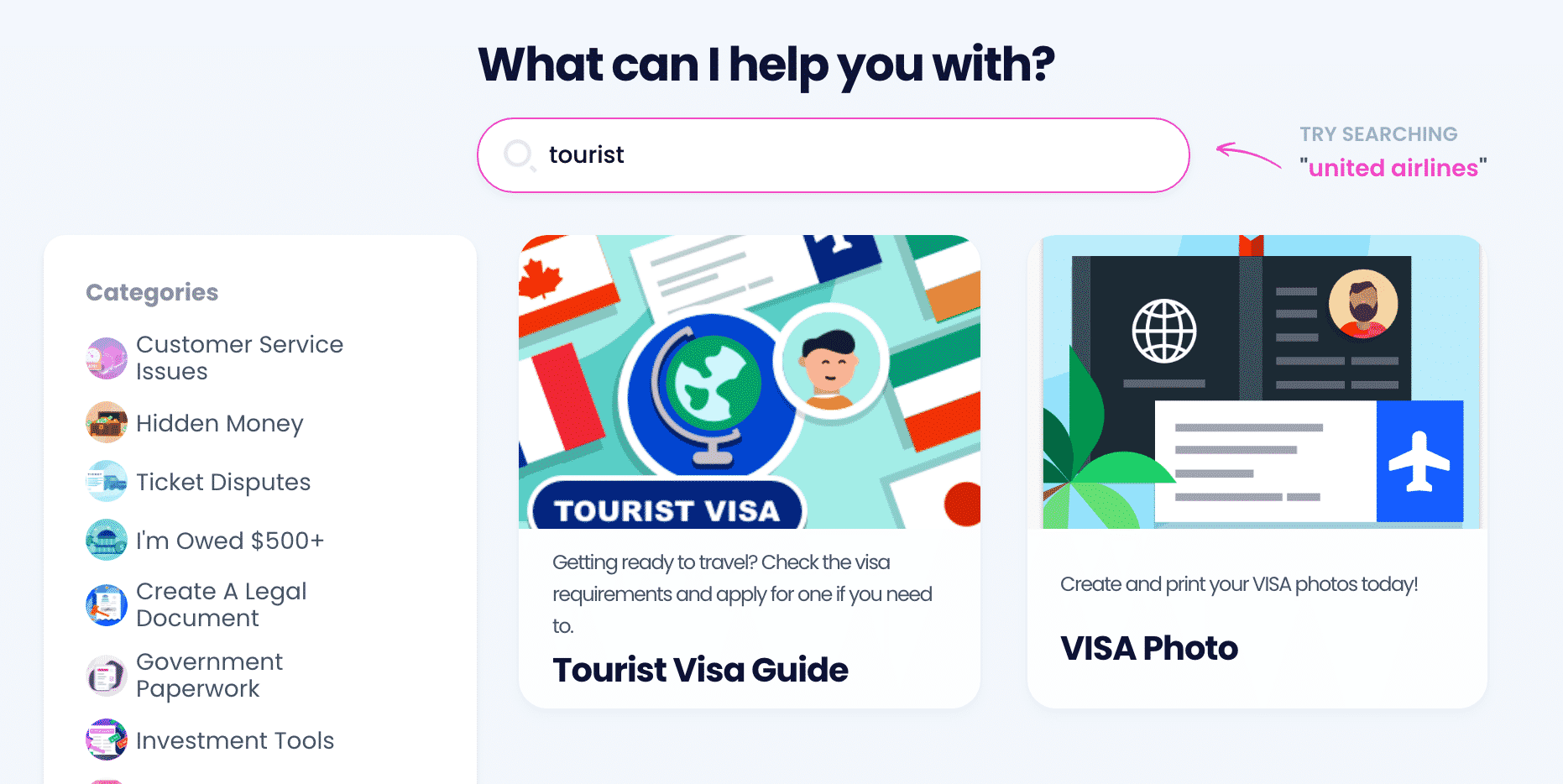 Finding out whether you need a tourist visa and how to obtain one to enter any country should not be difficult. That's why DoNotPay created a feature that explains:
Whether you need a tourist visa to enter a particular country
How to apply for it
What the required paperwork for the application is
Whether you can complete the application from the comfort of your home
Learning about any tourist visa application in the world is a short and straightforward process with DoNotPay. All you need to do is:
Access the Tourist Visa Guide feature
Confirm that you're a U.S. citizen or have a U.S. passport
Enter your destination
You will receive all of the necessary information in the shortest time possible!

DoNotPay Enables You To Experience the Wonders of Oceania
The smallest continent in the world offers you an abundance of natural and cultural beauty to behold. If you don't want to stop at Fiji, subscribe to DoNotPay and explore tourist visa requirements from other countries belonging to the continent, such as:
DoNotPay Goes the Extra Mile for You
We are dedicated to providing solutions to difficult and time-consuming tasks you may have on your to-do list. If you are struggling to reduce your monthly bills, contest parking tickets, or set DMV appointments, DoNotPay will help you do it in no time!
We have also created numerous easy-to-use features that can make the following procedures run smoothly:
Get Justice From Companies That Wronged You
Do you feel like you have been played by a company? Instead of wasting your time writing requests, demand a chargeback or refund or claim a warranty via DoNotPay! If the company doesn't seem too cooperative and keeps refusing to return your money, our app can assist you in suing it in small claims court.
To help you save some coins or regain what's yours, DoNotPay will also help you locate unclaimed funds, submit insurance claims, lower your property taxes, and cash out gift cards.