How to Fight Traffic Tickets in New York City in Two Minutes
Traffic violations are common occurrences in New York City. They happen when drivers disregard traffic rules on the road. These traffic rules breaches are prevalent due to the increasing number of vehicles on the streets. You risk traffic ticketing when you overlook traffic rules.
You can  if you do not want the points included in your traffic records. When issued a traffic ticket, you should act promptly to avoid some consequences associated with traffic ticketing, explaining why some people engage an attorney. Locating a proficient lawyer might take time and entails paying high attorney fees.
Luckily, DoNotPay has a "Ticket Dispute" product that eliminates all the stresses and unnecessary expenses should you decide to plead not guilty to an NYC traffic ticket. 
Types of Traffic Tickets in NYC

The streets of New York are extremely busy and congested that it's almost impossible not to drive like a maniac. Careful though as this could easily earn you a citation. There are . These include:
| | |
| --- | --- |
| Speeding Tickets | The speed limit set in NYC is 50 mph and driving beyond that will earn you a speeding ticket. |
| Stop Sign Tickets | Stop sign tickets are awarded when you fail to stop at a limit line. You are also ticketed when you stop at the limit line or crosswalk. The stop sign ticket in NYC attracts three points, and you can avoid this by learning how to dispute a traffic ticket in NYC. |
| Reckless Driving Tickets | Reckless driving is a serious offense in NYC. In addition, reckless driving reduces your driving license points considerably which would later lead to bigger problems with your car insurance company. |
How to Appeal My Traffic Ticket in NYC
You can file an appeal within 30 days and pay a non-refundable fee of $10 for each conviction. However, your submission via mail does not necessarily mean your request has been accepted. The board determines whether it meets the legal requirements in the state.
You should respond to the traffic ticket and appeal for scheduled trials within 60 days. Failure to do this can lead to driver's license suspension. However, you can reschedule your appearance twice by requesting an extension of the hearing. This is allowed if the hearing date falls within 20 months after the ticket issue date.
How Can I Reschedule My Hearing?
You can request an extension of the hearing date via email, online, or phone. You will get the information on the ticket. Do this at least 24 hours before the scheduled time by phone and at least ten days before via mail. Contesting the ticket pushes your hearing date further, improving the odds of the officer not being present during the trial.
Trial by Written Declaration
You can submit a claim explaining why you feel you are innocent through writing. On the other hand, the ticket issuing officer should present a letter explaining why they think you are guilty. In most cases, the officers do not bother to do this, granting you a direct win in the case.
Documents involved while disputing a traffic ticket in New York:
The trial by written declaration form
A detailed written statement of the incident
Attach evidence, such as:
The "notice to appear ticket".
A business record or receipt
Written statements /witness letters
A sworn declaration of the citing officer
Is Fighting a Traffic Ticket in NYC Worth the Trouble?
The answer lies on what matters most to you but we recommend never to rush in paying the ticket as that is a clear admission of guilt.
Consequences of not contesting the ticket includes:
Demerit points on your DMV record for three to seven years
Possibility of your insurance premium going up or your car insurance company canceling your policy
You lose money for an offense that you did not even commit
Contesting your NYC traffic ticket doesn't have to be stressful and intimidating. DoNotPay will show you how you can fight the wrongful ticket without a lawyer.
Fighting Traffic Tickets in NYC in Less Than 120 seconds 
If you think you can't win when appealing without a lawyer, Newsweek will tell you otherwise. We have won 160,000 cases, saving roughly $4 million for overturning parking tickets alone.
DoNotPay is the perfect tool when disputing traffic tickets in New York. Trust us. We've done this more than a hundred thousand times! We only need the important details on the traffic ticket issued and a few on the incident itself.
Follow the steps below to dispute your traffic ticket in New York successfully:
Log in to DoNotPay and go to the Ticket Disputes category. Select the correct product based on your traffic ticket.

 

Upload a photo of your citation.

 

Provide us with some details on why you believe the citation issued is a mistake.

 

Select whether or not you want the letter mailed to the traffic ticket issuer on your behalf! 
That's it! You'll receive an appeal letter that contains state vehicle codes to boost your case.

 
Why Use DoNotPay to Fight Traffic Tickets in NYC?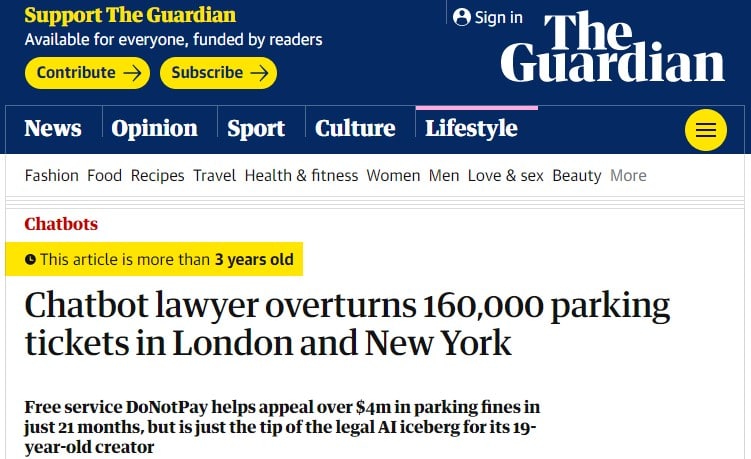 DoNotPay offers easy and fast online services to fight traffic tickets in New York City. Our Ticket Dispute service works across all US cities and states such as:
In addition to helping you appeal unjust traffic tickets, DoNotPay can also assist with:
 and enjoy a stress-free process of fighting red tape and bureaucracy.