Federal Trademark Registration—What You Need To Know
The trademark application process raises lots of questions and can leave you overwhelmed. How do you apply? What are the requirements and costs? Does your trademark qualify?
Federal trademark registration is a complicated process, but in the end, you should still take advantage of the trademark protection law for your small business.
This guide will answer the essential questions about the federal trademark registration process. You will also discover how you can register stress-free with DoNotPay!
What Is a Trademark or a Service Mark?
A trademark is a text, symbol, or any element that helps customers identify your products or services on the market. In practice, this term usually refers to both trademarks and service marks—but in theory, trademarks protect products, and service marks protect services.
Below are some of the elements of your brand that you can trademark:
Registering a Trademark in the U.S.
In the U.S., you are not required by law to register your trademark. You get common law rights by using your mark in business. The common law rights enable you to enforce your ownership of the mark only in your geographic region. You can also register at the state level, which protects your mark within your state's borders. If you expand your business to another state, you will need federal protection.
Federal registration of trademarks is handled by the U.S. Patent and Trademark Office (USPTO). The agency is in charge of reviewing your application and granting the trademark certificate.
How To Apply
To apply for federal trademark registration, begin by conducting a comprehensive search of the USPTO's databases to see if there are marks that are too similar to yours. If there are no matches, you can proceed with your application.
You must file your trademark application online using the USPTO's Trademark Electronic Application System (TEAS). For the first application, you have two forms to choose from based on your needs:
TEAS Plus—This method demands more details upfront and comes with the cost of $250 for every class of goods or services
TEAS Standard—This option has fewer upfront requirements and costs $350 per class of goods or services
You will have to pay for every class of goods and services that you add to your trademark. Your costs can also shoot up if you use an attorney as they usually charge up to $2,000.
Benefits of Registering Your Trademark With the USPTO
Although you get rights by using the mark, federal trademark registration offers some benefits worth exploring, such as:
Getting legal and exclusive ownership rights to use the mark throughout the country for the registered classes of goods or services
Getting listed in the USPTO's public databases to prevent infringement
Having the grounds for registering with the customs office to stop the importation of infringing products
Initiating trademark infringement lawsuits in a federal court
Using the federal registration symbol ® legally to deter potential infringers
Getting the grounds for easier trademark registration abroad if you expand internationally
Can You Lose Your Federal Trademark Protection Rights?
Yes, if you don't maintain your registration as required by the USPTO. If it happens, you have to re-apply, and there is no guarantee that you will be successful. Here is what you should do to maintain your federal trademark registration:
Use the trademark in business
Complete and submit the required maintenance documents periodically
Pay renewal fees
Delete unused goods from your trademark registration
File Your Trademark Application the Easy Way—Use DoNotPay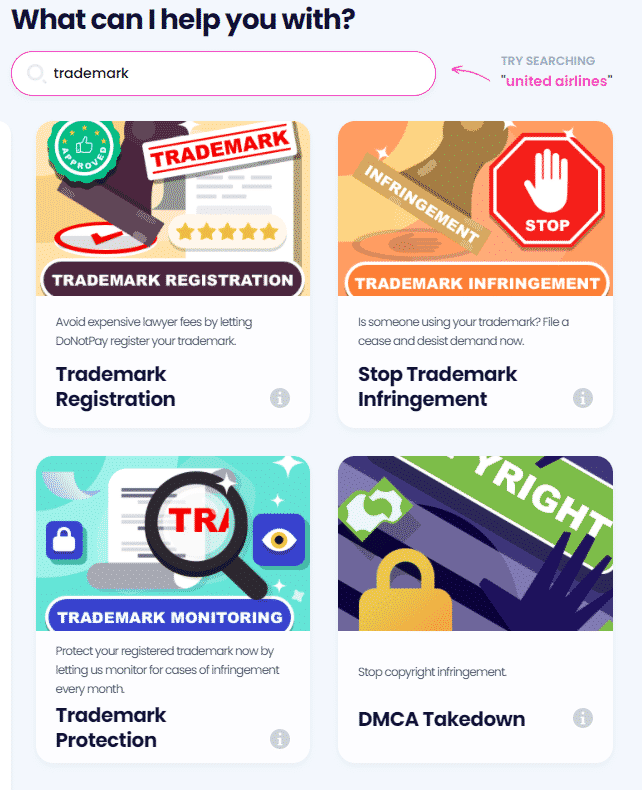 Does the trademark application procedure make you nervous? Let DoNotPay handle the registration for you. We turn the complicated bureaucratic procedures into simple and faster processes. All you need to do is provide us with your trademark details, and we will:
Carry out a detailed search of existing trademarks for similarity
Inform you of the requirements
Complete the trademark application forms for you
Submit the completed forms to the USPTO
Ready to protect your trademark? Follow these steps to get started with DoNotPay:
Select the Trademark Registration tool
Tell us more about the trademark
Pay the USPTO registration fees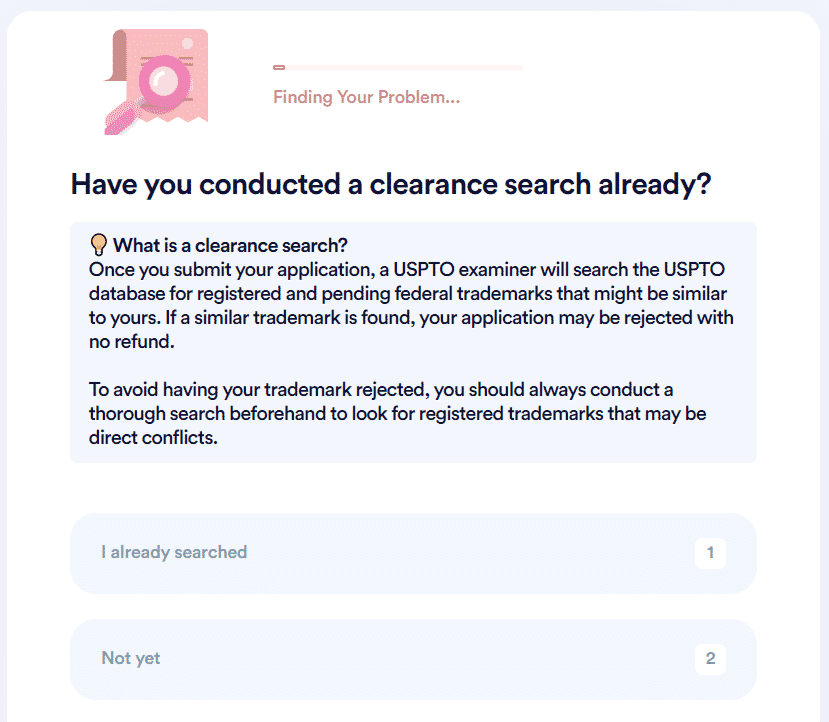 How To Use Trademark Symbols
There are three trademark symbols you can use depending on the registration status of your mark. Here is how you can choose the right one for you:
® symbol—You can only use it if your mark is officially registered with the USPTO
™ symbol—The "TM" symbol stands for trademark, and you can use it on your goods if your mark hasn't been registered
℠ symbol—The "SM" symbol stands for service mark, and you can use it if your business offers services and your mark is not registered
Why Your Application Can Be Rejected
Your federal trademark registration can be denied for various reasons. Besides incomplete or incorrectly filled out applications, you can get rejected if your mark is:
Someone's last name
Name of a geographic area
Movie title
General descriptive words (in English or a foreign language)
Someone's name
You should also conduct thorough research and establish whether you actually need trademark protection. Your application can also be rejected if you attempt to trademark intellectual property that is meant to be patented or copyrighted.
Protect Your Brand Name and Build Trust With Your Users!
One of the most challenging aspects of every business is building a trusting relationship with the customers and maintaining a good reputation. That is why it is crucial to protect your business name, logo, and slogan legally by registering it as a trademark. DoNotPay is here to help you do that hassle-free with our Trademark Registration tool. Need help checking for trademark violations once you register? There is no need to fret as we have a tool that can help you with that as well!
Now that your trademark is taken care of, you should consider complying with data protection requirements to take care of your users' privacy. You can do so by using our Privacy Shield Self-Certification product.
Are you dealing with fake negative online reviews that are harming your business? DoNotPay can help you by analyzing the reviews and reporting them until they are taken down!
Time Is Money, and DoNotPay Can Help You Save Both!
DoNotPay offers an array of time-saving features that you can use when you do not feel like dealing with business-related challenges on your own. We can help you:
Apply for your Employer Identification Number (EIN) Registration in a few clicks
Help your employees lower their taxes by filing 83(b) election forms from the comfort of their offices
Enjoy free faxing and mailing services and save time by not having to go to the post office
Complete a DMCA agent registration process to avoid dealing with copyright violations
Write a convincing letter when filing for a small business loan
Do you need help dealing with clients who do not want to pay for your services? Use DoNotPay's Breach of Contract product to send a letter of demand in a matter of minutes! Not sure what to do with unfair chargeback requests? We can help you by creating a chargeback rebuttal document for you to send to your payment processor.