How to Do an FDLE Warrant Search the Fast Way
Sometimes your past sneaks up on you when you least expect it. Wondering if you have an arrest record in Florida is a scary experience. The sooner you know, the better you feel. The problem is that the information you need isn't always easy to find or readily available.
In other instances, you may need to see if another person, like your daughter's boyfriend, a new employee, or a rental tenant has any outstanding warrants in Florida. That task can be even more challenging than looking into your own Florida NCIC search.
No matter why you need to do an FDLE warrant search, you're bound to run into a lot of red tapes. Fortunately, there is an easy solution, and it's called DoNotPay.
Are Florida Warrants Public Record?
Yes, the Florida Department of Law Enforcement (FDLE) allows for full disclosure of their warrants database to the public at large. Since 1909, there have been laws in place in Florida that state that all records are open for public view, however, amendments have since been made for the police Secrets Law which protects information deemed too sensitive for public view.
Any of the following can be categorized as sensitive information:
Any information that can directly impact the outcome of a criminal case
Information that could jeopardize undercover police personnel
Information that could put victims of crime or witnesses of crimes in danger
Information that could compromise the right to privacy of victims of sexual assault and child abuse cases
If warrants are issued for the commission of any of the above types of crimes, the public can view them, but some information will be redacted.
What Types of Warrants Does the FDLE Issue?
Since 1967, the Florida Department of Law Enforcement (FDLE) has been responsible for protecting the citizens and visitors of Florida. It operates through seven regional operations centers in five divisions. It offers the following ministrations to the community:
Protection
Security
Investigative
Forensics
Training
Information
The FDLE works in conjunction with local, state, and federal law enforcement to protect against 6 major categories of crime:
Counterterrorism and domestic security
Economic crimes
Narcotic and other drug crimes
Cybercrimes
Public integrity
Violent crimes
Warrants can be issued for any of these crimes. There are several types of warrants that could be issued in Florida. Here are a few of the most common:
| | |
| --- | --- |
| Felony Warrants | These are warrants issued for the commission of a felony. A felony is a crime, usually violent, that is considered more serious than a misdemeanor. Examples of felony crimes are murder, assault, and armed robbery. Felonies are punishable by imprisonment for over one year or execution. |
| Misdemeanor Warrants | Misdemeanor crimes are lesser offenses that are punishable by up to a year in jail. Examples of misdemeanor crimes include burglary, theft, driving under the influence, and possession of minor scheduled controlled drugs. |
| Bench Warrants | Bench warrants are issued when someone who has been released from jail on bail doesn't show up to their court appearance. Alias warrants are another type of bench warrant. They are issued when a person fails to respond to a citation and does not appear in court. |
| Civil Capias Warrant | Sometimes called a body attachment warrant, this warrant allows the police to arrest you but not take you to jail. Instead, a civil capias warrant is issued to have someone brought to court. It is issued when someone is in contempt of court for failure to obey a court-ordered verdict. |
| Probation Violation Warrant | When offenders on probation violate the terms of their probation, a probation violation warrant is issued for their arrest. |
| Governor's Warrant | If a person from another state commits a crime and then takes refuge in Florida, the governor of the state where the crime was committed can issue a warrant for that person's arrest by Florida law enforcement. That person is then held in Florida until extradition can take place. |
How to Search for Your Own Active Warrants in Florida
Searching for your own criminal background reports and active warrants is a tedious process. It requires time, patience, and a fair amount of money. Most people begin with an online request for an FDLE warrant search. You can also request a search through the mail. You must provide your full name and other identifiers and a credit card for the $25 charge.
Another option is to request a local criminal history check in a specific county in Florida. This can cost anywhere from $10 to $50 and will only provide information for that county.
Hiring a private investigator is another option. They can dig deep into anyone's background to find warrants and criminal charges along with a long list of personal attributes like where you spend your free time and who you spend it with. Those services typically cost thousands of dollars and every skeleton in your closet is laid bare.
How to Check for Warrants in Florida the Fast and Easy Way
No one has the time, inclination, or cash flow to fill out applications, hire private investigators, or spend hours in the Clerk of County's office to find out if there is a warrant waiting for them. Fear not! There is a cheap and easy way to get it done fast.
If you want to do a warrant search fast without frustration in Florida but don't know where to start, DoNotPay has you covered in 4 easy steps:
Go to the Check for Warrants product on DoNotPay.
Choose whether you want to search for yourself or someone else, and answer a few questions to help us narrow down the search results, including current and previous addresses, age, the names of parents/relatives, and any known aliases.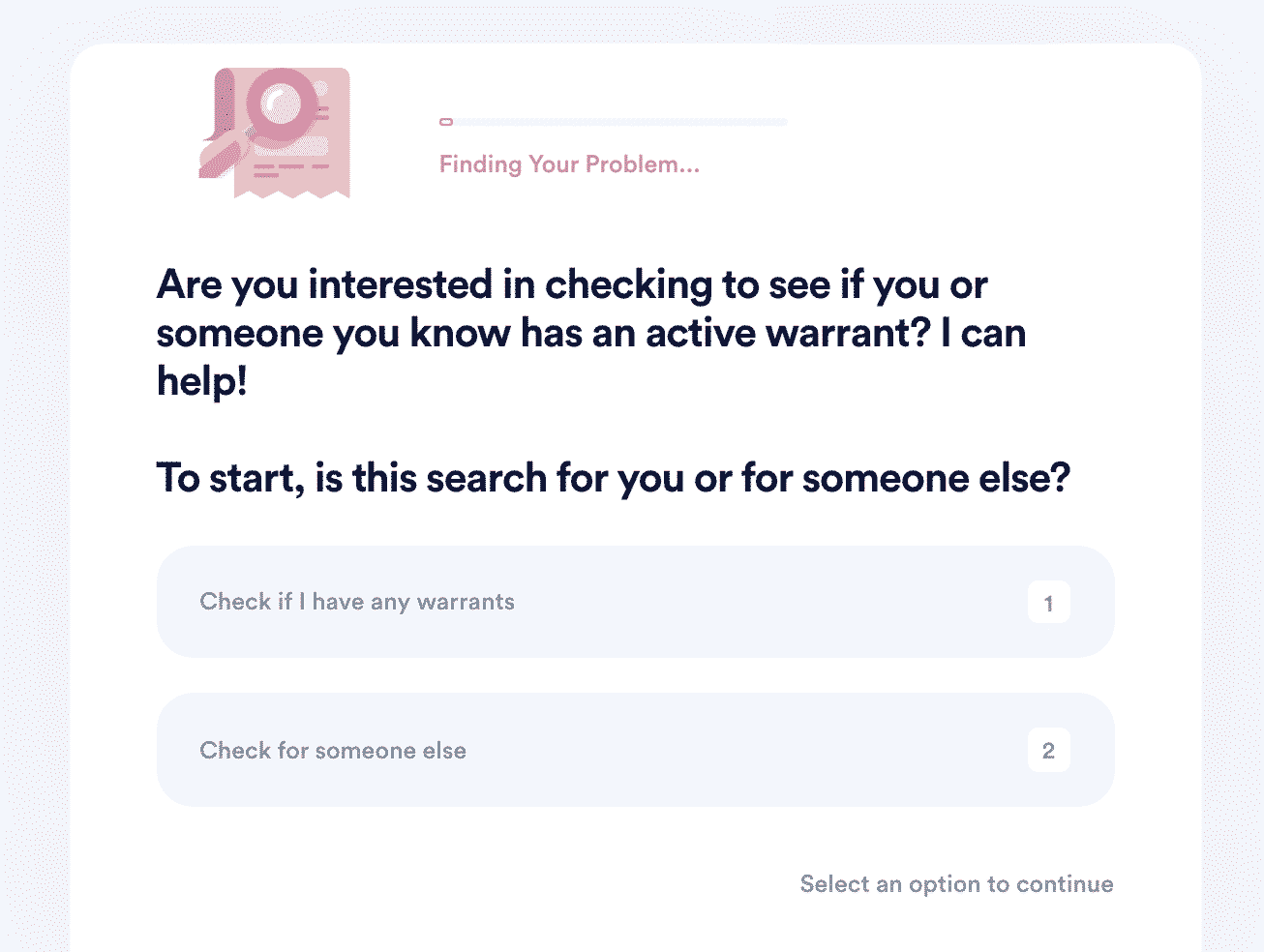 Select how you would like to receive the results in the case where we have to contact the police station on your behalf (by mail or email).
Enter your contact information, including email, address, and phone number.
Why Use DoNotPay to Check for Warrants in Florida
DoNotPay's warrant search product takes all the stress and frustration out of the process. No errands or worries about online applications, long lines, or lost passwords. Simply input your answers, and we will take care of the rest. Our tested approach ensures your accurate warrant search is only moments away.
Another great reason to use DoNotPay is all the other services we can help you with, including warrants in other counties and states, such as:
Find out how the world's first robot lawyer can help you today.