Get Fast Small Business Loans To Improve Your Operations
When starting a business or improving a current one, you will need funding for everyday costs and business operations. If you are exploring startup or small business loans, you need to consider various aspects, including:
One of the key criteria might also be approval time, especially if you need the funds urgently. Use DoNotPay to collect information about fast small business loans that will help you choose the right lender and funding option for your needs.
Do You Qualify for a Small Business Loan?
As a small business owner, you have probably wondered how loans work and whether your credit score is good enough to get funding. You should not give up even if a couple of traditional lenders—e.g., banks—have already rejected your loan requests.
Keep in mind that each loan provider might assess qualifying criteria in a different way. It means that you could have a good opportunity to get a small business loan even if you have been rejected before.
Choose a Lender To Get Small Business Loans Fast
The following table outlines some key differences between traditional and alternative loan providers:
Traditional Lenders
Alternative Lenders
Traditional small business loan providers—such as banks or credit unions—often:

Follow complex, demanding, and lengthy procedures
Use strict qualification criteria
Have longer approval times
Offer lower interest rates

Alternative lenders—including online loan providers—usually:

Provide fast response to a loan application
Offer quick small business loans
Assess your creditworthiness differently (e.g., by looking at your cash flow)
Have higher costs of financing
If you are looking for instant small business loans to address an urgent business need, an online lender might be more suitable since they could:
Give you an answer on the same day
Fund your loan the next day
Together with different loan providers, you should get familiar with various types of small business loans.
What Type of Financing Is Suitable for Fast Small Business and Startup Loans?
If you are not sure what small business loan is best for your current expenses and planned activities, you should look at the following factors:
How much money you need
What you will use it for
How much you will have to repay, including all the fees and interest rates
To find small business loans with a quick approval process and repayment period, consult the following table listing some loan options:
Loan Type
Funding Speed
Term Length
Microloans
The same day–a few weeks
Three months to seven years
Merchant cash advances
Instantly (on the same day)
Three to 30 months
Lines of credit
Instantly (on the same day)
Six months to five years
Working capital loans
A couple of days–one week
Six months to five years
Term loans
A few days–a few weeks

Short-term loans—Up to 18 months
Intermediate-term loans—One to three years
Long-term loans—Three to 25 years

Equipment loans
One day–a few weeks
12 months to six years
Bank loans
One week–two months
Three to ten years
Small Business Administration (SBA) 7(a) loans
Two months–three months
Up to:
Additional Financing Options
If you are interested in fast business funding, you could explore other financing options, including:
A business credit card—This can be a quick and easy source of business funding. If you pay the balance in full every month, you could:

Build your business credit score
Keep the credit limit available (in case you need access to a fast loan)
Earn rewards, including hotel stays, cashback with purchases, or frequent flier miles

Invoice factoring—This type of funding might be suitable for your business if you:

Have cash crunches because you often need to wait for your clients to settle their outstanding invoices
Are not eligible for some other type of loan or credit

Family members or friends—You could turn to a friend or family member to get a quick small business loan if you:

Can trust them
Don't think a loan could harm your relationship
Keep in mind that you should:
Create a budget for your small business to keep track of your financial standing
Prepare a loan request letter to convince the chosen lender to approve the funding for your business
DoNotPay Creates Compelling Business Loan Request Letters
To increase your chances of getting a loan for your small business, you should prepare a letter that presents you and your company in the best possible light. Our AI-powered app can generate an airtight loan request letter for you in a matter of minutes.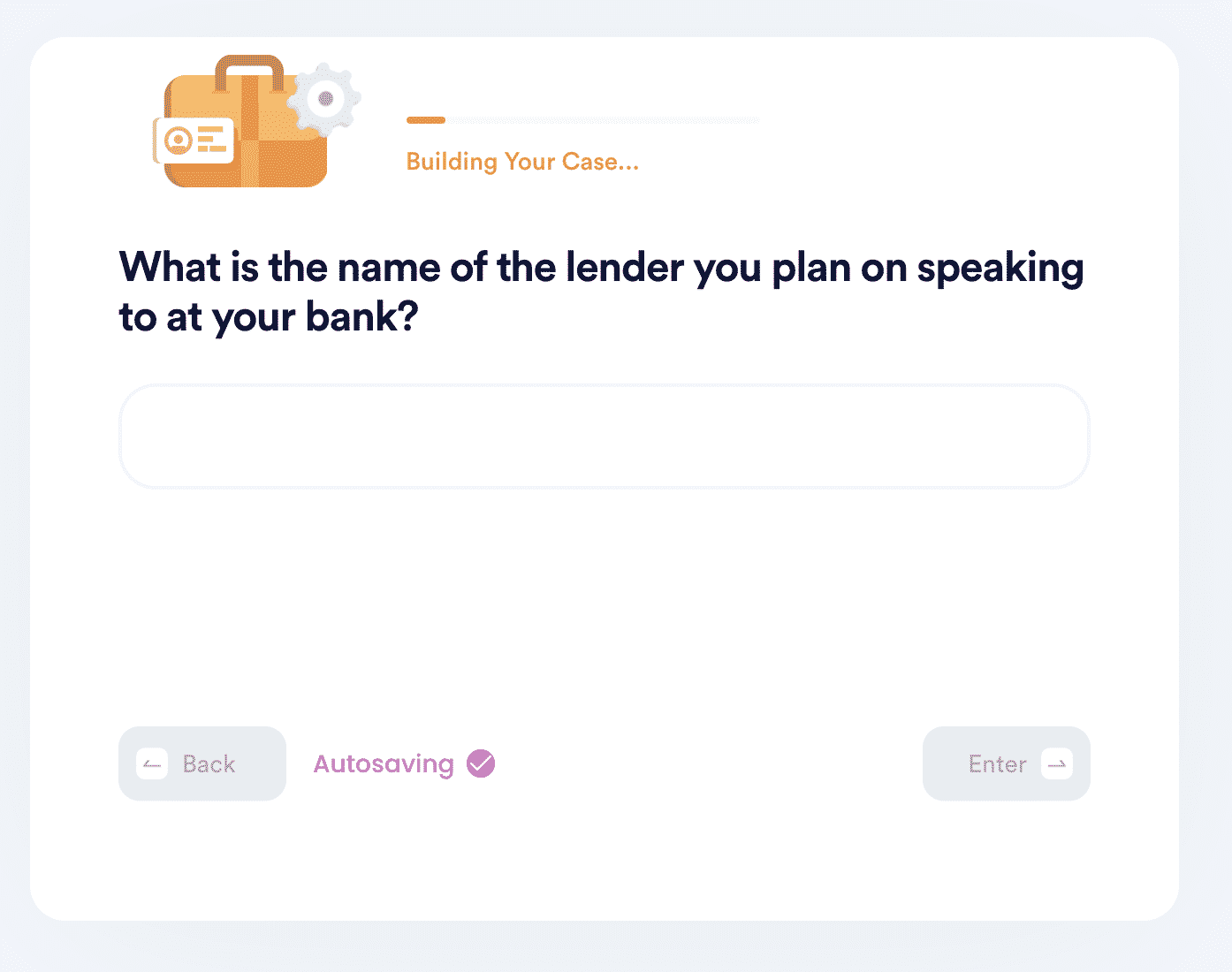 Here is how you can get your reliable letter—sign up for DoNotPay to:
Open the Business Loan Request Letter product
Insert your company's data
Enter the amount you would like to borrow
Upload the collected documentation, including:

Personal and business credit scores
Business financial statements (including the profit and loss, cash-flow, and balance statements)
As soon as you enter the necessary information and paperwork, our robot lawyer drafts a business loan request letter customized to your specific needs.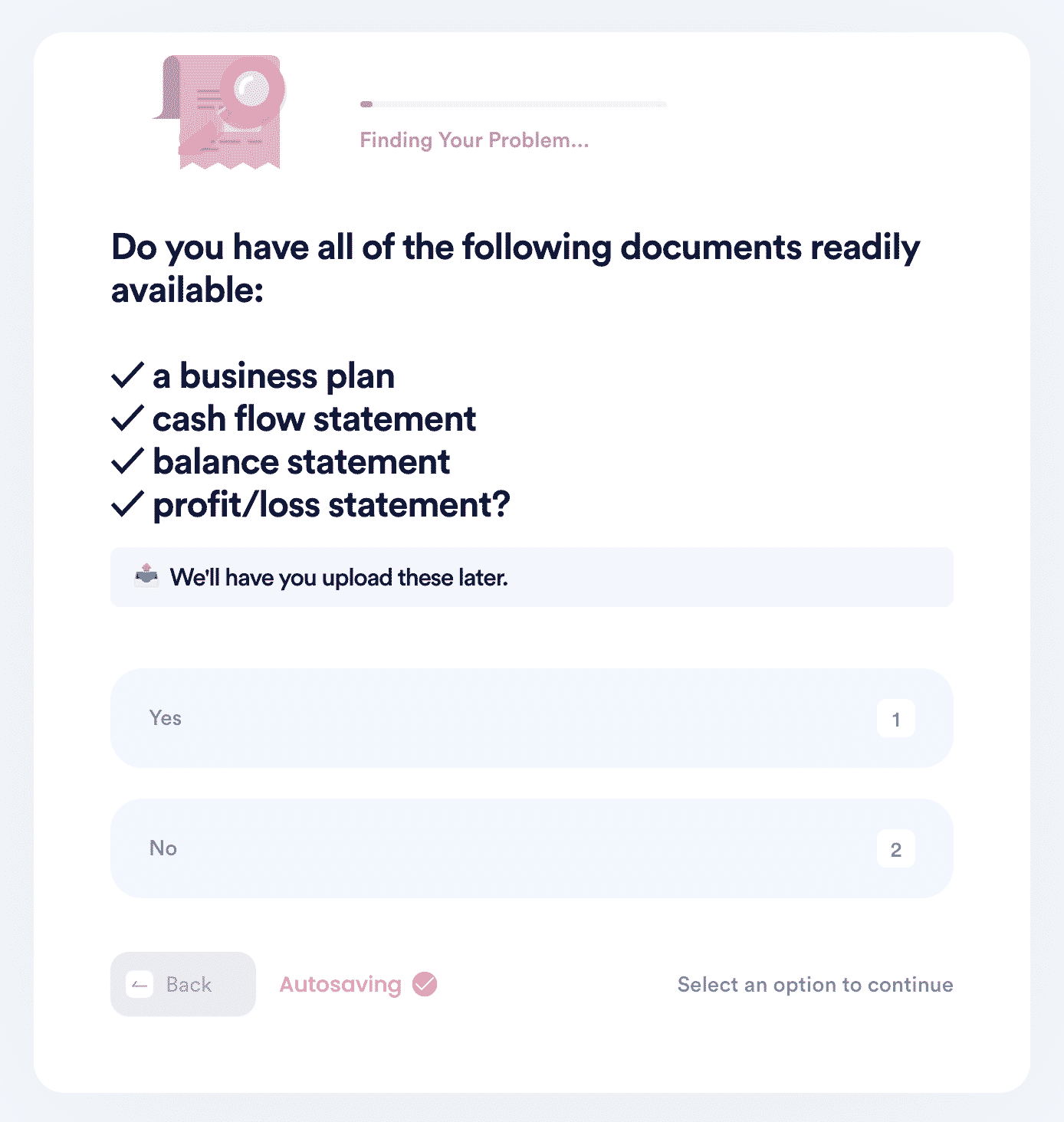 If you have not chosen a loan provider yet, you should use our integrated Find Online Business Loan Lender feature. We can provide you with a list of the top three lenders that are most suitable for your business's type, industry, and loan requirements.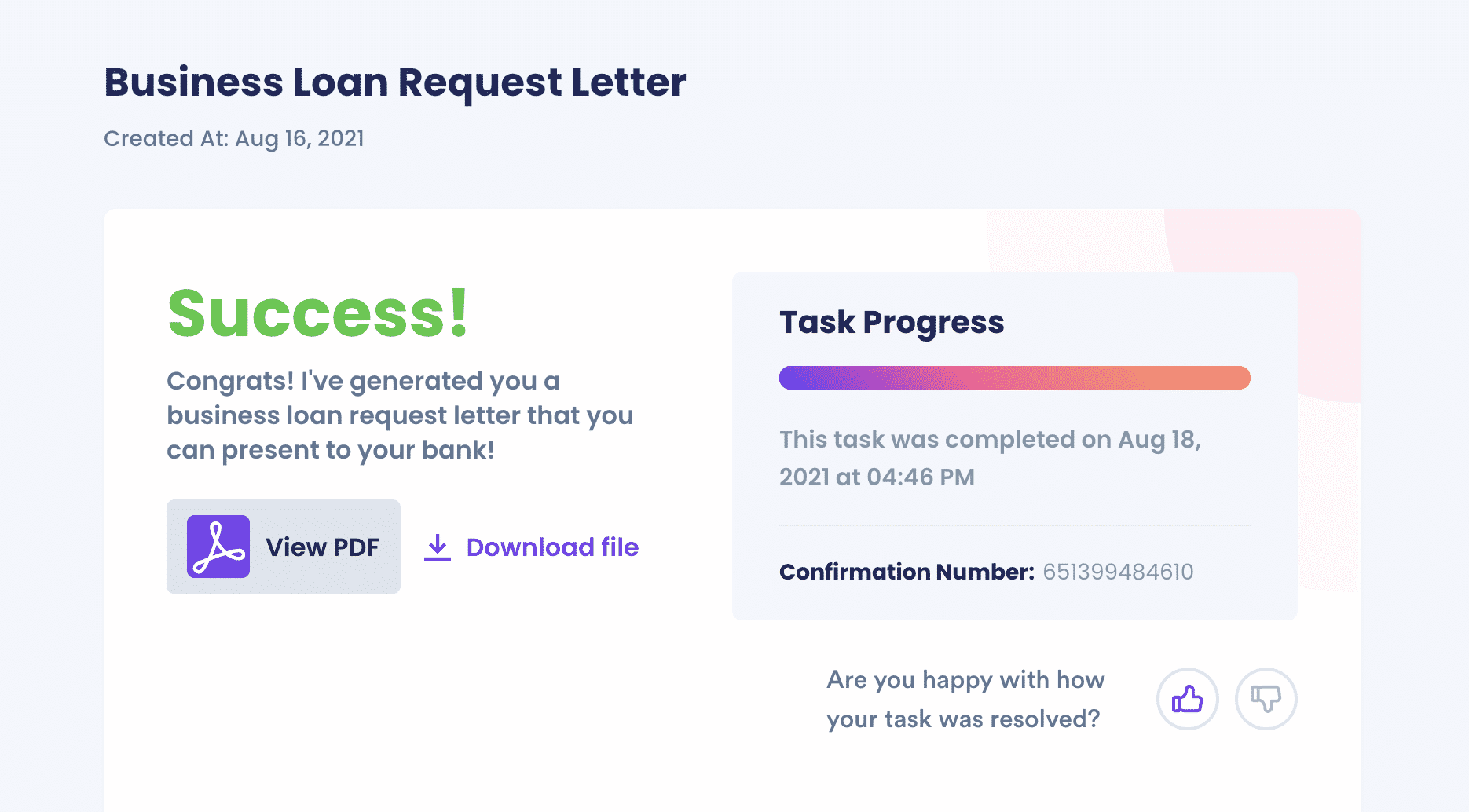 DoNotPay Offers More Help for Your Business
Running a small business is no small feat. When you're drowning in red tape, DoNotPay is here to lend a helping hand. Whether you need to register your trademark or protect it later on, we have got it covered. With our help, you will keep your logo, slogan, and business name safe.
Are you also yet to register for an Employer Identification Number (EIN)? Not to worry—our app can file the IRS SS-4 form in a few clicks. With the world's first robot lawyer at your fingertips, you will also be able to create your 83(b) election forms with ease—ready for your employees to sign them right away.
In case you are struggling financially, we can assist you with a business loan application.
Communication Has Never Been Easier With Our App
Keeping up with clients can be challenging, especially if each has a preferred method of communication. Luckily, our multifunctional app makes it easy to both fax and mail contracts, letters, and documents.
You can also count on our assistance when you need to:
Fight fake negative reviews online
Deal with a client regarding a breach of contract
Dispute fraudulent chargebacks
Thanks to DoNotPay, there is no need for back-and-forth communication. We will handle the necessary demand letters and forward them on your behalf.
We can also help you manage your DMCA agent registration and Privacy Shield program self-certification.