When To Use a FAST Agreement
The preparation of contracts does not have to be nerve-wracking any longer. With DoNotPay's guidance, you will get lots of valuable tips about different legal documents and agreements. While this article provides information on a FAST agreement, you can browse through our website to find the specifics of other types of documentation necessary for your business operations. 
What Is a FAST Agreement? 
A FAST agreement was first created by the Founder Institute to help startups:
Establish advisory boards

Engage with advisors and mentors
The FAST part in the name of this agreement stands for Founder Advisor Standard Template. 
Entrepreneurs and advisors use this agreement to:
Establish their working relationships

Trade support and expert advice for a certain amount of equity—under a FAST agreement, an advisor commonly receives the company's shares in the future for the services he or she offers  
An advisor who signs a FAST agreement is not an employee of the company but acts as an independent consultant.
Hire Advisors, Consultants, or Mentors
To understand the difference between advisors, consults, and mentors, you can take a look at the following table:
Advisors
Consultants
Mentors

Consult one-on-one with founders and executives 

Sign FAST and other agreements with companies to define their roles and obligations

Get equity—and not cash—compensation

While consultants have a similar role as advisors, they are:

Commonly hired to conduct one or a few specific projects and activities

Paid in cash

Mentors:

Do not get paid

Act in an informal capacity
Why Use a FAST Agreement
While a lot of entrepreneurs may have great business ideas and solid plans, they:
Need guidance on different aspects and operations

Cannot provide cash compensation for the necessary expert advice 
In this case, entrepreneurs can introduce advisors by offering them a share in their company's equity:
As the company grows

Based on the advisors' performance   
To engage an expert to take on an advisory role in your business, you should use a FAST agreement. However, you should offer this person an employment agreement if he or she will 
Provide essential input to your operations 

Perform an executive function—if this individual is appointed as a director, you can also use a director's

service contract
A Guide to Engaging an Advisor
The following table outlines common steps you—as an entrepreneur—should take to engage advisors:
Step To Take
Tips

Do research

You should try to identify several suitable advisors who can contribute to your business's success and growth. For this purpose, you can use:

Your personal network

Business networks, e.g., LinkedIn or Crunchbase

Get in touch with an advisor

To contact the advisors you find interesting, you can use the contact details you find on their:

Company's website

Business network profiles

Personal website, if they have one

Organize a meeting

You should arrange a meeting to discuss potential cooperation

Make a request

If you believe the advisor can contribute to your business operations and projects, you can suggest testing out your working relationship

Present an opportunity

You should present a more formal business offer to the advisor if the previous testing stage is successful 

Create a FAST agreement

If advisors agree to your offer, you should prepare and send them a FAST agreement
FAST Agreement Key Parts
A FAST agreement should include some of the following:
Services

—this section needs to outline what you expect to receive from the advisor, i.e., to provide expert assistance and advice to your company

Compensation

—type and amount of shares that the advisor will receive together with:

Vesting schedule

The mechanism under which the advisor will receive these shares

Expenses

—an advisor is entitled to reimbursement of any work-related expenses, e.g., travel costs incurred when performing the agreed tasks

Terms and termination

—this part of the agreement needs to specify how long the defined terms will continue (usually until one contractual party terminates the contract)

Independent contractor

—the agreement needs to specify the advisor's relationship with the organization, i.e., that he or she is not an employee 

Non-disclosure

—this part is related to the use, definition, and disclosure of confidential information

No rights guaranteed

—you should specify that an advisor does not get rights under the company's intellectual property, copyright, patents, and confidential information 

Assignment of intellectual property

—this section further explains that an advisor must assign all rights and interest to any new concepts or inventions he or she has created for the company under the contract
The agreement ends with the:
Effective date

Governing law

Names, addresses, and signatures of both parties
How To Create a FAST Agreement
You can hire a lawyer to create this or any other contract for you. If you would like to save some funds, you could also access the Financial Institute's FAST agreement template and modify it to meet your specific needs.  
How To Prepare Legal Documents
As you must have certain legal documents and contracts to run your business successfully and secure your projects, you can use:
Legal assistance

—you should be prepared to pay a hefty sum for the services a lawyer will provide

Online templates

—make sure you do thorough research and comparison before you choose the one you will use as a basis for your company's formal documents

DoNotPay's Standardized Legal Documents product

—

to get help with the preparation of numerous documents and agreements
DoNotPay Can Save Your Documentation Preparation Day
When you would like to save your time, money, and energy, you can turn to DoNotPay to help you deal with various administrative aspects of life. 
One of our helpful and practical tools is Standardized Legal Documents, and it can help you prepare the following documents:
Quitclaim deed

Promissory note

General affidavit

Estoppel certificate

General business contract

Intent to purchase real estate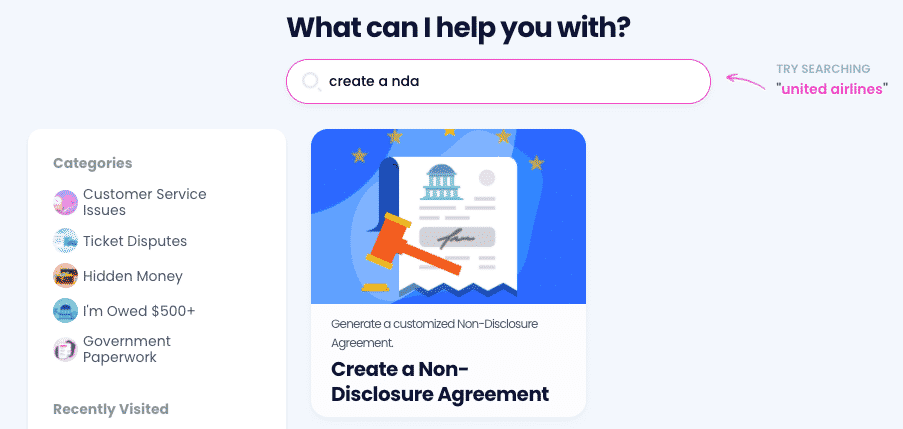 What do you need to do to receive an agreement tailored to your special requirements? and take the following steps:
Choose our

Standardized Legal Documents

feature

Enter the name of the document you would like us to help you with

Answer a few simple questions our chatbot will ask you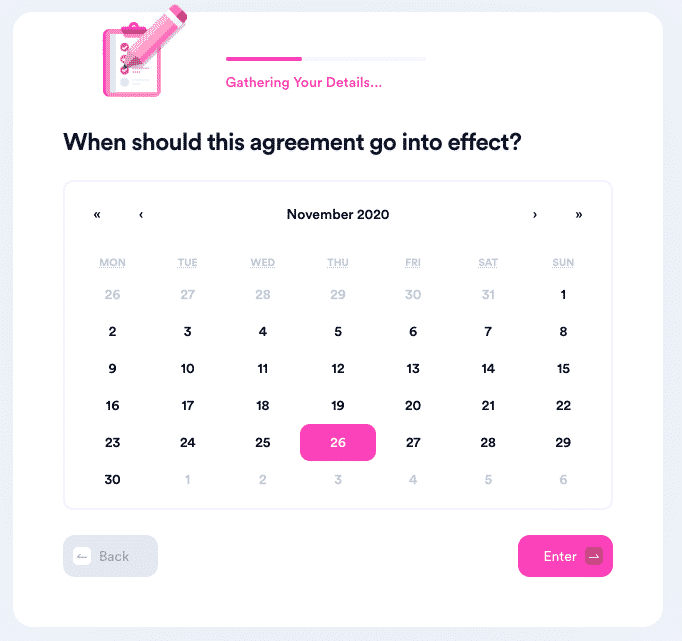 Once you receive a document that can secure your upcoming projects and working relationships, you can use our app to:
E-sign the document

Get it

notarized online

24 hours, seven days a week using the

Notarize Any Document

feature

Fax the document securely via our

Online Fax

product
DoNotPay—The Quickest Way To Deal With Greedy Companies
Spending hours on the phone with customer care reps struggling to get a refund or cancel certain services due to complicated procedures can be tiresome. 
If you sign up for DoNotPay, we can help you:
Unsubscribe from all unused subscriptions in a few clicks

Get a refund for faulty products and late deliveries

Request

compensation from any airline

because of canceled flights, poor Wi-Fi, and similar

Return an item that's damaged or defective
Has a company refused to accept your warranty claim even though it was valid or wronged you in any other way? Make sure to serve them justice by bringing them to small claims court with DoNotPay's help!
Use Our App To Resolve Any Issue
DoNotPay has numerous products you can use. We can help you resolve any problem in a few clicks. 
Do you want to find unclaimed money? Would you like to know how to protect your work from copyright infringement? Are you wondering how to apply for a college fee waiver because the application fee is too expensive for you? If you rely on us, you will solve all of these and many more issues stress-free!
Even victims of violent crimes—such as stalking—can use DoNotPay to solve their problems. Having a stalker is traumatic and potentially dangerous. We can tell you how to deal with the situation and apply for crime victims compensation in your state if you need help covering counseling expenses.
We can simplify the document notarization process and help you send online faxes and mail letters from the comfort of your home in less than five minutes.