A Guide to Filing Farmers Insurance Claims Easily
The Farmers Insurance Group is an American company that provides protection for cars, homes, and businesses.
If you have Farmers insurance and your home gets damaged or you get into a car accident, you can minimize the expenses by filing an insurance claim. The process of filing these claims can sometimes be tiresome and stressful, but with DoNotPay, it's like taking candy from a baby!
What Is Covered by Farmers Home Insurance?
Being a homeowner is not easy or cheap. You have to prepare and secure your property from any unexpected issues. The most typical situations where your home insurance comes in handy include the following:
There's been a fire or

flood

in your home

Thieves have stolen your possessions while you were away

A guest has been injured on your property

Your property has suffered damages from a tornado,

hurricane

, or earthquake
Farmers Insurance offers three customizable packages, and you can see their features in the following table:
| | |
| --- | --- |
| Type of Insurance Package | Features |
| Standard | It is the most affordable package designed for new homeowners, and it includes the most important coverages and features. |
| Enhanced | The enhanced package has higher policy limits and additional features like covering the costs of a roof replacement or valuable contents from your home. |
| Premier | It provides the highest policy limits and coverage. In some cases, it can include Guaranteed Replacement Cost coverage, which grants you a 100% cost reimbursement, regardless of your policy's limits. |
How To Make
Farmers Home Insurance Claims
on Your Own
You can choose from three options to report a Farmers home insurance claim:
Call a 24/7 claims representative at

1-800-435-7764

File a claim online

Contact your Farmers agent
If you choose to call the Farmers claims specialist or your agent, the process is similar. They will ask you to provide them with all the information about your policy, details of the claim, and the coverage you have. They will inform you about the next steps.
To file your claim online, you have to:
Go to the Farmers Insurance website

Select the

Home Claims

tab

Scroll down to the end of the page

Hit the

File a Claim

button

Choose between the

Login

,

Lookup by Policy Number

, or

Continue as a Guest

options

Provide the required personal information

Answer questions about the accident

Add details about your insurance policy, package, and coverage

Submit the claim
What Does Your Farmers Auto Insurance Cover?
Car insurance can keep you financially protected in case of an accident. Check the table below to see how Farmers auto insurance protects you and in which instances:
Situation
How Does the Farmers Insurance Protect You?

You caused an accident, and the other driver is hurt, or their vehicle is damaged.

The liability insurance coverage

pays for the medical bills and vehicle damages you caused.

You damaged your car when you hit a tree, fence, or another vehicle.

Collision coverage

will cover the repair or replacement expenses.

A hailstorm or any other natural disaster wrecked your car.

Comprehensive coverage

will cover the costs of damage caused by something out of your control.

You suffered injuries when an uninsured driver hit you while walking, driving a car, or riding a bike.

Uninsured motorist coverage

covers the medical bills up to your policy limits.

Your family member or passenger was hurt in an accident.

Medical payments

will cover their medical bills if the covered accident caused the injuries, no matter whose fault it was.

You are missing your work due to the physical therapy you have to undergo because of the car accident injuries.

Personal Injury Protection (PIP)

can manage medical and rehabilitation costs and cover lost wages.
How To File
Farmers Auto Insurance Claims
by Yourself
You can file an online claim or call a Farmers claims representative at 1-800-435-7764.
If you choose to file a claim via phone, the claims specialist will inform you about the whole process.
To file a Farmers auto insurance online, you should:
Open the Farmers website

Go to the

Auto Claims

section

Select

Report Your Claim Online

Choose how you want to proceed

Add your contact information

Provide details about the accident, including date, time, and place

Answer questions about your policy and coverage

Submit your claim
File Any
Farmers Insurance Claim
Hassle-Free With DoNotPay
Insurance companies go out of their way to avoid covering your bills, damages, and repairs. They sometimes make the process so tedious that people choose not to file a claim at all.
All that changes with DoNotPay! With our service, you can file all sorts of insurance claims without trouble, excessive paperwork, and wasted time!
By accessing DoNotPay from a , you can file claims for:
Health and medical insurance

Home and property insurance

Auto and vehicle, including

third-party insurance
We even got you covered for filing unemployment insurance claims.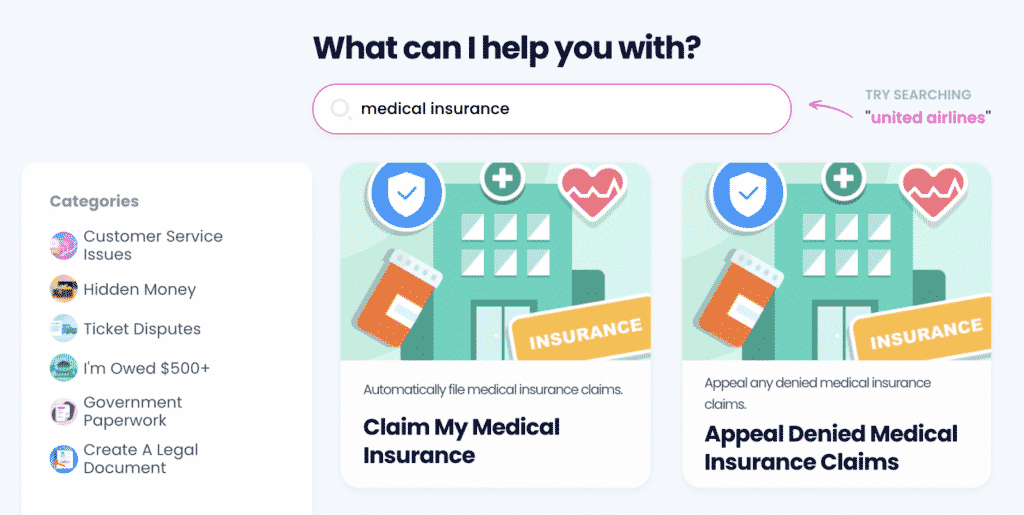 Follow these steps to file a Farmers insurance claim:
Open DoNotPay in a

Search for the insurance provider and select the insurance type

Enter personal information and policy number

Describe the reason for your claim and details of the accident

Click

Submit
We will automatically file the claim in your name. The company will inform you about the results of your claim and the next steps. It is not unusual for an insurance company to reject the claim. If that happens, we will be happy to assist you in filing an appeal.
DoNotPay Helps You Fight for Your Consumer Rights
Did you know that companies often reject first-time warranty claims?
You're probably familiar with how complicated the process of appealing parking tickets is. Trying to get a refund for an unsatisfactory purchase or a delayed flight has likely made you mad at least once.
Not anymore! DoNotPay makes all these issues go away in less than five minutes, and that is not all we can do for you!
You don't have to deal with customer service reps of any company on your own anymore—we do it all for you!
DoNotPay bypasses any bureaucratic obstacle for you—scheduling DMV appointments, delaying bill payments, getting in touch with your incarcerated loved ones, filing lawsuits in small claims courts, and claiming insurance policies.
Keep Your Data Safe With DoNotPay
Do you love free trials but are reluctant to disclose your credit card details, phone number, or email address?
Our app lets you try out different subscriptions in a risk-free way!
Use DoNotPay's Burner Phone feature to sign up for services without providing your phone number! We'll make sure robocall scammers and text spammers cannot harass you!
With our virtual credit card, you can sign up for any free trial and not worry about canceling it! Since the card is not linked to your bank account, no one will be able to charge you once the trial expires. An additional perk is that the card comes with a free email address, which means no spam emails from the company.