Everything You Need To Know About Farm Startup Loans
Plan on starting a farming business but don't have enough funds to do so? The best option you have is to take out a small business loan to cover all your expenses.
Do you want to know how small business loans work and how you can apply for one? We will provide all the answers to your burning questions.
In this article, we will explain everything you need to know about farm startup loans. If you need assistance in applying for the loan, we can help with that too! , and write a convincing and professional loan request letter in minutes!
The Basics of Farm Startup Loans
Startup loans are small business loans that provide financing solutions to new businesses with the goal of helping them cover their costs. These loans can be used for the following purposes:
Equipment purchase
Real estate acquisition
Operating costs
Working capital investment
Farm startup loans provide funding to farmers to buy and operate farms. Farm loans can help you cover major expenses such as crops, equipment, and livestock and can also help pay for other functional costs.
The amount of the loan you can get depends on the following factors:
The size of your farm
Your financial history
Your credit score
Any collateral that you can provide to secure the loan
Which Loan Should You Choose for a Farm Startup?
Various startup loans are available to farmers. If you are looking for the most suitable small business loans for your business, here are a few options:
Business line of credit
Equipment loan
Term loan
Business Line of Credit
You can use a business line of credit to start your business. This type of loan works like a credit card, allowing you to use funds up to a certain limit. Once you have paid back the loan (with interest), you can start using it again by default for a predetermined time period. A business line of credit is an excellent option when you are in urgent need of cash.
Equipment Loan
In case you want to purchase fixed assets for your farm, you can opt for an equipment loan. Bear in mind that equipment loans can only be used for equipment repair and replacement and cannot be used for other purposes.
Equipment loans are self-secured because the asset you purchase becomes the collateral. In case you cannot pay back the loan, the lender will seize the equipment as payment. These loans typically have stricter terms and conditions compared to other options.
Term Loan
For large purchases, consider acquiring a small business term loan, where you can get a lump sum amount of money that you can pay off in regular installments. The loan repayment period can last anywhere between one and five years, depending on the lender's requirements and your budget.
Can You Opt for a United States Department of Agriculture Loan for a Farm Startup?
The United States Department of Agriculture (USDA) provides loans to rural and agricultural businesses. These work like Small Business Administration (SBA) loans which are offered by the federal government to small businesses. Just like SBA loans, USDA loans are also offered through intermediaries, usually banks or credit unions.
You can use USDA funds to:
Expand your business
Purchase machinery and equipment for your farm
Invest in working capital
Buy real estate to build the farm
Fund production in agricultural facilities
Ensure job stability and retention
You can get up to $10 million from a USDA loan. Although the loan terms are negotiated by the lender, the USDA outlines the maximum duration based on the purpose of the loan, as mentioned below:
| Loan Purpose | Duration |
| --- | --- |
| Working capital | Seven years |
| Real estate | 30 years |
| Machinery and equipment purchases | 15 years |
Once you have confirmed that you are eligible for a USDA loan, you should take the following steps to apply for it:
Consult a loan officer in a USDA office
Search for a lender and set up a meeting with them
Submit your loan application and your financial documents and a loan request letter
Once you have completed these steps, the lender will forward your application to the USDA. If they approve, they will set up a meeting with you to learn more about your business. After the initial consultation, the USDA will take approximately 30 to 60 days to approve (or reject) the loan.
DoNotPay Can Help You Draft a Loan Request Letter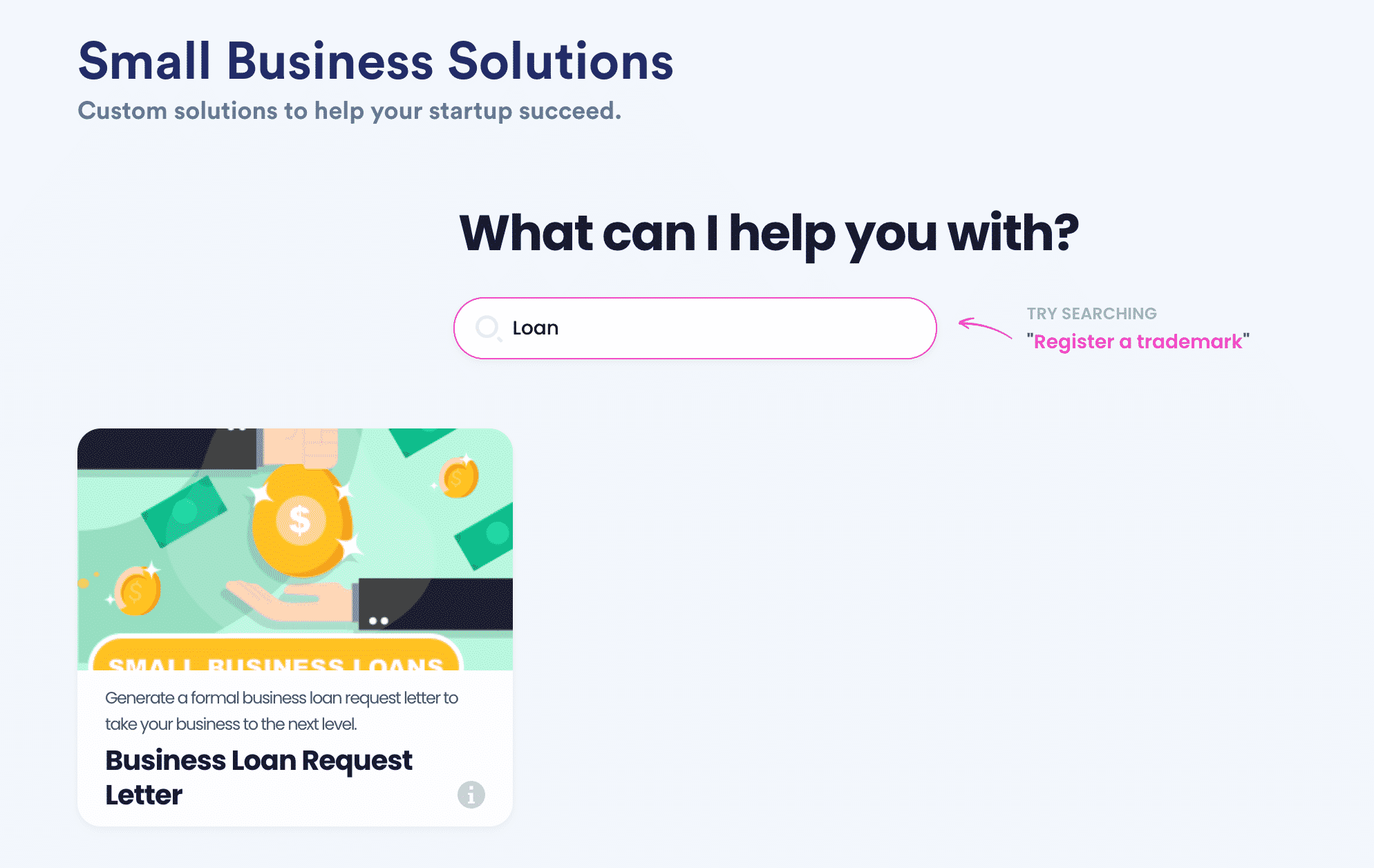 If you want to write a loan request letter to apply for a farm startup loan, look no further because DoNotPay is here to help! Our AI-powered app can assist you in drafting a formal loan request letter that you can present to your lender!
After , follow these instructions:
Search for the Business Loan Request Letter product
Collect all the necessary financial and legal paperwork
Enter information about your company and the loan amount you require
Upload all documentation
That's not all we can do! Not sure about the lender yet? Our Find an Online Business Loan Lender feature will match you with the best loan providers for your needs.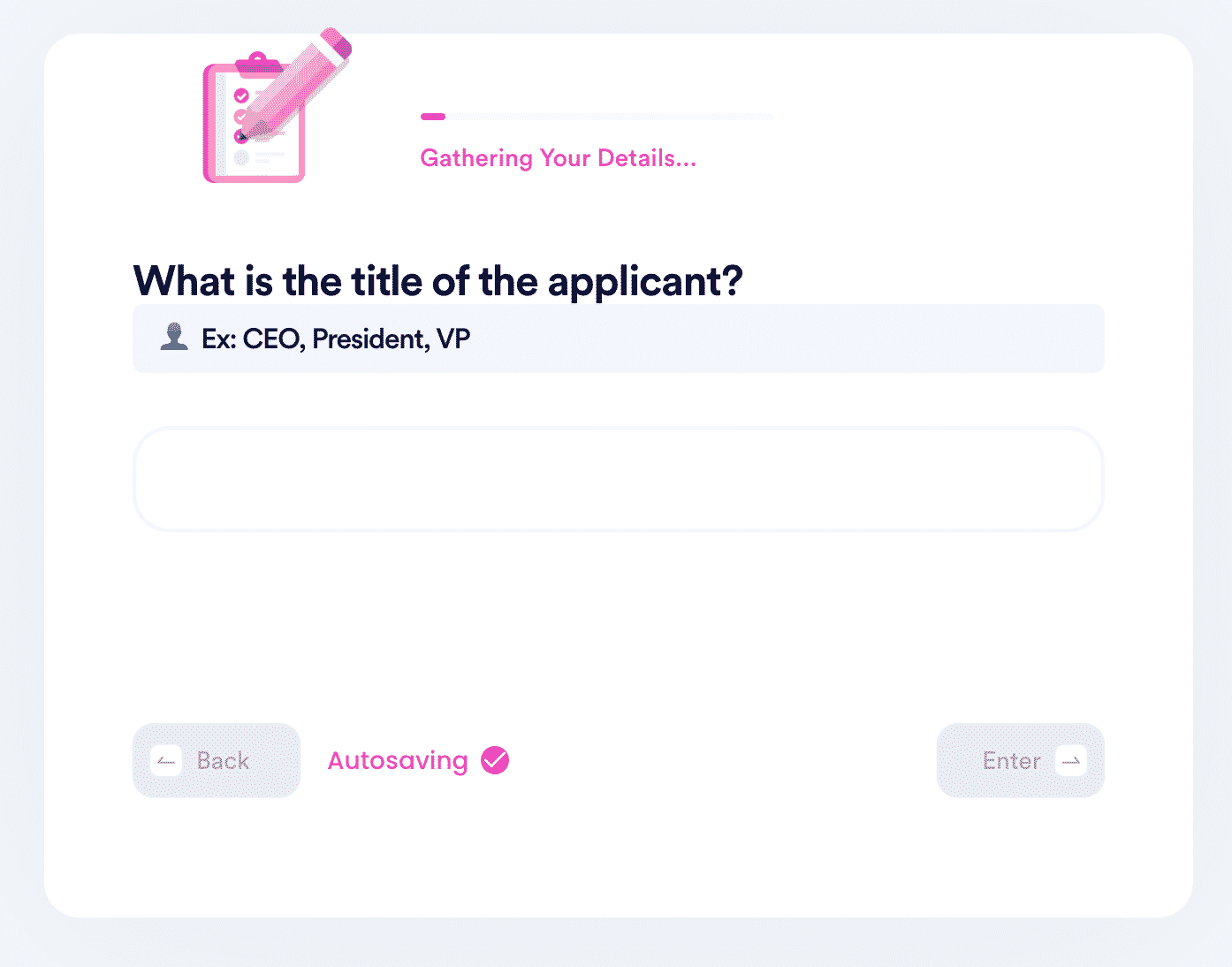 DoNotPay Has Everything You Need for Your Small Business
Navigating numerous business procedures can be overwhelming, especially if you don't have much experience. DoNotPay strives to make the situation easier for business owners, which is why we offer a number of simple-to-use products that can help you take care of various processes, including DMCA agent and Employer Identification Number registration, Privacy Shield program self-certification, and trademark registration and protection.
If you are not sure how to manage the filing of 83(b) election forms, DoNotPay has a solution that will automate the entire process and help you save time. Our app can even generate a convincing small business loan request letter for you. Don't feel like walking or driving to the post office to send the letter? Use DoNotPay to fax or mail any document in a matter of clicks!
DoNotPay Helps You Deal With Bad Clients
If you need help handling unpleasant situations with your clients, you can rely on DoNotPay. We have created various products to assist you in:
Making sure your business is free of negative, illegitimate online reviews—DoNotPay will analyze the review in question, estimate the best reason for reporting it, and report the review until it is deleted
Dealing with clients who breach the contract and refuse to pay—We will generate and send a demand letter requesting what's rightfully yours
Fighting unjustified chargebacks—Our app will create a personalized chargeback rebuttal document to help you keep your revenue
Resolve various business issues without wasting time or money—DoNotPay has got your back!