The Farm Land Lease Agreement in a Nutshell
Leasing a farm can be extremely profitable. Most retired farmers and individuals who inherit a farm choose to lease it to secure a stable long-term income. Lessees have all the advantages of using the land without having to pay property taxes, deprecation, or insurance.
A farm land lease agreement outlines the lease conditions and prevents possible disagreements. Luckily, you don't have to hire a lawyer to create this legal document. With proper guidance, you can do it yourself.
DoNotPay will explain what constitutes a farm land lease agreement and how to write a contract on your own!
What Is a
Farm Lease Agreement?
A farm lease agreement is a legally binding contract that specifies conditions of leasing a farm to an individual or a company. Most farm owners lease their property for agricultural purposes. Others can lease it to gas, oil, and wind companies that need the property to perform particular activities, such as mineral or wind energy development.
While farm land lease agreements differ depending on the situation, they should all include the essential sections:
Parties involved in the contract

Terms of using the leased property

Rate of renting the property

The duration of the agreement
There are two types of farm land leases—a cash rent and a crop share lease. In a cash rent lease, a tenant agrees to pay a set price per acre or a fixed set rate of the lease. This agreement is more beneficial for the lender since they receive a steady payment while the tenant bears the economic risk.
In a crop share lease, the lender accepts the share of the crops or any other product in exchange for the tenant's use of the land.
What Should a
Simple Farm Land Lease Agreement Form
Include?
Farm land lease agreements are subject to particular state or county laws. While it is crucial to include elements that will protect your property's value, you must consider the legal frame.
Take a look at the structure any valid farm land lease agreement should have:
Farm Land Lease Agreement Item
Description

Personal information

Both parties have to include their:

Full names

Addresses

Social Security numbers

They also have to be identified as the lessor and the lessee

Description of the property

Identification of the leased property refers to:

Location of the property

Type of property and purpose of leasing

Size of the land available for lease

Items on the property that the lease agreement covers

Start and end date of the lease agreement

The lease agreement can be:

Short term

—lasts from one to three years

Long term

—

lasts longer than three years

Farm land lease agreements should also include conditions for renewal or extension of the agreement and acceptable reasons for terminating the contract

Responsibilities

Both parties must state their maintenance responsibilities. The landlord is typically in charge of covering the costs of:

Roofing

Heating, ventilation, water supply, and water waste system

Routine maintenance is the tenant's responsibility

Lease fees

The payment policy must be specified in the agreement, even if there is no cost. Both parties must address utility costs

Signature of both parties

After reviewing and agreeing on the conditions, both parties must sign the agreement
Should I Use a Farm Land Lease Agreement Template?
There are multiple ways to create a farm land lease agreement, including:
Hiring a lawyer

Drafting an agreement yourself

Using one of the farm land lease agreement templates
Most people tend to choose one of the contract templates available online. The problem is that they are far too general to accommodate individual needs. Choosing the wrong template may end up costing you more than services ever could.
You can avoid unnecessary expenses and make sure all legal requirements are in place if you hire a lawyer. Since this option is expensive, let's see if there is a safe yet affordable solution.
Create Legal Documents With DoNotPay
has developed a feature for creating various legal documents. Take a look at some of the contracts and agreements we can provide for you:
Contracts
Agreements
Other Documents

General Business Contract

General Affidavit

Estoppel Certificate

Quitclaim Deed

Promissory Note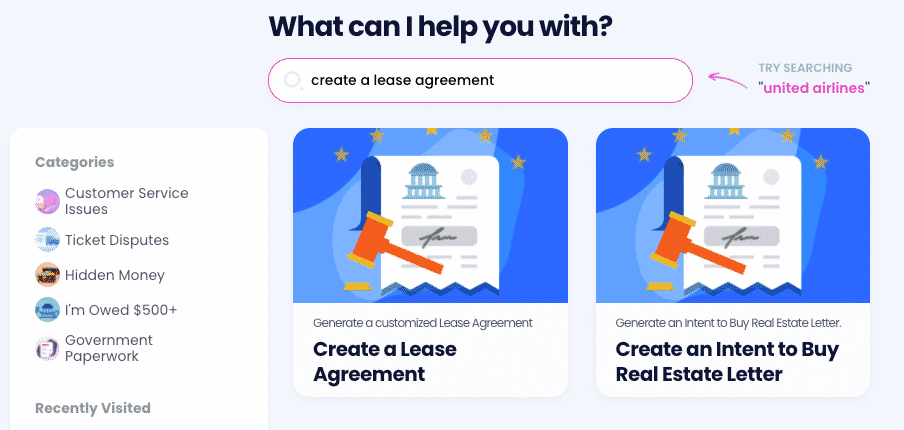 Our app customizes all these contracts according to individual needs. All you have to do is answer a few questions from our chatbot, and you will get a top-notch legal document in a matter of minutes!
Here's what you have to do:
in a web browser

Find our

Legal Documents

product

Type in the name of the agreement you wish to create

Provide some basic info about yourself, your requirements, and the state you reside in
That's all there is to it! Our app will use the information you provided to create a contract that you can use straight away!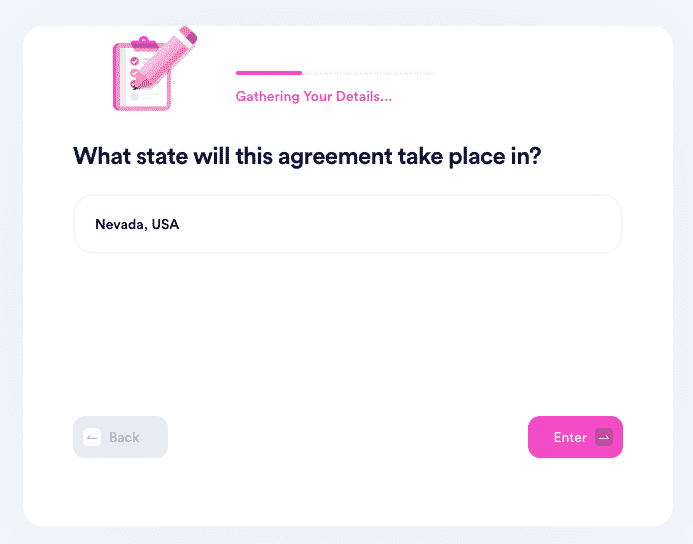 DoNotPay Leads the Way Against Spammers
Browsing the internet has never been more popular than today, but you must not forget to keep your private and financial information safe. You know you can cancel any streaming service or magazine subscription easily, but that won't stop them from using your personal details for marketing purposes.
DoNotPay has a solution for that!
Is a company pestering you with incessant robocalls, spam emails and text messages? Use our Virtual Credit Card to catch them in the act and claim compensation for your troubles.
To prevent that from happening ever again, use our card to sign up for free trials—not only will you not pay a dime for the service, but you will be automatically unsubscribed as soon as the trials are up!
If you want to avoid revealing your personal phone number, we'll generate a temporary burner phone for you so the company won't have any way to reach you.
Already Been Scammed? DoNotPay Knows the Way!
If you've already made the mistake and divulged your personal info to the wrong party or experienced any other kind of crime or injustice, you don't have to sit tight and suffer the consequences. DoNotPay can assist you in taking anyone to small claims court!
We'll help you gather evidence—correspondence proving stalking or harassment took place, customer service call recordings, denied chargeback and refund claims, online fax transcripts, or proof of copyright violation. Then, we'll fill out the relevant legal documents for you and draft a court script that you can use in your hearing.