Putting Together a Family Settlement Agreement the Easy Way
Many problems can arise during the reading of a will if family members believe they're not getting what they deserve. A family settlement agreement can be helpful in such scenarios, and we'll explain how you can benefit from one, how to draw it up, and what clauses to include!
Sign up for DoNotPay, and let us help you customize a document template and guide you through the steps of writing this contract.
Understanding the Family Settlement Agreement
A group of heirs must sit down and discuss the family settlement agreement. This legal document will establish how to handle the distribution of the inheritance. The family settlement agreement is often used when a will is poorly written and/or considered unfair. Although distributing the wealth is the main goal of the settlement agreement, it also helps the family members keep a straightforward relationship with each other.
A family settlement agreement should include:
Names of the family members involved
A list of property items
Details of the property addresses
Distribution terms
A family settlement agreement is usually created outside the courtroom and negotiated between the family members and their lawyers.
Advantages and Disadvantages of the Family Settlement Agreement
Like any contract, a family settlement agreement has its pros and cons. Here are some of them:
| | |
| --- | --- |
| Advantages | Disadvantages |
| The ability to circumvent a poorly written will | All heirs must participate in the agreement. If one heir decides not to, the other heirs won't be able to overrule his or her rights |
| The process is fast and simple, and it doesn't require any significant legal hoops | Although the process is fast, if one heir decides not to take part in the agreement, it will prolong the procedure |
| The court can't disapprove the family settlement agreement | There can be potential gift tax implications for the property willed to you. If, for example, a widow gets her late husband's house and decides to split it with several children, she may owe gift taxes for the house transfer. The person receiving the donation doesn't have to be responsible for paying the property taxes—that responsibility can also stay with the donor |
Why Should You Sign a Family Settlement Agreement?
The terms presented in your family settlement agreement might not be what you expected. In some situations:
You don't get everything that the deceased promised you
The amount you're getting isn't the same as what was stated in the will
You won't receive the fair share of the property you're entitled to
The amount you're getting doesn't seem fair, considering your relationship with the deceased
You believe someone else is getting more than they are entitled to
This document is not perfect. Signing one is especially tough in case family members don't get along. If one member doesn't agree with the terms, that can invalidate the entire document. Negotiations can go on for a long time until everyone is happy with the terms.
How To Write a Family Settlement Agreement
The family settlement agreement should state that the:
Signing of the document ends all disputes regarding the family property
Entire document has been read and accepted in its entirety by every signer
Document is final and conclusive and can't be changed by future claims in court
Parties will all be present for the notarization of the document
Previous owner of the properties subject to this agreement cannot be held responsible for any claim regarding the property
Parties consent to execute the agreement by their own will
By signing the family settlement agreement, all parties involved confirm that they agree to these terms.
Writing the Family Settlement Agreement Yourself
Family settlement agreements are sensitive documents that have to be written carefully. You can write the agreement yourself, but the legal terms can be complicated for someone who has no background in law.
Hiring a lawyer to help draw up or review your agreement would be the best course of action, but keep in mind that they can be quite pricey.
DoNotPay Can Draft Legal Documents in Your Stead!
If writing contracts on your own is too much to handle, DoNotPay will help cut your work in half! Forget about struggling to figure out legal terms and agreement clauses—access DoNotPay in your web browser and create customizable legal documents in a few minutes:
Find our Standardized Legal Documents product
Type in the name of the contract you need in the search box
Answer our chatbot's questions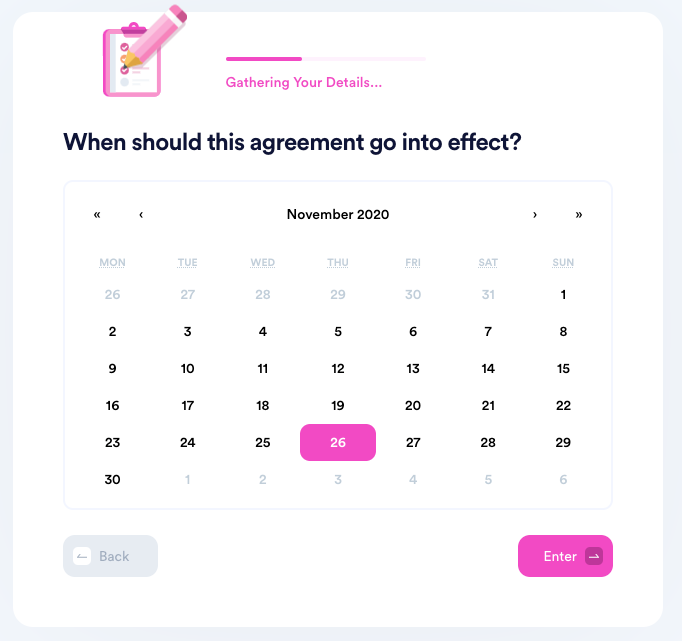 DoNotPay can also help you get your legal documents notarized from the comfort of your home and show you how to use our Online Fax feature to fax your documents hassle-free! Check out some of the documents our app can generate for you:
General Business Contract
Intent To Purchase Real Estate
Quitclaim Deed
Promissory Note
General Affidavit
DoNotPay—The Quickest Way To Deal With Greedy Companies
Spending hours on the phone with customer care reps struggling to get a refund or cancel certain services due to complicated procedures can be tiresome.
If you sign up for DoNotPay, we can help you:
Unsubscribe from all unused subscriptions in a few clicks
Get a refund for faulty products and late deliveries
Request compensation from any airline because of canceled flights, poor Wi-Fi, and similar
Return an item that's damaged or defective
Has a company refused to accept your warranty claim, even though it was valid or wronged you in any other way? Make sure to serve them justice by bringing them to small claims court with DoNotPay's help!
Use Our App To Resolve Any Issue
DoNotPay has numerous products you can use. We can help you resolve any problem in a few clicks.
Do you want to find unclaimed money? Would you like to know how to protect your work from copyright infringement? Are you wondering how to apply for a college fee waiver because the application fee is too expensive for you? If you rely on us, you will solve all of these and many more issues stress-free!
Even victims of violent crimes—such as stalking—can use DoNotPay to solve their problems. Having a stalker is traumatic and potentially dangerous. We can tell you how to deal with the situation and apply for crime victims compensation in your state if you need help to cover counseling expenses.
We can simplify the document notarization process and help you send online faxes and mail letters from the comfort of your home in less than five minutes.