What Does The False Claims Act Say About Medicare Frauds
Medicare has provided life-saving treatment for younger disabled individuals and senior citizens. Under the Medicare False Claims Act, no healthcare provider should force you to pay for services that weren't performed. However, some shady doctors will try to defraud Medicare users by assigning incorrect treatment codes (which warrant higher payouts for their practices.) to the patient's bill.
Commonly known as CPT upcoding, this practice has led to consumers losing billions of dollars over the last two decades. There's no reason to pay more than you should for healthcare, especially if you qualify for Medicare. Fortunately, reporting medical billing fraud doesn't have to be difficult: DoNotPay has worked out the best method.
Understanding the Medicare False Claims Act
The False Claims Act expressly forbids doctors and their treatment staff from submitting false Medicare claims to the government. Under this act, both you and the government are protected from overcharges. The law also covers any other federal health program, such as TRICARE or Medicaid.
What Qualifies As a False Claim?
There are many ways for a healthcare provider to violate the False Claims Act, such as:
Upcoding
Claiming that a patient received treatment that never took place
Billing patients for the same procedure multiple times
Falsifying treatment plans, medical records, or medical contracts
Lying about the actual costs necessary to perform the treatment
Fraudulently claiming that more supplies or pieces of equipment were used for your treatment
Performing work that wasn't medically necessary
Performing treatment without your knowledge
Unbundling (charging you extra for items that should have all been covered as a single service)
Consequences for Healthcare Providers
Even if it was a mistake, the FCA still classifies Medicare fraud as a civil offense. The healthcare provider will be expected to pay a fine for each false claim.
If the healthcare provider was defrauding you on purpose, that's a criminal offense. The doctor that committed the fraud might lose their license and spend up to ten years behind bars.
When healthcare fraud is more severe, consumers can potentially be awarded more money for disclosing that information to Medicare. Under 42 CFR § 420.405, individuals can receive up to $1,000 or 10% of the funds recovered from any case (whichever amount is less). In addition to a monetary award, reporting false claims protects other patients like you from similar unfair treatment.
How to Report False Claims Act Violations On Your Own
If you suspect or know that a healthcare provider has been submitting false claims, you should contact the Medicare office. Follow these steps:
1. Call 1-800-447-8477 to speak with an agent. Alternatively, you can file your claim online.
2. Provide the contact information of the healthcare provider that you're reporting.
3. Explain the details of the situation, such as the care you received and when it took place.
4. If you're submitting your claim online, upload any electronic documents that support your case.
5. If any witness can provide additional testimony to back up your claims, provide their contact information when you file.
For General Public & Providers - Report About Medicare & Medicaid
Here are some ways you can report healthcare fraud.
A medical board will review the details of your complaint to decide if it warrants an investigation. If needed, an official may contact you later to confirm the details of your claim. The Office of Inspector General's website doesn't say how long you'll be waiting for a response.
DoNotPay: An Easier Way to Report False Claims Through Medicare
Since Medicare is operated by the government, it might take several weeks before your false claims case gets reviewed. If you're interested in a faster solution, DoNotPay can contact your physician for you. We'll let them know about the error and give them a chance to resolve it before taking legal action.
When healthcare providers won't cooperate, DoNotPay invites you to use the Sue Now product. We'll find out what documents should be filed to bring your case to court and let you know about any required fees. We'll even generate a defense letter that you can read at your scheduled hearing.
If you want to find the correct CPT code and write a demand letter for bill correction but don't know where to start, DoNotPay has you covered in 5 easy steps:
1. Search Fight Medical Fraud on DoNotPay.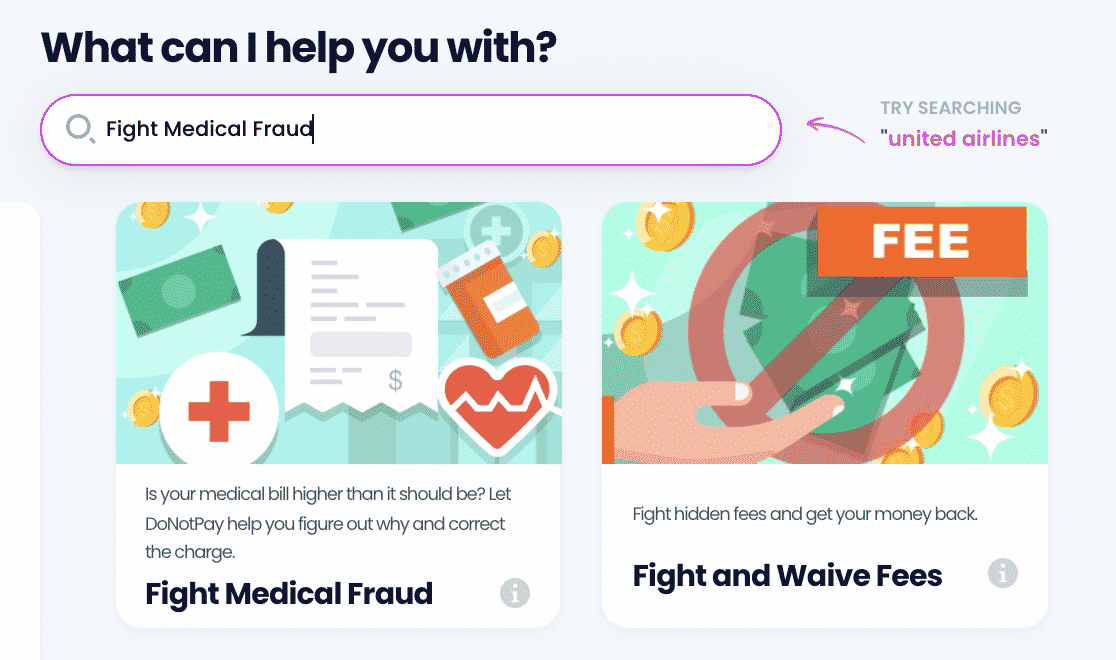 2. Tell us the date of your visit, the details of your treatment, and where you were treated.
3. Let us know what CPT code your visit was filed under. If you don't know, we'll generate a letter for you to send to your physician to request the code.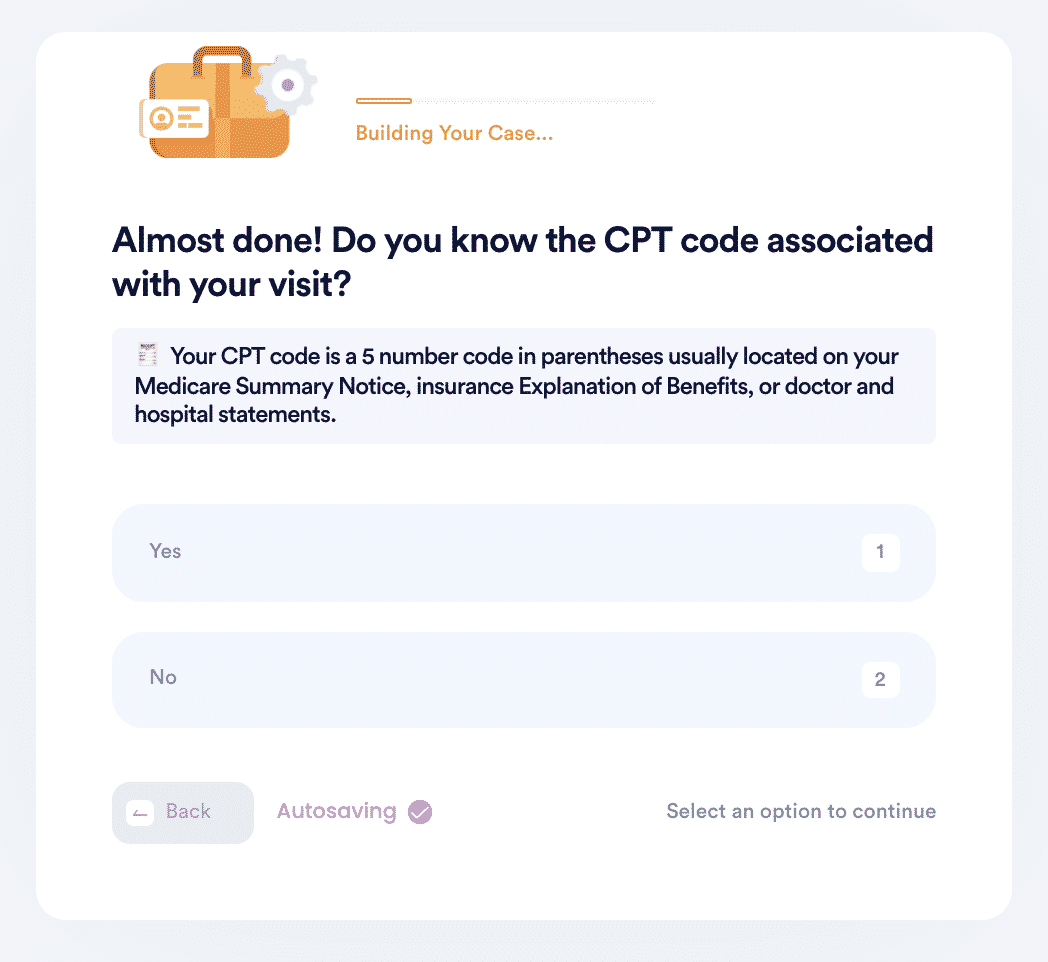 4. Choose the correct CPT code or let us know if you want us to find it for you.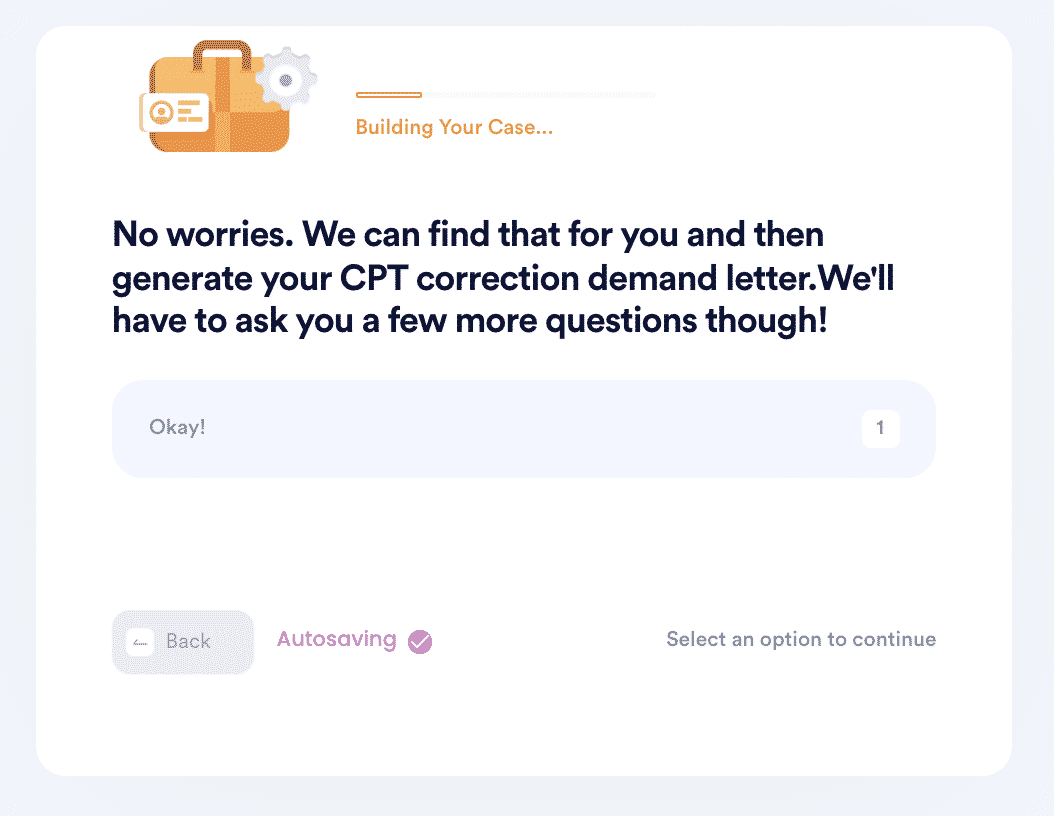 5. And that's it. DoNotPay will automatically find the correct CPT code for your visit if you don't know it and then generate a demand letter on your behalf to send to your physician for a bill correction.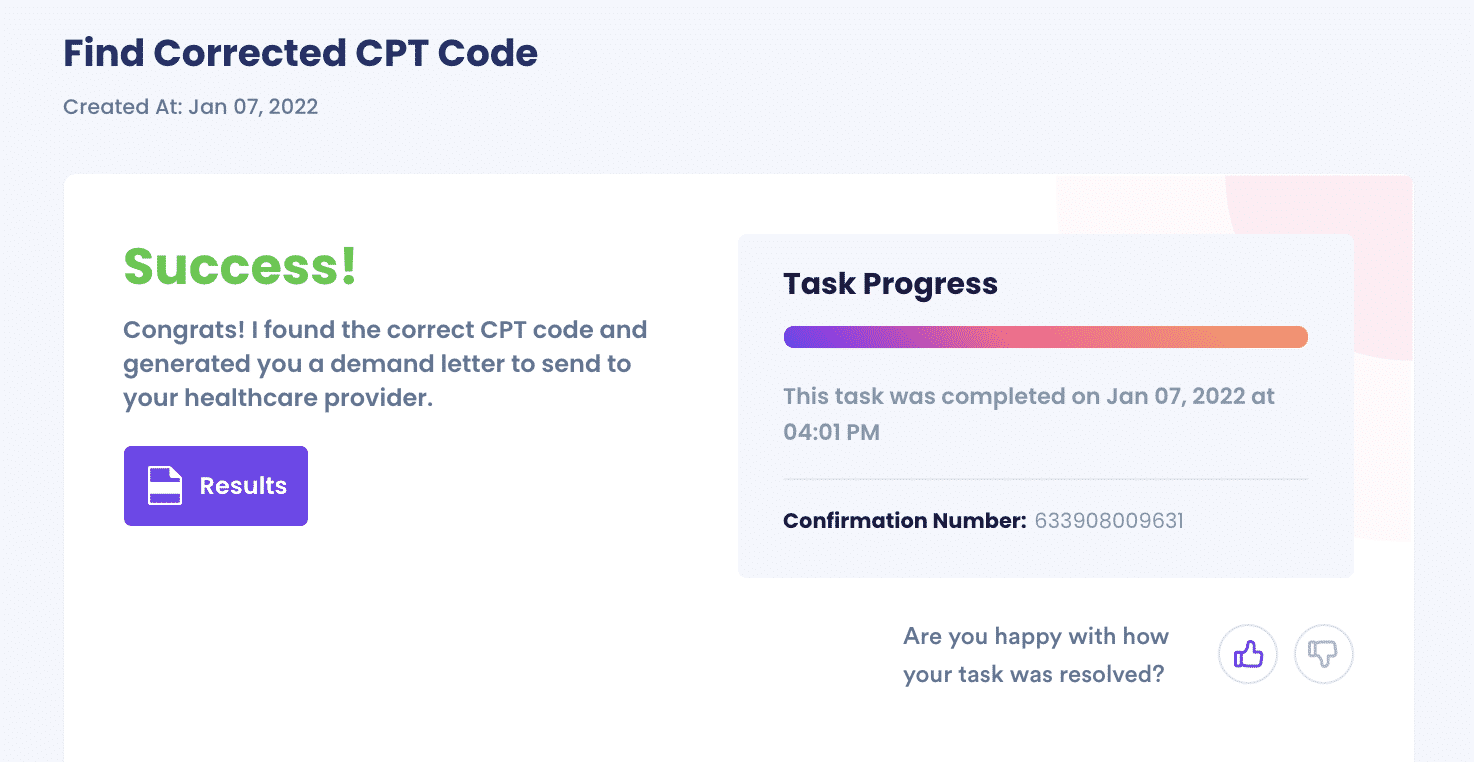 DoNotPay has helped thousands of people receive compensation in many circumstances by:
Responding to your inquiries with care and speed
Providing simple, easy-to-use products that don't make you perform tedious research on your own
Never give up until you're satisfied with the outcome of your case.
You Can Use DoNotPay For Any Type of Medical Fraud
DoNotPay takes every case of medical billing fraud seriously, whether it's committed by a huge hospital network or smaller practice. We can also help you find out if your healthcare provider has violated other protections, like the Civil Monetary Penalties Law.
Ask DoNotPay For Help With Anything Else
If you've got a problem, there's a good chance DoNotPay can solve it. We can assist you with:
Join DoNotPay today to find the correct CPT codes to your medical bills and demand a correction to get your money back!