Key Points of the
Fairfax County Property Tax Assessment
Understanding how property tax assessments work may appear difficult and confusing, but don't worry! We'll provide you with a simple, to-the-point guide that will explain everything you need to know about Fairfax County property tax assessments.
Access DoNotPay and start dealing with dull administrative tasks stress-free!
What Is a Property Tax Assessment?
A property tax assessment is a professional estimation of the value of commercial and residential properties. Governments use the assessment of your property as the basis for calculating your annual property tax bill.
How the
Fairfax County Property Tax Assessment
Works
In Fairfax County, Virginia, property taxes are calculated by the Department of Tax Administration (DTA). The DTA assessors evaluate properties based on their market values, which are determined in accordance with recent sales data. The assessors analyze the info on the recently sold properties to estimate the values of other properties in the area more precisely.
Fairfax County Tax Assessment Property Search
—Explained
You can use online registries to look up the history of assessments, tax rates, tax bills, and market values for any property in the state of Virginia—you only need to type the address in the search bar. That helps to give you an estimate of how much your own property is worth and how it compares to other properties in the vicinity.
Can I Lower My
Fairfax County Property Tax
?
The average property tax rate in Virginia is 0.80%, which is a lower effective rate than the national average of 1.07%. While you can't avoid paying a certain amount for property taxes, that doesn't mean you have to pay the full price. There are a few options you can choose to get help with paying your property taxes in Fairfax County, and the most common ones are:
Applying for

property tax exemptions

Skipping home renovation projects

Appealing the property tax assessment
Property Tax Exemptions
The best-known method of reducing property taxes is finding and applying for property tax exemptions. If you meet the requirements that the state has set, you can apply for more than one exemption and, in that way, lower your property tax bill immensely.
Home Renovation Projects
Forget about doing any home improvement projects before the assessor comes to evaluate your property. That will only increase your property tax bill and result in you paying a way higher sum than you originally planned. You should wait it out and do the projects you wish after the evaluation is finalized.
Property Tax Appeal
Your property tax bill can often contain errors and inaccuracies, which are often related to an imprecise or incorrect property assessment. Why should you spend more money because of someone else's mistake? What you can do in such a scenario is double-check your tax bill for any mistakes, and if you happen to find any—file a property tax assessment appeal.
The Property Tax Exemptions You Can Apply for in Virginia
Some of the most common property tax exemptions in Virginia are:
Exemption

Requirements

Homestead

If you own a property and occupy it as your main place of residence, you can have up to $5,000 exempt from taxation

Senior Citizen

Citizens who are over 65 years of age and disabled qualify for this exemption if they meet the income limitations (senior citizens with income less than $52,000 get a 100% exemption)

Disabled Veteran

Veterans who are 100% disabled as a result of their service in the military are eligible for this type of exemption if they are the owners of the property they reside in

Disability

People with disabilities are usually qualified for this exemption if they:

Provide proof of their disability

Meet the income limitations of their state
Reduce Your Property Tax Bill With DoNotPay Easily
If your property tax assessment bill is higher than you anticipated, DoNotPay's Property Tax feature comes to the rescue! Once you sign up for our app, we'll send you a personalized guide containing all the info on lowering your tax bill and appealing your assessment step by step. 
All you have to do is complete the following steps:
Find and select the

Property Tax

feature

Answer a few questions about you and your property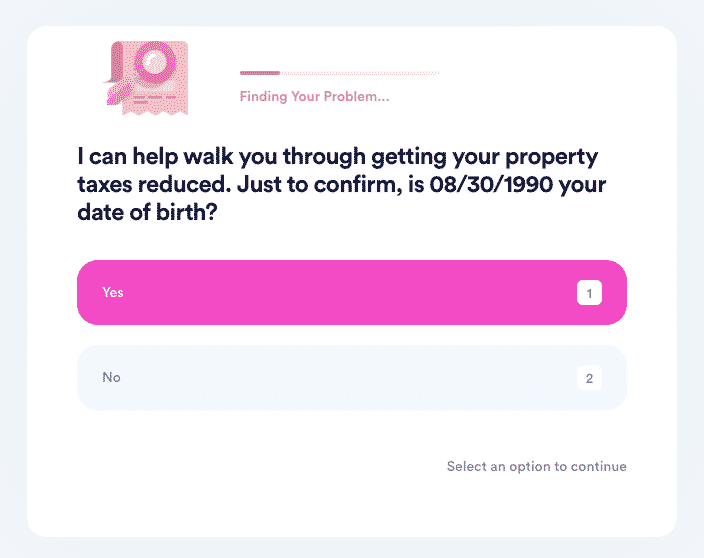 Our app provides a personalized guide for you to follow and apply for property tax exemptions or appeal a property assessment in a snap!
Filing a Property Tax Appeal the Easy Way
Filing a property tax appeal is usually a tedious and overbearing experience. Not knowing where to begin and what to incorporate in your appeal letter is common, but our virtual assistant is here to help you out. Apart from assisting you in finding and applying for property tax exemptions, DoNotPay's guide will also provide you with relevant info on how to appeal your property tax assessment! 
Here's what we'll show you:
What important documents and forms you should prepare

Where to file your appeal

How to write the appeal letter

What crucial details you shouldn't forget to include
DoNotPay Helps You Claim Your Money
Our virtual assistant app makes sure you get back funds that are rightfully yours.
Whether you need to claim insurance, warranties, or your property held by the state, we will help you do it in minutes.
DoNotPay can also help you initiate a chargeback on any transaction you disagree with. We can help you secure compensation from airlines, robocall and text scammers, or in case you've been a victim of a crime.
In case you are dealing with an unfair company regarding your subscription cancellation or any other matter, we can help you get your money back by suing them in small claims court.
Bypass the Administration With DoNotPay
There's no more need for extensive research, abundant paperwork, or endless phone calls with customer service reps.
DoNotPay brings the administrative nonsense to a minimum.
Book DMV appointments fast and easy, appeal your parking citations, sign up for free trials without disclosing your credit card info or phone number, or reach your loved ones in jail—all in less than five minutes.
We also generate any legal document, provide full access to public records, offer DMCA protection, and reduce your property taxes with a few clicks.