Fairfax County Divorce From A to Z
Want to finalize the divorce process as soon as possible without too much hassle? You should gather all the details to learn how to file the petition, what divorce papers to complete, how high the court and lawyer fees are, or how long you'll need to be separated from your spouse.
If you'd like to get this information for Fairfax County divorce, you're in the right place—this article provides all the details!
Fairfax County Divorce Requirements
To file for divorce in Virginia and Fairfax County, you need to fulfill the following criteria first:
Meet the Requirements
Details
Residency
Either you or your spouse must have been a permanent Virginia resident for at least six months
Separation
You and your partner need to have been separated for at least:

Six months if you don't have children
A year in case you've got children
Aside from the above-listed requirements, you also need to create and sign a property settlement agreement before filing for divorce.
If you'd like to eliminate the mandatory waiting periods listed in the table above, you can go for a limited divorce. The appropriate grounds for this type of divorce are:
Cruelty
Desertion
Abandonment
Fairfax County Divorce Types
Aside from a limited divorce, you can opt for the following two types of divorces in Fairfax County:
Contested
Uncontested
Contested Divorces
In contested divorces, spouses don't agree on one or more divorce terms. In this case, the process can:
Drag out for a long time as the court might need you to provide additional documentation and proof before the judge makes a decision
Cost a lot since you'll probably need to appoint an attorney to protect your interests
Uncontested Divorces
For an uncontested divorce, you and your spouse need to negotiate an out-of-court settlement—on your own or through mediation—on all divorce matters, such as:
Once you agree on all aspects with your spouse, you can complete the process by yourself, i.e., you don't have to hire an attorney to prepare the divorce forms or represent you in court.
That's why this friendly type of divorce is the least complicated, time-consuming, and expensive procedure.
What Fairfax County Divorce Forms Do You Need?
If you decide to go for an uncontested divorce, you'll need to complete and file the following papers with the court:
Complaint for Divorce—You should prepare one original and one copy
VS-4 State Statistical Form—Keep in mind that you must complete this form in black ink without any white-outs or corrections
Domestic Case Coversheet—You need to prepare two copies of this form
Aside from preparing the above-listed forms, you'll also need to:
Create a divorce settlement agreement—You must state all the agreed-upon divorce terms in this document
Pay the filing and service fee—The latter action is necessary if you'd like the sheriff's office to serve the papers to your spouse. As these fees are changeable, you should check the current ones on the Fairfax County website
If you'd like more information about Fairfax County divorce procedures, you could consult the available Pro Se Divorce Package.
How To Prepare a Divorce Settlement Agreement
Drafting a divorce settlement agreement that complies with state laws can be demanding. To get some assistance with the preparation of this legal document, you can:
Use online divorce services—While templates that are available online may seem helpful, you should examine whether they fulfill legal requirements
Opt for legal services—Hiring an experienced divorce lawyer is always an option, but you need to be prepared to pay a significant sum for this type of service
Sign up for DoNotPay—To avoid learning about state laws and paying for a lawyer, you should use our affordable and fast pocket lawyer app
DoNotPay Generates Divorce Settlement Agreements in a Flash!
Our AI-powered app knows state laws and ensures your divorce settlement agreement is the perfect combination of your specific needs and legal requirements.
Not only do we handle all legal aspects, but we also make sure you get your agreement in a matter of minutes.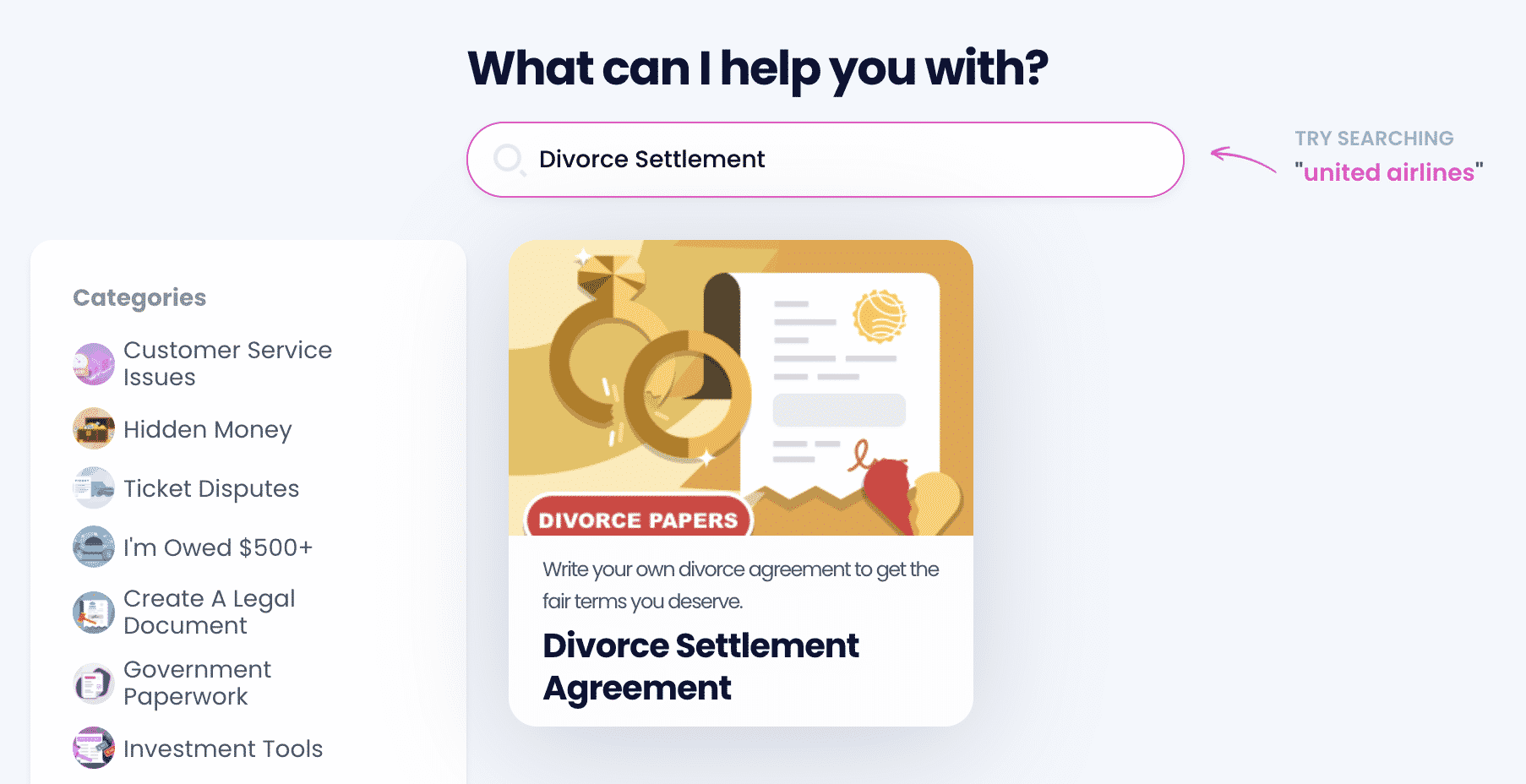 Subscribe to DoNotPay and follow these simple steps:
Open the Divorce Settlement Agreement feature
Answer a few questions about your children, property, debts, income, etc.
Choose if you want the agreement to be notarized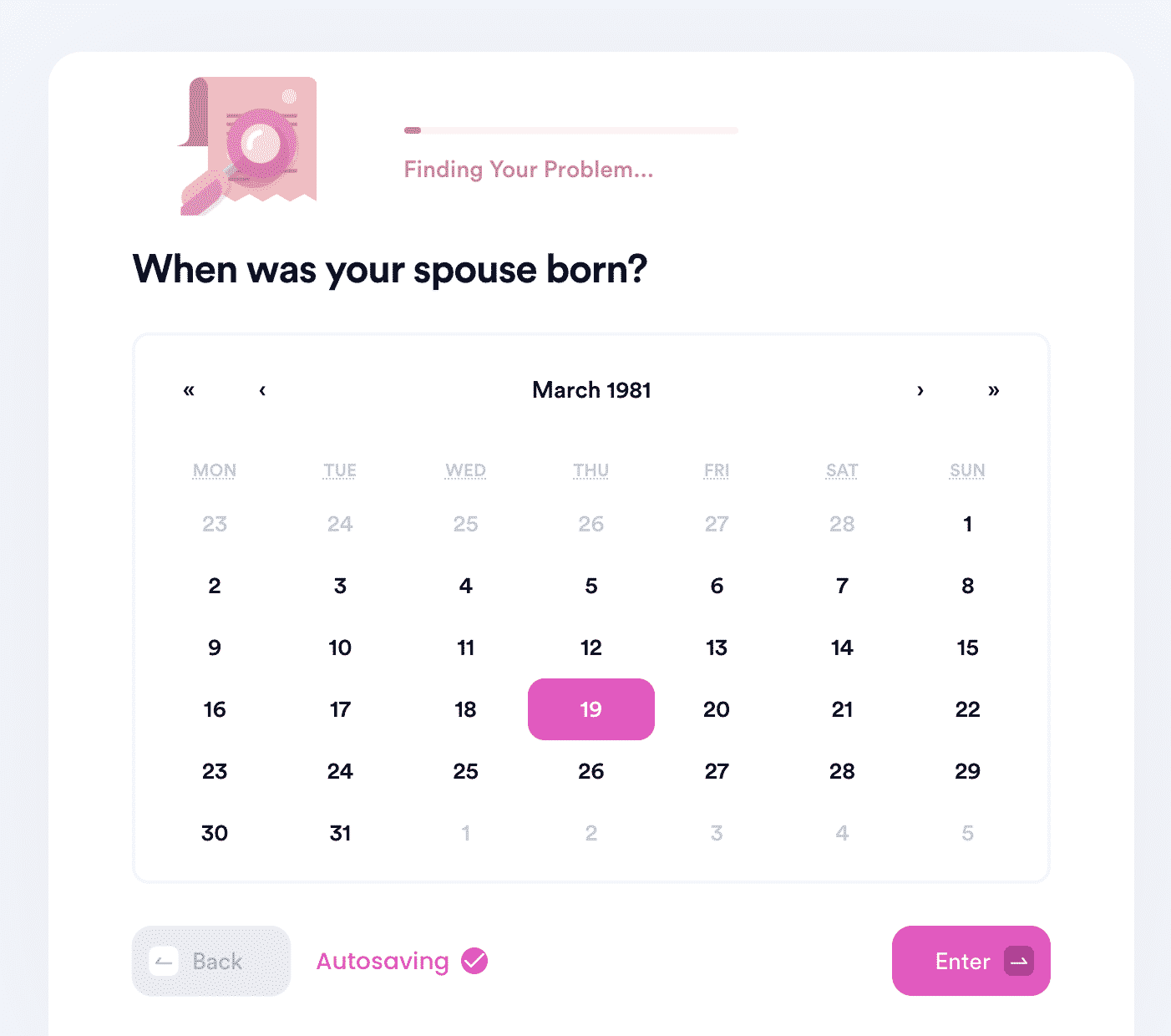 When you receive a divorce settlement agreement, you should present it to the judge for approval.
Use DoNotPay's Extensive Divorce-Specific Database
DoNotPay helps with various administrative issues, including divorce-specific ones. To know what to expect during the divorce proceedings, you should browse through our guides and get answers to lots of questions, such as:
There Is No Shortage of Tasks DoNotPay Helps You With
If you find finishing administrative tasks tedious, you can rely on our app to assist you through the entire process and make it a smooth-sailing experience. Check out the table below to find out what DoNotPay can help you do:
| Deal With Companies By | Get Rid of Pesky Spammers By | Get Help With Your Studies By |
| --- | --- | --- |
| | | |
Buried in Paperwork? Not for Long!
Is creating legal documents giving you a migraine? Not everyone is acquainted with the law and legal jargon, which is necessary when writing documents, such as:
Luckily, DoNotPay can draft your legal documents in minutes! Why waste hours doing it yourself or hire a lawyer when you can have our app do it in no time?
Creating anonymous HR complaints and demand letters for your inconsiderate neighbors is also something our app does best!