Facilitate Yourself by Creating a Facility Use Agreement With DoNotPay
Want to use a facility to host an event? Draw up a facility use agreement! If you don't know how DoNotPay can help you out!
We can guide you through everything you need to know about writing contracts and getting the best out of legal documents!
What Is a Facility Use Agreement?
A facility use agreement allows one party to use the other's property or its part for a specific period. The contract includes the details of the event, the reason for using the property, and how frequently the property is to be used, among other provisions. The facility can be a school, college, or a church.
This agreement might seem similar to a lease agreement, but the user is not considered a tenant and is not eligible for tenant rights. They only have the right to use the property as directed in the contract. As compared to a lease, it's also easier to evict the user if there is a problem.
Before using the property, the lessee can request a walk-through to visit the property and ensure that the facility is in the same condition as mentioned in the contract. It also provides security to the lessor by stating that any damage caused will be the lessee's responsibility.
Why Do You Need a Facility Use Agreement?
Facility use arrangements can come in handy in the following situations:
If you need to organize an event and don't have a venue to host it in
For seminars, conferences, and workshops
When conducting regular events at a hotel is out of your budget and comes with restrictions
Making an Effective Facility Use Agreement
There are several ways to make a facility use contract effective:
The arrangement should be written, not verbal
Both parties must sign the contract willingly. You can also get the document notarized by a notary public to ensure that no party is forced to sign it
The terms and conditions must be clear and precise to prevent potential conflicts
Essential Elements of a Facility Use Agreement
Here are several key elements you should incorporate into a facility use agreement:
Element
Brief explanation
Date

The effective date of the agreement

Details of both parties

Names, addresses, and contact information of the lessor and the lessee

Details of facility usage

How the facility should be used
Frequency of property usage
Estimated amount of guests per event
Guidelines for using the property
Restrictions, if any

Indemnification and hold harmless

Who is liable for damage to the property
How to treat a breach of contract

Payment details

Daily or monthly rate
Payment schedule

Terms and conditions

What both parties are responsible for
The duration of the contract
Right of access

Termination

How to proceed if one party backs out of the contract

Signature

Both parties must sign the contract to confirm they have read and understood the terms of the contract
Is a Facility Use Agreement Legally Binding?
Once both parties have signed the contract, it automatically becomes legally binding. If any party fails to honor the deal, they risk facing legal consequences.
Usually, all facility use arrangements have a clause detailing what happens if a party breaches the contract. Potential remedies can include financial compensation, termination of the agreement, or filing a lawsuit against the guilty party.
Generate Legal Documents Using DoNotPay
If you want to protect yourself from liabilities, the best way is to create a watertight contract. Consulting a lawyer is the safest but, but it can be expensive.
Another option is to look up contract templates online. Although relatively cheap, online templates are usually outdated and don't allow you to customize the document according to your requirements.
Does this information get you in a fix? Don't worry! DoNotPay can generate personalized legal documents for you in the blink of an eye!
What do you need to do?
Enter the name of the document you want to create in the search box
Provide information to our chatbot to customize the document
And you're all set! DoNotPay will generate the document for you. All you have to do is print and sign it.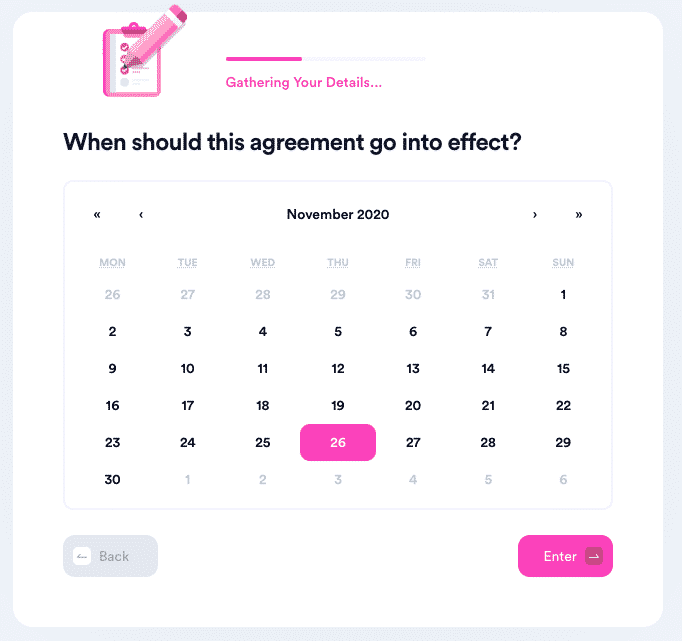 Have more contracts and agreements to create? Here's a list of documents we can draft for you:
Real Estate
Business Contracts
Other

Residential Lease Agreement
Intent To Purchase Real Estate
Quitclaim Deed

General Business Contract

Promissory Note
Child Care Authorization Form
General Affidavit
Can't find your document in the list? We keep adding more, so stick around!
What More Can DoNotPay Offer?
Want to learn more about other agreements? Visit our knowledge to discover more about:
When You're In Over Your Head, DoNotPay Swoops In
With your virtual assistant extraordinaire, many tasks will be a breeze to deal with.
No fax machine? No problem! Use DoNotPay to send faxes online. If you don't want to waste time waiting in lines or on the phone, we come to the rescue with many of our products that will help you:
What Else Does DoNotPay Have in Store for You?
You can count on our assistance when you want to get rid of:
Our app has even more to offer—try out our hacks that will save you money and do the heavy lifting in numerous tasks: