Facebook Defamation Cases Observed
Defamation occurs when someone makes a false statement about another individual or group, causing harm to their reputation. In order for a defamation case to succeed in a court of law, it must be proven that the defamatory statements harmed the defamed individual's reputation, economic opportunities, or physical/mental health.
In today's day and age, online defamation is ever-prominent. Facebook, a web-based and interactive network that allows information to be shared through connecting people with similar political, economic, and geographic bounds, is a prime breeding ground for defamation cases. Social media defamation is an unanimous term that describes a false statement about a third party that is published on social media. 
There are two general categories of defamation recognized under the law: "libel" is any defamatory statement that is written or posted on a permanent platform, while "slander" can be a spoken defamatory statement.
Typically, the first step in pursuing a case of defamation is to send a cease and desist letter, which informs the individual to immediately stop making injurious claims or risk legal action. In this article, you will find information about defamation and the particular laws regarding Facebook.
Types of Defamation Seen on Facebook
There are three main causes of defamation lawsuits that are prevalent on Facebook:
| | |
| --- | --- |
| Defamation of one's character | The publisher of a post that defames and skews another person's reputation, spreading false and egregious claims is regarded as defamation of character |
| Harassment towards another  | Intimidation through Facebook is typically regarded as harassment, and is criminal — this also includes impersonation |
| Invasion of another's privacy | When defamatory or doctored photos of a person surface, or when false personal information is wrongfully posted online, violating an individual's reasonable expectation of privacy, this is an invasion of privacy |
Sending a Cease and Desist Letter for Facebook Defamation
Although each state has individual requirements concerning what defamation is, most defamation claims must essentially satisfy the following five elements:
The publication was seen by someone
To be considered as defamation, the false statement must be visible to another person other than the person who is being defamed.
The statement is false
The statement must be untrue.
The statement is fact-based
The statement is rooted in a fact, not based on an opinion. For example, someone suggesting that someone is a bad writer in a Facebook post is not defamation. Someone stating that someone is a terrible person because they are spreading a communicable disease is defamation.
The statement affects the person's reputation
A reputation, the business ventures, and the overall well-being of an individual must incur harm — this can be demonstrated through loss of friends, employment opportunities, and income; otherwise, damages must be substantiated.
The statement is not privileged
Defamation cannot be claimed when verifiable things like criminal activity and employment information are publicized  — if a statement has truth to it, it is not regarded as slanderous in nature. For instance, releasing any criminal history is not slander — if the criminal record is public knowledge in a particular state, there is no expectation of a right to privacy.
Facebook Defamation Cases
| | |
| --- | --- |
| "Venting" on Facebook leads to $65,000 in damages | In 2016, a Canadian court ruled that a woman who "vented" about another individual through a series of Facebook posts was guilty of defamation, and awarded the victim over $65,000 in damages. |
| "False Remark" leads to $500,000 settlement in Asheville | In 2015, an Asheville manager posted on Facebook claiming that their employee was responsible for their child's death — costing them $500,000 in damages. |
| "Fraternity Allegations" cause $1.65 million in damages | A 2014 Rolling Stone article titled "Rape on Campus" accused a fraternity of gang-raping a female student (false claims) led to the alleged victim, but the defendant in the defamation suit paying over $1.65 million in damages. |
| "Pink Slime" leads to a $177 million payout | In 2012, ABC news accused Beef Products Inc of containing low-cost and over-processed beef that has "pink slime" — these claims were considered libel, and ABC had to pay the company $177 million in return. |
Should You Write a Cease and Desist Letter?
Writing a cease and desist letter is a detailed process that can either work to discredit your case or work to your advantage, depending on the usage of it.
If you are unable to legally prove any damages you've suffered, outline all aspects of accessory evidence from a legal standpoint, and write a legally sound letter, you may risk your letter being discarded, thrown out, and even being unsuccessful if you go to court in the case that the letter is not acknowledged.
To add to the pressure, many lawyers who work and are capable of drafting cease and desist letters will charge an unaffordable amount of money for even responding to your inquiries!
Draft a Cease and Desist Letter in Minutes!
DoNotPay is a clear-cut solution! The cease and Desist letter DoNotPay drafts will detail the information about the case, demand retraction, warn against future statements, and request that the accused abides by your local state statutes.
All you need to do is:
1. Search "Defamation" on DoNotPay and choose the Defamation Demand Letters product.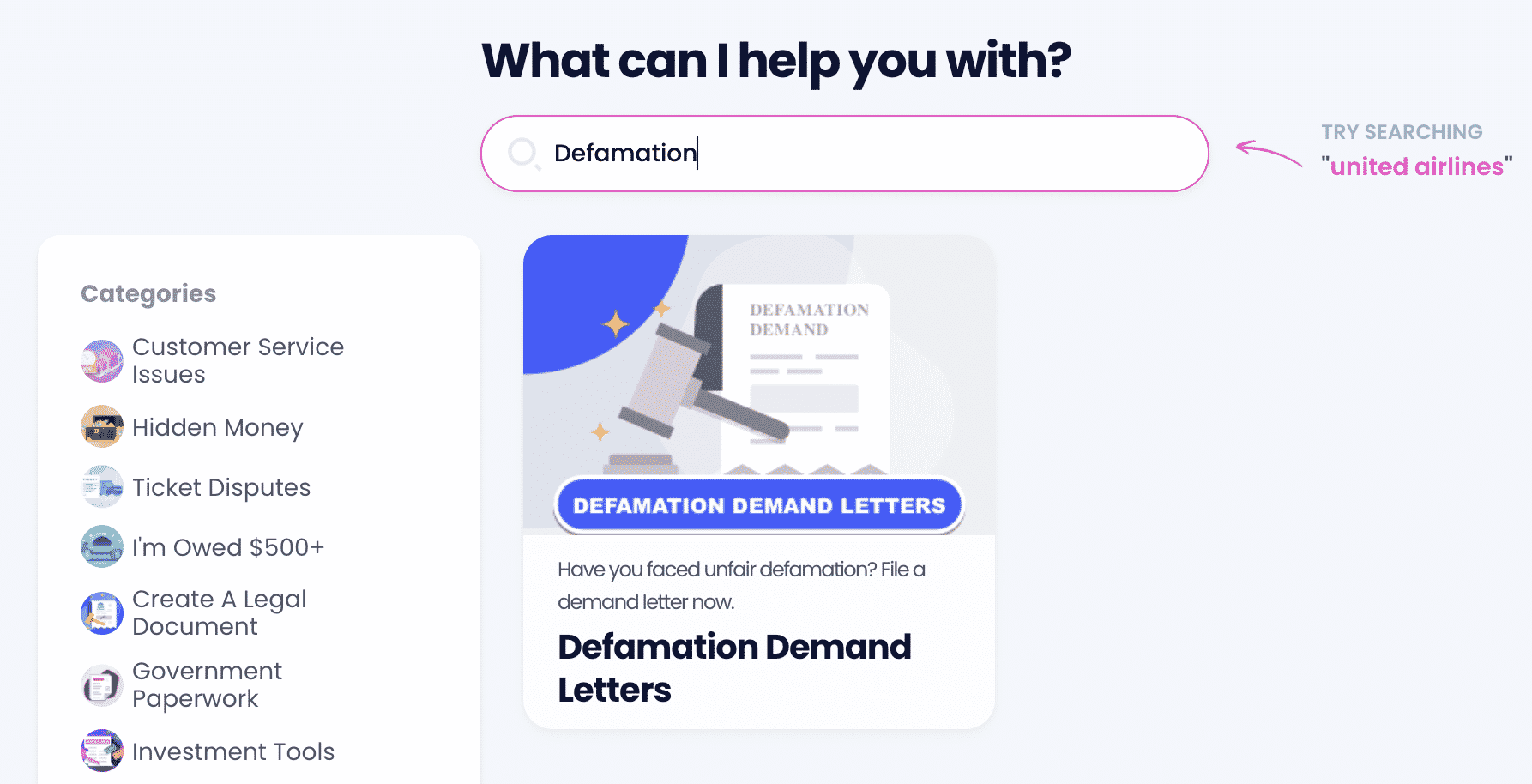 2. Tell us about your situation.
Were the statements slander or libel?
What were the statements?
Why are they false or misleading?
What consequences have you suffered as a result of these statements?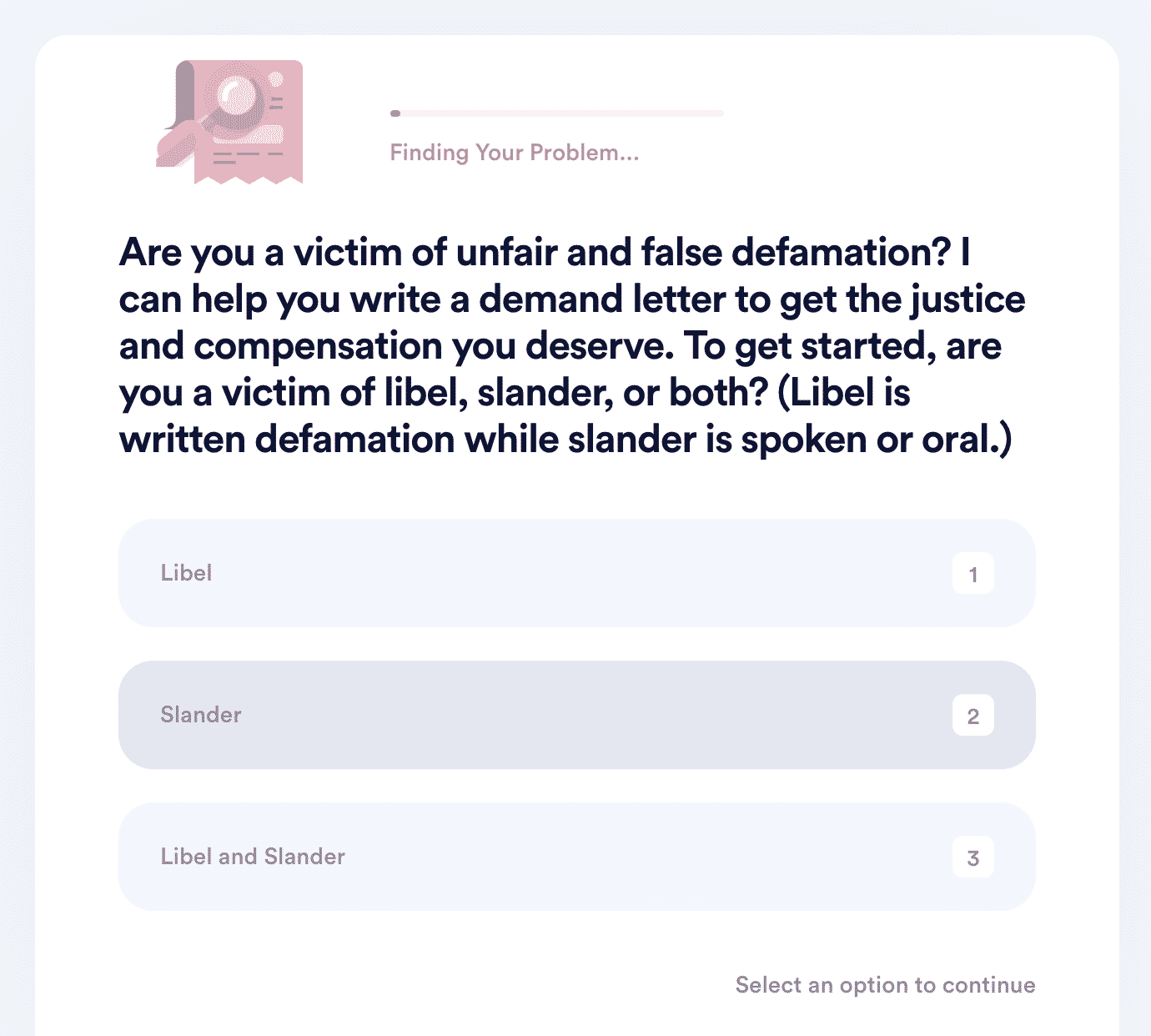 3. Based on your location, DoNotPay will immediately generate a formal demand letter on your behalf, with the most relevant state legislation regarding defamation.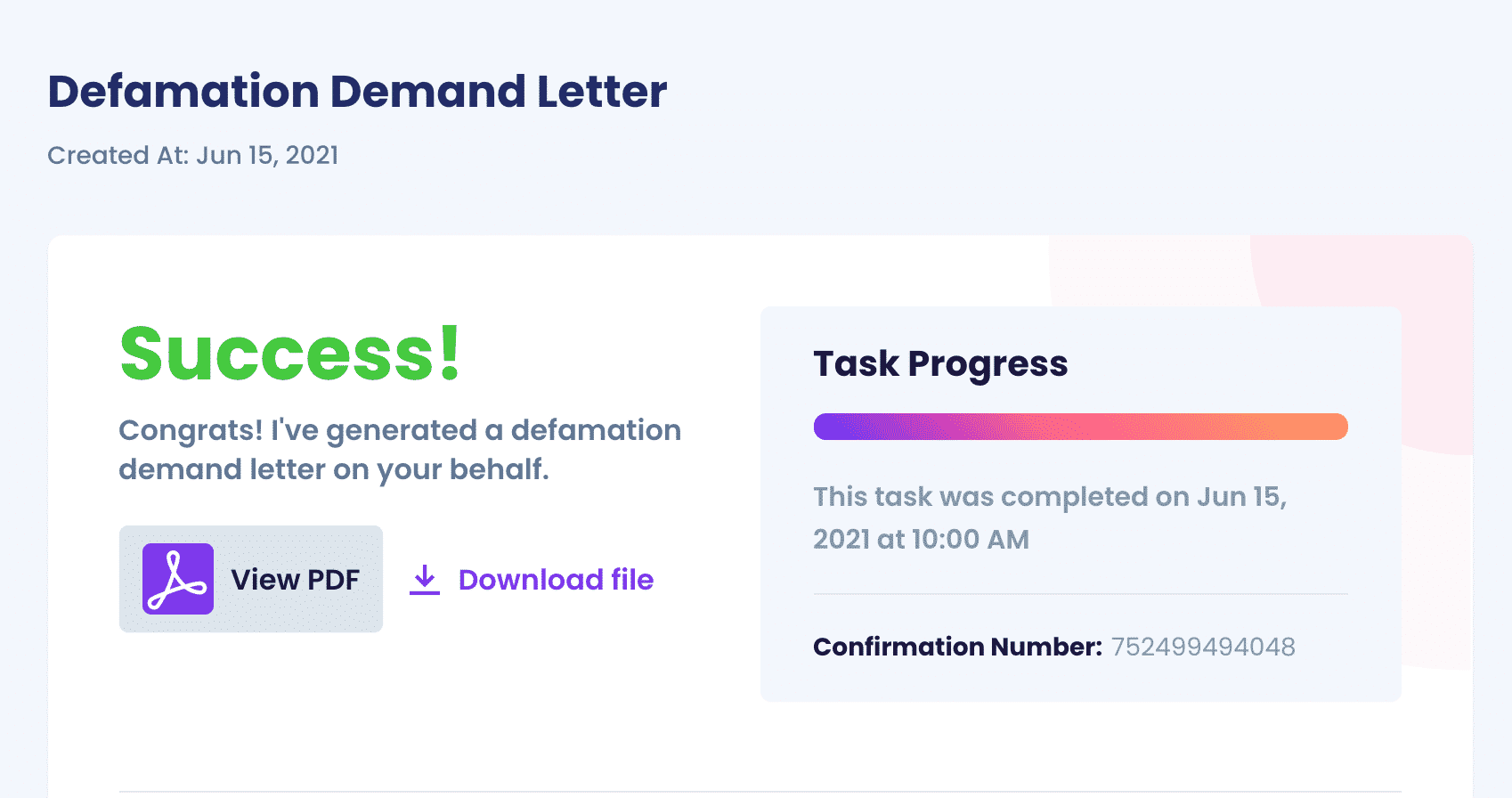 That's it! You can expect to receive a precisely drafted cease and desist letter to your inquiry in minutes! 
What Else Can DoNotPay Do?
DoNotPay does not just stop at cease and desist letters. The robot lawyer can help manage subscriptions and appeal parking tickets in just a few clicks! Here's what else DoNotPay can do: