Extension of Tourist Visa in Singapore After 1 Month—Let DoNotPay Help
Singapore's stable equatorial climate makes it an ideal vacation spot all year round. It's hardly surprising that this cosmopolitan hub is the fifth most visited place in the world!
Seeking an extension of your tourist visa in Singapore after a 1-month stay—or longer—is not uncommon, considering the country's diverse tourism options. Applying for an extension, however, is a challenging task that can disrupt your vacation plans.
DoNotPay can walk you through the process of getting an extension on your Singapore tourist visa! Consider using our Tourist Visa Guide product to:
Check your visa eligibility for any country
Understand the paperwork requirements
Get logistic support during the application process
Sign up to enjoy our real-time assistance!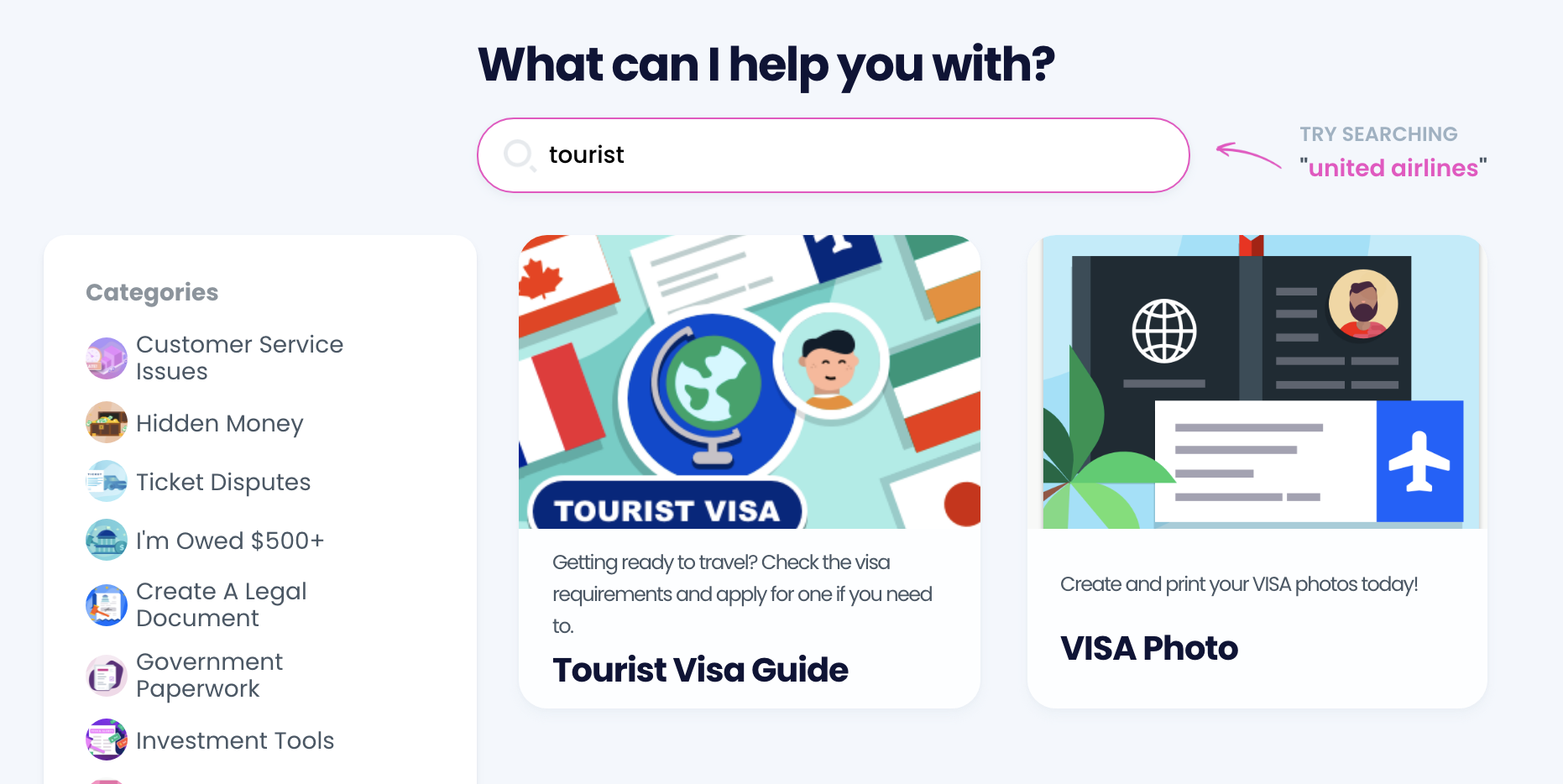 Tourist Visa Singapore Extension—What Should U.S. Citizens Know?
U.S. citizens are allowed to visit Singapore visa-free for a maximum of 90 days as long as they have a valid passport. You may, however, not qualify for a full 90-day stay automatically. In case your initial entry is not approved for 90 days, you will need to seek an extension.
In practice, the total length of your stay depends on whether you entered the country via:
An approval letter issued by a Singaporean government agency
A Singaporean visit pass
We have explained the extension provision under each entry type.
Entry Based on an Approval Letter Explained
If your visit is for a special purpose—like conducting official diplomatic work or attending a government-sponsored event—you will be issued an approval letter to enter Singapore for a fixed period of under 90 days only.
You won't find defined extension rules in Singaporean law for entries backed by an approval letter (due to the exceptional nature of such visits). You may need to contact the issuing authority directly to seek an extension, and there's no guarantee that you'll be allowed one.
A Singaporean Visit Pass Entry
When you arrive in Singapore, an Immigration and Checkpoints Authority (ICA) officer will verify your travel documents and issue you a visit pass in lieu of a tourist visa. The pass will be stamped with an expiry date—that is usually after 30 days from your date of entry.
If you apply for an extension, your visit pass may be upgraded for the full period of your visa-free eligibility—i.e., 90 days.
Some U.S. tourists may get a direct 90-day visit pass if their return ticket, travel itinerary, and hotel reservations prove that they will be in the country for the next three months.
Extend a Singaporean Visit Pass—Guidelines
You can get your visit pass extended for any of the following reasons:
Prolonged tourism plans
Hospital stay or an approved medical treatment regime
Social visit
Sudden international travel ban
Follow these steps to apply for an extension:
Visit the official online extension application portal set up by the ICA authorities
Fill up the application form and clearly state your reason for the extended stay
Upload your updated travel documents:

A freshly booked return ticket showing your new date of departure
Proof of hotel reservation to cover your extended stay

Pay your extension fee (about $30)
Note down your application ID
You can use your application ID to check the status of your extension request. You should apply for an extension at least one week before your visit pass expires—as the authorities may take up to seven days to process your application.
What if I Fail To Get an Extension?
If your extension request is denied, you can appeal to the ICA authorities in person—which may or may not be successful. In any case, make sure not to overstay your visit pass. Overstayers who get busted by the authorities face one or more of the following penalties:
Up to $6,000 in fines
Three to eight strokes of a cane
A maximum of 12 months of imprisonment
How To Stay in Singapore Beyond 90 Days?
A visit pass cannot be extended beyond 90 days of your date of entering Singapore. If you want to stay in the country for a longer period, you have three options—as explained in this table:
Options
Details
Leave and re-enter

You can leave Singapore after 90 days and re-enter after spending at least a few weeks in another country—you will be eligible for another 90-day visa-free stay in Singapore
Your re-entry will entirely be at the discretion of the ICA officers—there's no guarantee you'll get a visit pass

Apply for a Long Term Visit Pass (LTVP)
You can only apply for an LTVP if you are a:

Family member of a Singaporean citizen or a permanent resident
Student enrolled in a local educational institution
Person seeking to give birth in Singapore

Seek permanent residency
You can apply for permanent residency if you are a:

Person eligible for an LTVP
Qualified foreign investor
Holder of a student or an employment pass
Use DoNotPay Before Planning Your Trip and Travel Stress-Free
Whether you are applying for an extension or getting your documents verified abroad—it's super stressful to navigate the bureaucratic procedures of a foreign land in the middle of your vacation.
Impromptu holidays sure sound fun, but it's better to plan your trip to avoid unnecessary headaches. DoNotPay can help you do that with our multifaceted Tourist Visa Guide tool!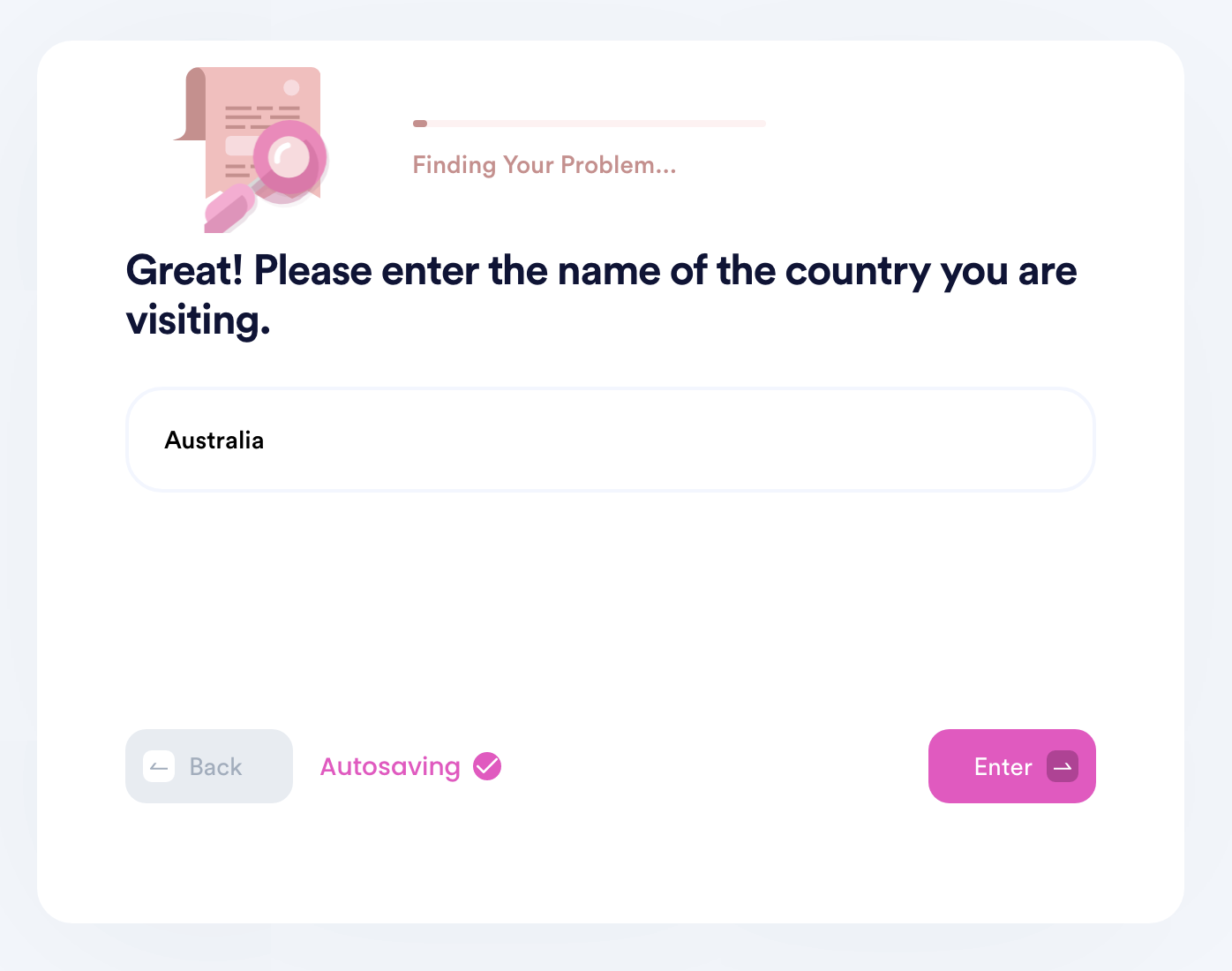 Our app's AI uses the latest visa guidelines for any country to tell you if you need a tourist visa for your next trip. If you do need one, we will give you a complete list of the documents required for your application.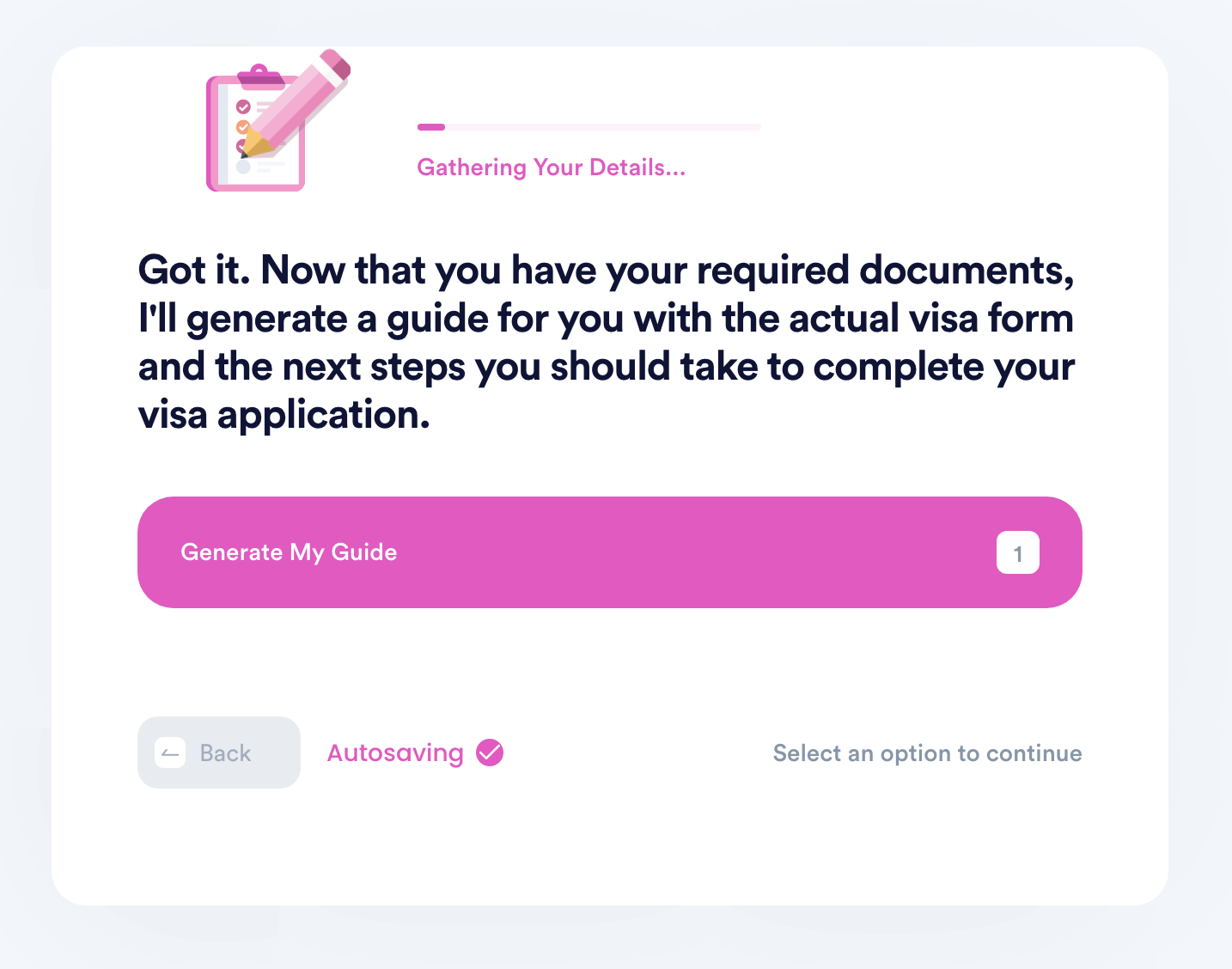 Our support doesn't end here—all you have to do is interact with our chatbot to:
Get an auto-generated guide to lead you during the application process
Find the link to the official government portal (for online applications)
Download the authentic visa application form in PDF version (for offline applications)
If you're having trouble visiting the embassy due to pandemic restrictions, we will email them to get the mailing instructions for you. You won't feel uncertain or nervous at any point with DoNotPay by your side!

To use our vast array of features, do this:
Log in to your DoNotPay account and select Tourist Visa Guide
Confirm that you have a valid U.S. passport
Provide the name of your destination country and start answering our chatbot's questions
If you need to renew your passport before the trip, make sure to use our Create Passport Photos tool to print out photos as per recent guidelines. With our app's support, you will get your tourist visa in the quickest way possible!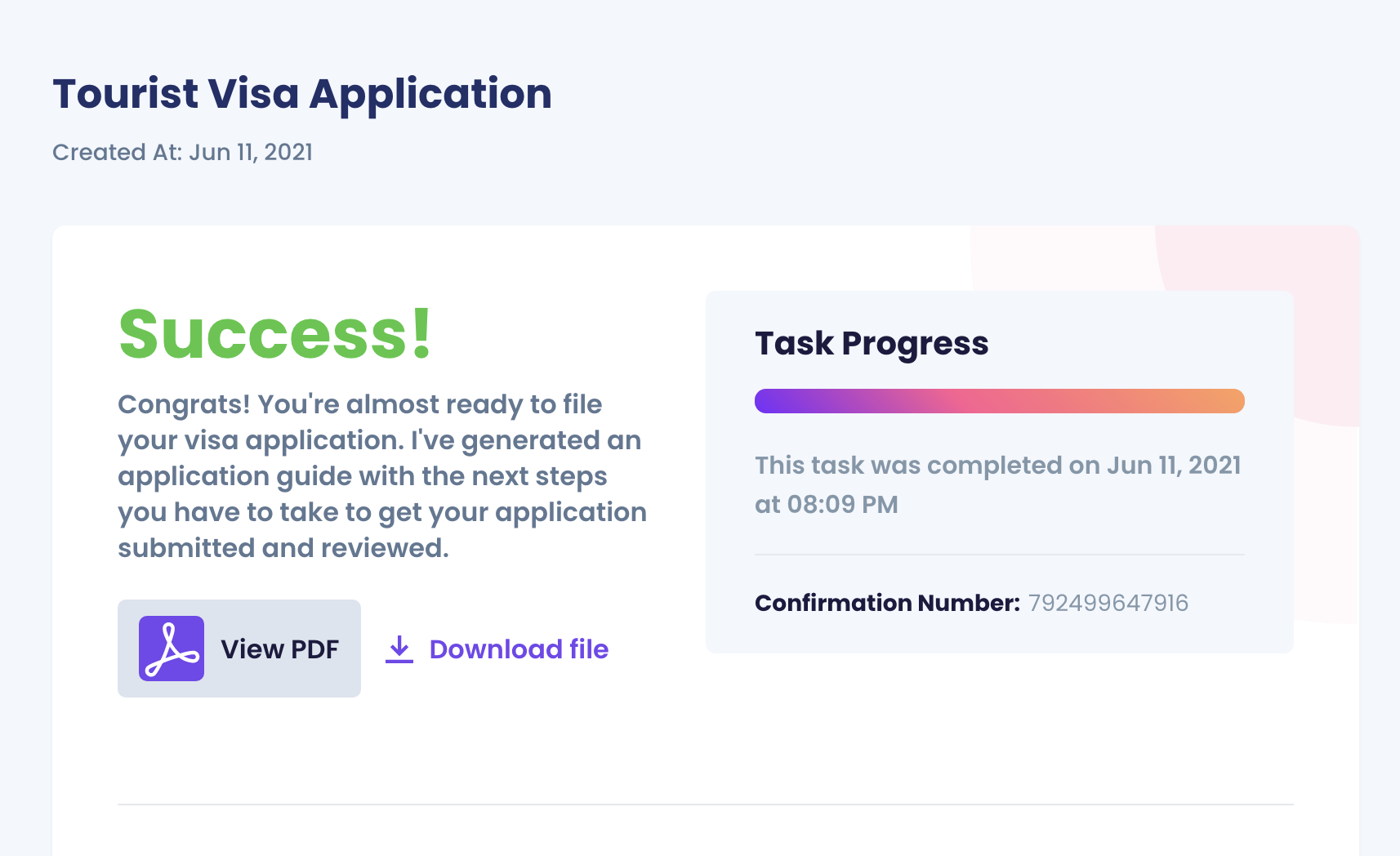 Discover Alluring Asia—Use DoNotPay's Dependable Tourist Visa Guides
One cannot describe Asia's splendor in mere words—you have to see it with your own eyes!
Use our extensive tourist visa manuals if you want to travel to any of the countries listed below:
Solve Your Legal and Bureaucratic Issues With DoNotPay
The primary purpose of our app is to provide you with practical tools that can speed up all the drawn-out tasks you must complete. All you need to do is choose a suitable feature from our offer and get your problems solved in a heartbeat!
Once you create an account with DoNotPay, you can:
Feeling Unsafe or Harassed? DoNotPay Can Help You!
Have annoying calls and messages become your everyday problem? Don't give up on your peace—rely on DoNotPay and deal with robocalls and restless text and email spammers easily.
We also take care of your privacy, allowing you to create burner numbers and virtual credit cards to avoid revealing sensitive information when signing up for various online services.
If you are being stalked by somebody or discriminated against at work, we will do our best to help you fight for justice and report the case accordingly! We will also safeguard your creative work from copyright violation and ask for violent crime compensation on your behalf.