Should the Exempt Employee Jury Duty Leave Be Paid? Learn Here!
Jury duty summons can be an inconvenience you didn't count on—now you need to tell your employer about it, and you're worried that they may fire you or, at least, withhold payment. The good news is that the law is on the employee's side when it comes to this important civic duty, and if you are an exempt employee, jury duty leave will most likely be paid. While you're preparing for jury duty, the first important step is to notify your employer of your summons. If you , we will do it for you in a jiffy.
How Does Jury Duty Work?
The prospective jurors are selected from lists of:
Registered voters
Driver's license holders
ID holders
Once they are selected, they receive a questionnaire that helps the court determine whether the prospective juror qualifies to serve. A juror must be:
At least 18 years old
A citizen of the U.S.
Mentally and physically competent to serve on a jury
Able to write, read, and understand English
Pardoned for a felony or crime they were charged for or convicted of
If they qualify, the court summons them to the orientation day for another selection process. In this phase, the judge, the attorneys, and prosecutors ask questions to determine whether someone is objective enough and impartial to the case.
How Long Does Jury Duty Last?
For some jurors, jury duty can last one day only if they don't get impaneled. For the selected jurors, jury duty will last for as long as the trial takes—which can be several days or even months. The judge will give their prediction on how long you might spend in court at the beginning of the trial.
In most states, you won't be called for jury duty for at least two years after you've served.
Is Your Employer Required To Give You Time Off?
According to the Jury Systems Improvement Act, all employers must provide unpaid time off to employees who report for jury service in state and federal courts. In most states, the law doesn't require the employer to pay the employee for the time they serve, but some states have laws that mandate paid leave:
Alabama
Colorado
Connecticut
Louisiana
Massachusetts
Nebraska
Tennessee
District of Columbia
Check out the table below to learn more about jury duty laws in your state:
Exempt Employee Jury Duty Pay—Is Your Employer Obligated To Compensate You?
If you are an exempt employee, you must receive your full salary for the workweek if you did work any part of the week. Exempt employees who didn't do any work will not be paid unless it is the company's policy.
The court will pay you, though—many courts compensate jurors for their time of service. The table below presents the most common compensation amounts in state and federal courts:
Since jury duty attendance fees vary by state, always check with the court how much you will get for serving on a jury.
How To Inform Your Employer About Jury Service Using DoNotPay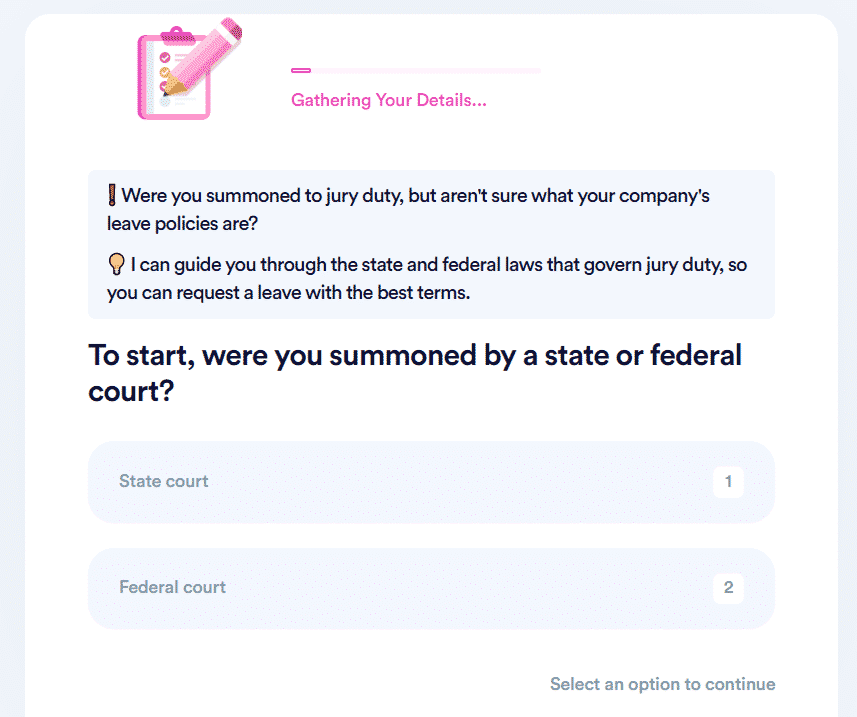 Jury duty is mandatory, and you don't want to skip it, especially because penalties can cost you a lot of money and sometimes even result in jail time. This is why DoNotPay is here to help you inform your employer about your jury duty well in advance.
Our app will create a professional jury duty leave request letter and send it to your employer in a few simple steps. All you need to do is:
Open the Request Jury Duty Leave tool
Provide information about:

Your place of residence
The court that summoned you
Your company's name
The time you expect to spend on jury duty

Upload the photo of your summons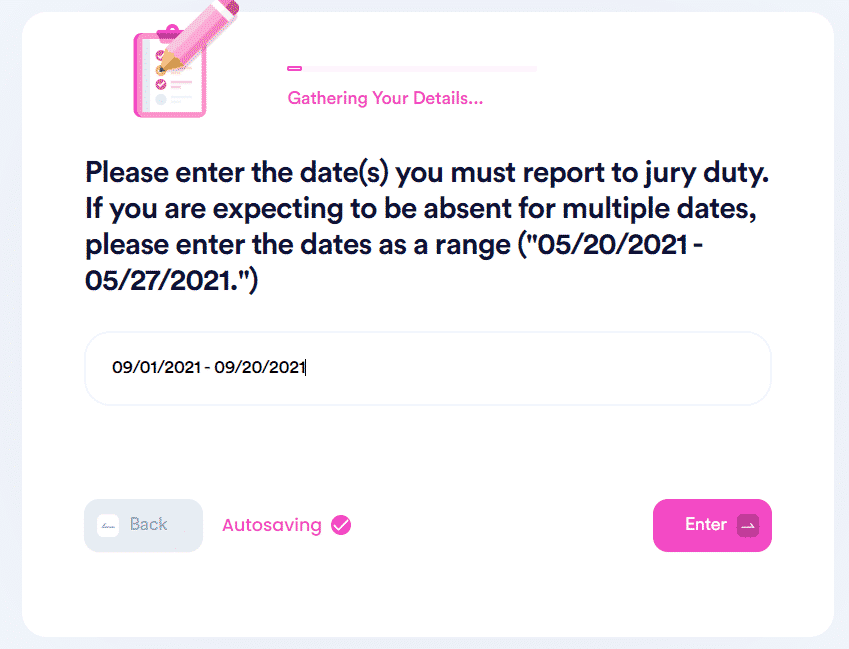 Choose From a Vast Variety of DoNotPay's Handy Services
DoNotPay boasts an enviable collection of various tools that help you cope with administrative matters more efficiently. Here is a small portion of the services we generously offer:
| We Can Help You File | We Can Create |
| --- | --- |
| Tourist visa applications | |
Be Safe Online With the Help of Our App
Keeping your details confident when using the internet is simpler with DoNotPay! Check out virtual credit cards our app can generate for you, and have fun with the free trials no one can charge you for! If you need a quick solution for phone authorization but don't want to use your actual phone number, we can create burner ones and keep your info private.
DoNotPay assists you in reporting defamation as well as stalking and harassment, prevents copyright violation, and helps you eliminate spammers and their annoying texts, emails, and robocalls.