Understanding the Executive Order for Paid Sick Leave for Federal Contractors
As no one should be forced to work when sick, former president Barack Obama introduced Executive Order 13706, which enables federal government contractors to get paid sick leave.
DoNotPay is here to explain all about the Executive Order for paid sick leave and with a tailor-made leave request letter.
What Is Executive Order 13706? Paid Sick Leave for Federal Contractors Explained
Implemented on September 30, 2016, Executive Order 13706 allows employees that are under federal government contracts to take up to seven paid days off for specific purposes. Contracts that are covered by this order are:
Procurement contracts for construction covered by the Davis-Bacon Act (DBA)
Service contracts covered by the McNamara-O'Hara Service Contract Act (SCA)
Concession contracts and contracts excluded from the SCA
Contracts in connection with federal property or land that offer services for federal employees, their dependents, and public
What Can Sick Leave Under the Executive Order Be Used For?
You can use paid sick leave if you:
Are physically or mentally ill
Are obtaining a diagnosis or preventive care from a health care provider
Must take care of a sick child, parent, spouse, domestic partner, or anyone else who is considered a family member
Were a victim of domestic violence, sexual assault, or stalking, and you need time to:

Obtain additional counseling
Seek relocation
Seek assistance from a victim services organization
Take legal action
Assist someone related to you in engaging in any of the abovementioned activities
You can use this leave in periods as short as one hour if it's possible for you to leave and return to the job during the shift. Your contractors must provide you the same pay and benefits you would have received if you hadn't taken time off.
How Can You Request To Use Paid Leave Under the Executive Order?
To use your paid sick leave, you must file a request seven days in advance or as soon as possible in cases where it's an emergency. You can file your request:
Over the phone—Although you can dial your employer and inform them about the leave, most times, they will require you to provide a written statement as well
Via email—Writing a call-in-sick email is the best solution in case your employer prefers written formal correspondence
Using DoNotPay—Our AI-powered app can generate a top-notch leave request letter and email it to your employer or send it to you in a jiffy
Use DoNotPay and Request Paid Sick Leave Hassle-Free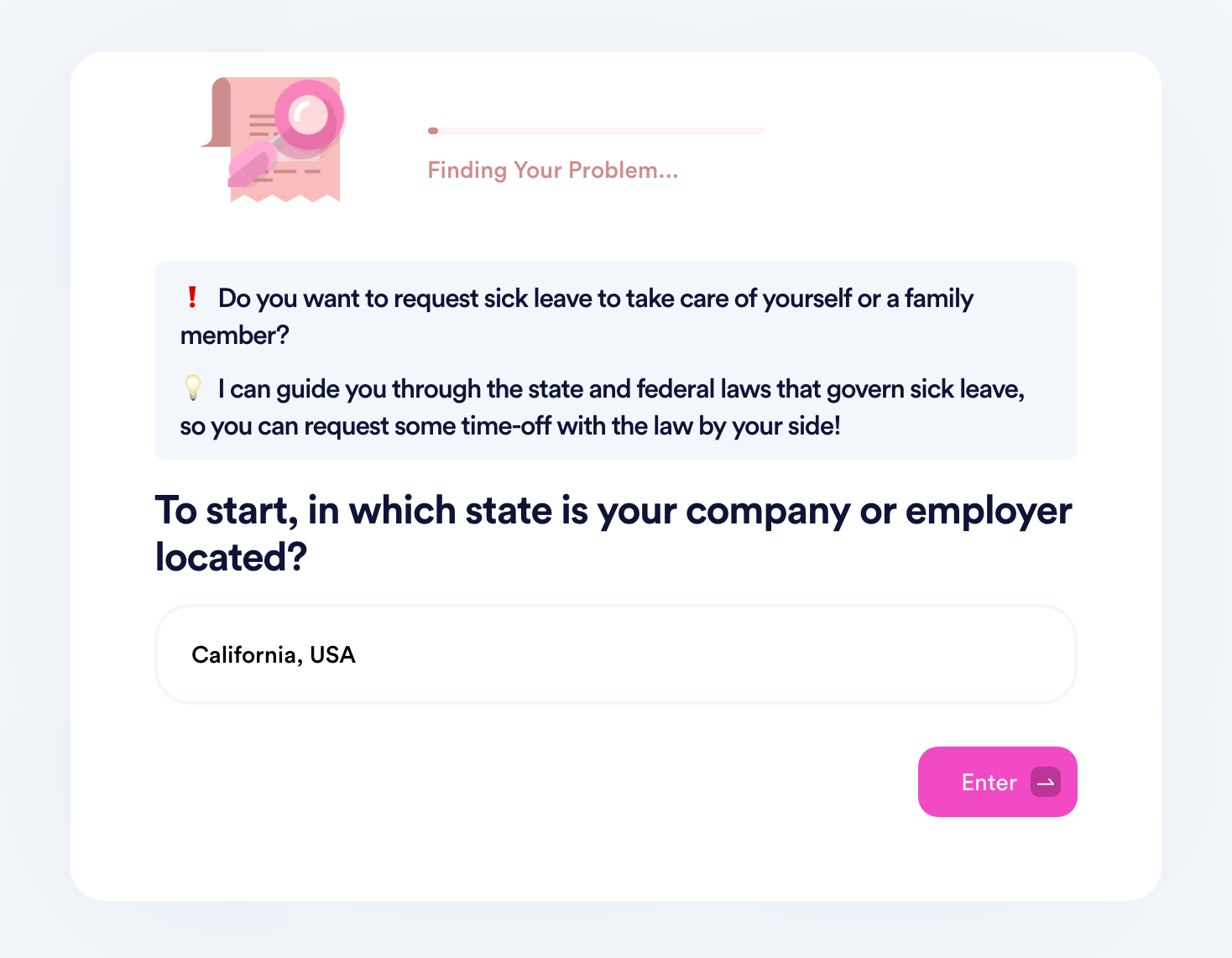 Want to take time off work, but you don't want to spend too much time writing a leave request letter on your own? and get this important document generated for you in no time. Our platform is user-friendly and only requires you to:
Locate our Request Sick Leave tool
Give us the required details about your employer and your job
Upload any required documents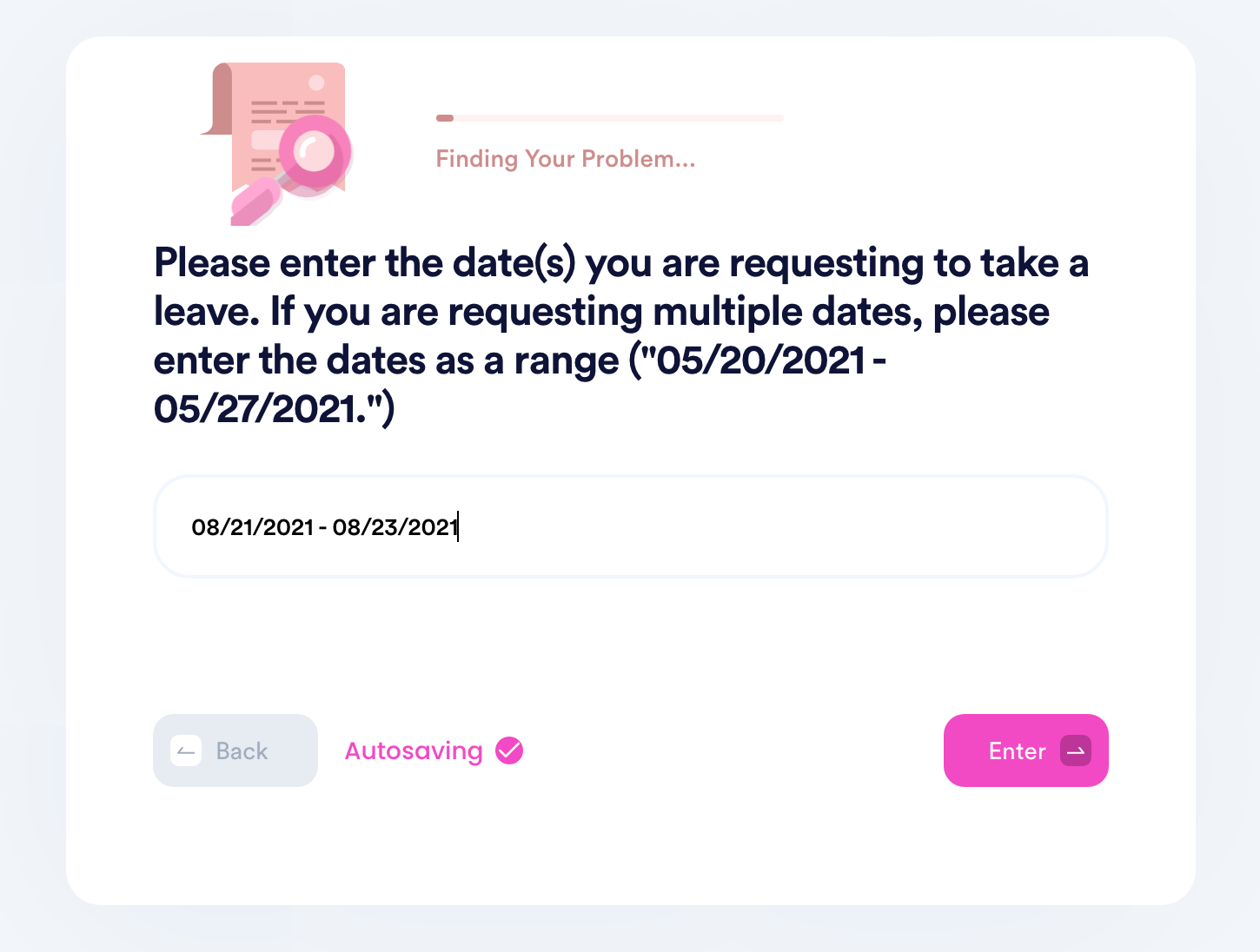 We will rely on the information you provide to create a perfect leave request for you. You can then download a copy or have us forward it to your employer instead.
Check out some of our state-specific articles on sick leave laws as they are different in every state:
Take Your Employer to Small Claims Court Easily With DoNotPay
If your employer is threatening to penalize or fire you because of taking time off due to sickness, you can take them to small claims court with DoNotPay hassle-free! Our app can help you sue your employer in a couple of clicks. We can:
Write a demand letter
Fill out all the required forms
Gather your required paperwork
File the complaint
Create a script that will help you in court
Our Platform Makes Your Life Simpler
DoNotPay offers a vast spectrum of life-changing services, including the ones listed below:
| Services | With Our App, You Can: |
| --- | --- |
| Eliminating spam and harassment | |
| Saving and getting more money | |
| Providing other useful services | Convert various files to other formats |
DoNotPay Helps You Get the Necessary Paperwork in a Heartbeat
Do you need to compose a power of attorney, revocable living trust, or a health care directive but don't know how? No worries—DoNotPay can do it for you! If you need comprehensive and valid legal documents tailored to your wishes and needs, there's no better way to get them than subscribing to our app!
We can also draft personalized FOIA requests, divorce agreements, homeschool notices of intent, and various complaints.