Protect Yourself From Liability With an Exculpatory Agreement
Do you want to protect yourself during a business transaction? Add an exculpatory clause to your agreement!
If you don't know what it is or how to incorporate it into your contract, DoNotPay can help you figure out the specifics of an exculpatory agreement and teach you how to write it on your own.
What Is an Exculpatory Agreement?
An exculpatory agreement—also known as a waiver of liability or hold harmless agreement—is a contract between two parties ensuring the protection against liability in case of damages, losses, and injuries incurred during the contract. This can apply to the consequences of the signers' actions or events outside of human control.
For example, a venue owner can add an exculpatory clause to the music licensing agreement with the musicians performing at the event. The provision indicates the issuer of the contract is not responsible for any injuries, due to any reason, during the event.
Exculpatory clauses are usually the main part of service level agreements, where the service provider has access to the other party's property and possessions. It is up to the service provider to draw up the agreement to claim indemnity in case of a loss or injury.
When Are Exculpatory Clauses Used?
The exculpatory clause is important because it offers protection from liability when an event or activity involves portent risks. Exculpatory clauses are essential in the following documents:
Real estate

and property documents

Trusts and wills

Performance agreements 
Even some amusement parks ask participants to sign exculpatory contracts to protect themselves from unwanted lawsuits.
Types of Exculpatory Agreements
There are two types of exculpatory agreements:
Unilateral—The contract states the party writing the contract has no liability for any damages caused to the other party

Bilateral—The clause protects both parties from liability from any damages incurred during the contract
What Should an Exculpatory Agreement Cover?
Although most exculpatory contracts do not have a set structure, there are some elements common to every document. You should be careful about the information you include to make sure you don't forget any crucial elements. Here are a few essential sections your exculpatory clause or agreement should contain:
Names of both parties entering the agreement

Details of the exculpatory agreement, including the event details

The duration of the agreement—this section should contain both the start and end date

Signatures to confirm both parties have read and accepted the terms and conditions
What Happens if a Party Violates the Exculpatory Agreement?
Although exculpatory clauses usually hold in court, the opposing party can challenge and overturn them. It is up to the court to decide if the clause is unreasonable, depending on the nature of the event and the damage caused. 
The court can also consider the clause void in the following situations:
If both parties do not have equal bargaining power

If the clause does not include liability due to negligence
Breeze Through Writing Contracts With DoNotPay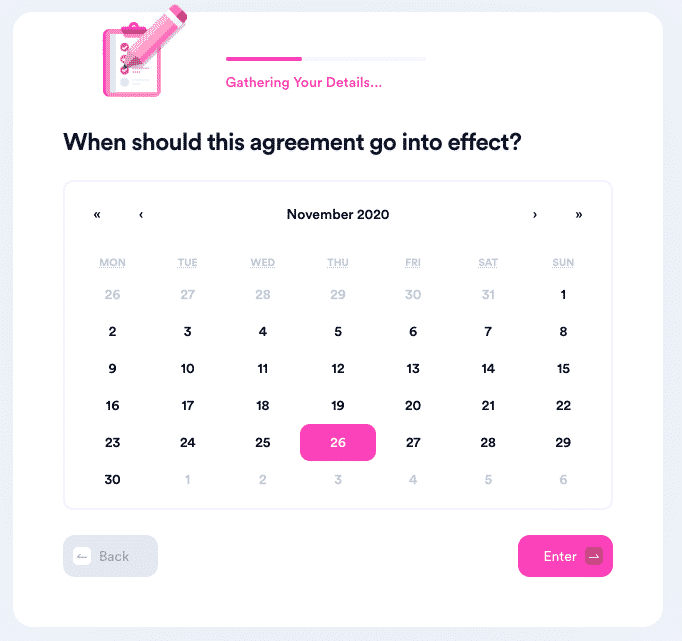 Drafting a legal document on your own can be a nightmare if you don't know how the law works. Consulting a lawyer seems like a safe option, but they can be expensive to hire. 
You can browse the internet for contract templates, but free ones are usually outdated and do not provide you with the necessary tools to customize your document. 
If you're looking for an affordable assistant to generate legal documents quickly and easily, choose DoNotPay! All you have to do is follow these steps:
Type the name of the document in the search box

Add personal information, such as your name, address, and other relevant information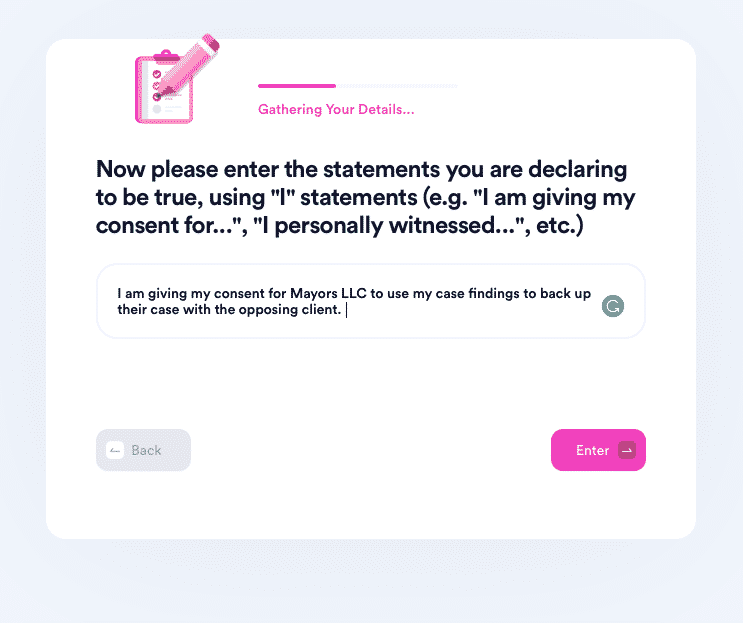 We will send you the document within minutes. You can download, print, and sign it.
In some cases, you might have to get your document notarized as well. Don't know where to find a notary? We can help you out!
DoNotPay Can Create Numerous Legal Documents
The best part about DoNotPay's Standardized Legal Document feature is that it can generate a variety of contracts. Whether you want to learn how to write a contract or understand some legal documents better, we're there to help!
Here are some agreements you can draw up with our help:
Real Estate
Business
Other

Quitclaim deed

Intent to purchase real estate

Promissory note

General affidavit
If the document you need is not on the list, don't worry—DoNotPay is working around the clock to add more options soon. In the meantime, you can check out our guides to writing numerous legal documents without getting expensive legal help!
What Else Can DoNotPay Do?
If you're looking for more information, DoNotPay's learning center has a huge knowledge base of numerous contracts, including:
More Nifty Solutions to Annoying Problems
If you're dealing with problematic neighbors or coworkers, you're not alone—our app can help you handle these issues with our Neighbor Complaints and Fight Workplace Discrimination products.
No problem is too big or too small for DoNotPay! Check out the best time- and money-saving solutions to different nuisances:
An Array of Hacks To Help You Deal With Greedy Companies
Nobody likes to spend more money than they have to. DoNotPay is here to offer many penny-pinching hacks and also stop companies from taking advantage of you.
Almost every free trial nowadays isn't really free. Companies request your credit card info and auto-renew subscriptions. Fight this sneaky practice by using DoNotPay's virtual credit card next time you want to snatch a free trial. We'll also uncover any unwanted memberships you have mooching off of you and help you cancel them in a few clicks.
If you need to contact a company's customer service, avoid wasting your time and money on hold and count on our app to wait in your stead.
Do you need to get your money back, but you don't know how? Use DoNotPay to: