The Ins and Outs of an Exclusive Right To Sell Listing Agreement
Are you thinking about selling your home? If you are, there are a lot of things to consider—dealing with paperwork, looking for prospective buyers, organizing open house events, and dealing with ever so infuriating paperwork. Luckily, you can hire a broker agency to do all of that for you.
This article has all the answers to the questions you might have about making an exclusive right to sell listing agreement.
Exclusive Right To Sell Listing Agreement
101
An exclusive right to sell agreement is a type of listing agreement. It is a written contract between a property owner wanting to sell a house and a real estate broker agency.
By signing the agreement, the owner of the house authorizes a listing agent to represent them in the selling process and close the deal. In return, the seller will compensate the agent, regardless of who ends up selling the place.
The agreement outlines the agent's obligations, which can include:
Listing the property on the

Multiple Listing Service (MLS)

Developing a marketing strategy with the seller

Making phone calls and answering emails

Organizing showings

Carrying out negotiations

Preparing contracts
If you sign an exclusive right to sell agreement, you are accepting to work exclusively with one agent for as long as the contract lasts.
Exclusive Right To Sell Agreement
vs.
Exclusive Agency Agreement
An exclusive agency agreement is another buyer-agency agreement variation. This legal document gives the listing agent exclusive rights to represent the property owner and finalize the selling process. It may seem the same as the right to sell agreement, but there is one big difference—the agent receives the commission only if they bring the buyer.
The following pros and cons table can help you decide between exclusive right to sell and exclusive agency agreements:
Type of an Exclusive Listing Agreement

Upsides

Downsides

Exclusive Right To Sell Agreement

The agent is more motivated to find the buyer fast

They are more likely to bring forth the attorneys, service providers, home inspectors, or anyone else from their network

Some right to sell agreements do not have a cancelation policy

If you find the buyer on your own, you will still have to pay the commission

Exclusive Agency Agreement

You can save money in case you find a buyer by yourself since you don't have to pay the commission fees

This type of listing agreement is not so popular with agents, so you might have trouble finding an experienced one

The agent may not pull all the stops when trying to sell your house since the commission is not guaranteed
How To Write an
Exclusive Right To Sell Listing Agreement
on Your Own
The best way to be completely in charge of your seller-agent relationship is to make the contract on your own. There are numerous contract templates online, and you can download, fill them out, and send them to your listing agent with DoNotPay's faxing service.
If you want a more personalized exclusive right to sell agreement, you can write the contract yourself, and here is how:
Specify the date of the agreement

Provide contact information of the seller and the listing agent

Describe the property in question

Define the purchase price

Set the duration of the agreement

Outline the percentage and fixed payment of the commission

Address marketing aspects and granted permissions

Add the disputes resolution clause

Specify the governing law
The agreement is complete once both parties sign it.
When To Terminate an
Exclusive Right To Sell Agreement
and How
Reasons for termination of an exclusive listing agreement include:
Lack of online marketing

—Internet exposure can be a game-changer when it comes to selling property. Marketing on MLS websites can be crucial for finding the right buyer for your house. If the agent is not marketing your property enough, you should consider changing them

Insufficient communication

—You should be able to contact your listing agent regularly and ask about the progress. Lack of communication can mean something is wrong and be a sign to reconsider the agent

Unethical behavior

—Offering a lower-than-approved price to the buyer, sharing private information about clients to close the deal faster, and working as a dual agent are the most common types of unethical behavior and a major reason for switching agents

Poor representation

—Good quality pictures that show the property in the best light and properly executed open houses are the sign the agent is making an effort to market your house. You're looking to sell your property, and if the agent is not doing the best they can, it can cause termination of the agreement
Make Legal Documents in a Flash With DoNotPay's Help
Writing legal documents can be quick and effortless, not to mention cheap! If you're wondering how, the answer is—with DoNotPay and our convenient Standardized Legal Documents feature.
The can draft numerous legal and business documents for you, including: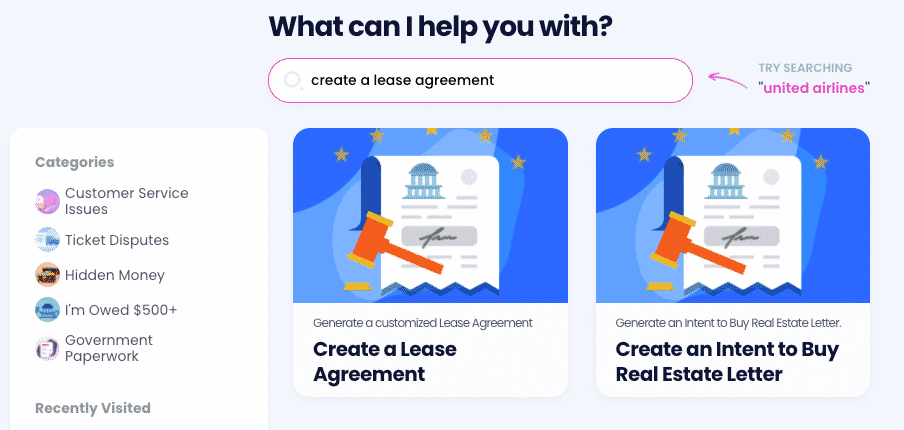 The process of drafting legal documents is straightforward—your AI assistant does most of the work. Here is everything you have to do:
Access DoNotPay from a

Type the name of the desired document in the search box

Answer several questions
DoNotPay will generate the contract in a jiffy!
Keep Your Data Safe With DoNotPay
Do you love free trials but are reluctant to disclose your credit card details, phone number, or email address?
Our app lets you try out different subscriptions in a risk-free way!
Use DoNotPay's Burner Phone feature to sign up for services without providing your phone number! We'll make sure robocall scammers and text spammers cannot harass you!
With our virtual credit card, you can sign up for any free trial and not worry about canceling it! Since the card is not linked to your bank account, no one will be able to charge you once the trial expires. An additional perk is that the card comes with a free email address, which means no spam emails from the company.
DoNotPay Helps You Fight for Your Consumer Rights
Did you know that companies often reject first-time warranty claims?
You're probably familiar with how complicated the process of appealing parking tickets is. Trying to get a refund for an unsatisfactory purchase or a delayed flight has likely made you mad at least once.
Not anymore! DoNotPay makes all these issues go away in less than five minutes, and that is not all we can do for you!
You don't have to deal with customer service reps of any company on your own anymore—we do it all for you!
DoNotPay bypasses any bureaucratic obstacle for you—scheduling DMV appointments, delaying bill payments, getting in touch with your incarcerated loved ones, filing lawsuits in small claims courts, and claiming insurance policies.