Is Your Employer Overstepping the Mark? Find Out With These Examples of Racial Discrimination Today
No matter what anti-discrimination laws say, employers still feel they can get away with workplace discrimination against Blacks, Hispanics, Asians, and Native Americans.
If you are not sure whether your employer is discriminating illegally or displaying prejudice, DoNotPay can show you examples of racial discrimination today to help you choose the right course of action!
What Is Racial Discrimination?
Racial discrimination is defined as the different treatment of an individual or group in the workplace based on their race.
It can take several forms, but the most common ones are:
De Jure Discrimination
De jure discrimination is the deliberate setting up of company policies to discriminate against certain people. An example would be a policy of hiring graduates from designated schools that are predominantly white.
De Facto Discrimination
De facto discrimination can happen despite anti-discrimination policies being in place and involves supervisors or managers practicing inadvertent discrimination. If a hiring manager uses racial stereotypes to pre-select candidates, this constitutes de facto discrimination.
Wage Discrimination
The Equal Pay Act of 1963 states that all employees should be paid the same for doing the same work. If different members of a sales team receive different basic salaries and commission percentages, it could be classed as wage discrimination.
Harassment
Harassment can take many forms, including:
Harassment can range from occasional inappropriate comments to systematic degradation of employees.
Any form of racial discrimination in the workplace is illegal under the Title VII of the Civil Rights Act of 1964.
What Are Recent Examples of Racial Discrimination in the U.S.?
These recent cases serve as examples of various types of racial discrimination. In each case, the plaintiff was the Equal Employment Opportunities Commission (EEOC):
EEOC v. Dollar General (2013)
EEOC v. Nabors Corporate Services, Inc. (2019)
EEOC v. Bass Pro Outdoor World, LLC (2017)
EEOC v. Target Corp. (2015)
EEOC v. Dollar General (2013)
In this case, Dollar General was found guilty of de jure racial discrimination because of the criminal background checks on potential new hires, which disproportionately disadvantaged Black applicants. The discount retailer paid $6 million in compensation and had to revise its hiring policies.
EEOC v. Nabors Corporate Services, Inc. (2019)
The oil company Nabors was accused of ongoing harassment of Black employees over several years, as well as retaliation against employees who complained about the practices. The company agreed to pay $1.2 million in settlement to ten employees.
EEOC v. Bass Pro Outdoor World, LLC (2017)
Bass Pro Outdoor World agreed to pay $10.5 million in damages to Hispanic and Black candidates it refused to hire due to their race.
EEOC v. Target Corp. (2015)
Target Corp. settled for $2.8 million after the EEOC alleged that its hiring practices—in particular its testing procedures for professional positions—discriminated against candidates based on race, gender, and disability.
These examples demonstrate that de jure and de facto discrimination and harassment are still widespread in American companies.
Is Wage Discrimination Still a Race Issue?
Race still plays a major role in how much an employee earns in the U.S.
A study by the Census Bureau in 2018 revealed the following average earnings by particular ethnic groups, compared to $1 made by a white employee:
| | |
| --- | --- |
| Population Group | Median Earnings |
| White | $0.79 |
| Black | $0.62 |
| Hispanic | $0.54 |
| Asian | $0.90 |
| Native American | $0.57 |
The numbers indicate that wage discrimination in today's society is still a significant issue.
What Can You Do About Racial Discrimination?
If you face discrimination issues caused by your race, you need to take immediate action because the law is on your side.
You should raise the issue with your supervisor and your HR department—making sure that your complaints are logged and filed as official grievances.
If this fails to solve the problem, you may need to look for government help by contacting the EEOC and filing a complaint.
Your complaint is called a charge of discrimination and requires the EEOC to:
Investigate your case
Suggest appropriate next steps, such as:

Facilitating mediation to reach a settlement
Launching a lawsuit against your employer
Giving you permission to use a discrimination lawyer to file private legal proceedings
To file your charge of discrimination, your local EEOC field office may ask you to attend an in-person interview, which can be complex and time-consuming. Luckily, DoNotPay has the answer—we can get your charge filed in a few clicks!
Launch Your EEOC Complaint Process With DoNotPay
DoNotPay is the expert in making your life simple. Filing a charge of discrimination with the EEOC is no exception because DoNotPay can do it in three easy steps:
Navigate to our Fight Workplace Discrimination product
Fill in the details of your complaint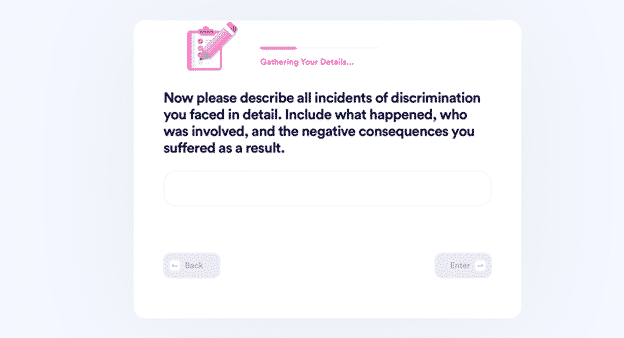 We will take it from here. Once the EEOC receives your charge of discrimination, your nearest office will contact you to discuss how to proceed.
Whether your discrimination case is based on race, age, religion, LGBTQ status, disability, or gender, DoNotPay is your partner in getting justice!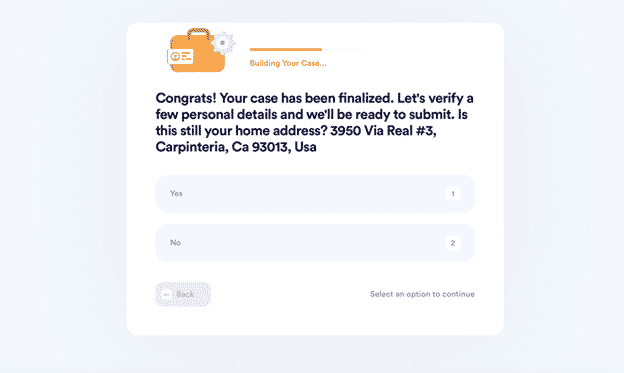 DoNotPay Is on Your Side
Is the discrimination you're facing at work turning into proper harassment or even stalking? Are you considering suing your manager or colleague in small claims court? These unpleasant situations usually require lawyers, but they come with hefty fees.
DoNotPay is a powerful AI-powered app that can lead you through a small claims court case against anyone or serve them with a cease-and-desist letter. If discrimination turns into a hate crime, we can help you file for crime victims compensation or make a claim on your insurance.
Whenever you need to draft, fax, or mail legal paperwork, you can open our platform and use our fast and reliable tools for that. With our help, you can even have your documents notarized by an online notary!
The Multi-Purpose Platform That Makes Your Life Easier
If you've had enough of that toxic atmosphere at work and want to escape somewhere for a week or two, DoNotPay might turn out to be the perfect travel buddy. Our app won't do much when you're drinking cocktails at a beach, but it will do wonders if you run into problems.
We can help you generate a child travel consent form, get airline compensation for canceled or delayed flights, jump the queue when you must contact customer service as soon as possible, or get a refund for all kinds of unsatisfactory purchases.
Do you prefer road trips? No problem! DoNotPay can help you prepare for your driving test or schedule a DMV appointment without sweat!
From fighting discrimination to solving travel woes—that's how diverse DoNotPay's portfolio is!