Finding the Best
Event Contract Template
in Three Minutes
Whether you must organize a party, wedding celebration, or corporate function, an event contract is an essential step. The parties can agree upon all the details in person, but verbal agreements are almost impossible to prove if something goes wrong. 
People usually aren't proficient in writing contracts, and they prefer to pass the document creation to a professional. 
We have some good news. You don't have to waste exorbitant amounts of money on a lawyer. Find out what an event contract template should contain and learn how to get a professional legal document in a snap!
What Does an Event Contract Cover?
An event planner contract is a written agreement between an event planner and a person hosting a function. It defines collaboration terms and conditions and helps the parties understand their responsibilities. 
An event contract shields the rights of both entities. It also covers all potential issues that may affect the event planning. The primary goal is to make the collaboration transparent and smooth and prevent miscommunication and disputes.
What Provisions Should a Solid
Event Planner Contract Template
Have?
To make sure you don't miss a crucial step or disclosure, here's a list showing the recommended event contract structure:
Section

Details

General information

You can use the introductory part to note general details about the signing parties and event, such as:

Legal names, addresses, and phone numbers of the event planner and the client

Date of signature

Event type

Full address of the venue

Venue contact person

Duration of the event

Services

This section must contain a list of all services to be provided, such as:

Marketing

Catering

On-site staff

It's crucial to clearly outline the exact scope of the responsibilities of the event planner. They must also state what services they don't provide. Not defining these points may cause misunderstandings and unrealistic expectations, leading to dissatisfaction

Payment

Payment clause defines:

Estimated budget

Initial deposit amount and the due date

Payment schedule

Forms of payment

Final payment due date

Potential late fees

Additional fees and taxes

Other payment terms

Cancellation

Cancellation disclosure protects the rights of the event planner if the client gives up on organizing the event. Adding a non-refundability statement allows the event planner to keep the initial deposit and any other payment they received.

The contract should also contain a cancellation-by-you provision in case the planner must cancel their services

Indemnification

Indemnification is a section that states the event planner won't be responsible for any incidents during the event or negligence of the client

Termination

This disclosure includes the list of circumstances that can cause the contract termination and the timeframe for termination

Additional clauses

Some other clauses you can use include:

Photo release

Abuse

Illness/Tragedy
Is an Event Planner Contract Legally Binding?
This contract is legally binding if it has the signatures of all parties involved. Having your document notarized can be an extra security measure but is not required. 
Get the Desired Contract in a Split Second With DoNotPay
Following a proposed agreement structure and ensuring the drafted document is valid can be difficult. Most people skip manual drafting procedures and entrust the creation of their documents to lawyers. It's an elegant yet expensive solution. 
What if we told you that you could create the desired contract in less than three minutes without spending hundreds of dollars? Meet DoNotPay—the world's first robot lawyer and your new virtual assistant! This easy-to-use app lets you modify customizable legal templates and generate a valid agreement aligning with all legal and structural requirements.
To use this service, follow the steps below:
Create an account on DoNotPay

and log in

Search for a suitable document template

Fill out our chatbot's questionnaire
Your personalized document will be ready for download within minutes! When you get it, make it legally binding by signing it and having it notarized if necessary. Our Notarize Any Document service helps you arrange a video meeting with a notary and have your contract notarized digitally without leaving your home!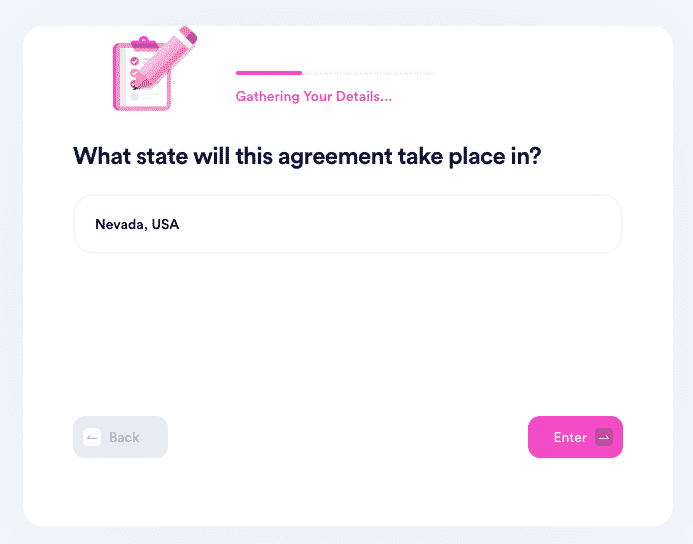 The list of documents you can make with DoNotPay includes:
General Business Contract

Estoppel Certificate

Intent To Purchase Real Estate

General Affidavit

Promissory Note

Child Care Authorization Form

Quitclaim Deed
Master Any Legal Documents With Our Guides
If you want to learn how various other agreements work, access DoNotPay and explore our learning base full of practical tips! Read more about many sought-after legal documents, including:
DoNotPay Offers a Variety of Services
DoNotPay is the ultimate virtual assistant that takes over all those annoying tasks you don't want to deal with!
Need to schedule your DMV appointment? Want to get your college fees waived? Have to draft a legal doc quickly?
We can do all that and much more!
Our app waits on the phone line with customer service of any company for you, reports robocalls, and helps you file lawsuits in small claims court. 
We can also help you deal with your parking tickets, get rid of spam emails and texts, or find and sign up for reputable clinical trials!
Keep Your Money in Check With DoNotPay
How often do you sign up for a free trial and then forget to cancel it before it expires? Unexpected charges are the worst, but you can prevent them if you use our free trial card. DoNotPay's virtual credit card is not connected to your bank account, which means that no money can be taken from it. 
We can also help you get refunds for unsatisfactory purchases or compensation from airlines for delayed or canceled flights.
In case you are struggling with warranty claims, bill payments, insurance, or tax reduction, DoNotPay can solve these issues as well. 
Our app also has the largest database of unclaimed assets in the United States, so you can find and claim your lost funds quickly.