How to Connect With an Inmate at the Evans Correctional Institution
Evans Correctional Institution is a level 2 medium-security state prison facility that houses inmates from all over the state. The facility was founded in 1989 and is located at 610 SC-9 in Bennettsville, SC.
The correctional facility only houses male inmates and can hold up to 1,410 inmates. At the facility, willing inmates are taken through various correctional training programs that help prepare them for a better life when they get released. Some of the programs offered there include:
Computer (Basic and Advanced)
Barbering
Literacy
GED preparation
High school courses
Adult Education classes
One good thing about the facility is that it cares about the well-being of the inmates. For that reason, it offers all the inmates a routine medical and dental care check-up which is usually conducted on-site. This helps ensure that the inmates remain in the best shape as they engage in other activities.
Other than being engaged in the above-mentioned programs, the inmates can also engage themselves in a program known as "Operation Behind Bars." Through this program, inmates can share with visiting youths and adults the consequences of their criminal behavior. That way, they are admonished accordingly before the law catches up with them.
Where Is Evans Correctional Institution Located?
As aforementioned, Evans Correctional Institution is located at 610 SC-9 in Bennettsville, SC near Society Hills. So whenever you are around there, you can always know that you are close. However, if you want to be sure of the directions, you can always use Google maps.
The facility has a warden named Donnie Stonebreaker, Jr, who is usually in charge of maintaining order from within. If you need any other contact information concerning the facility, you can find it in the table below:
How to Contact Inmates at Evans Correctional Institution
Do you wish to visit any of the inmates within the facility? If yes, then there is good news for you. The facility allows the inmates to be seen throughout the week. For weekdays, you are allowed to visit any time from 8 am to 9 pm. However, during the weekends, you are only allowed to visit from around 8 am to 3 pm. In that case, to make the most out of these visiting hours, plan accordingly and arrive on time.
Other than visiting inmates, the facility also allows:
Calls
Mail
Postcards
Magazines
Discount calls
Letters photos
Money
During visitations, you are not allowed to carry cellphones or any type of personal belongings. Also, if you are a minor (under 18 years), ensure you are accompanied by a parent or guardian accordingly. In that case, if you wish to make a visitation, you can make inquiries from the Visitation Inquiry Line: 803-896-1838. There, you will get more guidance on how best you can do it.
Steps To Take Before Calling or Writing to a Prisoner
Before you can make or receive any calls, you first need to know where the inmate is located to be able to easily trace the call to him or her. Even with that said, it is important that you know that it's going to be a bit expensive to make calls from one state to another. You can even use DoNotPay to get an inmate pen pal.
Therefore, if you do not know how to locate an inmate, DoNotPay can help. Through the Connect With Inmate product, you can rest assured that your inmate will be located in whichever correctional facility they are in within the US.
To try out the product, open DoNotPay account and follow the following simple steps:
Select the connect with an inmate tab and click locate someone
Fill out the name of the inmate and the state they are being held up in
Submit the details and you should get  feedback with the answers you require in no time
Difficulties You May Have Contacting Loved One in Evans Correctional Institution
Since calling an inmate relies on the fact that you need to trace them first, it can be tricky and time-consuming. Also, it can get quite expensive, especially if you need to call someone who is in another state.
Other than that, if you were writing a letter and end up making a small error, it can be rejected — even if it's an error in addressing a letter to an inmate. Therefore, you need a more convenient and reliable solution. With DoNotPay, you are assured of reaching out to your inmate and contacting them successfully as required is hassle free.
DoNotPay Can Help You Locate Your Imprisoned Friend
To locate your imprisoned friend with DoNotPay, all you need to do is:
1. Locate the Connect With an Inmate service on DoNotPay.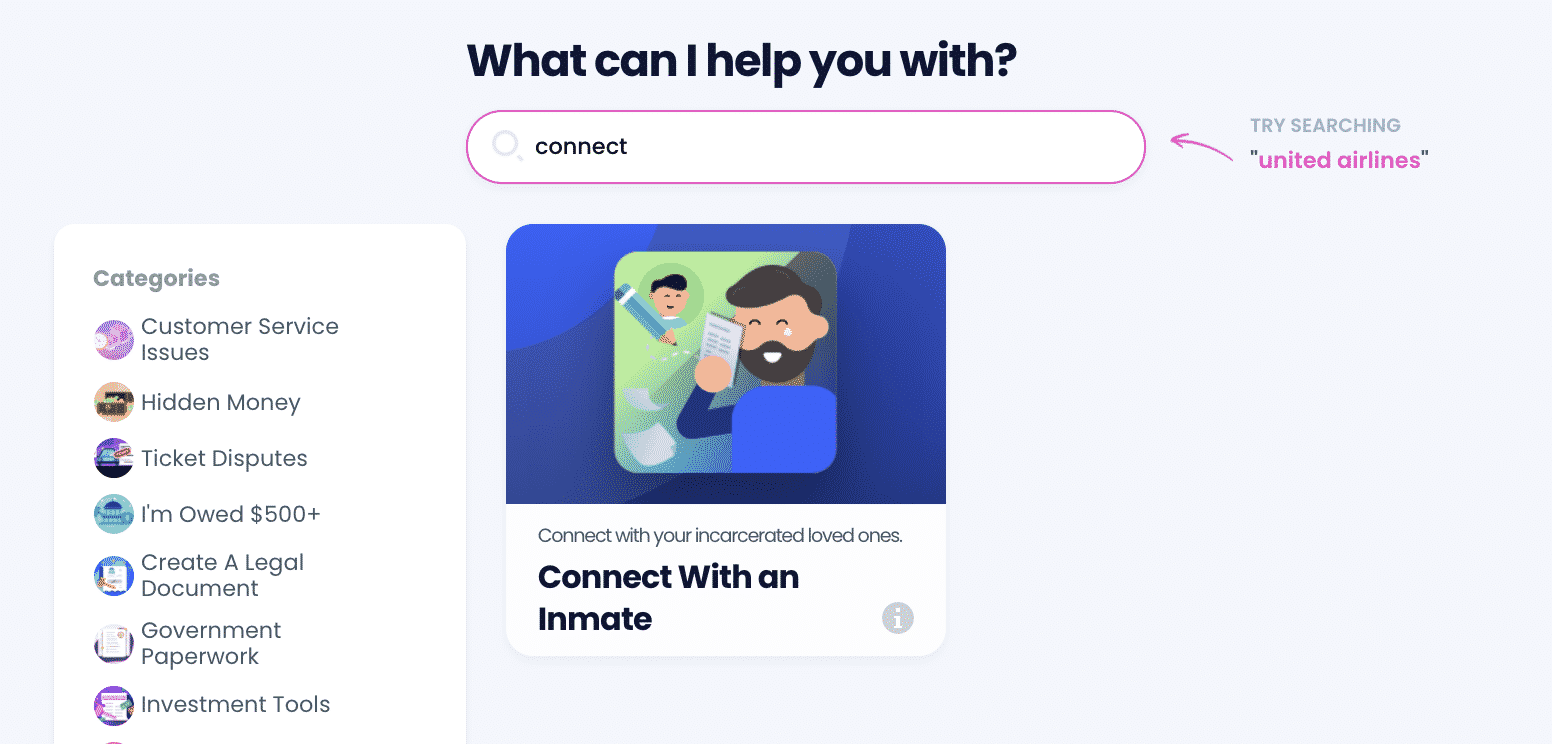 2. Choose whether you want to locate a loved one, create a virtual mailbox, or send a personalized letter.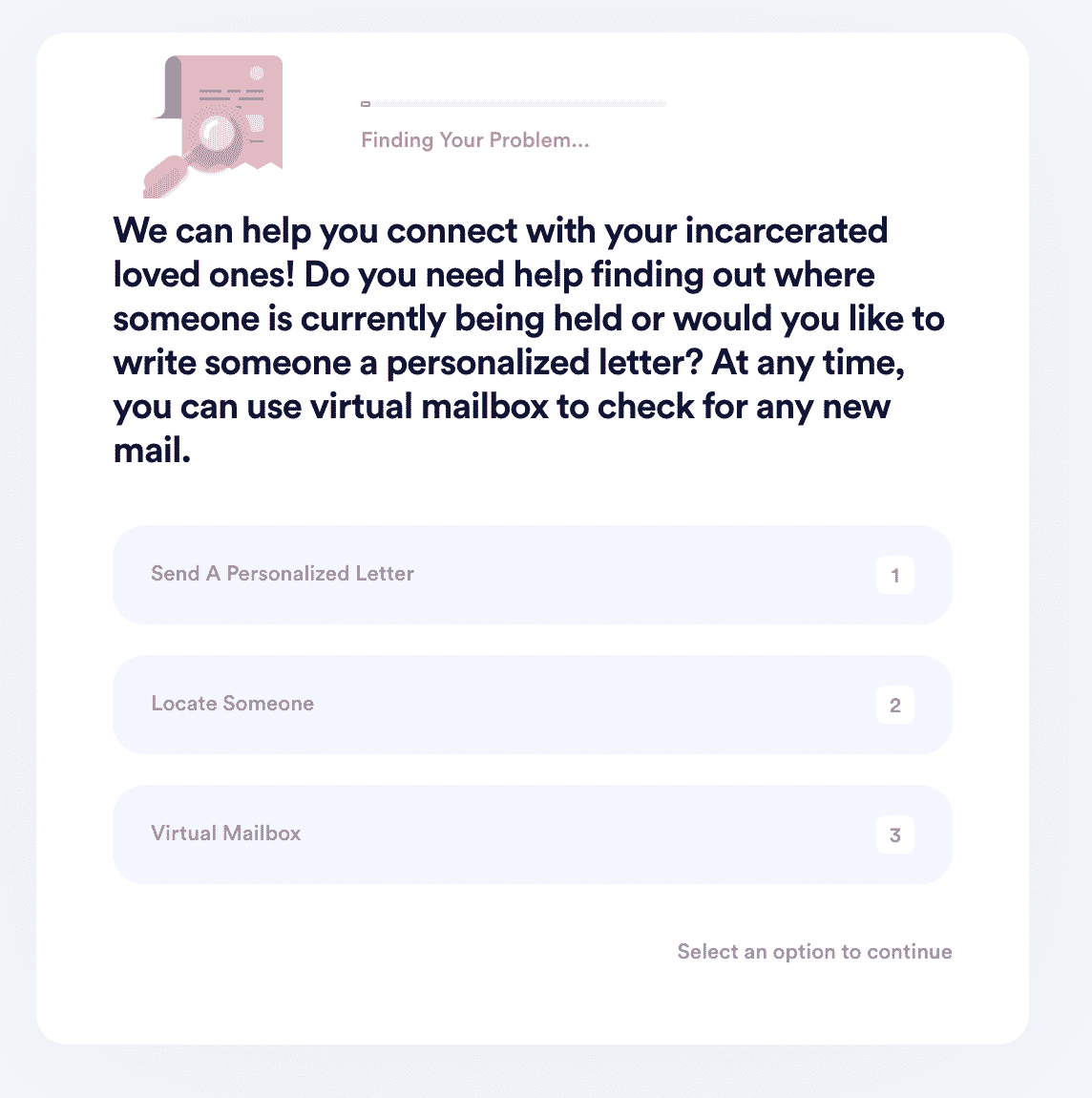 3. If you want us to find your loved one, provide his or her personal details and the state they are located in. We'll then conduct a search on the appropriate state database.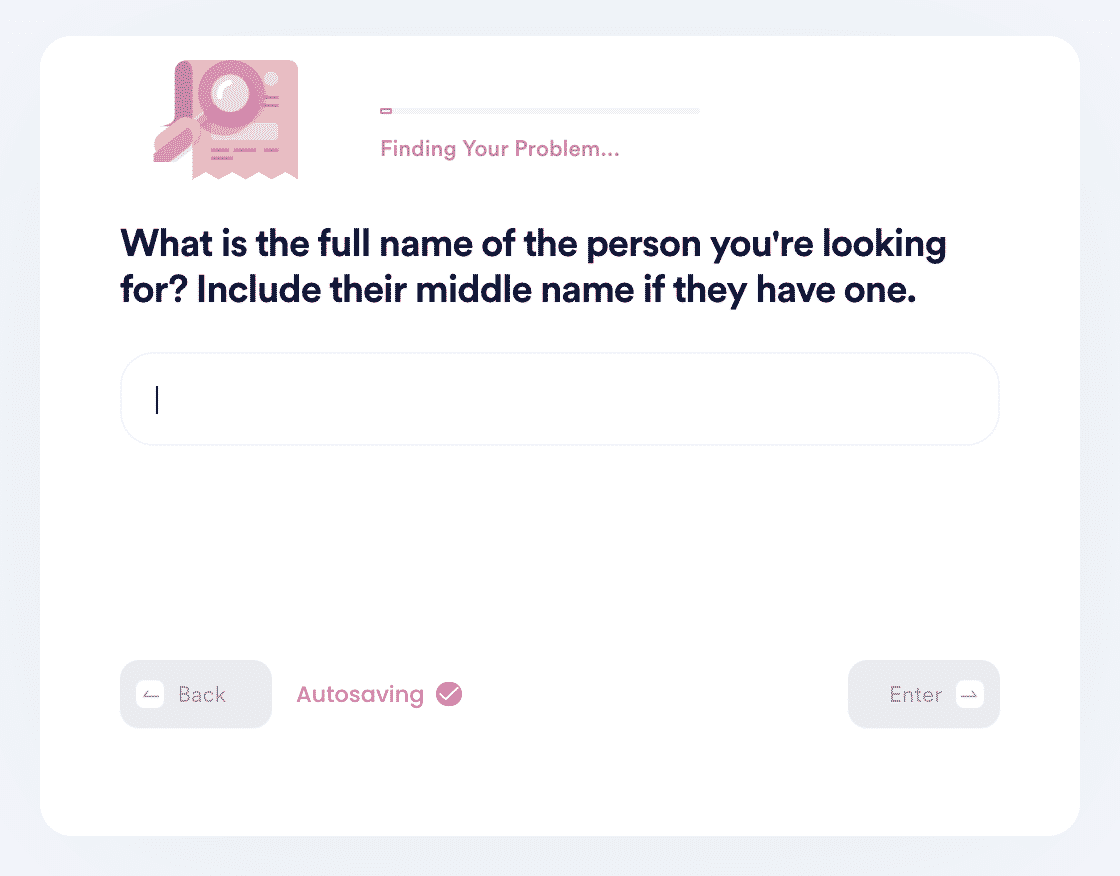 4. If you want to create a virtual mailbox, just provide your full name! We'll set one up for you so you can easily receive incoming mail from your loved one.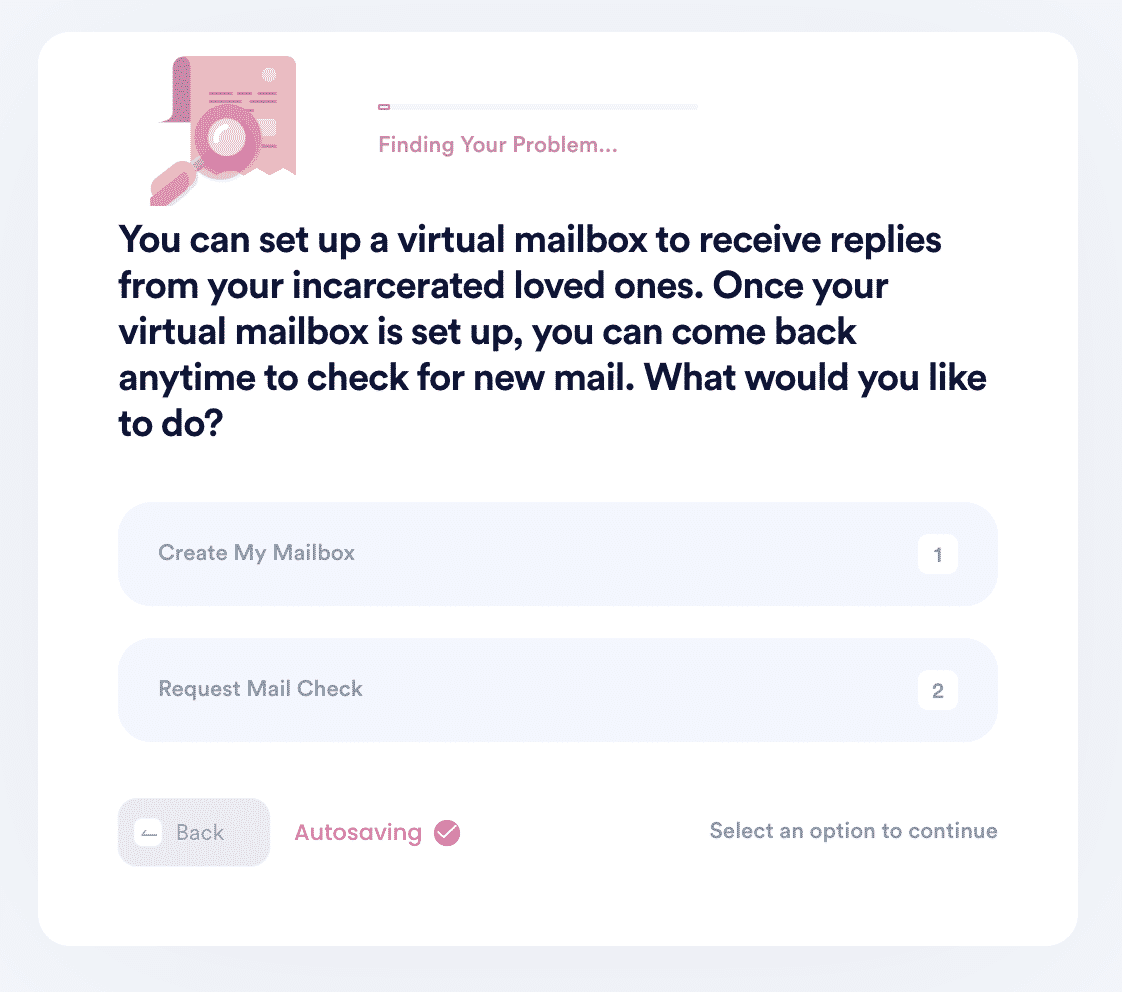 5. If sending a personalized letter, tell us which facility your loved one is located in and what you would like to say to them. You can even include a photo! Your letter will be delivered automatically - just wait 10 days for it to arrive to your loved one!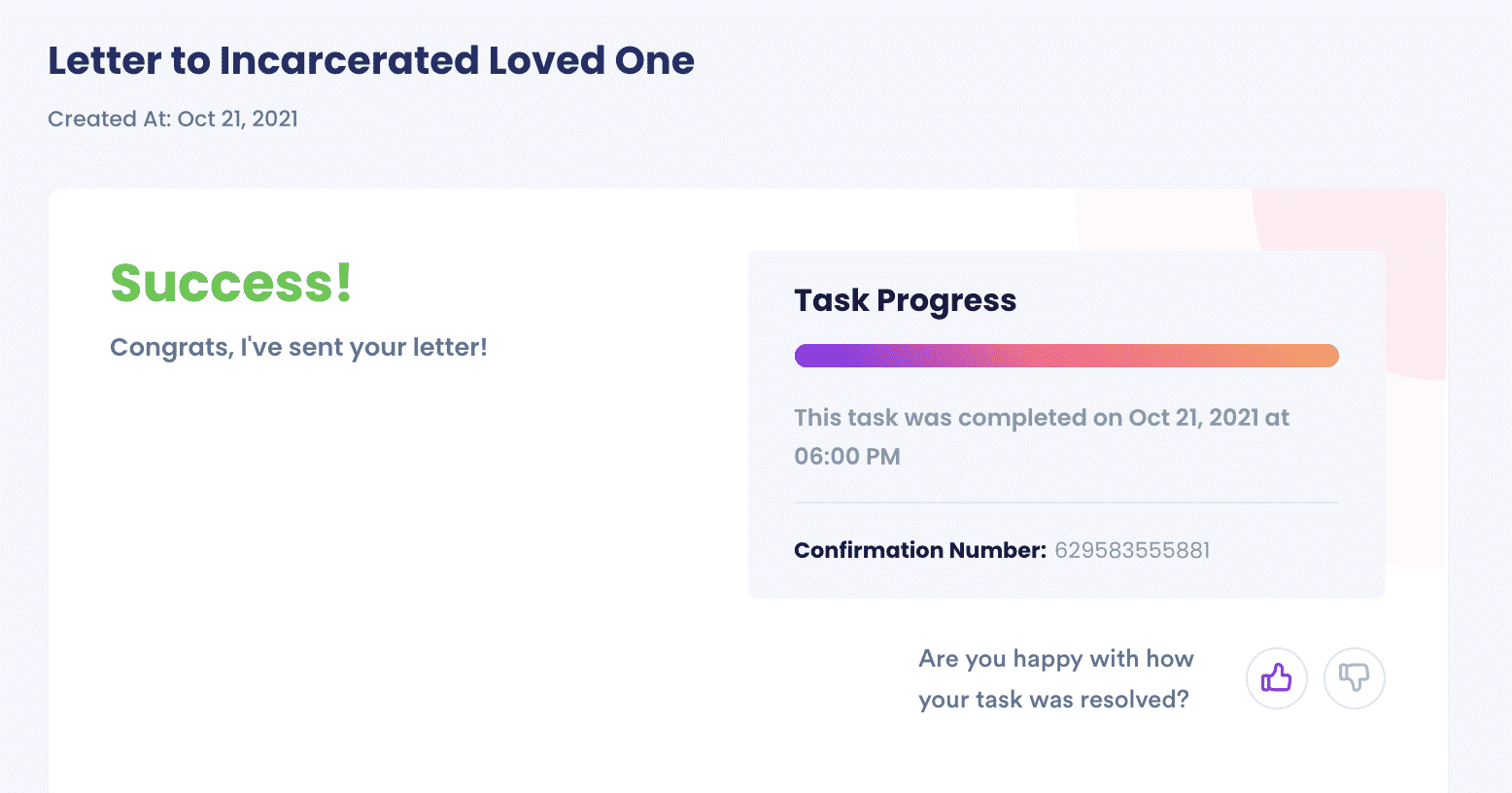 What Else Can DoNotPay Do?
Other than helping you trace and connect you with your loved one inmate, DoNotPay can help you in various other ways. Some of the ways include:
Appealing speeding tickets
Disputing traffic tickets
That's it! If you wish to contact an inmate friend or relative, do it with DoNotPay, the only sure and successful way.