The Ultimate Guide to Top-Notch
Estoppel Agreements
If you are renting a house or apartment, your landlord may ask you to sign an estoppel agreement. 
To decide whether you should sign this contract or not, you must understand its ins and outs, and our article will answer all your burning questions! We also offer a step-by-step guide to drafting estoppel agreements and other legal documents stress-free.
What Does an
Estoppel Agreement
Regulate?
An estoppel agreement, also known as an estoppel certificate, is a real estate legal document acting as a summary of a lease agreement. A tenant signs it to verify the status of their lease and other key details, such as rent amount, security deposit details, or other specific conditions. The document also confirms the tenants don't have any claims against the property owner and that everything stated in their primary agreement is true. 
The landlord can ask the tenant to sign this contract if:
They are trying to sell the property, and a potential buyer wants to know all about existing leases

They want to refinance the property, and the investor is requesting cash flow information

The tenant wants to sublease the rented premises, and the landlord wants to inform the sublessee about the underlying lease conditions 
Signing an estoppel agreement isn't mandatory unless the existing lease agreement obliges the tenant to do so. If such a clause exists, they must cooperate with the landlord and confirm all the necessary details.
What Kind of Protection Do Estoppel Certificates Provide?
Estoppel agreements bring benefits to all entities involved—landlords, tenants, and future owners. Here are some advantages of making such a deal:
The lease status confirmation helps the landlord to sell or mortgage their property more easily

The document informs the buyer about all the responsibilities they must take over once they purchase the property. This helps the new owner avoid hidden expenses and other misunderstandings

The new owner will be aware of all the promises the landlord gave to the tenants

This certificate prevents the new buyer from investing their money in a property that doesn't meet their criteria
Should You Have Your Estoppel Certificate Notarized?
Even though the notarization of estoppel certificates isn't mandatory, you can do it for additional security. 
If you decide to have your document notarized, you can skip long in-person notarization procedures and book a meeting with an online notary in our app! Once you get your signature validated, use DoNotPay to fax your contract within minutes.
What Are the Common Sections of an Estoppel Certificate?
Since the purpose of an estoppel certificate is to highlight the existing conditions of your lease agreement, it should be short and concise. Here are some essentials provisions you shouldn't forget:
Tenant's name

Tenant's contact details

Lease start and end date

Rent details—the amount and due date

Security deposit amount

List of the leased premises

Potential amendments

Utility bills

Damage and malfunctions on the property

Repairs and maintenance

Copies of other existing agreements with the landlord (if they exist)

List of modifications approved by the landlord
How To Generate a Solid Estoppel Agreement With DoNotPay
Writing an agreement is the best way to safeguard your rights and interests, but what if you don't know anything about contracts? Many people pay huge amounts of money for professional drafts or struggle to adapt vague and generic online samples to their needs.
If you want to make a smart move, give DoNotPay a go and gain access to the best estoppel certificate template ever! Our virtual lawyer enables you to customize it and generate a personalized document based on your state laws. 
To use our service, follow the instructions below:
Open DoNotPay

in any preferred web browser

Locate the desired template by entering

Estoppel Certificate

in the search field

Let us know what you want to include in your document
DoNotPay offers other contract templates, including the:
Child Care Authorization Form

General Business Contract

Residential Lease Agreement

Intent To Purchase Real Estate

Quitclaim Deed

Estoppel Certificate

General Affidavit

Promissory Note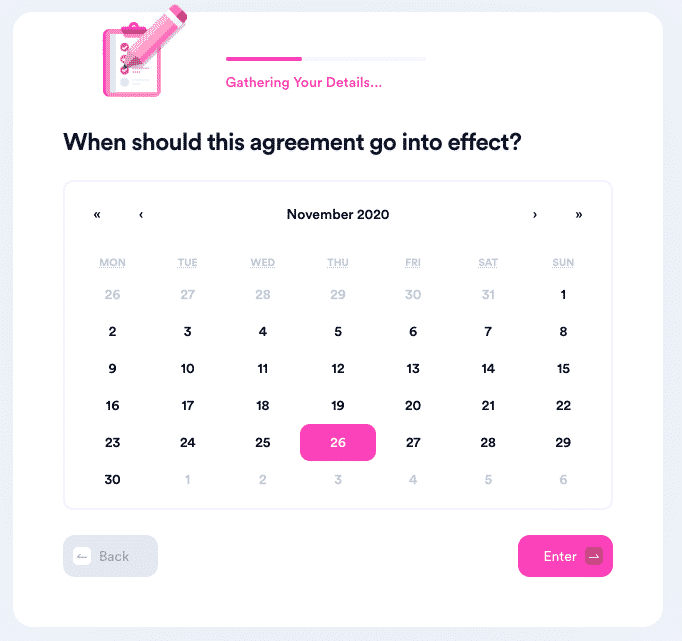 Can DoNotPay Teach You More About Legal Documents?
If you want to learn how to get the best out of contracts and legal documents, we got you covered! Visit our learning base and check out our:
| | |
| --- | --- |
| Lease-Related Articles | Other Useful Articles |
| | |
Our Robot Lawyer Gets Rid of All Admin Tasks
What makes DoNotPay so unique is that it helps you get back what is rightfully yours in many different ways. You can appeal parking tickets, find unclaimed money, demand a refund for canceled or delayed flights, get help with bills you cannot pay, or get your college application fees waived with the help of our platform.
If you're sick and tired of annoying robocalls, spam emails, copyright violations, text message spam, or stalkers and harassers, DoNotPay can assist you in getting rid of them once and for all.
DoNotPay Can Help You Save Money
Have you ever subscribed to a service's free trial you forgot about after a few days? Many Americans have, which is why DoNotPay has a free trial feature that will help you avoid getting charged once the trial is over.
If you want us to scan all your active memberships and help you not pay for the ones you don't use, connect your email address or credit card to DoNotPay. Our cancel feature will ensure that you don't waste your money on subscriptions you don't even remember exist.
If a merchant charges you once the free trial is over, though, you can use our robot lawyer to request a refund and skip the phone queue when doing so.
In case a company refuses to grant you a refund, you can also use our app to sue them in small claims court.