The Ultimate Guide to Winning Essay Scholarships
Most students need additional financial assets to cover their educational costs, but not everyone can achieve an excellent GPA or engage in community activities. The good news is—not all the scholarships and grants are based on these criteria. Essay scholarships are a perfect example of the award you can get with a little bit of creativity and your passion for the written word.
If you feel like trying your luck with such a scholarship but don't have enough info, this article will solve all your dilemmas. It will teach you where to find essay scholarship contests, how to apply for them, and how to write a top-grade essay that will win the award for you.
What Are Essay Scholarships Contests?
Essay scholarships are a type of financial support for college, high school, and grad school students from various backgrounds. To qualify for them, you usually have to compose an essay based on the specific topic proposed by the scholarship provider. You may be required to write about personal skills, experiences, and achievements or respond to a topic based on current world events and issues.
While you can apply for some of these scholarships by writing an essay only, other contests may require you to have solid academic performance or other special qualifications as well. The amount you can get may vary from a few hundred to several thousand dollars, depending on the type and provider of the financial award.
Where Can You Find Essay-Based Scholarships?
Scholarship essay contests come from many resources, including:
State scholarship providers
Your employer or your parents' companies
Student aid departments of the colleges or high schools you are attending
Various foundations offering annual scholarships
Community, religious, or ethnicity-based organizations
Professional associations dedicated to your fields of interest
Besides inquiring about the available scholarships in the above-mentioned institutions, you can perform an online search. The main disadvantage of this method is that the websites listing these scholarships don't have advanced search filters. This means you have to spend some time reviewing all the results and choosing the ones that match your needs and affinities.
A quicker and more efficient option is to use DoNotPay to extract the awards you qualify for in a few taps.
Scholarship Essay Contests You Shouldn't Miss
To help you get a better understanding of the available options, we have compiled a list of popular essay scholarships in the USA and divided them into three categories—the ones for:
Essay Scholarship Type
Scholarship Programs
Essay Topic
High school scholarship essay contests
Better Business Bureau Ethnical Torch Essay Scholarship
Using ethics and integrity when facing an ethical dilemma
Margaret Mary Missar/John Carroll Society Scholarship
Considerations about faith
AFA Teens for Alzheimer's Awareness College Scholarship
The way Alzheimer's affects people's families and personal lives
College scholarship essay contests
Center for Alcohol Policy Essay Contest
Alcohol policy-related American court cases
American Backflow Prevention Association ABPA Harrington-Arthur Memorial Scholarship Essay
Backflow prevention, the importance of drinking water, etc.
Unigo College Review Scholarship
Accredited colleges listed on the provider's website
The Christopher W. Keyser Scholarship
Law, history, journalism, criminal justice, political science
American Bullion Scholarship
Various
Essay scholarships for both student groups
Abraham Lincoln Brigade Archives Essay Contest
Spanish civil war and fights against fascism in the 1920s and 1930s
Invensis Young Thinker Scholarship
Robotic technologies and automation
Herrman and Herrman Innovation Scholarship Essay
Various—the candidates can write poems, essays, or stories or present other types of art pieces
Ayn Rand Institute Essay Contest
Ayn Rand's novels
The Branson Shows Inspired Scholarship
Personal and professional dreams and plans
Scholarships can also be dedicated to women, minorities, international students, and sensitive groups, such as veterans, disabled people, or children of deceased parents.
Essay Scholarship Application Process in Brief
Here are the two main steps you should consider when filing an essay scholarship application:
Do your best to compose a good essay—The key to a successful essay scholarship application is a great piece of writing. You should:

Take care of the essay format
Follow the proposed essay writing prompts
Understand the topic and stick to it as much as possible
Avoid plagiarism—in most cases, plagiarism means an immediate disqualification
Proofread your essay and check it several times for potential contextual mistakes

Check all the additional criteria if there are any—For some scholarship providers, writing an essay isn't enough. They may require additional documents to proceed further with your application. The extra paperwork may include:

Proof of the required minimum GPA, if applicable
Proof of participation in specific activities that may increase your chances of getting the scholarship
Looking for Scholarships? DoNotPay Has Got Your Back
DoNotPay features the Apply for Scholarships feature that enables you to filter all existing scholarships and get a list of the ones that match your qualifications! All we need is a few simple answers to our chatbot's questions.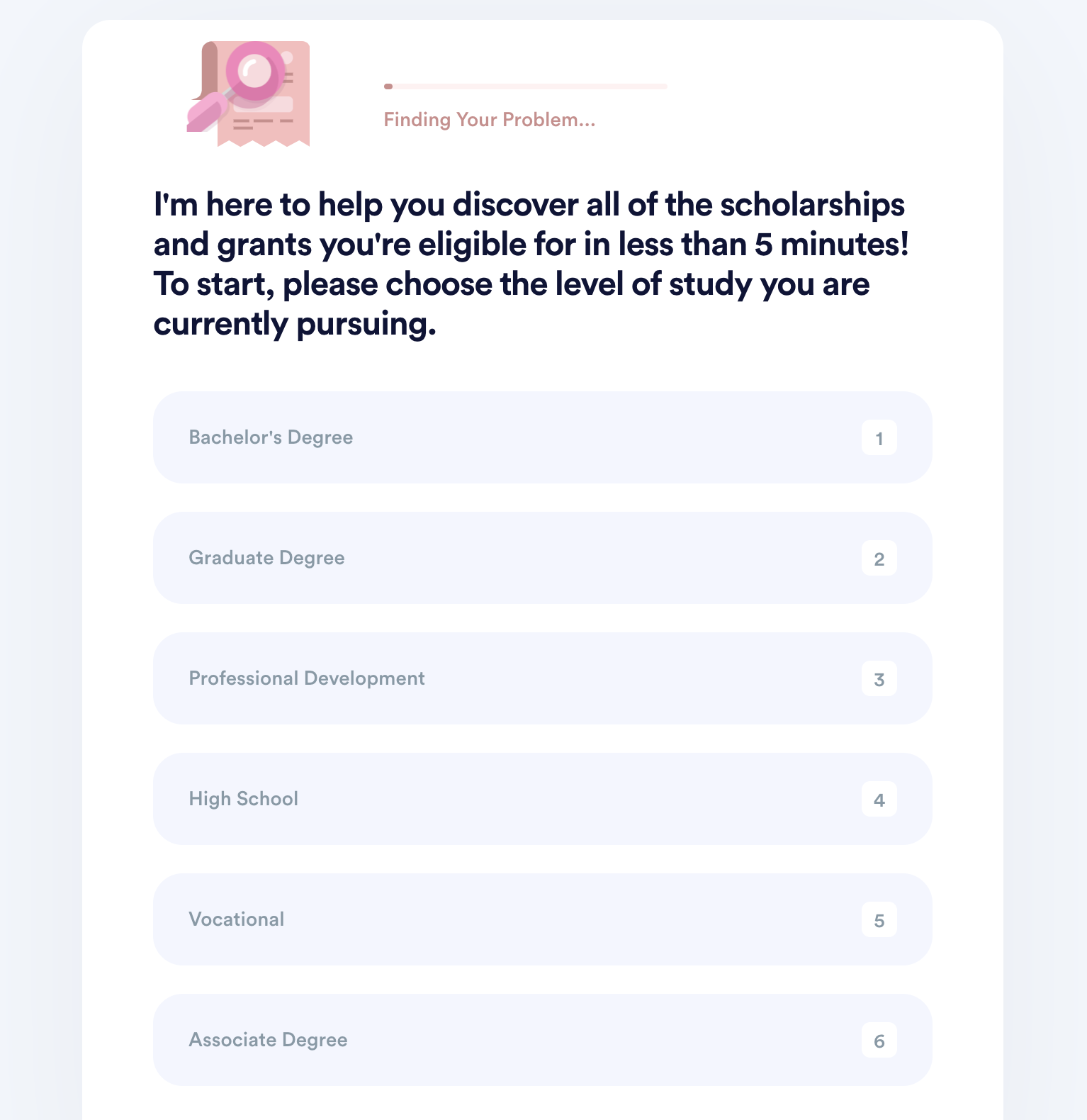 Here's what you should do:
Navigate to the Apply for Scholarships product
Enter your level of study
Provide more details about your state of residency, qualifications, and educational preferences
Not only can we find scholarships and grants, but we can also apply you for non-essay ones automatically, enabling you to skip lengthy procedures. Once the application is sent, you will get a confirmation email from us.
Stuck in a Bureaucratic Mess? DoNotPay Is Here To Help!
Since handling dull administrative tasks is a burden and no one likes doing them, DoNotPay developed a variety of neat features to ease many processes! With our nifty app, you can:
Deal With Companies Like a Pro
We all love shopping, but it's no secret that companies sometimes turn a fun experience into a nightmare, especially when they refuse to cooperate. DoNotPay is here to help you reach customer support without the hour-long wait and sue an uncooperative merchant in small claims court if necessary!
Need a refund? We can show you how to get your money back from any company in a snap!
Should you need to file an insurance or warranty claim and request gift card cash back or an item return, you can count on our app to assist you! DoNotPay can also show you how to discover any unclaimed funds under your name so that you can continue shopping like a pro.