Crack the Code of Escape Room Startup Costs With DoNotPay
An escape room opens the door to the corporate and group entertainment market and can allow you to make a profit with relatively low startup costs.
You can stay simple or design a highly elaborate escape room, and your clientele can escape the world of real-life gaming.
DoNotPay has all the pieces of the escape room startup costs puzzle, with advice on how to secure small business finance or a startup loan!
What Do I Need To Set Up an Escape Room?
To set up an escape room business, you will need:
Premises
Décor and props
Costumes
Tech infrastructure
Licenses and permits
Marketing
Premises
Depending on your budget, you can lease a single space or multiple rooms to offer a range of adventures.
You may find that taking out a lease on a larger space to offer more than one gaming experience makes financial sense as you can cater to more customers at once.
You should factor in a security deposit and several months' upfront rent when calculating your escape room startup cost.
Décor and Props
Once you have secured your location, you can start developing a storyline and designing the décor of your escape room.
You can build your own story and design your own space or hire expert assistance to do the job for you.
The more lifelike your escape room feels, the better you will be able to generate repeat bookings and recommendations.
Costumes
Similar to décor and props, you will need to invest in costumes in a variety of sizes and fits.
The quality maxim applies to your choice of costume supplier—you don't want to have to replace your costumes after three months of use.
Tech Infrastructure
You may need computers, screens, lighting, and sound to improve the realism of your escape room.
Success relies on creating a believable illusion for your customers, so the better your tech infrastructure, the more convinced they will be.
Licensing and Permits
To comply with the various local, state, and federal regulations, you may need:
A business permit
Public liability insurance
Fire department clearance
Sales tax registration
An Employer Identification Number, if you intend to employ staff
Marketing
You should plan to invest heavily in marketing, both before you launch and on an ongoing basis.
You will have monthly bills for:
Lease
Medical and other insurance
Maintenance and cleaning
Accountants and other professional services
Being able to pay those bills is dependent on filling your escape room to as close to capacity as you can.
Ongoing marketing, storyline revamps, and added features can help keep your escape room popular and full.
What Escape Room Startup Cost Should You Budget For?
Your escape room startup costs depend on your operation's:
If you go it alone and take on most of the planning, design, and build work yourself, you can expect your startup costs to be in the region of $7,000.
As your escape room becomes more sophisticated, your costs will rise to up to $30,000.
You could also investigate the various escape room franchise opportunities on the market—these offer a quick start and extensive support in setting up your business, but you can expect the following costs:
| Franchise Costs | Explanation |
| --- | --- |
| Liquid capital requirement | Many escape room franchises will require you to prove liquid assets of up to $250,000 before you are considered for a franchise |
| Franchise initialization fee | Upfront fees of between $30,000 and $50,000 are common among the better-known escape room franchises |
| Ongoing franchise charges | The franchisor will usually charge between five and 30 percent of turnover—the lower the percentage, the higher your initial fee will be |
How Can You Finance Your Escape Room Startup?
Bearing in mind the relatively low startup cost of a standalone escape room, you may be able to finance your startup costs through existing capital or a loan from your bank if you have built up a good credit score.
Using your own savings places all the risk on your shoulders, though, and a credit facility often comes with punitive interest rates.
To spread the risk and reduce your interest rates, you may want to look at taking out a small business loan to finance your startup.
Small business loans are granted according to the risk your venture represents, meaning that you need to present a viable and comprehensive business plan to qualify for the best deal.
The financial institutions you can approach for various types of small business loans are:
Whichever route you choose, your application will have to be:
Clear
Logical
Backed up by facts and data
This is where DoNotPay can help secure the best terms—we can generate a business loan request letter that will put your escape room venture in the best possible light!
DoNotPay Helps You Escape From Loan Issues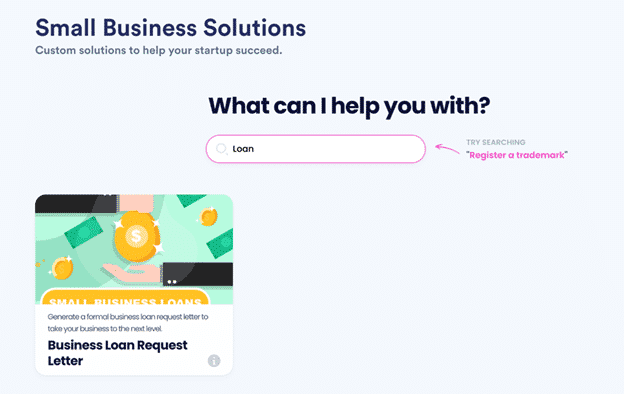 Securing a loan to finance your escape room startup is not easy.
You have to come across as credible, business savvy, and able to develop strong commercial plans. You may not be the expert at this, but DoNotPay is.
We can take your plans, credit scores, expense estimates, and revenue projections and turn them into a business loan request letter that ticks all your financier's boxes.
All you need to do to get your letter set up is:
Click on our Business Loan Request Letter feature
Make sure your credit scores are up to date and upload your financial documentation
Answer a few questions about your business plans, revenue expectations, and the loan amount you need
DoNotPay does the rest—your loan request letter will be ready in no time. You can submit it to your financial institution, and the process can begin!
We can even take the process a step further by giving you recommendations for the top three lenders to finance your startup—our Find Online Business Loan Lender feature is your top resource for connecting with financiers.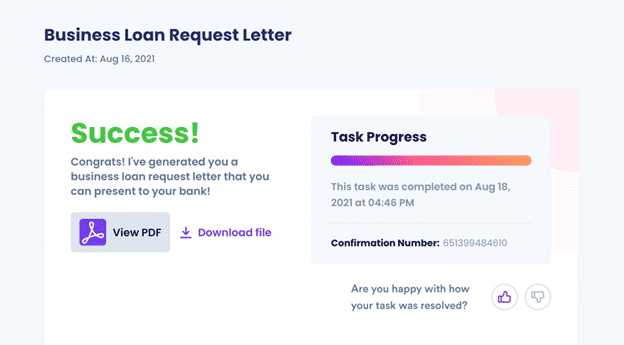 Let DoNotPay Become Part of Your Game Plan
If you want to protect your clients, you may want to join the Privacy Shield program. DoNotPay can help you with the application. What if a client is taking advantage of you and refuses to pay? Our Client Breach of Contract product can solve your problem and get you your promised payment. In case you stumble upon negative client feedback online and you suspect it is unfounded, rely on our Remove Negative Reviews feature to get rid of it.
DoNotPay can also assist you with Employer Identification Number (EIN) registration and 83(b) election form submission. Multitasking has never been easier with our app.
Take Advantage of Our Versatile App
There is even more we can do for you! From trademark registration and protection to chargeback disputes and DMCA agent registration, we have got you covered. Within the same app, you will be able to fill out the necessary documents and submit them.
For speedy and simplified business loan applications, also rely on our AI-powered app. We have even made sending letters and faxing documents easy. Thanks to our multifunctional faxing and mailing service, you can forget about snail mail and obsolete machines.